Ask most people what types of whisky they prefer and 'Single Malt Scotch' will almost certainly steal the top spot. The 'Scotch' bit is obvious, or it is to most people anyway: I was once asked to recommend some "American Scotches." Hmm, moving on.
But what about 'Single Malt'? Quite simply, it's just whisky distilled in copper pot stills from malted barley at one distillery which has been aged or 'matured' in oak casks for at least three years and a day.
Happily, that leaves distillers with a fair amount of room to make their own mark on the resulting spirit. And experiment they do: 2020 has seen a deluge of new malts crafted in novel ways hit the (mostly virtual) shelves.
Conveniently, that practically forces our hand to revisit our top Scotch Single Malts of 2020, and, for good order of course, to try them all again...
Glen Scotia 11 Year Old Sherry Double Cask Finish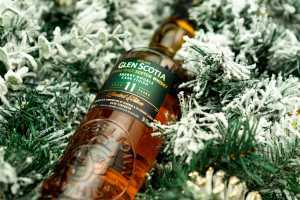 When asked to name Scotland's whisky regions, even seasoned imbibers may neglect to mention Campbeltown. The omission is forgivable; this port town once hosted over thirty distilleries but now only three remain, having weathered a perfect storm of overcapacity and the economic turmoil brought on by the Great Depression in the 1920's.
Campbeltown is, however, enjoying a rather spectacular revival. Glen Scotia, one of the survivors, is leading the charge and has caught our attention with their 11 Year Old Sherry Double Cask Finish. A curisory nosing affirms its maritime heritage; the briny sea-spray archetypal of Campbeltown malts is unquestionably there. On the palate, though, a much richer profile develops. A rather Christmassy selection of casks seasoned with two different types of sherry to 'finish' the whisky can be thanked for that. Oloroso imparts a dry nuttiness whilst sweet and sticky Pedro Ximenez adds a welcome spiciness. For a fairly youthful malt, this is remarkable stuff. Welcome back, Campbeltown.
Nc'nean Organic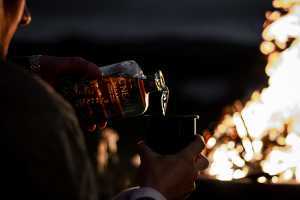 Given that it is one of the youngest distilleries in Scotland - their first casks of spirit were laid down in 2017 - Nc'nean has wasted no time in making a (unpronounceable) name for itself. To start, it was the first Scotch whisky distillery to exclusively distil with organic, Scottish barley. Then, bottle #1 from their first release set a new record for the highest amount paid for an inaugural expression from a new distillery of just over £40,000. The other 1,320 bottles from the first spirit runs were sold out within 36 hours. Not a bad start, right?
Nc'nean have also exposed the unhelpful myth that Scotch has to be ten, fifteen or even twenty years old to be any good. Batch 2 of their current release will be little over three years old but yet holds its own against much older drams. In fact, we tried this dry and earthy highlander in a blind tasting featuring much pricier, well established single malts (we'll not say which ones). The winner? Correct.
Ledaig Rioja Cask Finish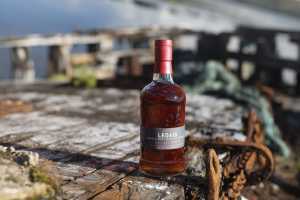 Another gem to pronounce ('Led-chig'), Ledaig is the name given to heavily peated whisky produced at Tobermory Distillery on the Isle of Mull. The first release in a series of new bottlings which pay tribute to the distillery's founder, John Sinclair, the Rioja Cask Finish is also a subtle nod to an age-old island story.
The tale goes that a wrecked Spanish galleon lies in the silty waters of Tobermory Bay, having been on the escape from the English navy following the defeat of the Spanish Armada. With 30 million in gold coin apparently on board during the voyage, the yet-to-be-located wreck has unsurprisingly attracted divers in search of early retirement.
Now, we're not quite sure if the true account of the ship's fate has survived the many whisky fueled retellings of the story over the years, but the use of Rioja wine casks in homage to that watery fable does intrigue us. The wine influence on the spirit is far from subtle but it works; the sweet fruitiness of the Rioja is a surprisingly natural complement to Ledaig's weighty, coastal style.
Tomatin 2006 13 Year Old Fino Sherry Cask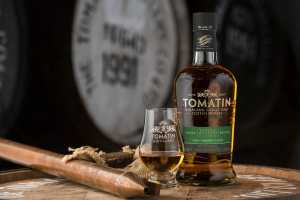 If we're ever after a soft and easy drinking Highland style dram, Tomatin is often our first port of call. Whilst it does produce some peated Scotch for one week a year, the production emphasis is on a lighter, maltier style of dram, often matured in an eclectic combination of different cask types.
This 13 year old Fino Sherry finished expression is case in point. Just two casks from distillations in winter 2006 were hand selected, vatted together and transferred into casks that previously held Fino sherry. A much drier and more savoury style of wine compared to Oloroso and Pedro Ximenez, Fino brings out a much fresher and fragrant set of flavours. It's also a very rarely seen cask type in Scotch whisky so we'd be surprised if this UK exclusive release hung around for long.
Octomore Edition 11.2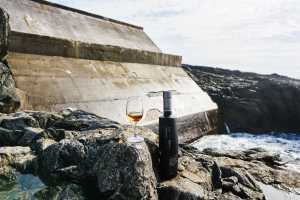 Or, if soft and easy isn't doing it for you, there's always Octomore. Sci-fi-esque bottles, natural strength (think 60% abv-ish) and a flavour profile often described as 'liquid smoke' means that this heavily-peated expression from Bruichladdich is not for everyone.
But that's fine, and in any event, Octomore's powerful smokiness is often reigned in by the use of quirky cask types which temper its ashy tones. The new Edition 11.2 does that and then some; ex-red wine barrels from two different Bordeaux appellations contribute a rich and aromatic element to the spirit's earthy smokiness. Again, a rather young whisky at a tender five years of age, and as before, you could never tell.