SANDY MCINTYRE probably wasn't destined to work in the whisky trade. Indeed, the manager of Tamdhu Distillery in Speyside was an environmental chemist before moving into spirits.
Those who have ever met Sandy, however, would find the notion of him doing anything else utterly incomprehensible. Affable and restrained but yet nothing short of evangelical about the single malt whisky he crafts, Sandy is everything you'd want a Scotch distiller to be. His contemporaries in the trade agree; in 2018 Whisky Magazine named him 'Whisky icon of the year'.
Tamdhu has, however, kept a surprisingly low profile given its proximity to some of the most legendary distilleries on Speyside; Macallan is just a few miles downstream on the Spey whilst Glenfiddich sits just off to the east.
The cause of Tamdhu's obscurity is, ironically, the sheer demand for its output. Blending houses have historically accounted for most of Tamdhu's orders as its weighty and rich style of spirit is hard to come by and can be crucial for creating a balanced blend. As a result, little liquid has been left for bottling as a single malt; there has never been a need for a Tamdhu brand, so to speak.
However, that is changing. Once owned by the corporate owners of Macallan and Highland Park, Tamdhu is now in the family ownership of the Russells, proprietors of Glengoyne and Rosebank distilleries. The family have shifted the production focus from blends to malts, making Tamdhu available as a well-aged, readily available Speyside malt for the first time in decades.
And, needless to say, Sandy is rather chuffed about it. To find out more, we nabbed him from the distillery and sat him down with a few drams….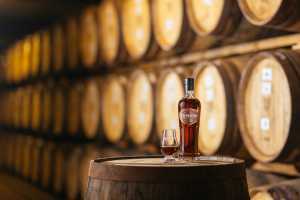 What is your first whisky memory?
My dad rubbing it on my teeth to cure toothache! I was a bit too young then to appreciate it, though. I then developed a taste for Bowmore [a coastal malt from Islay] when I moved down to Oxfordshire for work. I wasn't in the whisky trade then but I wanted to wean my friends off the big brands and introduce them to more authentic Scotches. I used to take bottles down every other week to "educate" the English!
You have managed a few distilleries now; how much does the 'character' of a spirit vary from distillery to distillery?
Very much so. Each distillery has its own wee variation of how they craft their spirit, be it fermentation times, the size and shape of their copper stills or the casks they use for maturation.
One distillery I managed years ago produced a fairly unusual 'new make' spirit with a green and oily character. That was largely attributable to using 'purifiers', a bit of kit attached to the copper stills to return the cooled spirit back into the stills for further distillation before being casked. Remove those purifiers and you'll lose the oiliness. Likewise, if you shift the angles of the pipework or the yeast strains you use at the fermentation stage, the whole flavour profile changes. And even with all the data and science behind distillation, it can still be hard to replicate one distillery's spirit in another with any meaningful accuracy.
So, what defines Tamdhu's distillery character?
Tamdhu produces an intensely fruity new make - it tries to burst out the bottle saying 'Come on nose me - get a sniff of this'. It makes for an enjoyable spirit to have by itself but also carries the weight and richness needed for cocktails, too.
What's most influential on a whisky's flavour profile - barley or barrel?
The exclusive use of sherry seasoned casks is our 'thing' at Tamdhu but those casks need to be filled with a spirit flavourful and weighty enough to hold its own against the richness of the sherry. A weak spirit will get lost in the wood so matching the barley with the barrel is crucial.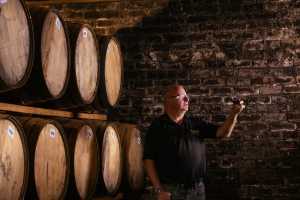 Tamdhu never colours its whiskies; why is that the case?
We don't need to. Our colour comes from the casks we use, all of which are ex-sherry casks from Jerez in Southern Spain. The European oak casks impart rich, dark ambers whilst those coopered from American oak give bright, golden hues.
And how have your tastes in whisky changed over time?
I started with the peaty and ashy malts of Islay before finding lighter, honeyed malts like Dalwhinnie. I then moved to much richer, weightier styles of whisky; those blood-red, sherry matured malts with a real depth and wintery profile. Unsurprisingly, it is the latter we make at Tamdhu!
Tamdhu is arguably still a bit of an 'unknown' amongst most Scotch drinkers. Why is that?
We're also on the smaller side so we don't have a tonne of stock. That has tied our hands in terms of how much we can release but it has also been a bit of a godsend in a sense; we have the breathing space and time to introduce Tamdhu to the market slowly. And trust me, it'll be worth the wait!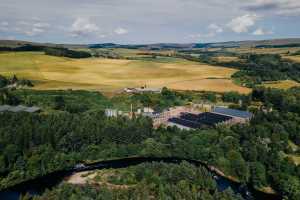 Speyside is heartachingly beautiful - what is your favourite spot in the area?
There is an area just behind the distillery known locally as The Pooches. It's a heartbreakingly tranquil fishing pool which changes so dramatically with each season. It is ideal for swimming, picnicking, sitting quietly and for watching the fish jump. It always cheers me up to have such beauty on our doorstep.
But distilling in rural Scotland is presumably not for everyone? Tell us about the team at the distillery?
The team at Tamdhu is one of the things that makes the place special for me. We have fun - it's one of the rules! I'm sad to say that I am now the most mature on site now but there are 18 of us and around half of us live on site so for us it is our home, too. We are a wee community in itself and we look after eachother.
There are only two of us that originate from outside of this part of Scotland. Coincidentally, we're both from Glasgow so have found the slow pace of Speyside a while to get used to! The rest of the team are local lads so everyone knows everyone; there are no secrets at Tamdhu!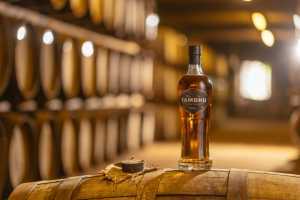 Best way to enjoy a whisky?
With family and friends! I rarely have a dram by myself so, for me, it is all about being with close pals and having good craic and a catch-up. I never add ice and rarely water down my dram, either. But I don't believe in 'rules' when it comes to whisky; it's your dram so do what you want with it. In fact, one of my friend's gran used to enjoy her whisky with milk!
For more information on Tamdhu, see tamdhu.com