In the Scottish National Gallery in Edinburgh hangs the Monarch of the Glen, Edwin Landseer's iconic depiction of a 12-point stag standing staunchly in the foreground of an unmistakably highland scene of craggy peaks and misty glens. It is so Scottish, it hurts.
Yet this seemingly harmless - if a bit kitsch - ode to Scotland is oddly divisive. Many see it as a fantasy - as an image of a Scotland that, if it ever existed, doesn't now.
They see it as classist, as a Scotland which belongs only to the well heeled shooting parties which see the highlands as their playground.
Others see it as illustrative of the spirit of the Scottish people; they see Landseer's beast standing unyielding in the face of the unforgiving elements that shape Scotland's landscapes as much as they do her people.
Politics and patriotism aside, one thing is undeniable; this single painting has irreversibly shaped how the world sees Scotland. Variants of Landseer's stag have been splashed over anything from shortbread tins to keyrings, amongst other tartan tat.
But it does pose a good question: can any one thing really define a place?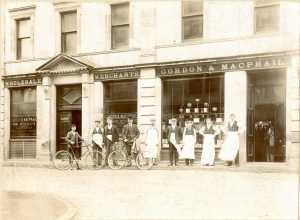 Instead of seeking to be original here, it is perhaps worth looking to perhaps the most cliched expression of Scotland there is - whisky.
Indeed, a red stag not dissimilar to that from the gallery adorns each single malt bottled by Gordon & MacPhail, spirits merchants from Elgin now in their fourth generation of family custodianship.
What started as a grocer's shop in rural Speyside in 1895 is now arguably the most respected independent bottler of Scotch whisky in the world.
Founder John Urquhart and his son George were amongst the first to age whiskies for much longer than the norm, taking control of the maturation process by filling spirit from a plethora of distilleries into their own casks.
Doing so meant that they could match the spirit character of each distillery they worked with to the cask and wood types they knew would work best.
They then bottled the contents as single malts instead of blending whiskies together for the mass market and in doing so, changed how the world drinks whisky.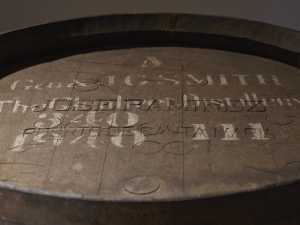 In February 1940, they also started something that would capture the attention of the entire spirits industry today. That winter, John and George took delivery of a parcel of casks from sherry house Williams & Humbert in Jerez, Spain, carrying oloroso sherry which the Urquhart's would bottle and sell through their shop to local patrons.
Once empty, the Urquhart's dispatched the casks to nearby Glenlivet Distillery to be filled with their 'new make spirit' - raw alcohol which will be Scotch whisky once matured for at least three years on wood.
The same year, the Ministry of Food cut malt whisky distilling by one third to ration barley for the war effort and Glenlivet's production fell by two thirds.
That John and George managed to secure any of the distillery's liquid at all was testament to their reputation in the trade.
The choice of Glenlivet for these casks was intentional; the Urquhart's knew that Glenlivet's zesty and fruity style of distillate would marry well with the luscious, nutty remnants of sherry which had seeped into the oak staves.
They also knew that Glenlivet was the most sought single malt of the day and as such, would command a higher premium once bottled. Such was its reputation that innumerable forgeries appeared in taverns and grocer shops alike, only further increasing demand for 'the real Glenlivet.'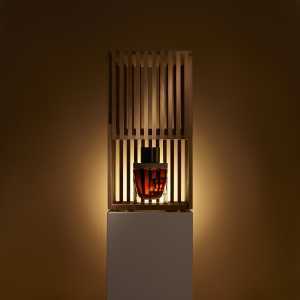 But neither John nor George would live to see these casks bottled. They knew that Glenlivet's spirit character had just enough weight and body to mature for many decades - to slowly extract colour and flavour from the sherry soaked walls of the cask.
Over the following years, some of those casks were used and in January 1980, the remaining eight were moved to Gordon & MacPhail's own bonded warehouse in Elgin. There, the family could keep a closer watch of their progress; ensuring that only when the whisky reached its 'peak' - that point where the spirit has extracted all it can from the wood - it would be bottled.
For one those casks, no. 340, that moment has come. It has been bottled by the family at 80 years old, making it the world's oldest single malt whisky, and the latest in the family's 'Generations' series in which they release whisky from the rarest of their private stocks.
Always ones to do things properly, the family commissioned architect Sir David Adjaye to design a crystal decanter and a stunning oak, pavilion-esque structure to hold each of the 250 bottles which the cask has yielded. For the launch, the family partnered with Sotheby's who will auction the first bottle from the cask in Hong Kong next month, along with a framed barrel end from the original cask and a lithograph of concept drawings signed by Sir David.
As for the liquid itself, it is rather hard to believe that this whisky has spent eighty years on wood. Polished rosewood in colour and almost oily in texture, it has many hallmark characteristics on an old dram - darkened hues and a weightiness which whiskies only develop over many years. But it is also remarkably vibrant and fresh. Whilst such a long maturation may overpower many whiskies, the liquid in cask 340 has held its own. This beautiful malt has retained all of that Glenlivet fruitiness that John and George wanted it to.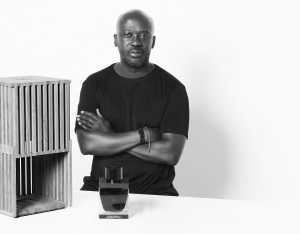 It is yet to have a price but the first bottle is likely to go for six figures at auction, with the remaining outturn presumably pre-sold to the family's private clients. And in many ways, this is all a bit silly. The notion that a bottle of malt could cost more than a flat would surely horrify the old highland crofters who once distilled not for commercial gain but to make good use of surplus crops and to stave off harsh winters.
But it is also rather remarkable. The world in which this greatly aged whisky was distilled no longer exists; the men who laid it down never lived to meet those who would drink it. It is also easy to forget that whisky is little more than water, yeast and barley. It is impossibly complex in its flavour yet so fundamentally simple in its manufacture; revered as a luxury yet devoid of pretence.
And it is that dichotomy which gives whisky such a sense of place and allows it to be everything to all people. It gives a home to those who think nothing of dropping thousands on a crystal enrobed bottle of wood infused alcohol. It likewise does well by those who see it as the embodiment of the values and time honoured traditions of days past.
Whisky manages to speak for the entirety of one proud nation - something that Landseer and his stag could never do.