For winegrowers across the world, 2020 will always be a special vintage. Not because it was the hottest or coldest, wettest or driest. But because it was the only vintage that's been grown during a global pandemic.
For the Cuvelier Family, the year also holds further significance as it marked 100 years of their stewardship of Château Léoville Poyferré.
Léoville Poyferré's history stretches much further back than that, of course – to 1638, to be exact, when it still bore its original name of Mont-Moytié. It would go on to become the largest property in the Médoc until the French Revolution.
A decade later, the Cuvelier family began making a name as wine merchants; a century later, as wine producers. And in 1920, the family purchased both Chateau Léoville Poyferré and Chateau Moulin Riche drawn by the storied terroir of Saint-Julien.
Despite covering just 920 hectares, there are no fewer than 11 Grand Cru Classés in the Saint-Julien appellation accounting for 85% of its vineyard area.
The terroir here produces wines of marked quality – blending beautiful concentration with delicate profile and a poised elegance.
The latest 2020 is no different. Indeed, while the world was suffering the storms of Covid-19, the sun shone in Bordeaux. Overall, it was a very warm vintage, with the first part of the year inducing early flowering. It's now the third in a 'solar' trilogy – 2018, 2019, and now 2020 – of exceptional years for Bordeaux.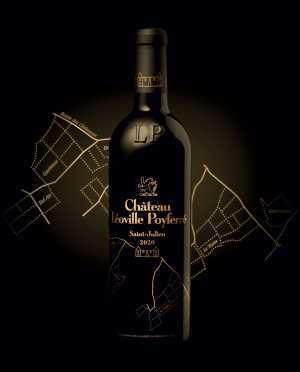 The Cuvelier couldn't let such a vintage on such a historic year go by without commemoration. So it has released a limited-edition bottle for the 2020 vintage.
Rather than the traditional label, the bottle features contours of the vineyard engraved into the glass and finished in gold.
This is kind of a big deal – for the Bordelais, merely increasing the font size on the label would normally be considered a seismic shift.
The wine inside this anniversary bottle is no less spectacular. James Suckling expounded that "the quality and precision of the tannins are impressive, giving the wine form, energy and equilibrium". Matthew Jukes gushes: "This is a tremendous wine – I am always in awe of wines that build gracefully and deliberately on the palate ending with a fanfare of class and distinction." Jeb Dunnuck said, "It will shine for 30-40 years more." And Anotonio Galloni, exclaimed: "In a word: magnificent."
We'll certainly raise a glass to that.
Find out more here.