When Core sent an email shot to its database inviting them to the inaugural Dom Pérignon Second Life dinner, chef patron Clare Smyth had an inclination it would sell fairly fast. But not this fast… Within two minutes, every seat was gone – the quickest in the restaurant's history. And this was despite each place costing a not inconsiderable £850 per person.
But this was a particularly special invitation: one night only to taste a brand-new menu crafted by Smyth. This would frankly be enough of a draw in and of itself. Yet this menu had been specifically designed to complement an extensive tasting of Dom Pérignon, Dom Pérignon Rosé and the star of the show, Dom Pérignon Plénitude 2 (or P2, for short).
The 'Second Life' label is an appropriate one – for both Smyth and for P2. Let's start with the former. Smyth became the first female chef in the United Kingdom to run a three Michelin star restaurant when she headed up Gordon Ramsay's Royal Hospital Road flagship in 2007.
She helped the restaurant retain those three stars for the next decade, before deciding that it was time for her own name to be in the lights.
Core by Clare Smyth was born – and of course, those three Michelin stars weren't far behind. The food here is without a doubt some of the finest you'll find not just in London but in the world.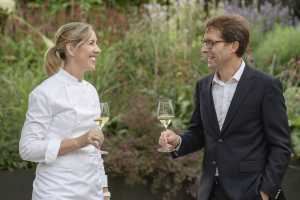 And what's really exciting is to see how she has developed her style, drawing on her experience at Restaurant Gordon Ramsay and taking it to a whole new level.
The only thing that can make it better? The wine, of course. Enter Dom Pérignon. And specifically Plénitude 2.
For the pairing menu, Smyth explains: "It sees me giving a second life to dishes that I previously created, some of which were my greatest hits. I've brought them back to life and modernised and improved upon them with age and experience."

This is a concept that marries perfectly with Plénitude 2 – which gives already incredible vintages a second life. Dom Pérignon is a vintage-only champagne, only released in years deemed worthy of the name. For each vintage, a limited number of bottles are set aside in the DP cellars to be afforded even longer maturation.
Where the first Plénitude is released after 8-10 years of elaboration, the second Plénitude is held back until 15 to 20 years lees ageing.
The result is wider, deeper, longer, more intense – and its ageing potential is increased even further.
Don't take my word for it – listen to Ethan Boroian instead. Dom Pérignon's UK ambassador explains what really makes Plénitude 2 sing: "This wine is not only for the champagne lover, but also for the fine wine lover. The complexity, the texture and the energy of Plénitude 2 sits alongside some of the world's finest wines. Our first release is a promise, regardless of vintage: the style will always be the same and the wines will all have great ageing potential. Plénitude 2 is the expansion of this, taking the wine into another dimension where every detail is taken into consideration, from being hand riddled, to hand disgorged and tasted by the wine-making team to ensure the utmost quality".
You have to taste it to believe it, which is where Clare Smyth comes in, creating a masterclass in the layered cooking necessary to do justice to the subtlety and complexity of both Dom Pérignon and Dom Pérignon Plénitude 2.
There were no less than seven Dom Pérignons being paired on the night – from the vintage 1996 up to the newly released Dom Pérignon 2004 P2.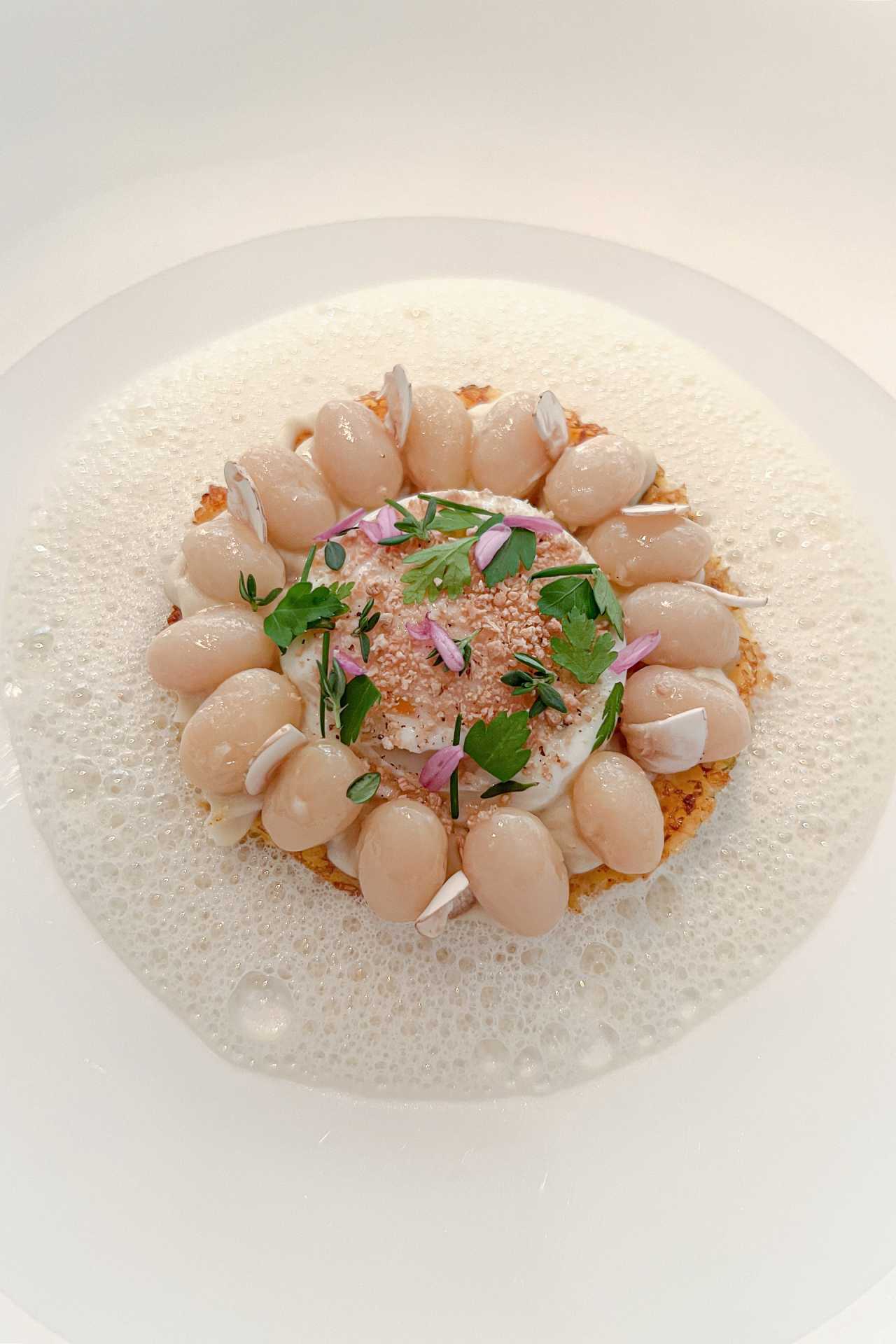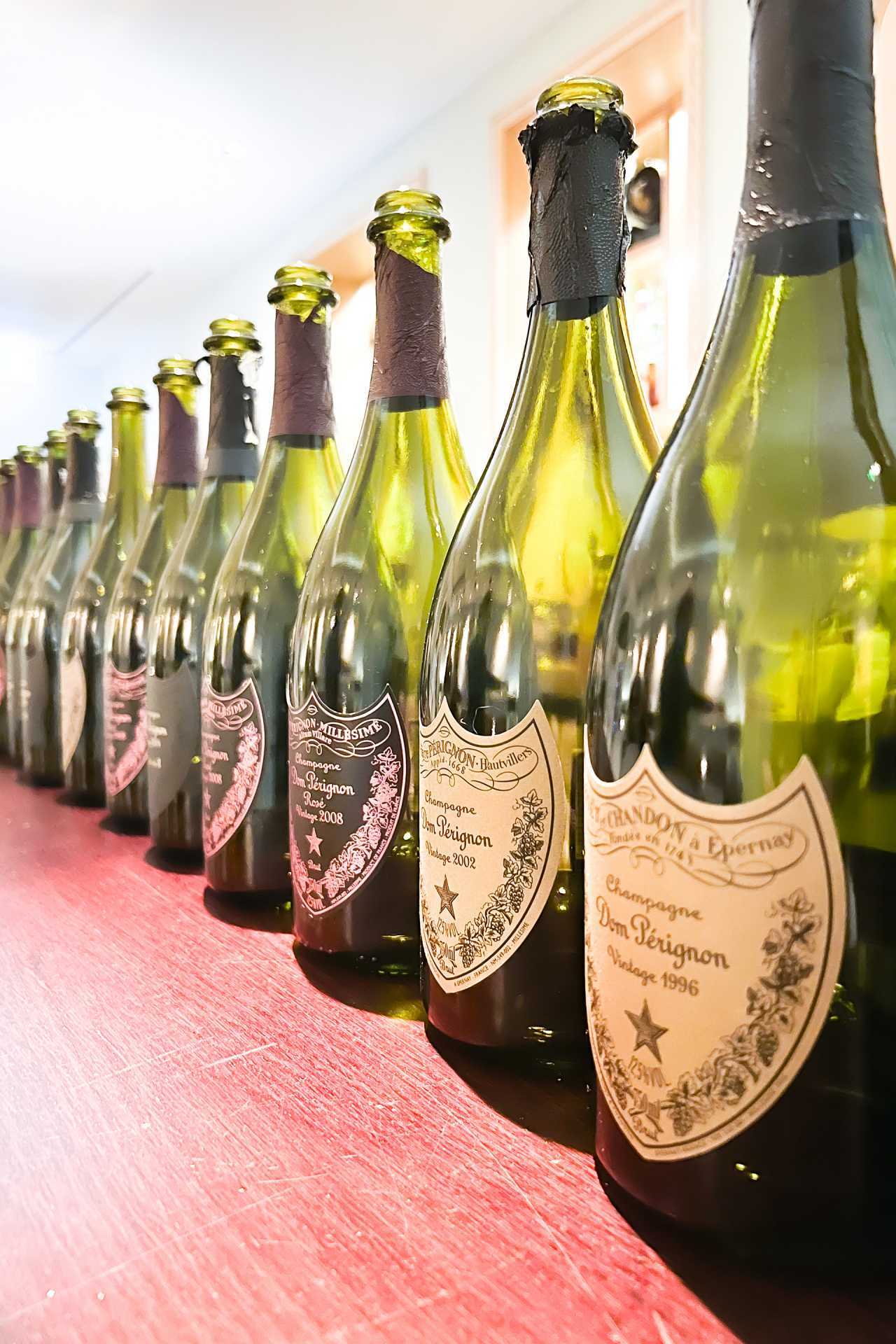 One course I'll never forget was Dom Pérignon 2003 P2 matched with 'Beans on toast'. Of course, Clare Smyth's idea of this dish is very different to yours or mine. Delicate coco de Paimpol beans are presented in a circle so elegant it could be the medallion of a necklace. White truffle is shaved generously on top, before your fork breaks through to the golden Fenton farm egg hiding beneath. It is a sumptuous, rich and indulgent dish – all characteristics of the 2003 P2. But where the P2 sores is in its simultaneous freshness. Something this old has no right to be this spritely.
All the P2s we tasted – 2002, 2003, 2004 – were all sublime in their ability to balance minerality with intensity; sweet with savoury; subtly with power. It's kind of a paradox in a bottle.
And the lasting impression of P2 is just how long it, well, lasts. And my word, does it have a lot more to give. The hardest thing about buying a bottle now will be not to open it.
Here's hoping Clare Smyth offers an encore.