For the past ten years – hell, twenty – female fighters have been silently standing in the wing, training and transcending records, waiting for the world to catch up. They've been running miles in the dark, hitting pads in back alley gyms, competing for their countries, and sweating in preparation for the thing they always knew they would do. Get recognized. And that's exactly what 17-0 star Mikaela Mayer has done.
This 32 year old has been hustling for the hunt, and showing up for takedown after takedown. She started as a rebel teen, looking for a place to channel her intensity. Now, she's the reason that legendary Hall of Fame inductee, and 1996 head coach of the U.S. Olympic team, Coach Al Mitchell, turned his head to train a female boxer. Something he said he'd never do.
This Saturday she goes for her biggest fight yet. Four belts are on the line. Alycia Baumgardner thinks she can "dog walk" Mikaela Mayer, but she's going to step into the ring and learn very quickly that you don't put a leash on a lion.
Welcome to the era of female boxing. We've been waiting for you. We sat down with the unified Super FeatherWeight Champion of the World to discuss what this moment means for her, what's next, and what the world has yet to see.
 So you've been in the UK a few weeks now, is there a love story unfolding, can we expect to see you around here more often?
I definitely feel a lot more embraced here in the UK. I think there's a few reasons why. I think the UK in general already has a much bigger market for boxing than America. A little smaller with less competition for the media's attention. They're more open and welcoming to the idea of women fighters. Boxing is one of the top two sports here, that and soccer. (football) There's a different energy coming here. I feel more appreciated, honestly. I feel it in America too, but I've worked so hard to build a market there, but it's just a lot harder.
What do you think people like us can do to change that narrative, that persona that may be there in the States about female boxing and get them to catch up?
Well the media controls the narrative, right. The media is part of it. But it's also such a huge country. You already have the NBA and the NFL and these hugely Americanized sports. I think it's bound to happen. I've always said it's inevitable. We're not going anywhere. It's just going to take a little bit longer in America. A perfect example is, when you look at how much boxing has grown over the past few years. There's a whole roster of women. TopRank just signed their second female. I signed on five years ago, and they just signed their second female. That might seem silly to some people, like wow you guys only have two women, but to me I'm like, yes, we are making strides. It's worth it. We can sell. We're entertaining. We have skill and ability. Because TopRank is with ESPN. So to have a network like ESPN, and a promoter like TopRank to pick up another female. That's proof that we've changed the game. We're on the right path.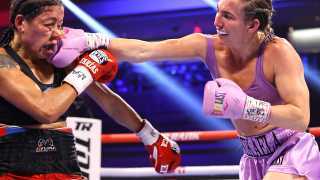 I know you've always had the vision Mikaela, and been able to see it when other people couldn't, even when Coach Al couldn't. What would you say to the Mikaela that walked in the gym when she was just a teenager being where you are now?
Nothing! Nothing! I wouldn't want to screw up the process that she went through. Because I was insanely confident, for like what reason. I look back and I'm like, I was crazy! Because to some extent everyone around me was right, like how are you going to make money? Is there a future for females in boxing? And I completely disregarded it. I was like no, I'll be fine, I'll be the exception. Now in hindsight, I see that they had points. But I was so determined. Now I look back and I'm like wow that young girl was so badass to even have that kind of confidence, with no daily reward, no path to follow, no proof. I wouldn't tell her anything, cause she freaking had it figured out.
I hear you say that, and I know this connection that people have with the sport, this love of it they almost can't define, that always brings them back. How did that start for you, what was that early connection that made you have that confidence?
Yes. Because I told myself after weeks of training that I was going to be the best in the world. That was in the Gina Carano days. When she was really the only female fighting. I think it's that I've always been an extremist and I always need to be constantly stimulated. I'm not good with down time. That was one of the reasons I was a wild teenager, I would always search for that high. Always doing things. That was the thing that drew me to fighting because it was so insane and so challenging. Mentally, physically. That was the outlet I needed. It required my absolute full attention. Every little bit of me. Fighting is crazy, and I'm crazy. So we just fit.
What has your favourite thing about it been, maybe that you couldn't have expected, looking at how far you've come?
Honestly, I'll talk about something that a lot of people won't admit. A lot of people say I don't care about the money, I'm here for the sport. But that's not true. I care about the money, I always cared about having financial freedom. What better way to gain that than through doing something you love? I've worked so hard at this point to get to that. It's so important for me to walk away from this sport and not have to worry, and stress, and work for someone else.
I admire you for saying so. Cause obviously the boys can roll around in their Ferraris so why can't we?
Exactly. I always wanted money. I remember when I was a little kid, I'd be like oh I'm going to get a big house just like that. I was fascinated with having things. I always expected to have a career in boxing. But I think I surpassed a lot of people's expectations for the level of a career that I've created. I've got a new contract, it's not signed yet. But it's there, it's written. It's on the way. I'm on the verge of getting all of that and more.
What has been the most exciting moment in your career thus far, or most rewarding?
The most exciting moment is right now! This is a mega-fight. Maybe people didn't expect for this to turn into a mega-fight, but it has. This is the first time I'm part of something like this. I've never done this much media going into a fight. I really think people are taking notice. It's just another level. Which means more is on the line, but also more is going to come from this win than any other. 
And now we've got six days until the fight, so what do you do outside of press for this week until you walk into that ring? What are the most important things for you to have in your routine and schedule to get you in the right place?
Well, okay, so I have a Coach Al, and he is crazy. We are still in training camp. People usually taper, we don't taper. Your travel days are your rest days, pretty much. That's what he says. But we already travelled. So the rest is over. We spared ten hours yesterday. We have our last sparring session on Tuesday. Like nobody does that. But that's always what Coach Al has done for me. He's always pushing it to the last minute. I mean I'm still training, running, I'm cutting a lot of weight these days. That's a big part of it. Through all the media and training, everything has to be coordinated around my meals and getting back with enough time to do my bath and eat and rest. The weight and nutrition is just as important at this stage.
You are an individual in this amazing collective of female fighters—Taylor, Serrano, Shields, Marshall. What makes you stand apart as an individual in this crowd?
One thing I really pride myself on is how technically sound I am. All these women are too, but it's really going to elevate us to the next level. And my personality. I have a very multidimensional personality. I try to be authentic, and funny, and real. Obviously, I have the serious moments too. I feel like I live the most balanced life. You see someone like Katie Taylor and I don't want to sound mean, but she is train, train, train, all the time. She's very religious and straight edge. That's not really me. I'm kind of a loose cannon sometimes. I'm fun, and out there, and wild. But I know how to get serious and break it down. I'm not perfect; and I don't try to be. I think I'm relatable. 
When I look back on history and think about these historical moments where women are making huge changes and strides. When women got the vote, when we got birth control. I always wonder what those conversations were like between the women that launched those movements. Can you recall any conversations like that back in your Olympic days, alongside Clarissa Shields, and other female fighters? Did you guys discuss the vision?
No, no. And you know what, someone asked me about that this morning. But no, I didn't. That's something you'd get a better answer from if you asked the US soccer team; I'm talking about team sports. Like the women in this era—you have to be so independent and strong and free willed, that you're not really having these conversations. At least I didn't. It's not a team sport. Everyone is out there trying to make it in their own unique way. Everyone has their own path. It's so interesting.
What are you seeing as that unique path for you, what's next?
In my mind, it's big fights only. I just signed with TopRank for three more years, and ideally I don't want to have to fight past that. I want to accomplish everything in that time. I've had eighteen pro fights, I'm ready to go now. I don't need any more build up. I'm thirty two years old, I'm in my prime. I have the amateur pedigree. I can go up two, three more divisions, and there's no reason for them to not be big fights. Like ideally, if I could write this all in stone, in a perfect world. I'd beat Baumgardner, then Choi. I'd go up to 135, I'd beat Katie Taylor. Go up to 140, challenge the undefeated champion at 140, which will probably be Chantelle Cameron by then. Be undefeated at 140, and then go up to 147 and do the same thing. Retire three years from now as undisputed champion in four divisions. The other belts are already collected. I did the hard work at 130, right. If everything goes my way, I'll have I believe the hardest pass in undefeated. I'll take the belt from every champion.
And then do you want to go into commentating full time, and stay immersed in the sport?
Yeah, I see myself there. Definitely. I've already been dabbling in it with ESPN and SkySports. It's fun, I like it. So I for sure see myself continuing that.
And to bring it to a close, what is it about female boxing that you wish the world knew, and can't wait for them to find out?
Well let's go off of what everyone says, that women aren't exciting. And let's not even talk about this era, let's go two to three more generations from now. When these girls are starting to box at 3, 4, 5 years old, just like the men did. Being able to compete at the highest possible level, just like the men did. The skill level is going to rise so much. This generation is great, we've done so much for the sport. But I've seen some young girls coming up that are unbelievably talented. And I can't wait to watch them come into their own because they have the opportunity now. I'm ready to watch those that flourish after us. It's only going to get better.
You can tune in to watch it keep getting better this Saturday, September 10th on SkySports where rivals Mikaela Mayer and Alycia Baumgardner will meet in the ring.