I'm in the car with Dillian Whyte, talking about death; about how he might like to go and, more to the point, the many, many ways that he would not.
"I don't think dying's easy any way you do it," is the Whyte standpoint, and it's hard to argue against. From the back seat, the publicist notes that drowning is supposed to be very peaceful, at least once you've passed the 'lungs filling up with water' stage and moved onto the ostensible endgame of euphoric bliss.
Whyte is unconvinced, emphatically so. "Fuck drowning!" he exclaims. "I've nearly drowned a couple of times. Drowning is horrible! It's like you're suffocating."
He could be referring to his childhood in Jamaica, specifically the time his father pushed him out of a sailing boat and told him to swim to shore – an instruction somewhat complicated by the fact young Dillian couldn't swim. Not at first, anyway: splashing around in the ocean, the boy was forced to learn pretty quickly. Which, of course, was precisely why his father pushed him in.
"He was showing me that nothing is impossible," explains Whyte. "That's what he was showing me. If you're put in a situation where you have to fight or die, you come out fighting. He taught me that from an early age."
Whyte has been fighting all his life. Through a childhood of poverty in Jamaica. A violent adolescence on the streets of South London. In 26 professional boxing matches: his only loss coming in 2015 to Anthony Joshua; his most recent win an 11th round KO of Dereck Chisora in December 2018. (Said Whyte in the aftermath: "He can bring whatever he wants, I've been in deep waters and I can swim.")
Yet he still can't land the big fight, the fight he really wants: a world title shot against the unbeaten American knockout artist Deontay Wilder.
I'm not even frustrated about the world title anymore. It's gone beyond that now
Whyte has been ranked as the number one challenger for Wilder's WBC belt for a barely credible 600 days. (The other three belts are held by Andy Ruiz Jr after his shocking upset of Joshua. A rematch is scheduled for the winter.) "I'm not even frustrated about the world title anymore, man," says Whyte wearily. "It's gone beyond that now."
Later in our conversation, his emotions break through. "Never in the history of the sport, never in the history of any sport, has anyone been number one or a mandatory for so long and hasn't competed for a title or a championship. Never. Never in the history of any sport. Never. Never, ever. It's crazy!"
So instead of Wilder, Whyte will take on the unbeaten Columbian Oscar Rivas, with the winner poised to become the mandatory challenger for Wilder's belt, which isn't the same as being Wilder's next fight: the champion is expected to face Luis Ortiz in the autumn, then rematch Tyson Fury early next year. Everybody in boxing agrees Whyte deserves his shot. Nobody has any idea of when he might finally get it.
He won't, if Rivas has his way. The Columbian enters the fight as an underdog, but a live one, with 18 of his 26 victories arriving via knockout. Make it 19 from 27 and he will leapfrog Whyte to the front of the WBC queue. Bombs will be thrown on 20 July. As Whyte notes of his opponent, "he's the kind of guy you fight for a world title or a world title defence." Lose to Rivas, and Whyte may never have the chance to make one.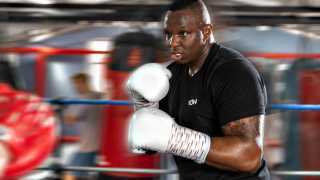 "I'm just a normal hustler like every nine-to-five guy"
Despite going by the nickname 'King of South London', and still living in the area, Whyte does the majority of his fight prep at Loughborough University – one of the best-equipped sporting facilities in the country. It's a legacy of the Joshua defeat. After that night – in which he fought with an injured shoulder, and gassed after the early rounds – Whyte revamped what had been a relatively amateur training setup, and went full sports science: conditioning, physio, diet, the works. The result? Nine wins and counting.
He works out in the university gym – there's no underground facility or private space. When I spot him, Whyte is hanging upside down from a pull-up frame, jackknifing his legs from side to side in what must be one of the more extreme ab exercises available. (Can't be easy on the pull-up frame, either.)
He is enormous, not merely in body – 6ft4", weighed in at 17st 8lbs for the second Chisora fight, his most recent – but in character. Everything about Dillian Whyte is BIG. His laugh is big: an almost manic cackle that frequently doubles him over, as though nobody has ever found anything in the history of humanity as funny as whatever Dillian Whyte is finding funny right now.
I never had no plans or no big investment. I'm a nobody
His opinions are big: unlike the more, shall we say 'commercially sensitive' Anthony Joshua, Whyte will speak on any subject, even when discretion might be the better part of valour.
(Following Whyte's repeated, albeit understandable, criticisms of the WBC, its president Mauricio Sulaiman stated, "We have the highest respect for Dillian Whyte. He is our number one contender, our Silver champion, my friend and a tremendous fighter, but to be insulted over and over again makes it very difficult to continue addressing a situation.")
In the ring, his power is big, typified in the left hook that left Chisora out cold. (Whyte's left hook jockeys with Wilder's straight right for a place atop the list of 'Punches Most Likely To Temporarily Separate You From Your Cognitive Faculties'.) It is this power, along with his natural charisma, that has made Whyte a pay-per-view headliner in his own right, and well aware of his own value, deeming a £5m offer to rematch Joshua in April as "too little, too late", a mere distraction tactic to pave the way for AJ's US debut.
In fact, the only thing that's small about Dillian Whyte might be his ego. He believes himself to be the best heavyweight on the planet but, outside of a boxing ring, he is no different to anybody else. "I'm just a nobody, you know?" he says. "I'm just a nobody. I never had no plans or no big investment. I'm a nobody, I'm just a street brawler, I'm just a hustler, someone who's hustled their way through life. I'm just a normal hustler like every nine-to-five guy. I'm nothing special."
He certainly isn't a nobody anymore, but having spent a day with him, I can attest that Whyte hasn't been turned by his ever-growing celebrity status. He strolls around campus without an entourage, greeting acquaintances and well-wishers with a laidback fistbump. (Whyte bumps, never shakes.)
After training, we pile into Whyte's Land Rover and he drives back to what he refers to as "the hotel" via a brief detour to the Co-Op to buy food for his dogs. "You guys want anything from shop?" he asks in his lilting Jamaican accent.
(Whyte's vernacular combines his Caribbean heritage with South London street-slang: aitches tend to be dropped, words are repeated and emphasised; 'respect' becomes 'respek', every other statement ends with "do you know what I mean?" He could make an Ikea instruction manual sound joyous.)
I thought I'd be dead or in prison. That's what was predicted for me
Outside the Co-Op, Whyte encounters a recently bereaved acquaintance, a woman he knows from his time in Loughborough. He hugs her. "It's really sad," he says once we're back in the car. Her husband suffered a heart attack in his sleep. A friend of Whyte's died the same way.
Whyte himself is lucky to be here: as a teenager, he was shot on two separate occasions, stabbed on another. "I thought I'd be dead a long time ago," he tells me at the hotel. "I thought I'd be dead or in prison. That's what was predicted for me. Prison or death."
The 'hotel' is a village pub that serves as a surprisingly bucolic basecamp for the weeks spent training to render another man unconscious. The staff clearly adore Whyte, treating him more like a family member than a lodger. The affection runs both ways. "I've known them for a while," confirms Whyte. "It's good, it's like a family away from home."
Before we sit down in a corner of the pub, Whyte needs to exercise his dogs. The dogs travel up from London with him, and share his rooms. Two little chihuahuas… sorry, make that mastiffs, two of the biggest mastiffs I've ever seen. Zeus is the brown one, Hades all black. They tussle playfully on the lawn, then trot over to say hello. I resist the urge to trot in the opposite direction.
"Don't give them no trouble and they're alright," Whyte reassures us. They are beautiful creatures, and perfectly docile; nonetheless I pity the burglar who breaks into Dillian Whyte's house.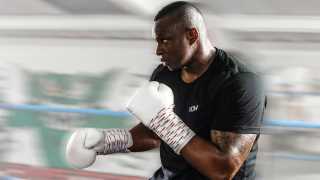 "I can't complain. I have food, I'm doing good, I'm alive"
Family is a big deal for Whyte. His dad is a "tough man, a hard man. Physically and mentally hard." That same hardness was instilled in his son through a parenting style that sounds more stick than carrot. Whyte holds no grudges. "Now I understand some of the things he was saying to me, and what he was trying to teach me, the lessons that he was trying to show me at the time. Now I'm older, I understand. He was a good dad."
He had his first fight in Jamaica. "I was nine years old. An older boy was bullying a boy at school, and I punched him and he got knocked out. Never forget it cos I got my arse whooped that day, boy! By the teacher, and by my dad when I went home." Don't fight at school, was the lesson, although Whyte learnt a couple of others as well. He didn't like bullies, and he had a very hard punch.
Aged 13, Dillian joined his mother and sisters in South London. For a boy who had never seen snow before, who used to scavenge for Coca-Cola bottles on the beach, the cultural shock was immense. Everything was different. "Even stuff like having a fridge in my house, or a TV that works. Simple things like that."
London offered more amenities but it also brought trouble. He became affiliated with local street gangs, drawn into a life of violence. He found himself in jail at 18, looking at a future that would bounce him between a cell and the streets until he ended up in the morgue. He resolved to escape it. He didn't want to let his mother down.
I was like, 'yeah, I'm different from everyone else'
A friend introduced him to kickboxing. He was good, good enough to win the British heavyweight championship twice. He moved into MMA, scored a knockout, and then decided to try boxing proper. His first opponent as an amateur was a highly touted young fighter named Anthony Joshua.
Whyte's coach didn't want the fight; Whyte convinced him otherwise.
"I said, listen, make the fight, I know how to look after myself. He was like, 'ah, we hear this all the time from you inner city London kids. You lot come out here, give it the big 'un. Then you have one hard fight, lose and never come back.' I was like, 'yeah, I'm different from everyone else.'"
He floored Joshua and took the decision.
Another amateur victory illustrated the brutal nature of Whyte's chosen trade, after his opponent fell into a coma. He describes visiting the man and his family as "one of the hardest things I've done." The family bore no grudges – it's boxing, people get knocked out – but, for once, Whyte was lost for words. "It was crazy, crazy," he recalls. "I didn't know what to say to his family. I didn't know what to say. I didn't even know what was the point of even going there; I guess I was trying to support him and make sure he was OK."
He scorns Wilder's assertion that he wants "a body on his record." "That's just stupid! Deontay Wilder's an idiot. It's a dangerous sport, there's enough risk. Deontay Wilder, he's a nervous guy – he's a bully. He's a bully. He's trying to say stuff to intimidate his opponent, he's naturally a scared person. It's rubbish."
Tyson Fury provokes similar scorn – "Tyson Fury's a piece of shit" – although for different reasons. Rather than tasteless trash-talking, Whyte believes Fury is exploiting his battles with depression as a means to curry public affection. "All this mental health stuff – where's any medical record of it? He claims he donated all his money from the Wilder fight to charity – where is there any evidence of the charity he donated the money to? He just talks rubbish."
Fury's claim to the mythical lineal championship is also disputed. "You have to have all the belts to be lineal heavyweight champion. He never had all the belts, because Vladimir [Klitschko, defeated by Fury in 2015] never had all the belts. So how can he be heavyweight champion?"
There are kids that have been through a lot worse than me – I look up to people like that
Playing Devil's Advocate, I note The Ring magazine listed Fury as the lineal champion…
"Boxing, man," sighs Whyte. Years of frustration, disappointment, and broken promises contained in two short words.
Yet when offered the opportunity to vent against the sport, his tone mellows. "I'm sure there are other guys in other sports having it as hard as I am. There are people in life having it harder than me, so I can't complain. I have food, I'm doing good, I'm alive. I changed my life, I'm not having to walk the road and hide, duck and dive like I used to. I've got plans. I have a future."
Whyte speaks of wanting to bring everyone up; inspire and be inspired in turn. "There are kids that have been through a lot worse than me. I met a guy the other day, he's 18, he was at 30-something stone, he'd been abused, family and stuff, drugs, his family abused him, and he tried to commit suicide and everything. But the guy lost a lot of weight, he's down to 14 stone now, he's boxing, he's doing good, he just got a young person achievement award. I look up to people like that."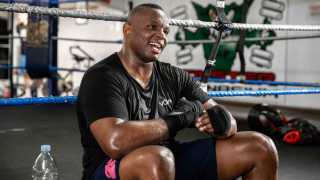 I'm not content with what I've achieved. I'm privileged, but I'm not content
It's been a long, slightly surreal day; could a day with Dillian Whyte be anything else?
Now we have a train to catch, and he's off to relax before returning to the gym later this evening. Plenty of time to get fat in retirement; for now, the work doesn't stop, anymore than the journey does.
Jamaica, Brixton, Loughborough, Greenwich – who knows where next? Wembley Stadium? Las Vegas? Maintain the winning streak and those nights will surely come.
"A lot of people say they started from the bottom. I started from below the bottom. I started from underneath shit. Now I'm thinking about it, it's crazy.
"Sometimes I don't give myself enough credit for what I've done or what I've achieved or how far I've come, because I'm not content with what I've achieved. I'm happy, and I respect it, and I'm grateful, and "
I know the extent of Dillian Whyte's discontent; and on 20 July so will Oscar Rivas. Perhaps, one day soon, so will Wilder, Fury, and the rest.
The waters ahead may be murky but Whyte won't be daunted. He'll keep on swimming regardless.