For the average golf fan, the postponement of The Masters – the first time the illustrious major had been cancelled since World War II – illuminated the sobering reality that this virus wasn't just deadly, but bloody inconvenient.
Fortunately, we will get a Masters tournament this year, even if we had to wait for the leaves to start falling off the trees. Between 12-15 November, the best players on the planet will travel down Magnolia Lane for an autumnal rendition of the most beautiful major of them all.
Will things be different outside of the usual spring window? The truth is, we won't really know until the first balls are struck on Thursday. Augusta National has an army of greenkeepers to ensure the course at least looks the same as normal, but there's reason to believe that it won't play quite the way it usually does.
"The operative word for how it will be different is 'longer'," veteran Augusta Chronicle columnist Scott Michaux has explained to the press. "The combination of cooler weather and a less mature overseed should combine to make it longer than players are accustomed to experiencing in April."
Players walking off their practice rounds seem to confirm Michaux's prediction. The course is playing a little softer, and just a little slower than is perhaps the norm here – and with weather forecasts in the area showing rain is on the way, you'd imagine all signs point towards Augusta National playing every inch of its 7,475 yards.
On a course that already statistically favours longer hitters and puts less emphasis on driving accuracy (wide fairways and little-to-no rough see to that), this is an eyebrow-raising revelation when you're starting to make a case for a winner.
All signs point towards Augusta National playing every inch of its 7,475 yards
Many will understandably jump to the conclusion that newly crowned US Open-winner Bryson DeChambeau could simply pummel Alister MacKenzie's course into submission. Likewise, Rory McIlroy and Dustin Johnson – veritable Masters bridesmaids, never the bride – boast PGA Tour leading tee-to-green statistics and an enviable record at Augusta National.
But all three for me feel like better candidates for the Masters 2021 title: the Northern Irishman hasn't consistently put it together this season and his lack of a razor-sharp wedge game wards me off, DJ returned from contracting Covid-19 with an excellent T2 in the Houston Open but these are much deeper waters within which to test his match fitness, while Dechambeau's well-publicised driver experiments are likely to remain in the beta stage of testing at least for now.
To get it done this week, I'm looking for players with a red-hot putter (this is Augusta, after all), dialled-in irons and, yes, a bazooka for a driver. These are the players I'll be going into battle with this year…
Tweet
Jon Rahm – 10/1 (9 places), William Hill
In this most unusual set of Masters circumstances (lack of crowds, lockdown-interrupted preparation, new course conditions), there is a strong likelihood that this tournament will favour the best and most in-form players on the planet – and, by proxy, those shortest in the betting.
While I can make excuses for the likes of DeChambeau, Johnson, and McIlroy, I find it much harder to dismiss the chances of the explosive Spaniard Jon Rahm who surely arrives at Augusta with his best ever opportunity to win a major to date.   
Rahm is the owner of possibly the most pertinent statistic in this year's Masters lineup: of the 97 players to have played more than 12 rounds at Augusta National since 2010, Rahm ranks first for scoring average on both the par fives and the par fours. Only on the famously idiosyncratic par threes does anybody score better.
The 26 year old, celebrating his birthday on 10 November, has won twice in 2020 with a commanding three-shot victory at The Memorial, and a dramatic playoff victory over Dustin Johnson at the BMW Championship.
Coming into Augusta off a T2 performance at the ZOZO Championship where perhaps he could and should have won, I have a feeling the close call is only going to fan the flames of this ferocious competitor.
Since 2010, Rahm statistically ranks first for scoring average on both the par fives and the par fours at Augusta National
Rahm's artillery includes a long and accurate driver (few come close in this department), superb approach play, and those 'Spanish hands' – a seemingly genetic trait that gifts all Spaniards the ability to create magic from their wedge game. The putter has been a little chilly of late, but that is likely a momentary blip.
I'm really nitpicking here, but my only cause for concern is Rahm has yet to really contend at the sharp end of a tournament. Yes, his last two performances at The Masters read 4th and T9 but neither result represented a genuine opportunity for the Spaniard to turn that top ten into a top-of-the-pile. In other words, until we see Rahm leading or on the hunt on the Sunday of a major, we don't truly know if he's ready to grab the tournament by the scruff of the neck.
This isn't a comment on Rahm's abilities, it's a statement of fact. Just look at McIlroy: his first shot at major victory came in the 2011 Masters ended in disaster, only for the learning experience to give him the tools required to win the US Open just two months later.   
Still, there are few contenders that boast such a strong-looking profile. Should he manoeuvre himself into a winning position this weekend, it would come as no surprise for him to shoot his shot. I'd kick myself if he won without my backing.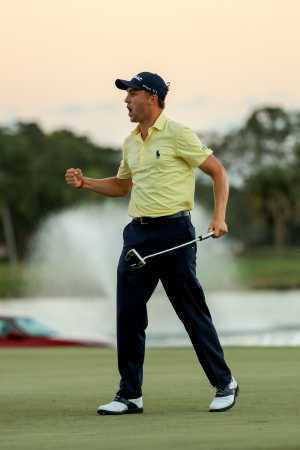 Photo by Mike Ehrmann / Getty Images
Justin Thomas – 11/1 (11 places), Sky Bet
No points for originality here, but Justin Thomas simply looks a Masters winner-in-waiting. For starters, he has been one of the most consistent performers since lockdown began, racking up six top-ten performances (including T8 at the US Open), as well as one victory.
He shared second with Rahm in his final tournament before The Masters – dashing his chances of winning by blowing a shot out-of-bounds during the final round – but keen-eyed observers won't be too disappointed given the shape of Thomas' current game.
Form may be temporary, but over the last four years Thomas has time and again proven himself to be among the best players on the planet with an iron in his hands – finding himself sixth, fourth, second, and now first statistically in that department. 
Much is made of Augusta's length and slippery putting surfaces, but the 27 year old combats the brute force of some of his fellow competitors with an artistry of which his mentor Tiger Woods would approve. 
Truthfully, this tournament couldn't come at a better for Thomas – riding the crest of a wave where each facet of his game is finally firing on all cylinders. Thats saying something for a guy who has already won a major, a FedEx Cup, and regularly finds himself in the winner's circle on the PGA Tour.
In four appearances at Augusta, his form progression reads T39, T22, T17, T12. It's modest compared to some Masters form lines, but it all points in the right direction. Expect the 27-year-old to burst into the top ten at the very least this time around.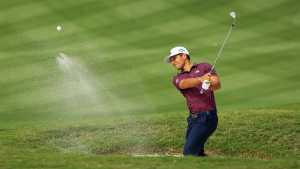 Photo by Andrew Redington / Getty Images
Xander Schauffele – 14/1 (10 places), Betfair
Xander Schauffele has been the wise guy's pick in the majors ever since his shock Tour Championship victory at the end of his 2017 debut season.
Punters have been richly rewarded for their faith thanks to the Californian's superb strike rate of six top-ten performances in just ten major appearances since 2018 – and on more than one occasion the Californian tasted the lead without getting the whole pie. But for a costly bogey on the 17th at Carnoustie, his name may have found its way onto the Claret Jug at The Open 2018.
Spurned opportunities aside, a battling 68 on the Sunday of last year's Masters saw him finish just one shot back of winner Tiger Woods. One can't help but feel that should the duckies line up in a row this year, Woods will be helping Schauffele into a green jacket of his own this time around. 
There is no one playing better golf than the X-man. It's a case of when, not if, he wins a major.
Schauffele's game is a model of consistency. He drives it long and straight, throws darts with his irons, and is one of the best putters on tour. Only world number one Dustin Johnson has a better overall strokes gained average in the last six months. The only real negative you can wager towards the guy is he hasn't bagged a victory this year. 
I would argue, however, that for all the likes of Thomas and Rahm will grab the headlines with a slightly flashier game, there is no one playing better golf right now than the X-man.
It's a case of when, not if, he wins a major.
Patrick Cantlay – 25/1 (9 places), William Hill
I'll level with you, Schauffele and the supremely talented Patrick Cantlay have been in my staking plan for almost every major since they burst onto the scene in 2018. Such is their consistency on the grandest stage, you can almost bet your bottom dollar that at least one will sneak inside the top ten and bag you that place money. The only real frustration has been that neither has gone one step better and won me the whole pot. 
Gun to head, I would still struggle to choose between Cantlay or Schauffele when predicting who will win a major first – and the fact of the matter is both seem like prime Masters candidates above any other major. 
Of the two, Cantlay probably has the most to prove going into this year's tournament. At one point on the back nine of Masters Sunday 2019, the Floridian held the lead ahead of a stacked chasing pack – only to make two sloppy bogeys on 16 and 17 to drop back into a share of ninth. 
Listening to Cantlay speak at the beginning of his tournament preparations, I thought he spoke incredibly eloquently about understanding the role those mistakes may ultimately have in his future success. It seemed to me that slipping one sleeve into the green jacket only for it to be wrenched from his hands has made the 28 year old more resolute in his pursuit of major glory. 
Beating Thomas and Rahm at the ZOZO Championship a few short weeks ago was a pleasing return to form for Cantlay after a quieter-than-most 2020. Whether you view a recent victory as a handicap or a weapon is up to your discretion, but I'd be inclined to believe the three players put on a preview of what might unfold this week. 
If the ZOZO was any indication, Cantlay will not blink first.
Tony Finau – 25/1 (11 places), Sky Bet
Tony, Tony, Tony… Given the fact he is close to three times the price of the previous names on this list, it may surprise you to learn that Tony Finau has the best major record of the lot of them: ten major appearances since 2018 have resulted in seven top tens, including in both of his Masters performances to date.
So why isn't he fancied in the betting? One word: putting.
Finau plays the game with a languid, effortless ease. Few can hit it as far or strike it so well, but as soon as Finau is in contention that laidback demeanour seems to vanish and a tension sets in that manifests itself in his putting stroke.
It's an obstacle that has meant Big Tony has won just one low-key event since joining the PGA Tour in 2015 but, with a game that has proven to be effective on the grandest stage of all, it's difficult not to conclude the son of Salt Lake City is one good putting week away from a major victory.
It might be worth keeping the faith. Even if it's just for the near-guaranteed place money on an each-way bet.
Tweet
Matt Fitzpatrick – 60/1 (9 places), William Hill
Call it a hunch, but as much as I am inclined to side with the long-hitting sharp shooters of the PGA Tour, a nagging voice in my head feels that the predicted softer conditions and inclement weather could lead to the grafters coming to the fore. With that in mind, I'm really interested in the chances of Matt Fitzpatrick. 
The Englishman is by no means a model Masters winner – he simply isn't long enough off the tee – yet, his superb approach play and putting statistics bring to mind former-green jacket winner Zach Johnson. 
Performing with credit since lockdown, the 26 year old has racked up two sixth-place performances and a third-place finish at the Augusta-like Muirfield Village Golf Club. Yes, there is some worry surrounding missed cuts at both the PGA Championship and US Open, but neither were courses that Fitzpatrick could really hope to play well at without a much stronger driving performance. With a previous T4 at The Masters, I'd be inclined to believe this tournament suits his eye more than most.
In his own words, the secret to graduating from European Tour winner to major champion is surprisingly simple: "Just stop hitting s*** shots." Should he manage that this week and the going get tough for a few others, he might just have a hand to play in this golf tournament.
Lee Westwood – 80/1 (11 places), Sky Bet & 3/1 Top 20, Betfair
A few names spring to mind when choosing a final pick: PGA Tour Rookie of the Year Scottie Scheffler has a big-game mentality that saw him tie for fourth in this year's PGA Championship; Matthew Wolff is a long hitter and an impeccable iron player, who nearly landed the US Open in September; Jason Kokrak is another bomber who has broken through in the last six months thanks to drastically improved putting performances.
The trouble with all three is this is their first Masters appearance, and no debutante has won a green jacket since Fuzzy Zoeller in 1979. Plenty will be made of the uniqueness of this year's tournament, sans patrons as it may be, but I believe that the course reveals itself to players over several seasons of play. For me, it's not worth betting against that fact. 
Instead, I'm going for a safe pair of hands. Lee Westwood is a proven Masters performer who has returned to form in 2020 with a string of solid tournaments that indicate the one-time world number one is nearing his best once again.
He's finished second or third on three separate occasions here (most recently in 2016), has the perfect game for Augusta National, and is one of the most experienced performers in the field. Is he the likely winner? No, but there are worse 80/1 shots.
Equally, it won't be the sexiest bet you'll see all week, but I've also had a few pennies on Westie finding his way into the Top 20 at 3/1. He did so at the US Open earlier in the year, and I see no reason why he can't back that up with another strong showing here.