There comes a time
When a boy must become a man
When fear must turn to bravery
When thoughts must turn to belief
When this belief must turn to action
When one must love and one must hope
When preparation turns to performance
When strangers turn to friends
When friends turn to foes
When joy fulfils your mind
When anger fills your heart
When one must stand up and lead
When one must sit back and listen
There comes a time, when the time must be taken
It's not every month that we choose to start a feature with a poem. Usually, us writers want to throw you straight into the conversation; cut the crap and bring you face-to-face with the interview subject. You're here for them, not us, after all. But then this month's square mile cover star is no ordinary interview. As it happens, only a poem will do.
These aren't the words of an English post-grad at Durham. Or the musings of the next poet laureate. But a six-foot-four lock forward. One that also happens to be an activist, passionate art collector, and yeah, poet. You might know Maro Itoje as one of the stars of England Rugby but, as you'll soon learn, there's a lot more to this man than his powerful performances on the pitch.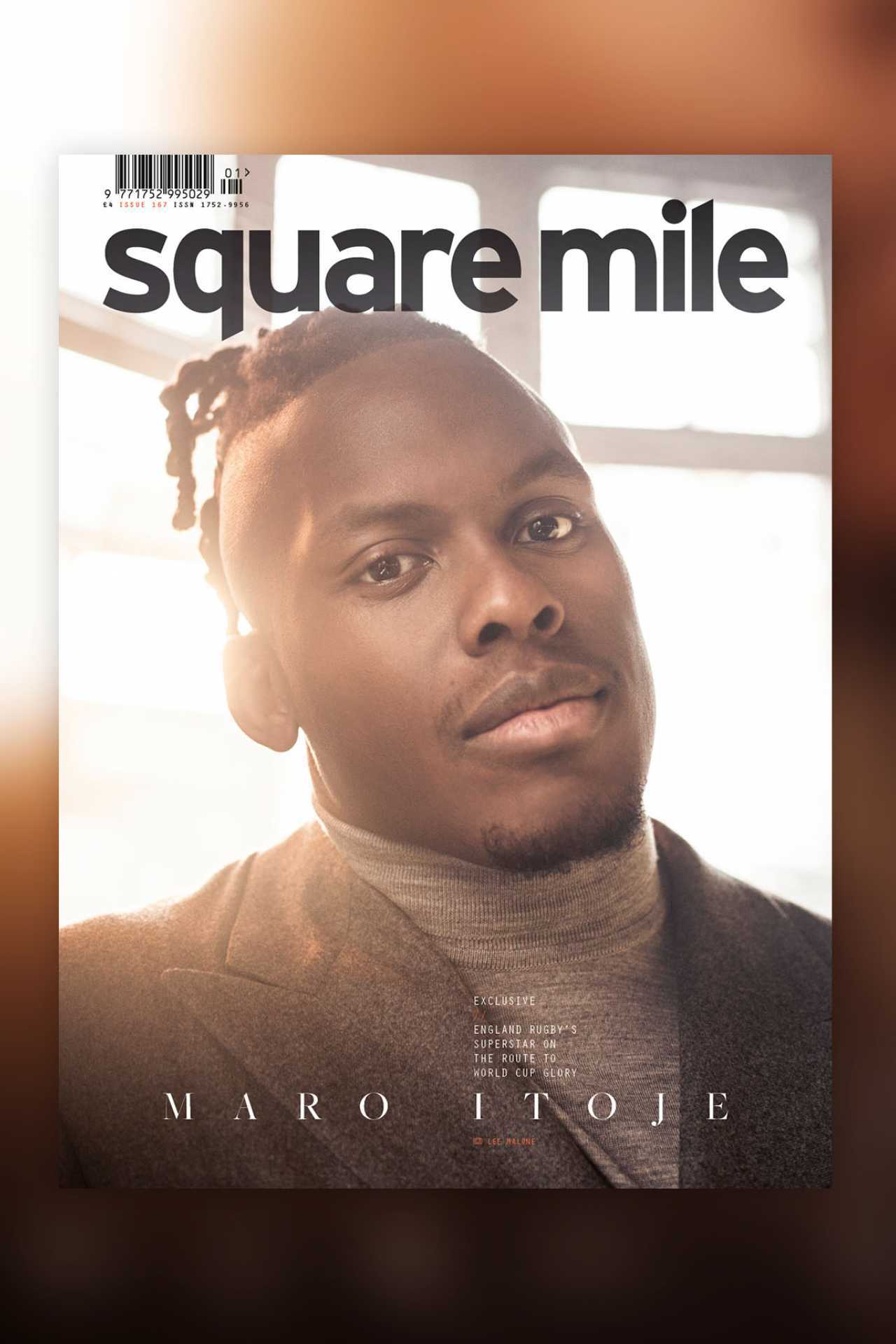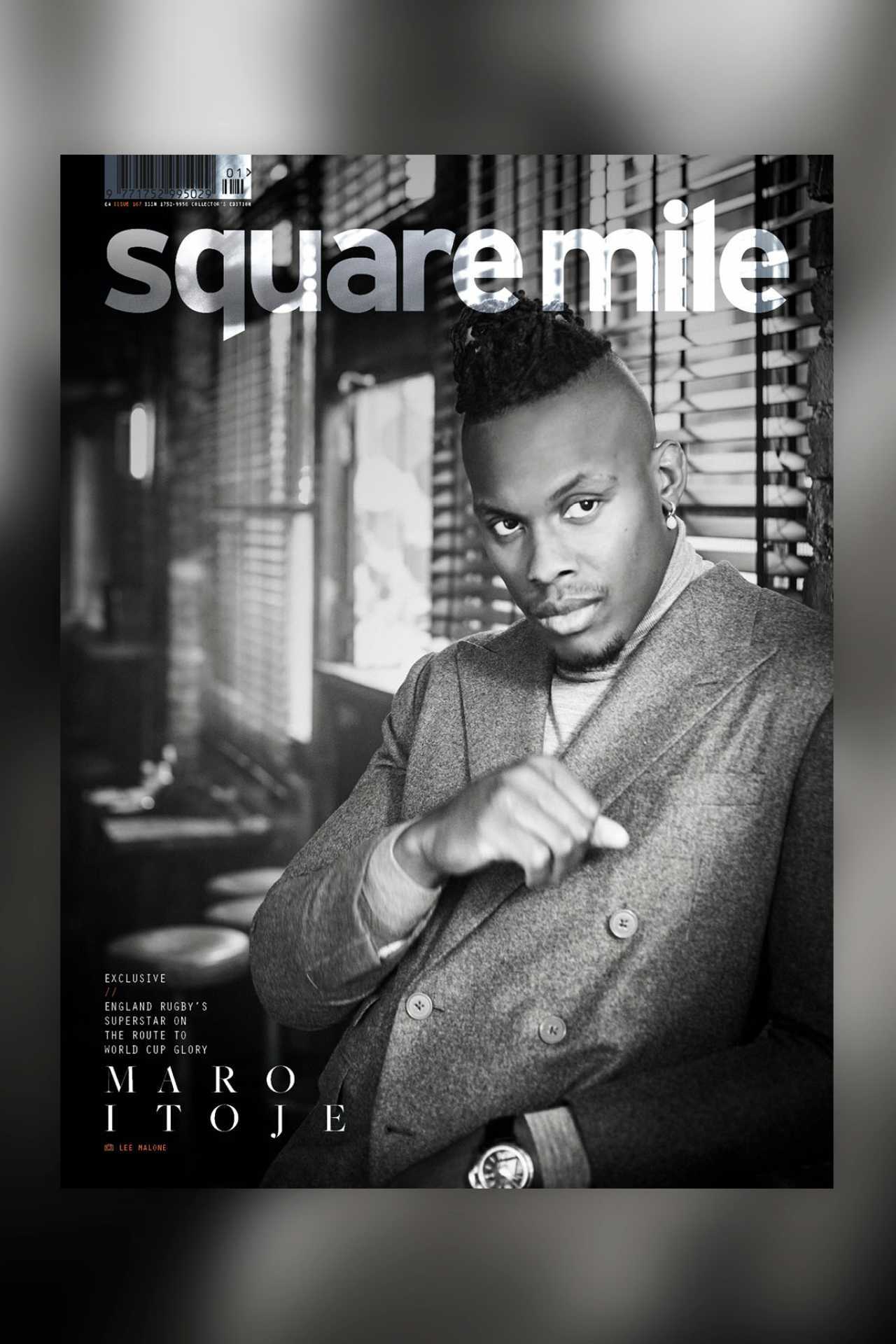 Born to Nigerian parents, Oghenemaro Miles "Maro" Itoje doesn't come from a stereotypical rugby family. He didn't grow up dreaming of playing in European Cup finals or representing his country on the global stage – at least, not with an oval-shaped ball. The north Londoner was more interested in signing for his beloved Arsenal, following in the footsteps of his early idols Patrick Veira and Thierry Henry, and perhaps one day representing the Three Lions. He was vaguely aware of England's 2003 World Cup success over Australia and *that* Jonny Wilkinson drop-goal, but it didn't inspire a young Itoje to don a scrum cap and charge into the nearest ruck. That was to come later.
Fate intervened at the age of 11 when Itoje moved from Salcombe Preparatory School to St George's School in Harpenden. The true definition of a rugby school, coincidentally home to future England teammates Owen Farrell and George Ford, it was here Itoje was introduced to the sport that would later become his livelihood. He found himself thrust into the school's A team, if for no other reason than his above-average size and stature proved to be naturally advantageous. He was placed in the second row, the position he still plays to this day, and he soon found himself falling in love with the game.
But those early matches on muddy school pitches weren't in aid of a future England career. As a kid new to the game of rugby, still learning the rules, his early motivations were a little smaller: bagging himself the county club tie. "I was obsessed. I saw this group of boys come back from counties with the Hertfordshire county tie on their neck and they were proudly walking around the school showing it off. It was definitely a spark that went off in me, saying, 'I want that tie.'"
The pursuit for his school's most coveted garment would prove to be the spark that lit the flame in Itoje's belly. This wasn't a game anymore, this was a mission.
My Nigerian heritage defines how I see myself – it shapes how I see the world
To the bemusement of his family, for whom rugby was an unknown quantity, Itoje threw himself into training at every opportunity – while being careful not to take his eye off his studies. He recalls a conversation with his father, who had just been told of his son's exploits on the pitch, as an early reminder to stay focused: "Maro, I hear you are playing rugby now. I'm OK with it, but make sure that it doesn't affect your schoolwork because if the grades drop, the rugby stops."
Suffice it to say, rugby never stopped. It didn't take long for him to get his hands on the Hertfordshire tie (he's still got it, if you were wondering, safely stowed away in his parents' house – his first real trophy) but before he had the chance to set a loftier goal, he had already drawn the eye of Matt Davies, Saracens Academy coach, who asked Itoje to come along to their next training session.
It would prove a pivotal moment. Itoje would make his senior debut for Saracens at the age of 19 and in 2016 earn his first cap for the England side at just 21. And if his parents are reading this, it would be remiss of me not to point out that a year later he would earn a degree in politics from the School of Oriental and African Studies, though he had to skip his graduation to attend the 2017 Lions Tour.
I ask Itoje if he can believe his meteoric rise through the ranks and, not for the last time in our conversation, he mulls over his answer before providing the nuance to the facts.
"People often say that 'You rose through the ranks so quickly. You started playing county rugby, senior rugby and national so quickly,' but it didn't really feel like that to me because I kind of went through all the processes. I went through every stage."  
It's easy for the media to label Itoje's ten-year path from novice to England rugby player as outside of the norm, but I suppose Itoje is keen to illustrate that his journey to this point has not been without sacrifice – in fact, the short timeline is as much to do with those sacrifices as it is his innate rugby gift. 
To illustrate this point, here's Itoje's weekly routine while he was studying full-time:
05:50 Get up; bike to Saracens Academy
06:50 Weigh-in
07:00  Gym
08:30 Breakfast
10:00 Training: four units of scrums, walls, etc.
13:00 Squad meeting
14:00 Cycle to station, catch train to university in London
15:00 Lectures
17:00 Home
At the time, Itoje was also on loan at Old Albanian, and would play a game there every weekend. As for Tuesdays, add:
18:00 Catch lift to Old Albanian; if nobody's driving, get on the bike
19:00 Training
21:00 Home; sleep
Growing up the son of two born-and-raised Nigerians might not have prepared Itoje for the world of rugby, but it infused in him an outlook on life that has seen the 27-year-old reach ever-greater heights.
"My Nigerian heritage defines how I see myself, it shapes the lens in which I see the world," Itoje says. "It's shown me how I want to behave and how I want others to perceive me."
But it also comes with expectation: do well in school, go to university, and then find yourself a stable, reliable job. Professionalism is the model of success. Thinking of a vocation in the arts is to run the risk of excommunication. Sports? They're nothing more than a hobby.
"My parents definitely didn't think I was going to be a rugby player when I first started playing rugby, as most people wouldn't. Most of the guys that I played rugby with back then are now in all sorts of jobs," Itoje explains.
"But my parents are my biggest supporters. They watch everything, they read everything. I'm sure they'll read this too! They watch every game. They travel up and down the country. They've been to South Africa, Tokyo, France, Italy, Scotland, Wales. They've been everywhere. Everywhere I've gone to play rugby, they've come to watch me, so I think they're incredibly proud. I think it's a big source of joy."
I wonder aloud whether family is the secret to keeping him grounded as his star continues to rise? Again, the answer is erudite, and falls outside of sporting cliché: "There is a hierarchy within my family, and it's very much the thing of respecting your elders. But if I'm going to be completely honest, I don't really see that as a problem of mine, getting too ahead of myself. Knowing my personality and knowing my make-up, it's not something that I think I would struggle with because everything in life, and especially rugby, is here today but it might be gone tomorrow. I think it is important to keep perspective with everything you do."
Something tells me his parents would be very pleased to read that.
Photography by Lee Malone
Itoje finally broke through into the England ranks when coming off the bench against Italy in February 2016. Speaking about the debutant, Jones said: "Maro is a young kid who has a good head on his shoulders. He's like a Vauxhall Viva now, we want to make him into a BMW. He's got a lot of work to do, but he's got potential."
It would prove to be the first of many times the eminently quotable Jones had something left-field to say about the emerging talent. Itoje had to Google what a Vauxhall Viva was. (To spare you the same fate, the Viva was a small unremarkable car first built in 1963. It has absolutely nothing in common with Itoje.)
If the point of Jones's slightly convoluted motoring analogy was the Saracens forward needed to furnish his game with unerring consistency and an ever-powerful engine to reach his potential, Itoje listened. In the intervening years from the first to his 51st cap – the latter gained in a thrilling 27-26 win against South Africa in November 2021 – Itoje has asserted himself as one of the best players in the world. He won World Breakthrough Player of the Year and European Player of the Year in 2016, has won four Premiership titles and three European Champions Cup titles, and has been nominated for World Rugby Player of the Year three times.
Itoje's is a game built around the fundamentals: high energy, pace, and a willful ball carrier in the offence to go alongside a dominant aerial presence in lineouts and a persistent threat of capturing the ball in the melee of a ruck. What he is not is a flashy player with a high try count and an eye for the spectacular. He is a Swiss army knife, not a samurai sword. 
"I understand my skill set. I'm not the most skilful member of my team. You don't want to see me throwing 30-metre passes or doing cross-fields, kicking goals or anything too elaborate like that. My game is built around effort, so I need to make sure that (1) even before we start everything, I have the capacity and the physical capacity to go and go, then (2) I want to do whatever I can to help my team progress and win, ultimately."
Such is the speed of his progression, it would appear Itoje has outgrown the BMW moniker and is now England's Rolls-Royce.
It's important to stay hungry… The moment you get a little lax is the moment it's all over
In a recent interview with The Telegraph, Jones himself remarked: "By the next World Cup [2023], Maro will be close to the best player in the world."
With five years experience and all those caps under his belt, Itoje finds himself as one of the most experienced players in the team, as Jones continues to reinvigorate his established line-up with fresh new talent like 22-year-old fly-half Marcus Smith. I ask, what is the biggest learning curve when you finally make the England set-up?
"There are a number of things that you learn from being in the environment. I've learnt a lot more about how to deal with pressure. Not only pressured environments but pressure from the outside in terms of media speculation. I think you also learn how to keep focus, especially in a world where there are so many different things happening – how to keep focused on what is important, not only with rugby but in general," Itoje says.
"Probably the biggest lesson is that it never ends. No matter what you achieve, no matter how far you've come, there's always another level and there's always growth to be had. So it's important to stay hungry and working because the moment that you become a little bit lax is the moment it's all over."
That last comment, the ability to resist falling into a false sense of security, was brought into focus following a downright dismal Six Nations title defence in 2021, which saw England lose three of their five matches, and receive a liberal helping of criticism from both the media and their head coach.
"In international rugby, you get to a certain stage and success makes you a bit weak. You need to fight through that," Jones reflected at the time, but undoubtedly more coarse words were chosen when speaking directly to his underperforming side.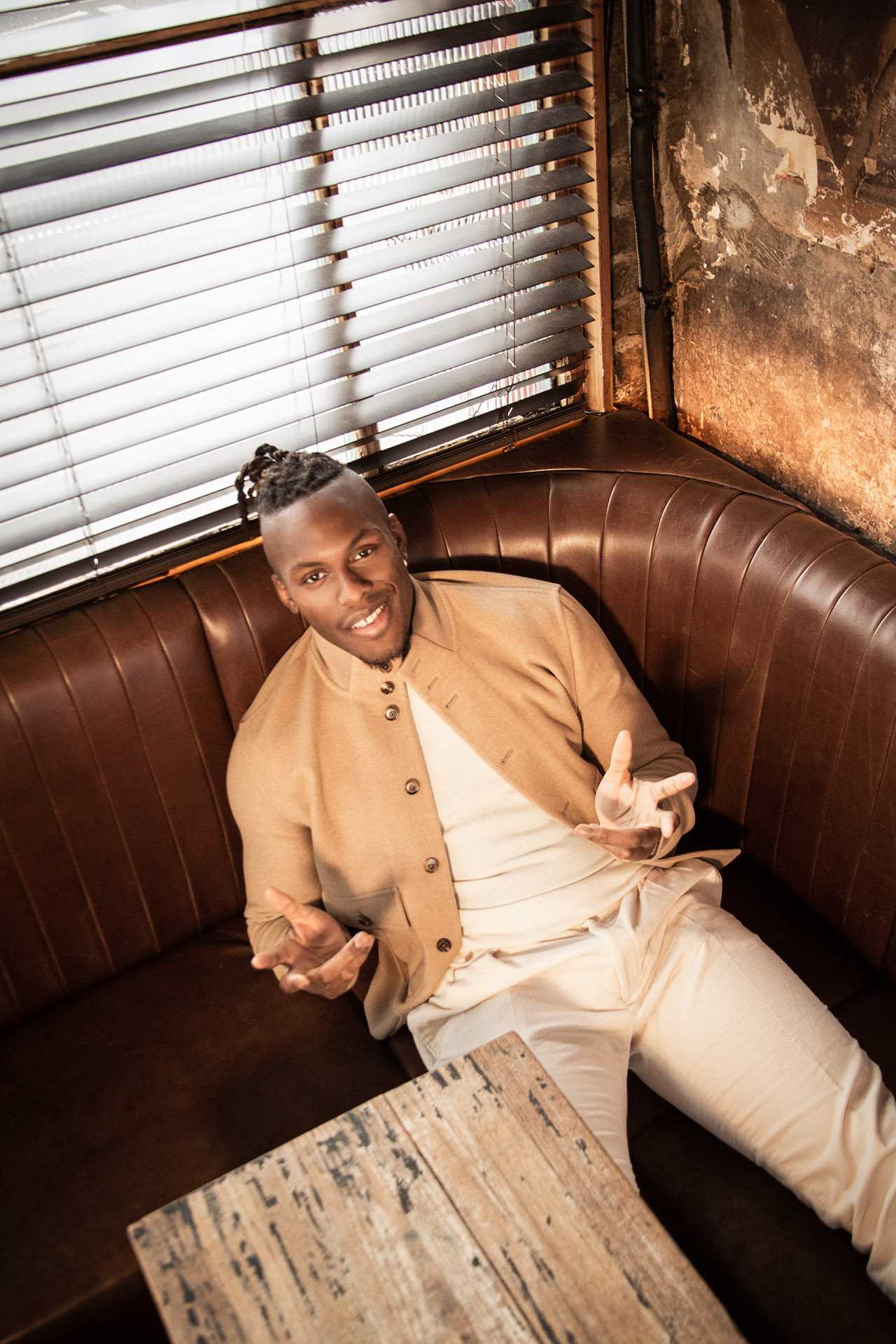 Photography by Lee Malone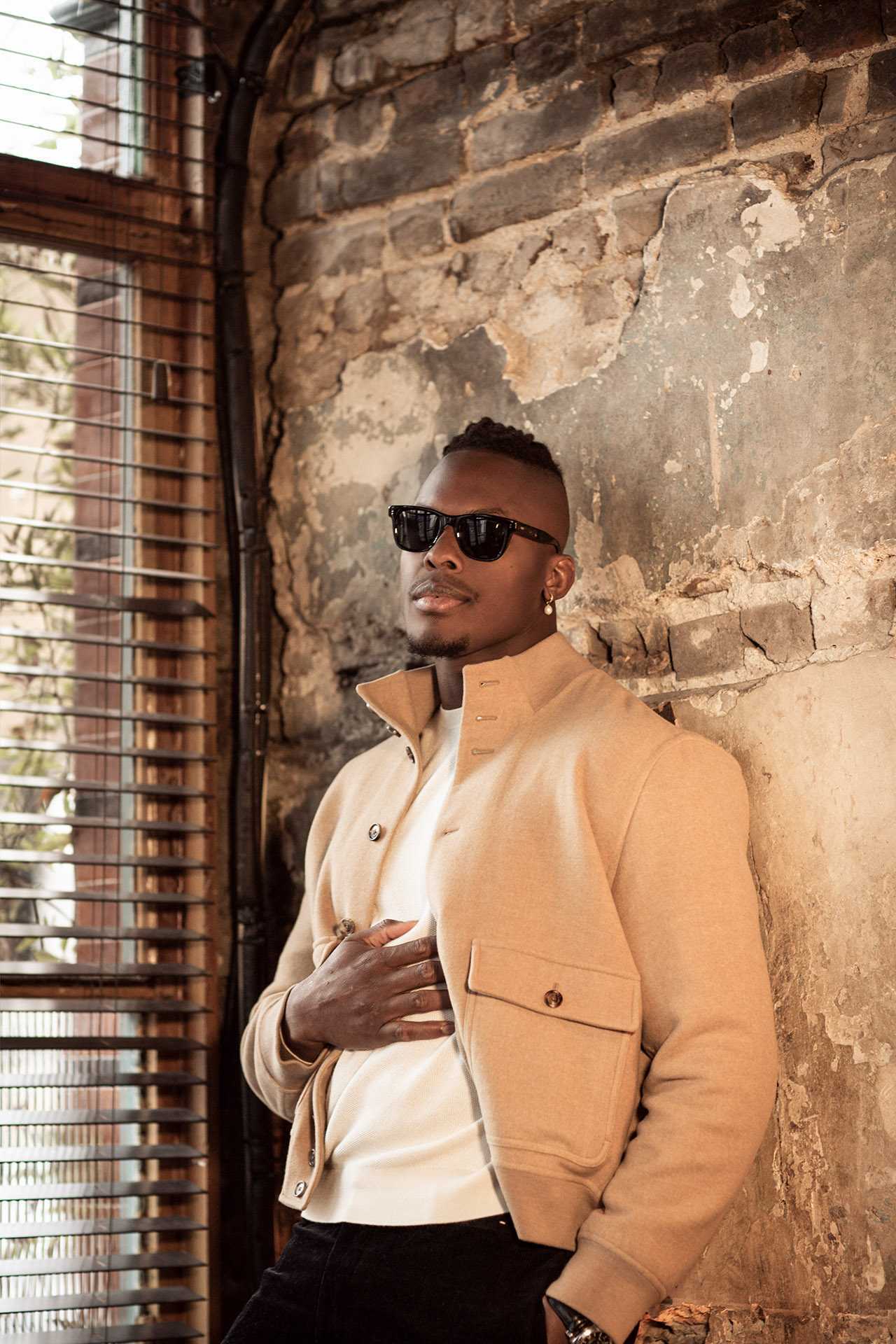 Photography by Lee Malone
New blood and perhaps a few checked egos meant the squad had a point to prove entering the Autumn Internationals, and the boys emerged undefeated after the run of three hard-fought matches against Tonga, Australia and South Africa. The passion and intensity that saw England make the World Cup finals in 2019 was back and saw them barge their way firmly back into the picture for the World Cup in 2023. At the time of writing, on the verge of another year's Six Nations tournament, we await to see whether the pendulum has definitively swung back in England's favour.
Itoje, as is in his nature, isn't taking anything for granted: "While I acknowledge that some big milestones were accomplished, some memorable moments were made and I think there was some growth in my game in 2021; I still feel there was a bit more to give or a bit more to accomplish."
For a man who has developed into one of the world's most formidable players, the hunger to avenge past defeats and ensure future victories is ever present.
"There are always things that you're working on. It's a never-ending cycle, really. For me, I'm always working on my collisions, both in defence and in attack, making sure that I'm, hopefully, as aggressive as possible, as dominant as I can be within my tackles. I'm always working on the fundamentals of the game, the lineout, the scrum, trying to be as technically sound as possible. I've never been like, 'Oh, tick box, that bit is done,' and you focus on something else. There's always a continuing evolution."
Is there such a thing as a perfect game? Itoje mulls it over: "There is such a thing as a perfect game. I think it's impossible to have, but it's definitely what you strive for. Even in the best games I've played, are there things that I could have done better? 100%. So I think the perfect game is impossible, but I think the quest is to strive to try and achieve that."
I suggest Itoje's man-of-the-match display in the World Cup semi-finals against the All Blacks was pretty close to perfect. Something of a coming-of-age moment for the forward, the lock was a weapon wielded with deadly force by England: he made 12 crucial tackles, frustrated the opposition by scooping away three turnovers, clambered into the air to claim seven lineout balls as his own, and was an ever-present nuisance at the breakdown. "He was a one-man highlights reel," one reporter breathlessly wrote. But for Itoje, it was just another day at the office.
I feel if you campaign for the role of captain you're wanting it for the wrong reasons
"I don't look back on that game often, if at all, to be honest." He smiles as if fondly remembering a distant memory. "At the time, I watched the game back and reviewed it, but I'm someone who likes to look forward, likes to draw inspiration of what could, potentially, happen as opposed to what has happened because no two games of rugby are the same."
It's this pragmatism and unrelenting desire for betterment that has made Itoje among Jones's most trusted lieutenants and one of the first names on the team sheet. It has also left many speculating whether the forward may be entrusted with the captain's armband in the not-too distant future.
With current captain Owen Farrell out of action following ankle surgery and Courtney Lawes, who deputised for Farrell during the Autumn Internationals, also sidelined for England's Six Nations-opener against Scotland, the calls for Itoje to step into the role have never been louder.
By the time you are reading this, you will likely know if Jones has indeed bestowed the 27-year-old the honour of captaining his country. It would represent a significant turnaround by England's head coach who has previously speculated as to whether Itoje is too "inward-looking" for the leadership role, writing in his recently published Leadership: Lessons from My Life in Rugby that he was "not sure Maro is a future England captain".
The measure of Itoje as a person is that, while the comments gave him pause for thought, he didn't sulk or immediately put out a social media rebuttal. Instead, he used it as an opportunity for growth, and sat down with Jones to find out what more he could do.
"I definitely reflected on what was said," the Saracens star told the media in the build up to this year's Six Nations. "I spoke to Eddie about his thoughts and how he saw things because he is an extremely experienced coach who has achieved a lot."
While media speculation that Itoje attended acting classes simply isn't true – "There was a bit of miscommunication," he explains – the lock did attend what he terms "communication classes" with England Rugby psychologist Dr Andrea Furst. We'll keep the contents of those sessions for doctor-patient confidentiality, but it seems Itoje's approach impressed none other than Jones himself, so much so that he was prepared to eat his own words during an appearance on Brian Moore's 'Full Contact' Telegraph podcast: "I've never seen a guy mature as much as he has in the last six months, so it's been a really good period for him," Jones said. "I'm going to contradict myself – and contradiction's a big part of life – but I've got no doubt in the future he will captain England. Whether that's in my time or someone else's time."
Jones, one of the game's great thinkers – a man whom ex-England captain Dylan Hartley once labelled "The Eye of Sauron" for his all-seeing omnipotence (and presumably sadistic tendencies) – has never been above using a little mental warfare to strengthen the resolve of his players in a quest to draw out their true potential.
As a player blessed with more natural talent than perhaps any England forward in a decade, Itoje has been subject to Jones's analytical eye more than most. Perhaps the wily 62-year-old coach knew just which buttons to press to seek out that ounce of improvement.
Regardless of Jones's intentions, Itoje has no interest in entertaining any would-be leadership campaigns. He told Sky Sports in February 2021, "I feel if you campaign or clamour for the role of captain you're wanting it for the wrong reasons." What defines the right reasons is a little less clear, but undoubtedly Itoje would be unlikely to step into the role unless he felt like the move would benefit the wider team.
"I think, for me, it's always been about what's best for the team. I will do whatever the coach needs me to do if they see it's the best for the team and best for the team to proceed and to win. I'm very much like a 'team first' type of guy," Itoje tells me when I ask about the prospect of captaining England.
"We have brilliant captains at the moment, like Owen Farrell. I went to the same school as him and he's someone I spent a lot of time with, both at club and country. He's a fantastic captain. Courtney stepped in in the autumn and he did a great job. So if it happens, it happens, but my thing is always about what's best for the team and I'll do whatever is necessary." I can't help but think his diplomacy would serve him well if and when he finally gets the nod.
Photography by Lee Malone
Prior to England's first Six Nations game against Scotland, Itoje has completed one of Jones's formidable five-day training camps. First things first, it's "bacon and eggs" to start the day at 6am. Oh, but this isn't a few rashers of the good stuff and a couple of sunny-side ups, this is intense personalised workouts involving weights, stretching, and even a good old bout of wrestling with a member of the coaching staff. (God love the guy who has to get in the ring opposite Itoje.) Then after actual breakfast – I can neither confirm or deny if this involves actual eggs and bacon, but expect whatever is served to be tailored to each player by the team's nutritionist – comes tactical seminars, technical drills, scrummaging, and of course more weights.
Jones's no-half-measures approach to training and exhaustive pursuit of perfection is a challenge to even the most seasoned professional, but that's exactly the point. This is not an environment where anything less than the best will be tolerated. As Hartley, a player who found himself on the wrong side of Jones on the training pitch on more than one occasion, attests: "Anyone who looked even slightly out of shape had about as much chance of survival as a wildebeest wandering into a herd of lions."
After a period of such intense focus and exertion, you have to wonder how that pent-up aggression comes to a boil on match day. Itoje paints a heady picture: "It's an elixir. There's a bit of nervous energy, there's a bit of anxiety, there's a lot of excitement. Sometimes, it's a bit quiet. Sometimes, it's a bit louder. But you can definitely feel there's tension in the room and tension in the air. To be honest, sometimes, it's a bit of an uncomfortable feeling, but you kind of need that. Well, personally, I feel as if you need a bit of discomfort to really show that, first of all, you care about what is about to happen."
Having been defeated by Scotland in last year's Six Nations, no doubt the atmosphere come matchday will be electric.
Representation is massively important, and not just in sport, but in all normal walks of life
It goes without saying that Itoji is an absolute specimen of a human, a 6'4" colossus who would provoke feelings of physical inadequacy in Hercules. Yet he is a far more elegant figure than the hulking rugby players of yore. Sharply dressed and softly spoken, when I meet him at the square mile cover shoot, I got the immediate sense that Itoje is equally comfortable striding up the catwalk or the red carpet as bestriding the sodden turf of Twickenham. His is a broad hinterland, one that spans fashion, music, art, and he possesses a curiosity that you mightn't associate with the single mindedness of the professional sportsman.
Between takes, he asks about our publishing model and the history of the business. He's deeply inquisitive and rolls from interview subject to interviewer with dextrous ease. Then again, the man has proved a talented podcast host as well as a world class rugby player in recent years.
Pearl Conversations saw Itoje interview leaders and influencers from across society during the worst of the pandemic, with guests including Jamal Edwards MBE, Eniola Aluko and Alastair Campbell.
It would seem a career in media awaits for this eloquent speaker whose searching comments and rugby brain would surely make him a stand-out sports analyst alongside the likes of Martin Johnson, Jeremy Guscott and Jonathan Davies. Not so, says Itoje.
"I don't really see myself as a presenter or as a pundit, per se. I don't want to be involved in the media in that respect, but if it's hosting a conversation or something like that, then I'd be more than happy to do that."
We don't touch on it during our time together, but I wonder whether the relative safety of the media ring simply doesn't suit his progressive mindset – always searching for answers and looking to the future. With the greatest respect to the excellent pundits on TV and in print, it's a reactive world very much built in the here and now rather than forward thinking. For a man of Itoje's many talents,
I think it would feel too much like a cop out.
"I think about my post-career a lot and how I want it to look like, how I want it to unfold," Itoje tells me when I enquire about the future. "Yes, I think there are so many things that I could, potentially, do, so many different avenues. I just want to make sure that when the time comes to hang up the boots, I'm in
a position to exploit those opportunities."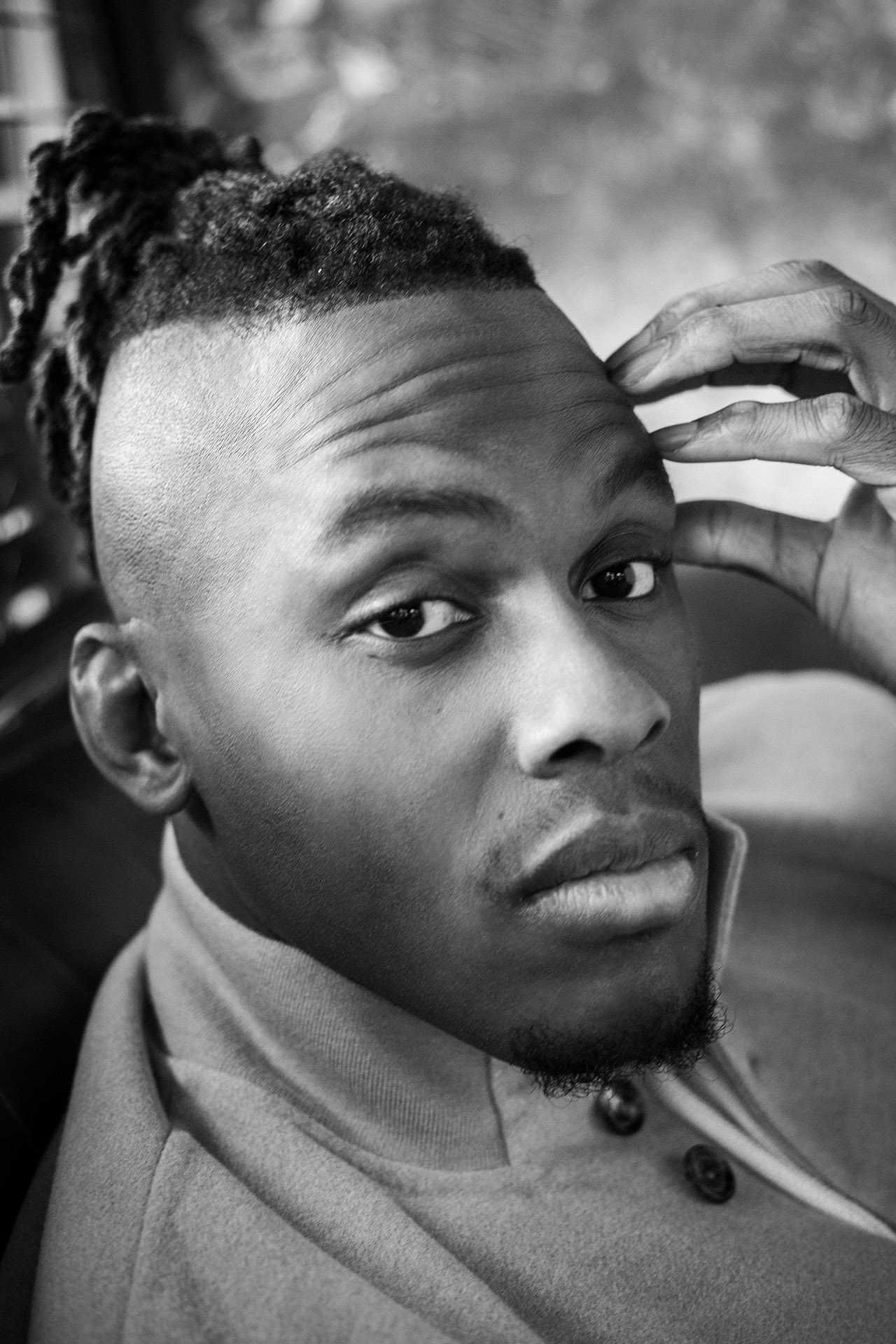 Photography by Lee Malone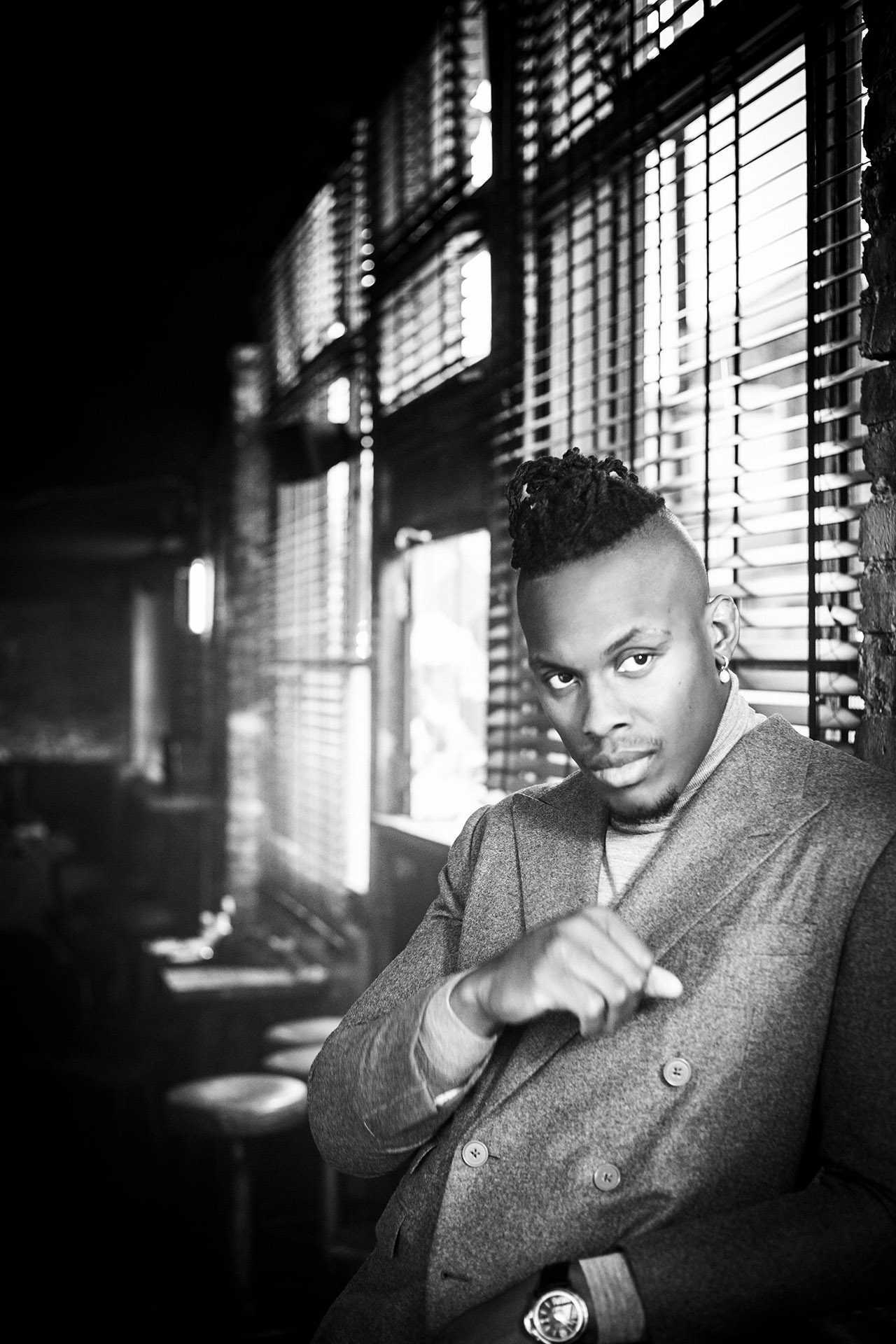 Photography by Lee Malone
One area of particular interest the 27-year-old is keen to explore further is the art of his spiritual homeland Nigeria. Moving into his first apartment in 2015 and out of the family home, Itoje was keen to stay true to his Nigerian heritage by decorating his apartment with a select few pieces of artwork. Struggling to find anything in his price point in London, he travelled with his mother to art markets in Nigeria, where he was instantly inspired: "I was taken aback by the dynamism of the pieces, the colour, the texture, the vibrancy. I guess I've always been connected to it, but yes, I feel as if African art, Nigerian art really speaks to my soul. Ever since then, I've been collecting quite a bit," he says. He has more than 30 pieces to date and adds to his collection each time he travels back to Nigeria. He lists Ola Henry, the up-and-coming Adubi Mydaz, and Dennis Osakwe as names to look out for in the immediate future.
"I'd love to deepen my interest in the art world and be involved with exhibitions, galleries, etc. I'm interested in business, so I'd like to explore that further."
His passion for art and advocating the art of Africa especially inevitably leads us to the topic of Black Lives Matter and, above all, the crucially important role representation plays in sport today. Itoje went to the Black Lives Matter protests in London "to feel the energy" and has admired from afar the continued efforts of Naomi Osaka, NBA superstars like LeBron James and Chris Paul, and of course Sir Lewis Hamilton.
But he unwittingly found himself at the centre of the conversation when gaff-prone former-education secretary Gavin Williamson confused Itoje for Marcus Rashford in an interview with the media. Itoje graciously offered to clarify things for the moronic MP by tweeting: "Due to recent speculation I thought it was necessary to confirm that I am not Marcus Rashford… And whilst we are here my name is not Mario either!! Just a simple Maro Itoje will do… Much love, Marcu… I mean Maro Itoje."
The existence of such news stories in 2022 is as depressing as they are all-too frequent. Similarly, England teammate Ellis Genge tweeted, "I am actually fucked off with this happening to every mixed-race/black sportsman," after the BBC wrongly used a pictured of rugby player Lewis Ludlam instead of Genge in an interview on its website.
Before it's all said and done, I definitely want a World Cup winner's medal. That's the goal
It's illustrated to Itoje just how important representation is, and how as a society we have to do more: "Representation is massively important, and not just in sport, but I would argue, in all normal walks of life, too.
"It's powerful to see someone that you can identify with doing something. It makes you believe you can do whatever that goal or objective is. I can't remember the author of the quote, but it's, basically, 'You cannot be what you can't see.' I think that sums up that whole narrative pretty well."
Itoje is already one of the leading black athletes representing Britain on the global stage. Should he become captain of the England side in due course – following in the footsteps of England's first black captain, Jason Robinson – his importance for aspiring rugby players from different cultural and socioeconomic backgrounds will only grow. It's a heavy burden to bear when your focus should be on the team and your own performance, but Itoje believes his sport will change for the better given time.
"I don't think rugby is perfect. It's probably better than football and better than some other sports in terms of behaviour on and off the field, but I still believe there's room for growth and rugby can do better," he says.
"Rugby is a great game built on the foundation of respect and humility. It's about respecting one another. There's a lot that could be done to improve and grow the audiences of both the men's and women's game. Obviously, the men's game is in a much stronger position than the women's game right now, but that being said, it's still not where I think it could be. I think the whole storytelling aspect of rugby and the marketability of it, it can all improve."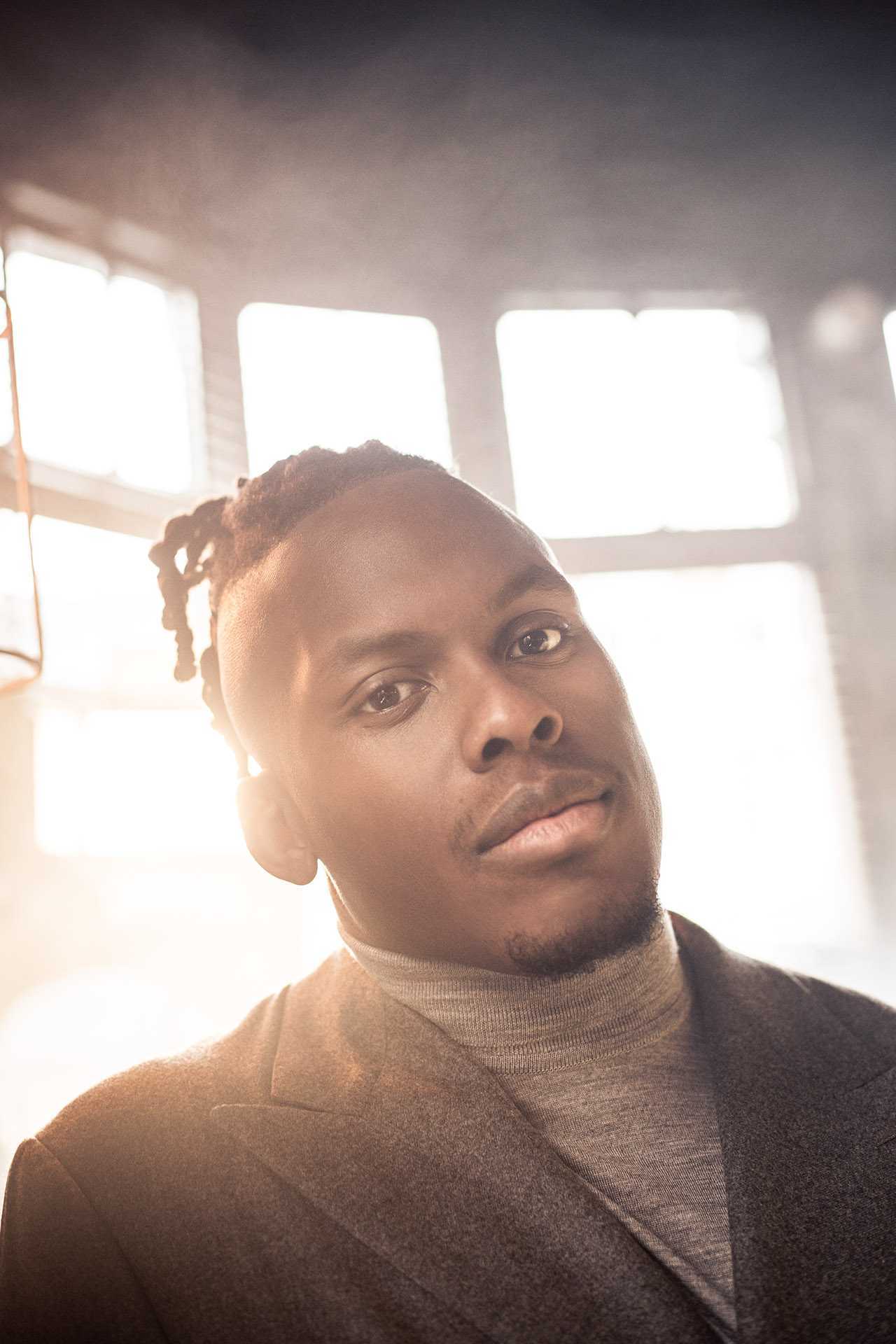 Photography by Lee Malone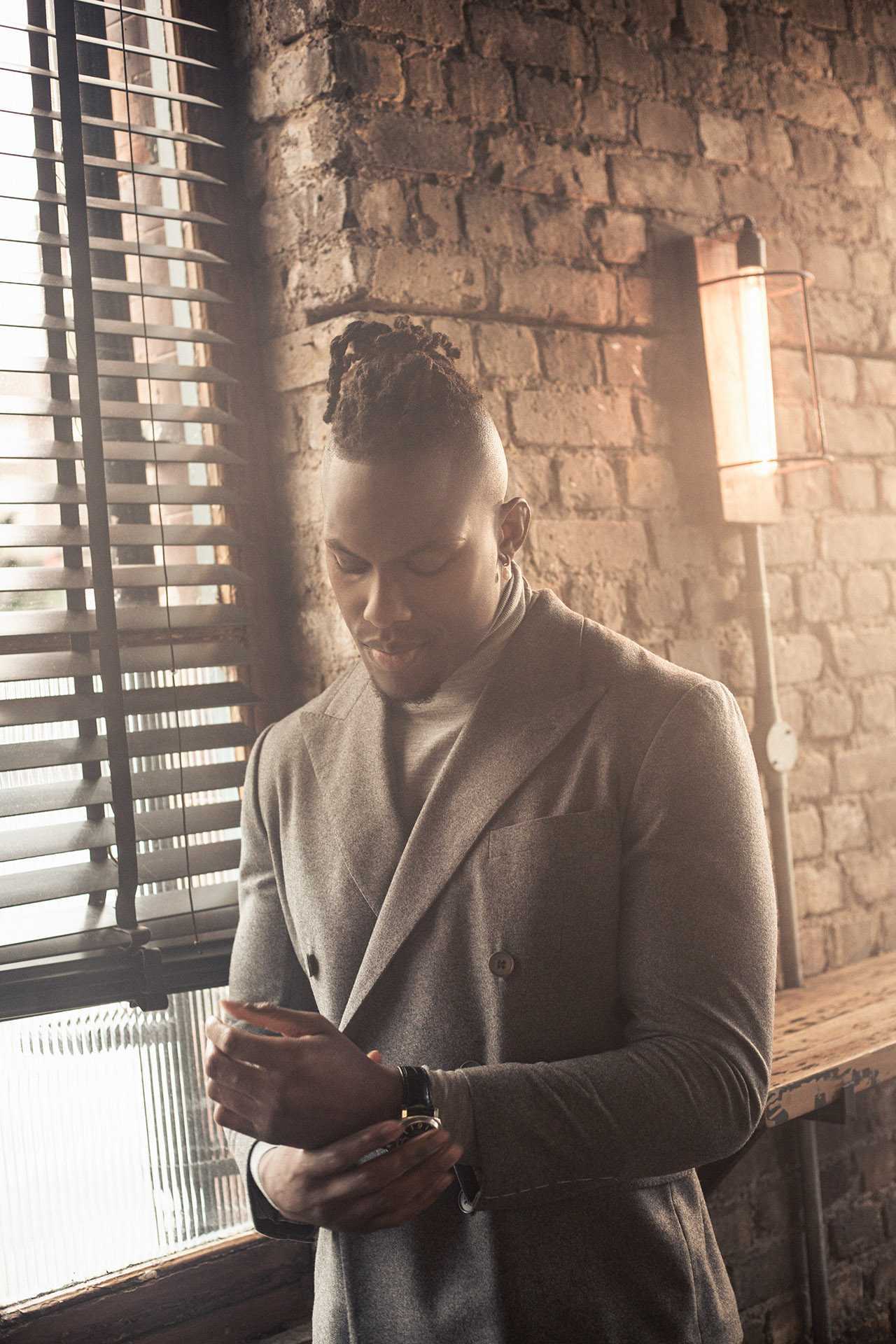 Photography by Lee Malone
'The Pearl', if you were wondering, has become something of a nickname bandied around by Itoje's teammates and fans. Heck, it's a moniker he's very much leaned into, judged by the delicate pearl earring hanging from his left lobe, and the Pearl Conversations podcast series. But where did it come from?
A quick Google search suggests it's a term of endearment: so precious is Itoje as a talent and as a player that his teammates have likened him to the precious gemstone. It's a lovely story – even if it's entirely false.
"The first person to call me 'The Pearl'? That would be Jackson Wray. He plays with me at Saracens. It was my first Christmas party with the team and I wore this pearl, white, cream kind of colour turtleneck. He was like, 'Oh, it's so pearly, so pearly. Oh, 'The Pearl!''' The name kind of stuck. It was 'The Pearl' thereafter."
While a little ribbing at the expense of one's fashion sense is to be expected from your rugby colleagues, you'd have to believe Itoje has had the last laugh now he has modelled for the likes of Ralph Lauren
and Marks & Spencer, as well as our own square mile cover here.
If that isn't enough style points, he's also repped by none other than Jay-Z's Roc Nation Sports in a global team-up perhaps nobody saw coming but Itoje himself. Mr Z is "not a connoisseur of rugby, but he does know what it's about," Itoje reveals. "They have big ideas [for me]."
As our time draws to a close, the conversation turns away from his budding modelling career back to rugby and his remaining aspirations on the pitch.
"Before it's all said and done, I definitely want a World Cup winner's medal, that's definitely the goal," Itoje says without any hesitation. But as I've come to learn from my time with England Rugby's talisman, it's followed by a moment of introspection.
"There's big stuff happening down the road: major tournaments, major events, landmark career kinds of opportunities that happen further down the road, World Cups, Lions tours, Six Nations, Premiership, which are always there. But I also think it's important to focus on what's in front of you because in order to put yourself in the best position in terms of whatever tournament and whatever goal that you want to achieve, I think you best serve that by doing what's in front of you."
A wise man once said, "There comes a time, when the time must be taken." One can't help but feel that Maro Itoje's time is now.