Here's a question for you: which recent men's tennis tournament, played in sunny Spain, boasted six former Grand Slam champions - only one fewer than the entire number currently active on the ATP Tour?
The Senior Masters Cup, held annually at the Puente Romano Tennis Club in Marbella, offers the opportunity to watch legends of the game doing their thing on court, while enjoying the many, many amenities the resort provides off it.
First, the tennis. To understand the pedigree of Puente Romano you need simply know this was the venue chosen by Spain to host the 2018 Davis Cup tie against Great Britain: to call the facilities 'world class' is simply stating facts. The courts are naturally clay, which didn't help Team GB en route to a 3-1 defeat. (No Andy Murray, no party.)
While 'Senior Masters' might call to mind doddering old men playing shots with their walking sticks, the quality level is high: Goran Ivanisevic was the oldest singles competitor at 47, and the likes of Marat Safin and Juan Carlos Ferrero (both 38) could certainly still pick up wins on the professional circuit.
Unsurprisingly the two men met in Saturday evening's final - having dispatched Ivanisevic and Sebastian Grosjean - and played out a full-blooded contest that had not the slightest whiff of exhibition: every ball was chased down, every shot dispatched with genuine venom. Sat in the stands of Centre Court, sipping a beer as another golden day melted into dusk, it was hard to imagine a more pleasurable location existed anywhere in the world.
Not a tennis fan? Play a round on the 18-hole private golf course or saddle up at the equestrian centre
Which brings us neatly onto the resort: Puente Romano offers a range of rooms, suites, and villas, all of which provide luxury living in the middle of paradise. Every imaginable amenity is accounted for.
Fancy a swim? Take a dip in one of the three outdoor swimming pools – or, better yet, make the five minute walk down to the Mediterranean Sea.
Not a tennis fan? Play a round on the 18-hole private golf course or saddle up at the equestrian centre.
Need a little you time? Wander around the Botanical Gardens (housing more than 400 different species of plant across five continents) or retreat to the Six Senses spa.
Food, you say? Puente Romano is stuffed with mealtime options – we've rounded up three of them below.
Nobu Marbella
Just as you know you've reached basic civilisation when you spot a Starbucks, so you can measure a place's luxury by whether or not it has a Nobu. Puente Romano has a Nobu.
There's a reason why the brand has become a byword for fine dining: it's really, really good. Wagyu beef will always be the headline dish - the menu's Roger Federer, if you will - but it would be remiss to the point of folly to overlook the fish options when eating five minutes' walk from the sea. Black Cod with Miso is so light it threatens to float off from your plate, and you do not understand the definition of 'moreish' until you've tried the Rock Shrimp Tempura - we ordered another bowl, and seriously contemplated about a third.
Sit outside and take in the tropical trees of the courtyard, the warmth of the Spanish night, the happy chatter of your fellow diners all enjoying their pitstop in this little corner of Eden. Then order some more Rock Shrimp.
Sea Grill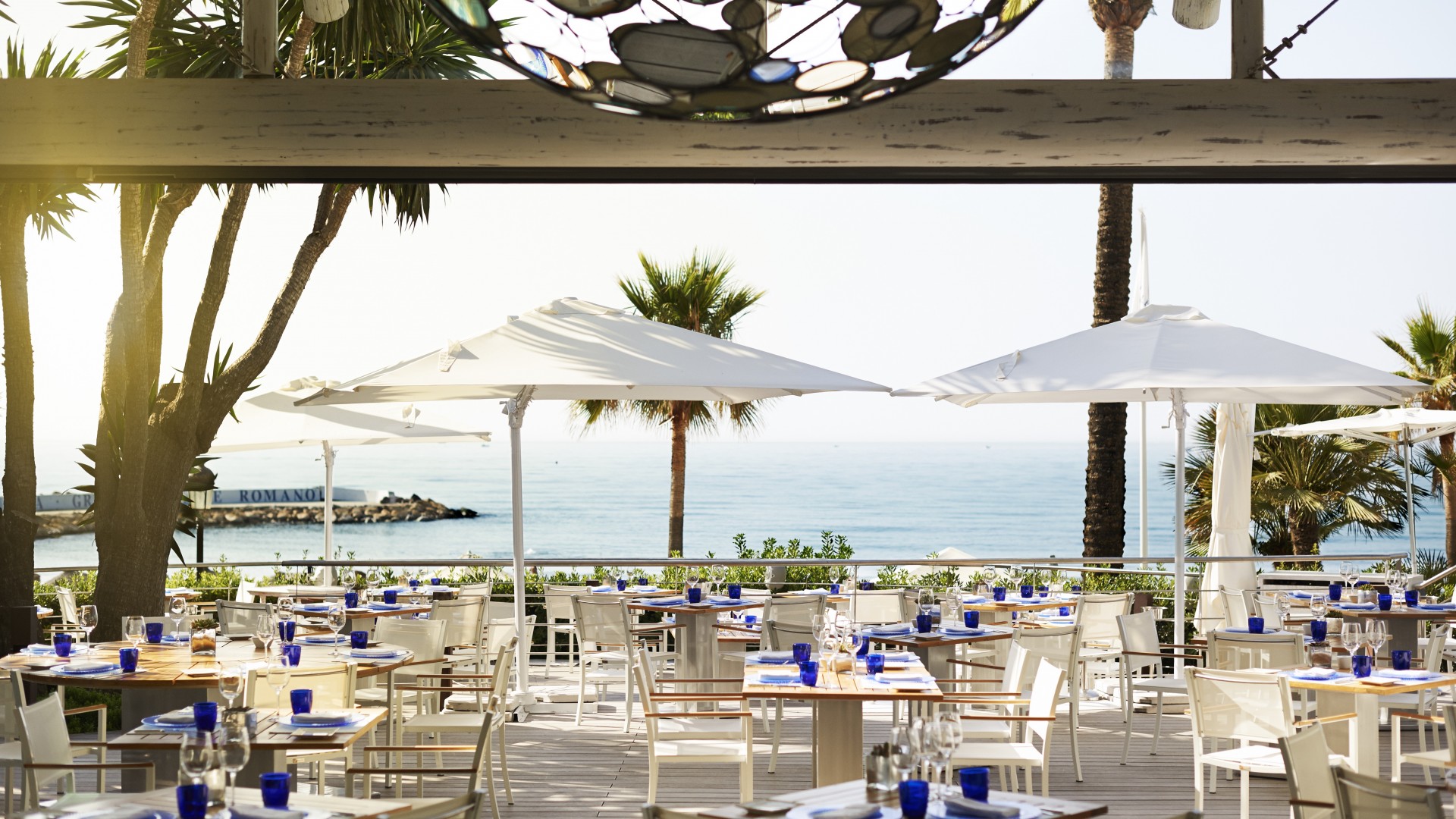 One word for you: lobster.
Two more words: order the.
Just because something is the obvious choice, doesn't mean it's the wrong one. The Sea Grill lobster offers bite after bite of sweet-tasting bliss. All fish is locally sourced and you pick out your meal beforehand (just don't name it). Wash down with a bottle of white wine and take in the Mediterranean Sea just a few metres from your table.
Added bonus: the live music on Thursday, Friday, Saturday and Sunday at lunchtime, allowing you a bit of tune with your tuna. (Sorry.)
Rachel's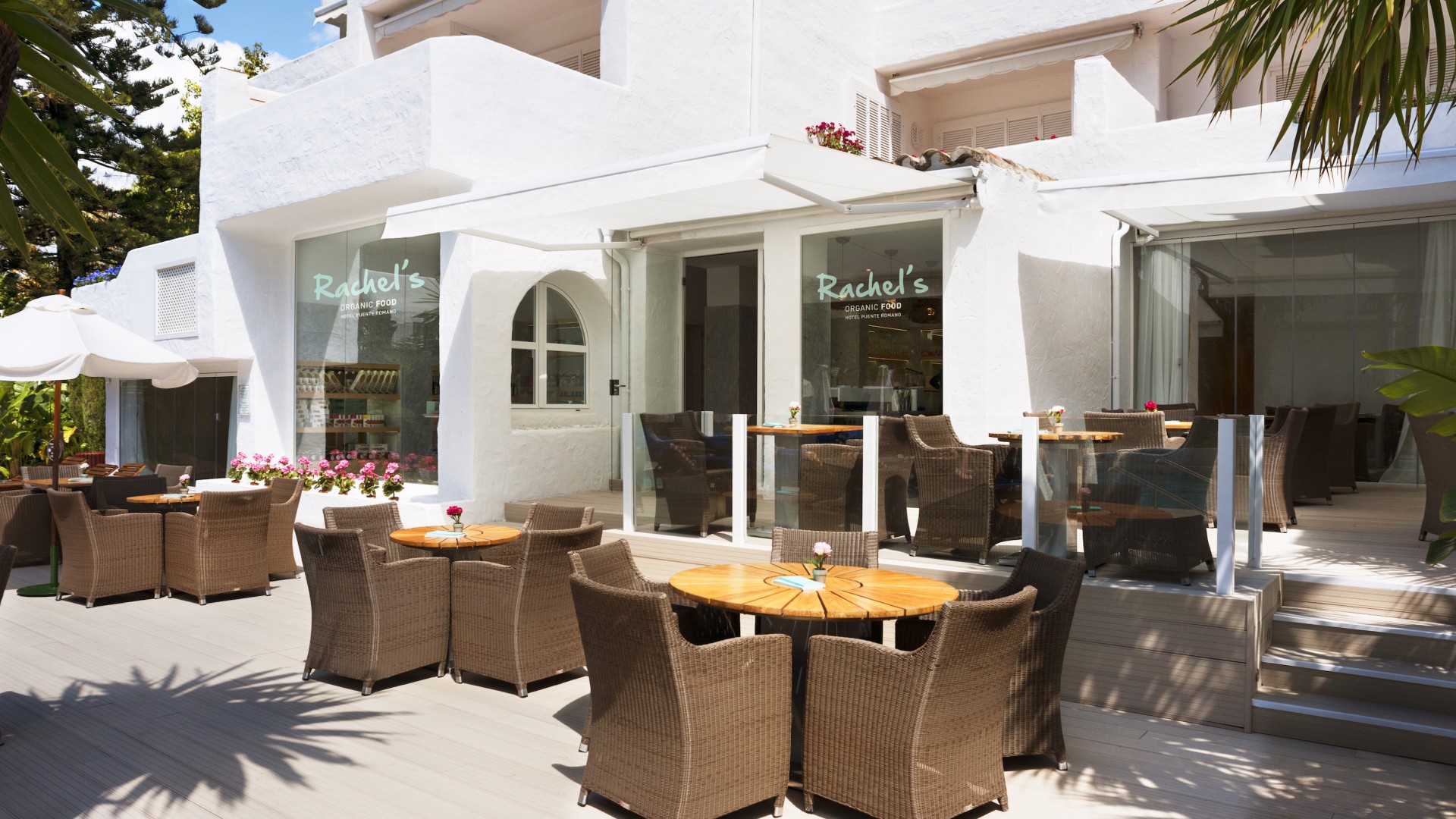 While gorging on gourmet meals is all very well, sometimes you need to take the healthy option – especially when starting the day.
Enter Rachel's. This poolside bistro offers light food in a beautiful, sunny setting (admittedly most settings at Puente Romano are beautiful and sunny, but Rachel's is a particularly standout example.
Every meal is handmade and created with the freshest ingredients – so whether you opt for the Puente Romano Breakfast (smoked salmon, scrambled eggs, avocado, grilled halloumi and salad) or the hearty Iberian Eggs (eggs with potatoes and chips, Iberian ham with rye bread) you'll be treating yourself without any post-meal guilt about your waistline.
Anyone for tennis? Senior Masters Cup 2017
Click here for info on the Senior Masters Cup