From the crowd that has gathered at Bostall Gardens, you'd think royalty was visiting, and from a sporting perspective royalty is. He may have wielded a racket rather than a spectre, tennis balls instead of an orb, but few athletes in history have carried themselves as regally, or inspired such devotion from their subjects, as the great Roger Federer.
Dozens of people are here to pay homage to an icon as he visits this small local park in Abbey Wood. It's across the city from Wimbledon but not far from the O2 Arena, the venue of Federer's final appearance on a tennis court – until now.
And what a tennis court to make your comeback! (To London, that is, not professional tennis. Sorry, everybody.) A cacophony of colour: bright blues, deep reds, a yellow daisy chain of tennis balls painted on the asphalt. It's quite literally an urban work of art: the court was designed by Berlin street art duo Low Bros to celebrate the local community in their own unique style. There's nowhere else like it in the world.
But that may change. The Bostall Gardens tennis courts are the latest project of the Neon Legacy initiative between Federer and Mercedes-Benz. Last September, the month Federer retired from tennis a few miles up the road, a neon Mercedes-Benz AMG GT was auctioned off to raise money to renovate the public tennis courts of Greenwich. Today marks the opening of the first of these courts, the flagship – and it feels like half the borough has come along to celebrate the moment and witness the greatness of Roger.
Naturally, Federer is interviewed before his adoring public. How does it feel to be back in London? "It's very special. Being retired puts me on to different courts: I was just in Africa, in Lesotho, on a court, and it was as special as pretty much walking out on Centre Court at Wimbledon. That's like being here as well. When you do love tennis, you don't need to have a 20,000 seater stadium. So that's why I'm very happy to be here today."
Inevitably, the answer draws widespread applause. So does the following answer – when Federer is asked his feelings about standing on a tennis court once more. "Whenever I get a chance to go back on a tennis court it makes me very happy. Even more so here in London, where I've had such a great history in terms of results and memories over the years – Olympics, O2 Arena and Wimbledon. So I've added another court to my collection. And it's a beautiful one. It's very, very special."
Special player, special court, special day all round. Bettina Fetzer, vice president of communications and marketing for Mercedes-Benz, speaks of the brand's desire to continue working with Federer beyond his retirement: "If, together with Roger and our initiative Neon Legacy, we have managed to give something back to society and promote tennis at the same time, then the effort and passion we have put into this heartfelt project has been very worthwhile."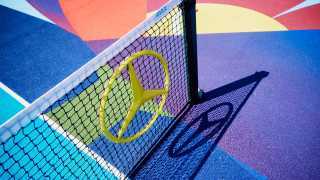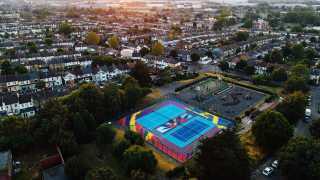 Following the ceremony, a moment of history: Federer dons a pair of shorts, picks up a racket, and plays his first tennis in London since bowing out of the sport. His opponents? A class of local schoolchildren, no more than seven or eight, who test their skills against the maestro in groups of three. Federer, hugely endearingly, keeps a running commentary throughout the exchanges: "Nice shot!" "Great volley!" "Oof, that was close!" On one rally, he even hits a tweener through his legs to the delight of the crowd.
Federer might be my favourite athlete ever. (Unoriginal, I know, but did you see the man play tennis?) As the demonstration draws to an end after 30 wonderful minutes, I spot a chance to say a quick hello. Stand by the gate and Roger will shortly exit through it. Only, well, he doesn't. Instead, he walks over to the net and engages the schoolchildren in conversation. Their smiles are wide, their upturned faces are shining with joy. Thus the power of tennis; the power of Federer.
Let's leave the final word to Roger. "This has been the idea – to give back to the community," Federer told the crowd. "To be here today makes me super, super happy." And now a new generation of tennis players will share that happiness with him. 
For more information, see mercedes-benz.com