You don't get many notable watch collaborations. Unlike one-off trainer releases or capsule collections in the world of fashion, horology is averse to teaming up with other designers to create new products. It makes sense, mind: when your USP relies heavily on age-old watchmaking traditions and heritage, introducing an outside party to the design process is a risk many aren't willing to take.
LVMH's Hublot is one of the few who are challenging this opinion. Its Classic Fusion Berluti and Classic Fusion Italia Independent collections have already shown how prestigious fashion houses can add a new look and feel to a well-known design. The results aren't for everyone, but it's the kind of conversation that generates more outside interest in the undoubtedly nucleic watchmaking industry.
It's for this reason that the collaboration between Bamford Watch Department (BWD), Fragment Design and Zenith is so exciting. For a start, it's the first major project undertaken by BWD since it was given exclusive authorisation to customise watches for LVMH brands Tag Heuer, Zenith, and Bulgari in the latter part of 2017.
The watch choice is perfect, too. The Zenith El Primero is a classic chronograph design that has hardly changed since its debut in 1962 – and in Fragment Design it has a safe pair of hands overseeing its contemporary facelift. Headed up by streetwear icon Hiroshi Fujiwara, the Japanese label has frequently collaborated with the likes of Nike and Apple to great success, as well as working with BWD on a number of pieces in recent years. Judging by the end results, here's hoping this isn't the last time the brands team up…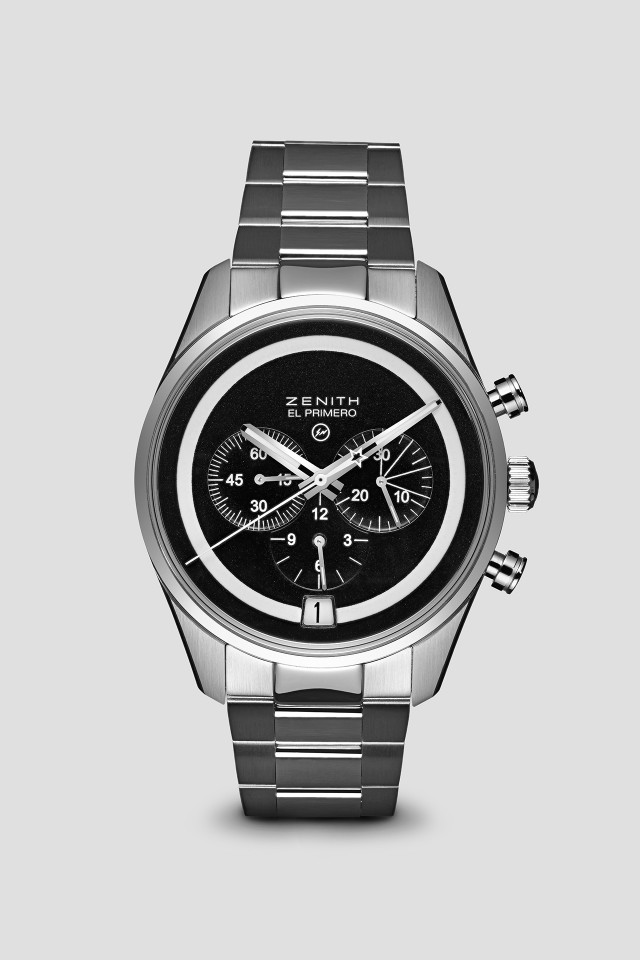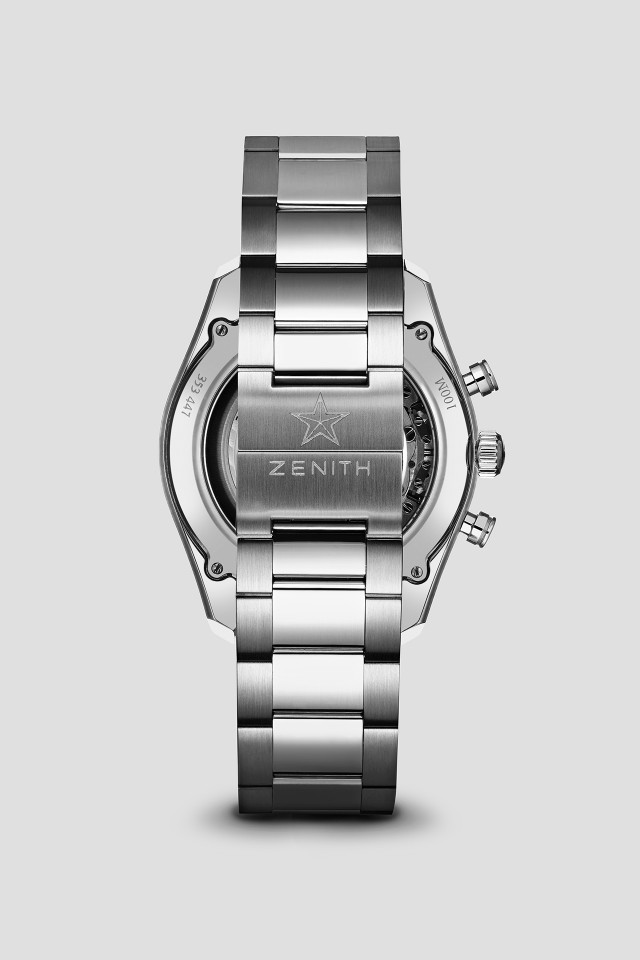 The first thing worth noting is this watch is incredibly striking – and exhibits Fragment's habit of blending bold graphics with a subtle vintage aesthetic. The thick white line running around the perimeter of the black dial is the real head turner of this design, but there's other details like the hashing on the sub-dials and Fragment Design's small double lightning bolt motif just below Zenith's logo that are equally pleasing.
If the average custom watch leans heavily on black coating, bright colours and, er, eccentricity, this new BWD piece is its anti-thesis: understated, quietly contemporary and inoffensive.
Under the hood, you'll still find the high-beat chronograph, powered by the exquisite El Primero 400B movement, with a 50-hour power reserve. This is a watch without compromise.
Everything else you need to know about the BWD x Fragment Zenith El Primero watch
Established in 2004 by George Bamford, British brand BWD has been customising Rolex, Audemars Piguet and Patek Philippe watches for more than 15 years, but never with official backing from the watchmakers. When LVMH made BWD the world's first official watch customiser last year, many raised their eyebrows – custom watches were no longer coveted by the few, but available to the masses.
Some wondered how BWD would work with LVMH beyond adding personalised options to the brand's timepieces. That question has now been answered in the form of this new-look El Primero; a statement of intent if ever there was one.
Fragment Design may seem like an unusual choice for a collaborator, but its designer and founder Hiroshi Fujiwara is an avid watch collector, as well as having a wealth of influence in the world of fashion. You may not know the name, but Fujiwara has collaborated with just about everyone from Sony to Louis Vuitton, and everyone in between.
In the 80s, the designer was one of Tokyo's first hip-hop DJs before he turned his attention to the world of fashion. From his high-priced t-shirts to the limited-release sneakers that sell out instantly, Fujiwara practically invented the streetwear trend we see in all walks of life today.
Truth be told, we're a number of years away from seeing anything close to a Nike x Rolex mash up or a Breitling x Belstaff timepiece – no matter how quickly eager fans would snap them up. The demand may be growing, but it's going to take bolder brands like Zenith, with the help of BWD, to set the course.
More than that, though, if this alternative avenue of watch design leads to a host of exciting new timepieces, then that can only be a good thing for the industry.
The Bamford Watch Department x Fragment Design x Zenith El Primero watch (£10,000) is available exclusively at Dover Street Market locations in London, New York, Singapore and Tokyo.