Ettinger
Capra collection, from £95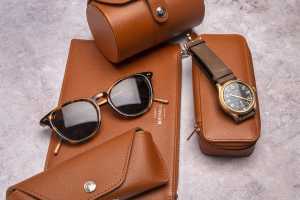 Gerry Ettinger was an enterprising man. Having worked as a film producer in Italy and Germany, he used his rolodex of contacts from across Europe to found his eponymous brand in 1934 – and, in doing so, a new star of the luxury world was born.
Much has changed in the nigh-on 90 intervening years, but one thing has remained constant: Ettinger's eye for quality materials and meticulous construction methods.
Handmade in the brand's UK factory in Walsall, Ettinger's accessories – like the elegant Capra collection seen here – are created by a highly skilled team of craftspeople. But we don't need to tell you that; the products speak for themselves.
For more information, see ettinger.co.uk
Crockett & Jones
Richmond 2 Penny loafer, £375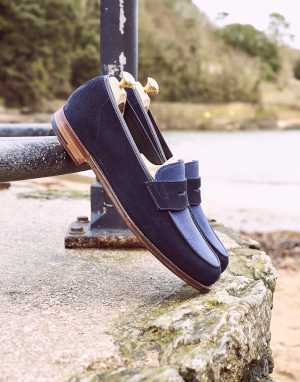 There is perhaps no finer purveyor of British footwear than messrs Crockett & Jones. Founded in 1879 in Northampton, at the beating heart of England's most famous shoemaking town, this historic brand remains a flagbearer for our nation's speciality in manufacturing high-quality Goodyear-welted footwear – a classic shoe construction method that simply cannot be bested for love nor money.
To see the Crockett & Jones factory on Perry Street is to understand the passion poured into each product. Believe it or not, each pair of 120,000 shoes Crockett & Jones makes annually is made inside the Grade II-listed building, with every last one produced using more than 200 individual operations that take place across eight departments.
Take, for example, the charming Richmond 2 Penny Loafer. It's a classic unlined penny loafer with a raised seam apron finished in an ocean and mid-blue suede with a 'Superflex' leather sole – the latter being a technical feat of sorts that allows it to be both hardwearing, and offers superb comfort and grip. It might just be the shoe of the summer.
For more information, see crockettandjones.com
Seven Layer
L6 Overwatch Field Shirt from the MTP Collection, £295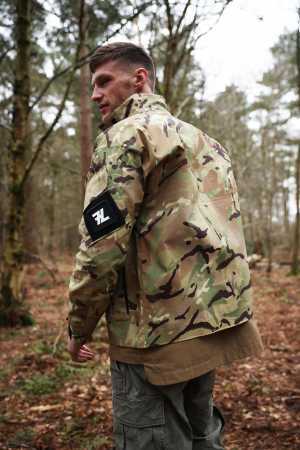 Let's face it: whether you like it or not, at some point during the warmer months, you're going to need a jacket to throw over your shoulders. This is a prerequisite of the Great British Summer. In our book, that's perfectly fine as it's a good enough excuse to turn to one of the best contemporary players in the outerwear game – the utilitarian SEVEN LAYER.
The brainchild of owner Jamie Lundy and designer Chris Vandrill, SEVEN LAYER is an exercise in fashion meets function but, crucially, with a focus on supporting garment suppliers from the farmers and yarn suppliers right through to the process of making the product.
The key, of course, is that no compromises have been made in the quality of the clothing itself. Case in point, the L6 Overwatch Field Shirt – one of the standouts of Seven Layer's second full season.
"Within the MTP collection, we have partnered with Cookson & Clegg and British Millerain," says Lundy. "And that process of working and networking with skilled artisans on our doorstep will always be part of what we do."
For more information, see sevenlayer.com
Gusbourne
Gusbourne Reserved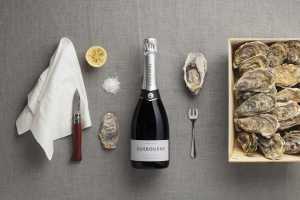 Members' clubs aren't what they used to be. No longer the preserve of aristocrats, clubs these days are for entrepreneurs, artists, techies, foodies, media types, like-minded bon vivants of all stripes. Now there's a club for English sparkling wine, too.
It's not a traditional members' club, but Gusbourne Reserved gives its members early access, excellent value and exclusive benefits to award-winning English sparkling. Every May and November, Reserved members receive their personal allocation of that year's releases: two bottles each of Gusbourne Brut Reserve, Gusbourne Rosé and Gusbourne Blanc de Blancs. Plus, there's preferential rates on further bottles and exclusive access to limited-edition and rare wines. We'll drink to that.
For more information, see gusbourne.com
Jaguar
F-TYPE P300, £54,510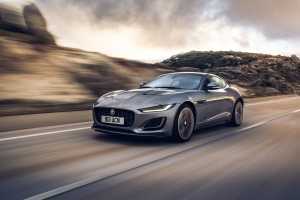 Jaguar's F-TYPE is constructed in the marque's Birmingham factory with engines supplied by its Castle Bromwich plant down the road in Solihull.
Now, Birmingham and Solihull might not be the first locations you'd turn to for a seductive sports car, but there's no denying the results are stunning.
This year, the F-TYPE is given a new powertrain option in the form of a plucky 2.0-litre engine. Yes, you can still plump for the 5.0-litre V8 with 567bhp on tap if you're going all guns blazing. But the 2.0-litre option churns out 296bhp – and where it loses a supercharger it gains a turbo.
It's lighter, cheaper and better for the environment, too. Sure the noise is never going to compete, but the neighbours will thank you for your discretion.
For more information, see jaguar.co.uk
Graff
Tribal collection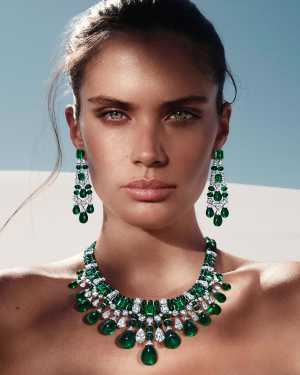 It took ten master craftsmen more than 30 days to assemble this necklace and earring set.
The inspiration for Graff's new Tribal collection may have celestial origins – it was inspired by the ancient folk tale of the girl who created the stars – but it was crafted in England, in Graff's expansive Mayfair atelier to be exact.
A combination of CAD and traditional techniques were used in its construction, including employing a unique stringing system to thread each individual emerald gemstone.
Each emerald has been colour matched, too. It may well have been made in England, but the results are suitably out of this world.
For more information, see graff.com
Boodles
Travel Collection 'London' Ring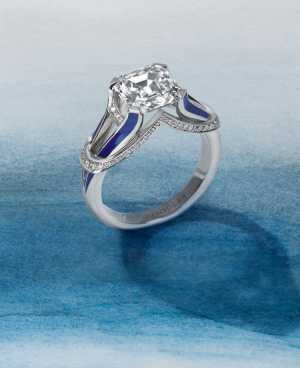 Boodles is well known as one of Britain's leading creators of fine jewellery. What is known to only a select few, however, is that its chairman Anthony Wainwright once circumnavigated the globe in just 16 days – a fact memorialised in the charming new Boodles Travel Collection.
As both the start and end of Wainwright's trip, London is immortalised in this beautiful ring inspired by the iconic Sir Horace Jones-designed Tower Bridge. Bright strands of diamonds swoop beside dark blue enamel, emulating the arches of the bridge, guiding you to a glorious asscher-cut diamond at its centre. Sourced from the Cullinan mine, this stunning diamond comes from the same source as some of the British Crown Jewels.
For more information, see boodles.com