The UK flat racing season is under starter's orders, which can mean only one thing: Royal Ascot is on the horizon. Whether you enjoy the occasional flutter or know your group-winning colts from handicap plots, the high society event marks the official trumpet call to Britain's summer of sport.
But this is much more than just a day or two at the races – Her Majesty is present, for God's sake! – it's an event where it is as important to be seen as to see, where the well-heeled wear heels and men dust off their top hats and tails.
For those in the Royal Enclosure, this means encountering Royal Ascot's famously strict dress code. Fancy wearing blue? Not here you don't, sir. It's black, grey or bust in these parts. It's as backward as it is charmingly archaic.
But what does it really take to stand out among the suited and booted at Royal Ascot? We ask Oliver Brown proprietor Kristian Ferner Robson for his style tips:
What should men wear at Royal Ascot?
Morning dress, or formal day dress, is the traditional attire worn by men at weddings, memorial services, daytime events in the presence of the Queen, and at some events during 'The Season'. Perhaps most famously, morning dress is, of course, worn in the Royal Enclosure at Ascot. Nineteenth century style icon Beau Brummell first dictated a dress code for the Royal Enclosure, when he stated that 'men of style should always be simply but elegantly dressed'. Although specific fashions have come and gone in the nearly 200 years since then, the foundations of the dress code remain the same.
There are some fixed rules to wearing morning dress, but the outfit (in contrast to evening tails) does have lots of room for variation and should be playful and colourful. We regularly update what we offer in our morning wear collection, so we are able to provide for any tastes. If it's your first time attending Royal Ascot, I would recommend our premium hire, which comprises a classic black morning suit, double-breasted waistcoat, and a melusine top hat.
This year, we have created a high-end luxury morning coat in midnight navy blue herringbone made in super 200's wool made for us exclusively by one of the most eminent mills in West Yorkshire. There are also two luxury morning suit striped trousers in lightweight super 120's to complete the look.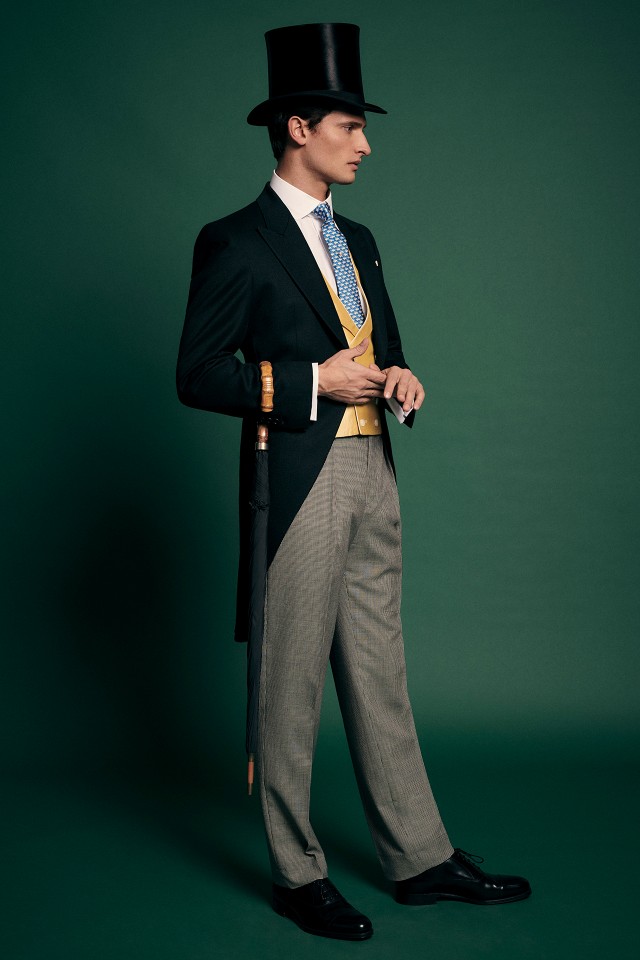 There are some fixed rules to wearing morning dress, but the outfit does have room for variation – and should be playful and colourful
What about hats?
A good top hat is the crowning glory (almost literally) of morning wear. When dressing for the Royal Enclosure, an antique silk top hat can lift an ordinary outfit into the realms of the extraordinary. Silk hats have not been made for at least 75 years and are, therefore, highly prized items. They are considered the height of sophistication and elegance owing to their impressive shine, shape, and lightness. It's important while in the enclosure to look after your hat. Have your name, or initials, put on the band on the inside of the hat so that it doesn't go missing, and before you step out of the gate, you can give the hat a polish with a spray of water and a velvet pad, which will make it shine like it's new.
We are the UK's most notable independent retailer of top hats, and we offer the largest collection of original antique silk toppers in the entire world, so our range really does carter for all, whether you are looking to buy a special hat or hire one for race day.
What shoes would you recommend?
Traditionally black oxfords are the go-to shoes for morning dress. Although today, it's just as common to see a smart pair of black loafers. Whatever the choice, your shoes must be black and preferably highly polished. Rainy days can occur, so it is often wise to have a back-up older pair with you so that you don't ruin a nice (or even new) pair of shoes.
Accessories?
Given the typically unpredictable nature of British summer weather, an umbrella is not only a stylish but also a practical addition to your outfit. It can be especially hot as well, so if needed, a brolly can always be used to provide a bit of temporary shade. Other stylish additions could be a pocket watch and chain, which I always wear, or perhaps a pair of customised cufflinks that will subtly portray your own individual style.
Something different? (but still permitted!)
If you would like to give your Royal Ascot look unique flare while staying within the Royal guidelines, I would opt for a fresh flower or colourful accessories like a waistcoat, tie or pocket square. However, do remember that if you have a brighter tie or pocket square, you should keep your waistcoat subtle and vice versa. Royal Ascot is synonymous with sartorial elegance, which is upheld by the strict dress code, in place to maintain this traditional way of dress. It is, after all, a major fashion event in its own right.
For more information on bespoke suiting and morning suit hire for Royal Ascot, see oliverbrown.org.uk