Pop quiz, hotshot: which global event is attended by the largest number of media?
The Olympic Games, as it happens – but do you know the event with the second-largest media attendance? That would be the Cannes Film Festival, a fact that might be more surprising if it wasn't included in the opening paragraph of an article about the Cannes Film Festival. Trust us, it'll go down a storm at the pub.  
Every May, approximately 4,500 journalists and God knows how many film stars flock to the south of France for a fortnight of fashion, frolicking and film. (Arguably in that order.) The festival turned 75 this year and, unlike most of us, Cannes only grows more alluring with age. And a large part of its mystique lies in the countless photographs of red carpets and afterparties that are beamed around the world. 
For as well as being the most glamorous date in the film industry, the Cannes fortnight can also make the career of many photographers, offering an unparalleled chance to network with publications and potential clients – plus take a few snaps while you're at it. We spoke to friend of square mile Bertie Watson about his Cannes experiences.   
How was your first experience at Cannes? 
My first time in Cannes was 2019 and it was a whirlwind of an experience. Villa parties, red carpet premieres, and of course a chance to brush up on my French.
You went on your own dollar, right? 
I had just made the decision to stop pursuing my career as an opera singer, so I knew no one in the industry and had zero clients. I had a clear vision of who I wanted to work with, people in film and TV, so I decided to head to the belly of the beast, Cannes.
I figured if I hopped on a cheap flight and stayed in an affordable Airbnb for the fortnight that would give me plenty of time to meet potential clients. It was a great return on investment.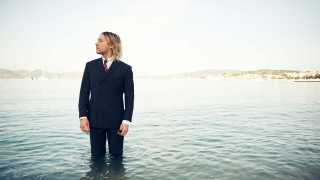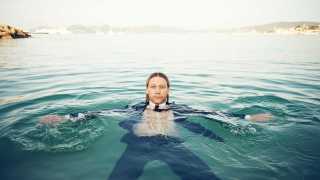 Do any hustling once you arrived? 
The day after I arrived, I went up and down La Croisette, the main strip where everything happens, walking into all the beach clubs, → → luxury designer shops and hotels, asking to meet their PR/marketing managers. I also sent out about 1,000 emails prior to arriving there to various people. I had around 80 replies and two of them I ended up shooting for. It's a numbers game. At the end of the festival I'd shot for four new clients.
Crash any parties? Sneak onto any yachts? 
After having shot a party at the Hotel du Cap Eden Rock, one of the guests sent me a photo, yes a photo, of an invite to a very secretive looking party over at Cap D'Antibes. After a long, winding gravel road through a thick patch of pine trees we came to a queue of around 300 people in the middle of what seemed like a mini forest. Guard dogs, security and helicopters were keeping a strict perimeter  so I honestly had little hope of getting in. 
Then out of nowhere, I spotted a friend of mine who I used to work with in retail years ago and she was the door girl. To the disbelief of all the impatient people queuing, I was happily waved through and hopped onto one of the three golf buggies used to get to the front of the location. 
Once we arrived, the forest parted into a massive clearing replaced by what I can only describe as the biggest mansion I've seen in my life. It didn't feel real.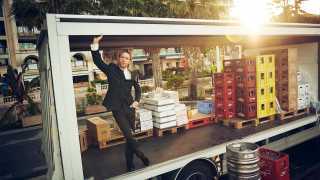 Any random celebrity encounters? 
I won't name who hosted the party as I signed an NDA, but suffice to say it was Mr DiCaprio who made a brief appearance, cap on, sunglasses engaged and an outrageous amount of entourage/security around him. Mystery man!
How did your experience of Cannes this year compare to your first one?
This year, I had an amazing one-week job with Deadline Hollywood, which meant I could be a little more relaxed going into the festival.
Do you ever get to watch any of the films? 
I'm mostly too busy to attend any of the premieres, but if I get an invite and I'm free I don't turn them down. And anyway, from previous Cannes experience, that red carpet isn't for the faint hearted. 
How do you spend your time off? Or is there no such thing? 
You have to have balance in life. Usually, I wake up early and go for a swim in the sea to get the blood flowing before work. Other than that, it's important to take some time to see the place you're shooting in, go and explore local markets, get lost off the beaten path and enjoy the scenery.