Prague is one of the great city breaks. You know this; we know this. A flight from London takes less time than a football match, and will also cost less depending on the airline (and the club). And you'll almost certainly have a more memorable experience once you arrive. The beer is much cheaper, for one thing.
There are numerous ways to pass a weekend. Count the statues on Charles Bridge. Enjoy the views from Prague Castle while pretending to be a mediaeval knight. Watch a skeletal Death ring the hour on the Astronomical Clock – the Orloj – a horological marvel straight out of a fairytale. Wander through the Old Jewish Cemetery and grapple with the transient nature of existence. Head to one of the bars and grapple with a cocktail instead.
At night, the cinematic grandeur of the city becomes almost overwhelming: walk through Old Town, the hulking buildings, the statues, the moonlight, and embrace the feeling of starring in your personal film noir. Sometimes you might even get mist, I kid you not. The streets are quiet but never silent. The laughter is distant but always there.
A trip to Prague is a no-brainer; more thought must be given to your accommodation. Or perhaps not – for Prague is among the cities to boast a Mama Shelter, a hotel brand that has established itself as a global player in a mere 15 years. Founded in Paris by Serge Trigano and his two sons, the brand has since spread to three continents, nine countries and fourteen cities – with six more properties opening before 2025. Everyone wants to shelter at Mama's.
The Prague Mama Shelter was my first experience of the brand; I hope it will not be my only one. Put simply, the place is a blast, a colourful, slightly chaotic space that feels like an amalgamation of a bric-a-brac shop, an artist's studio, and a student union bar. The fact the staff all wear Mama Shelter jumpers or T-shirts adds to the sense of youth.
Mama Shelter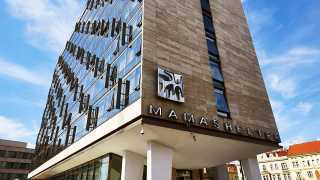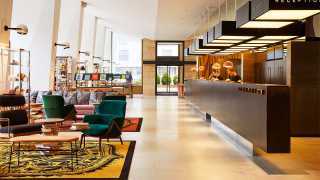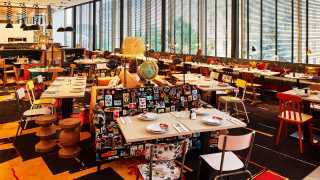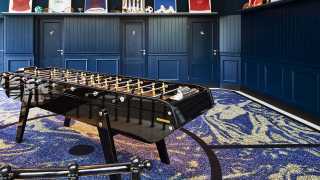 In the foyer alone, you will find two table football tables, two arcade machines, a pool table, a project playing cartoons, glass cabinets filled with everything from Stormtrooper masks to cuddly toys to condoms – oh, and various bespoke Mama-branded items of clothing should you wish to take the hotel home with you. Furniture is eclectically shaped and garishly patterned. The wallpaper could take your eye out.
Yet somehow it works – and splendidly so. The clientele range from all ages and backgrounds, with business groups (the hotel has several meeting rooms) mingling with middle-aged couples mingling with Gap year students. The communal benches of the restaurant were packed every night with people enjoying the remarkably good food – order the steak and fried potatoes – and free-flowing booze.
Something always seems to be happening at Mama Shelter. During my three nights, I encountered a DJ (who plays Wednesday-Saturday), a speed dating event (I didn't participate), and two separate private parties (I crashed neither). A blackboard promised more DJs, hungover brunches and a pink-themed party on Saturday. Departing was a wrench.
A word on the rooms: compact but extremely comfortable. The smart TV offers dozens of free films to be enjoyed if you fancy a night in. There are even adult offerings, both gay and heterosexual. Very European. And no, before you ask, but fair play for including the option.
In terms of location, the hotel is just across the river from the Old Town, a mere 10 minutes by tram or half an hour if you fancy the walk. (Trams come every few minutes and never get stuck in traffic. Vastly superior to buses.) You're also a few minutes stroll from Letna Park which offers magnificent views over the city and ultimately takes you to the castle. Get marching.
Like life, travel can be complicated – and sometimes it can be very simple indeed. Remember what your parents told you: Mama knows best.
For more info, see Mama Shelter Prague