Independent watchmaking has become a bit of a misnomer in the world of horology. It's said to refer to brands free from the shackles of large luxury conglomerates and the broader corporate agendas that no doubt influence their output but, then again, giants of the game like Audemars Piguet (the only Swiss watch brand still owned by its founding families), Patek Philippe (owned by the Stern family since 1932) and Rolex (owned by the Hans Wilsdorf Foundation since 1960) are also technically independent. It's a thorny term.
The legendary George Daniels has no such qualms. His small Isle of Man-based outfit encapsulated the spirit of independent watchmaking as a meticulous art form carried out by master craftsmen. Known as the founding father of independent watchmaking, Daniels was not only a student of classic horology, but its greatest teacher. In his seminal book Watchmaking, he set out more than 30 individual disciplines necessary to craft a watch by hand. Until his death in 2011, he was a guiding light to horology's brightest minds.
George Daniels timepieces rarely show up at auction – mostly owing to their extreme scarcity – but when they do, they tend to break records. In June 2022, a George Daniels Anniversary No. 00 in platinum sold for $2,389,500 at the Phillips New York Auction – the most ever paid for a British watch.
Another trio of George Daniels watches are now set to go under the hammer at Phillips' Geneva Auction on 5-6 November. An Anniversary watch, this time in yellow gold, carries an estimate of CHF 300,000-600,000, while a yellow-gold Millennium – the first collaboration between Daniels and Smith, created to mark the year 2000 – is expected to fetch CHF 250,000-500,000.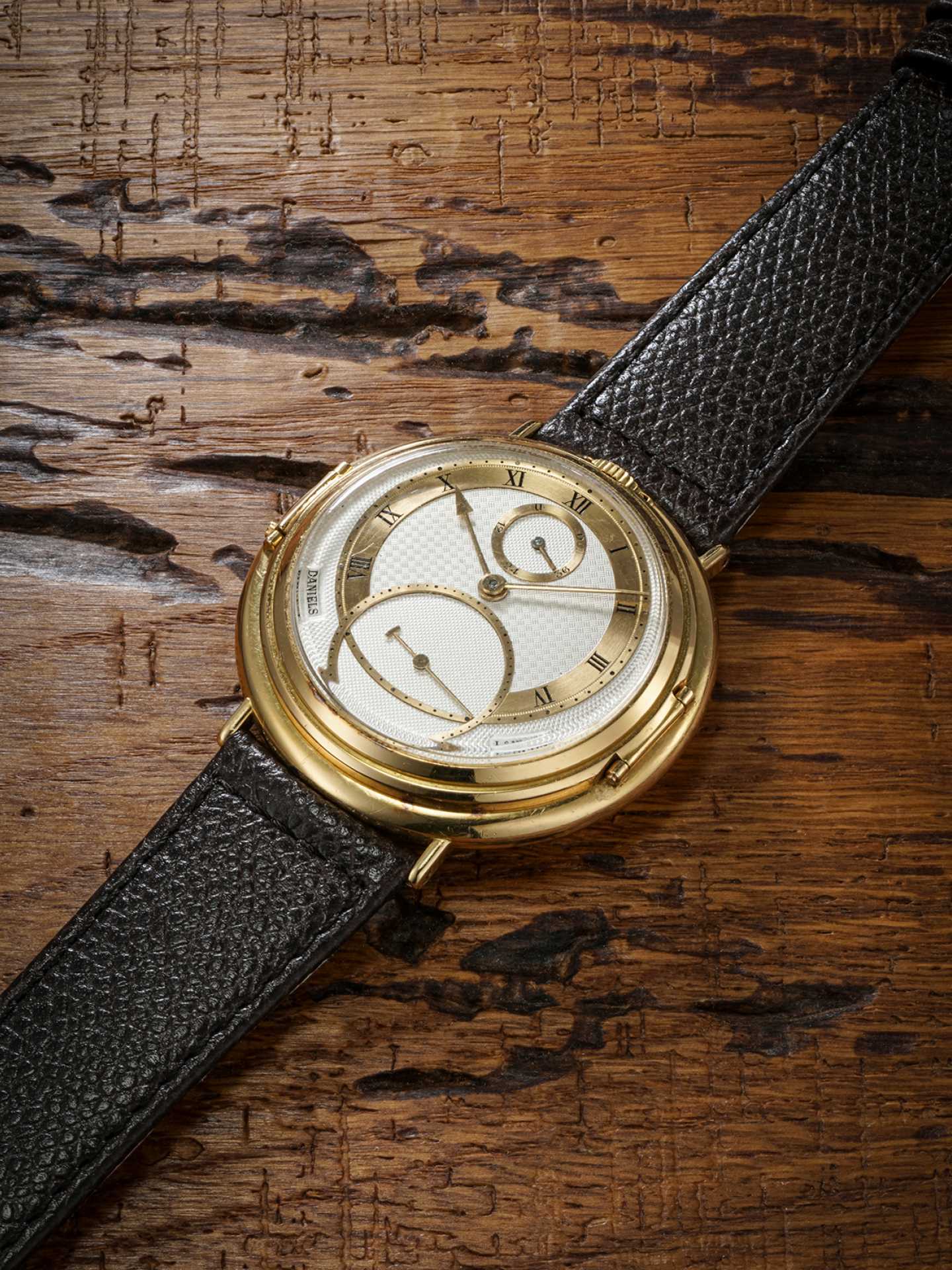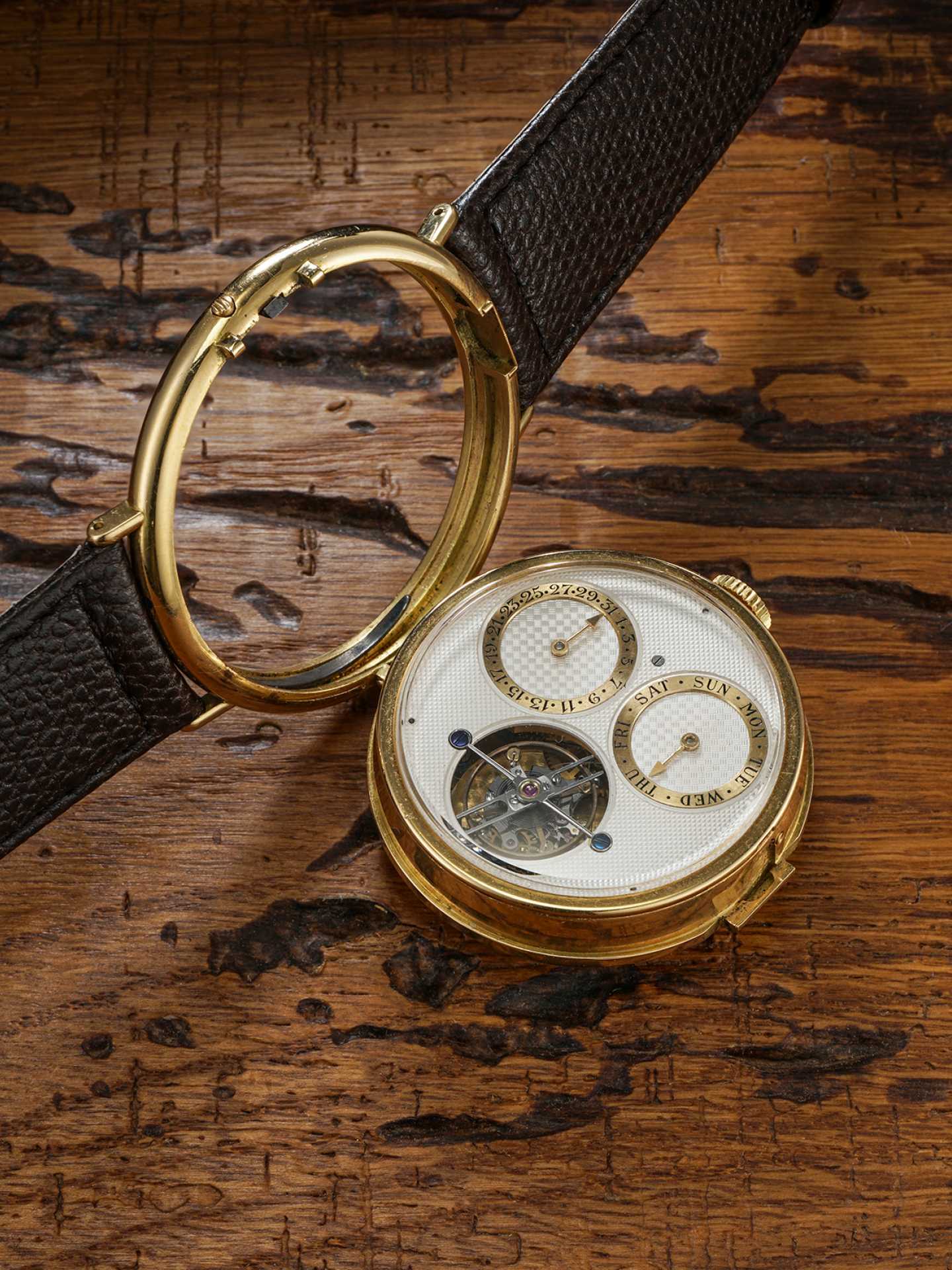 The star of the show, however, is a unique Spring Case Tourbillon in yellow gold. As one of just four unique wristwatches that Daniels made in his lifetime (two of which he created for his personal use), there's little doubt its estimate 'in excess of CHF 1m' will be realised.
On the spec sheet the Spring Case Tourbillon, completed in 1992, is highly impressive: featuring a double dial, with a one-minute tourbillon and calendar. Naturally, it features his iconic co-axial movement beating at its heart, while the clever spring case enables the watch to be popped open to reveal the back dial.
On the spec sheet the Spring Case Tourbillon is impressive… in execution, it's absolutely exquisite
In execution, it's absolutely exquisite. The elaborate hand guilloché silver dials alongside contrasting gold chapters for hours, minutes, and interlaced seconds is sublime, matched by the two calendar indications and visible tourbillon escapement on the reverse dial. Need any more reason to fall for this watch? Daniels himself was so delighted with his handiwork that it became his daily wearer until he reluctantly parted with it in 2005.
This is the first time a George Daniels double-dialled watch is being offered at public auction – and it'll likely be the last for quite some time.
Big spenders, prepare your wallets…
Phillips in association with Bacs & Russo is putting these three George Daniels watches under the hammer at The Geneva Watch Auction: XVI on 5-6 November 2022. See phillips.com