Phillips' watch department smashed it out the park last year, it's as simple as that. The esteemed auction house achieved a record annual sales total in 2021 with more than $209.3 million worth of timepieces sold. This represents a 57% increase from 2020, and is also up 89% from pre-pandemic levels in 2019. 
Aurel Bacs, senior consultant of Phillips in association with Bacs & Russo, summarised these exceptional results, "The watch auction market has grown exponentially, and we have seen a massive increase in the number of participants in global sales this year. Watches were a niche collecting field when I started my career in the auction industry, and in 2021 it has become an important and established collecting category alongside fine art, design, vintage and collectors motor cars, jewellery, and fine wine."
But all of this would count for nothing were it not for the myriad of high quality, often unique, timepieces that have gone under the hammer in the last 12 months. As always, the allure of Patek Philippe's watches continues to attract a sizeable chunk of auction demand – including a much-talked about "Tiffany Blue" Nautilus – but it's also notable that some of the great independent watchmakers of the world, the likes of FP Journe and the great Philippe Dufour, are also seeing the value of their handiwork appreciated at the high-end of the market. No doubt this is a tonal shift in vintage watch sales, moving somewhat away from the big-name brands towards the smaller independent watchmakers.
Bacs said: "Phillips has curated our sales with the greatest attention to detail, selecting only the highest quality watches, which is reflected in our having sold 100% of the watches offered this year. We have built an extraordinary team of scholars and specialists, resulting in the very best selection of watches in our auctions. We have developed a trustworthiness that is unparalleled, and our unmatched ability to communicate knowledge, history and passion in a transparent manner across multiple channels also contributes to this landmark result in auction history."
At the very top end of the auction market, Phillips sold 27 timepieces above $1 million in 2021 and in doing so set new record for million-dollar watches sold by an auction house in a calendar year.  
With that in mind, let's get to the juicy bit. Here's the countdown of the top ten most valuable lots sold last year…
10) Patek Philippe Ref. 2497 "The Exceptional White"
Estimate: CHF1,500,000 - 3,000,000
Sold: CHF2,813,000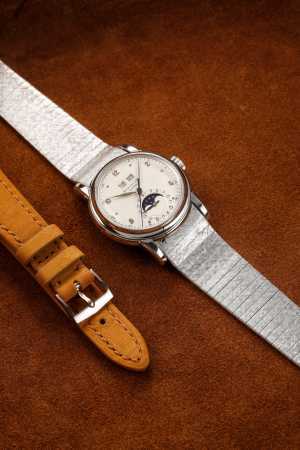 An exceedingly rare and historically important white gold perpetual Ref. 2497 calendar wristwatch with centre seconds, moonphases and original bracelet, this timepiece broke the world record for the model in white gold. But that only tells half the story.  
The Ref. 2497 is notable as being the first serially produced Patek Philippe perpetual calendar wristwatch to feature a centre seconds. This early iteration produced in 1954 is one of three known models to have been finished in 18k white gold. Add to that the incredibly striking original Patek Philippe white gold bracelet produced by Gay Frères and you have an incredibly covetable model. 
Sold in November at The Geneva Watch Auction: XIV
9) Omega Ref. 2915-1 "Tropical Broad Arrow"
Estimate: CHF80,000 - 120,000
Sold: CHF3,115,500

This first generation Omega Speedmaster, the CK 2915-1 from 1957, is consider the most collectible of all Speedmaster models due to a few unique design differences from later models. The most notable of these is the metal bezel instead of the black insert on the bezel of future models and, of course, the Broad Arrow hands.
The reason this particularly model smashed the world record for any Omega ever sold at auction, however, is undoubtedly the fabulous chocolate-brown "tropical" dial. The term "tropical" is used to describe a UV-cooked watch dial that has slowly and beautifully discoloured over time. Never has it been more appealing than on this highly collectible Speedmaster reference; perhaps explaining how it sold for more than 25 times (!!!) its high estimate at auction.  
Sold in November at The Geneva Watch Auction: XIV
8) Patek Philippe Ref. 570 "Calatravone"
Estimate: CHF200,000 - 400,000
Sold: CHF3,297,000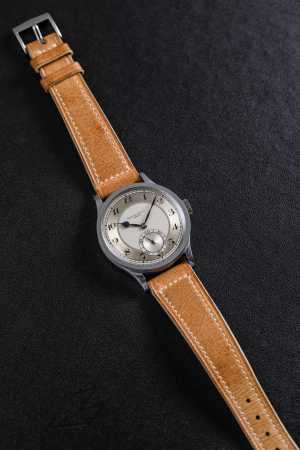 This charming Patek reference from 1942, known as the "Calatravone" (Italian for large Calatrava), features a highly prized two-tone dial with Breguet numerals and railway track – an execution that has only been seen at auction once before at auction. 
It was conservatively given a guide price of between CHF200,000 - 400,000, but collectors were suitably enamoured to ratchet up the price to CHF3,297,000 before the hammer finally fell, setting a world record for this reference as well as a record any stainless steel wristwatch without complications. 
Sold in May at The Geneva Watch Auction: XIII
7) F.P. Journe Tourbillon Souverain à remontoir d'égalité "Souscription" n°1
Estimate: CHF300,000 - 600,000
Sold: CHF3,539,000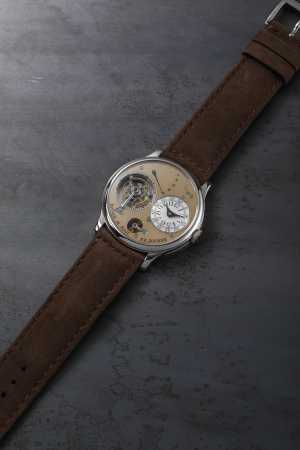 Founded by watchmaker François-Paul Journe in 1999, the F.P. Journe brand is considered to be one of the finest independent manufactures of watches on the planet, despite its young age. But the story of Journe's eponymous brand could have been very different were it not for the smart thinking of a friend.
When discussing how to finance the launch of his brand and the creation of his first model, Journe's friend suggested that he use the subscription system used by the great Abraham-Louis Breguet, whereby a few trusting clients would make a down payment for a watch that had not been made in exchange for a discount on the retail price. This would allow Journe to finance his workshops, tools and components.
Journe thus made his first 20 "Souscription" (subscription) tourbillons, delivered to clients in 1999, of which this present model is the very first. 
Saying nothing about the exceptional quality of the platinum tourbillon wristwatch or its intricate remontoir d'égalité, or constant force, mechanism, the sheer historical importance to the F. P. Journe brand makes it no surprise that this watch should fetch well above its guide price. 
Sold in November at The Geneva Watch Auction: XIV
6) Patek Philippe Ref. 2499 "Serpico y Laino"
Estimate: CHF2,000,000 - 4,000,000
Sold: CHF3,539,000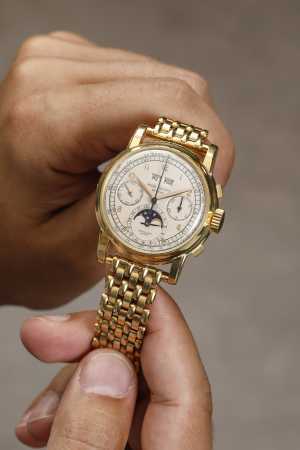 The story of this unique Ref. 2499 timepiece couldn't get more Antiques Roadshow if it tried. Having resided in a safe for more than 60 years, this perfectly preserved model was unearthed in 2020 and has now bagged its previous owner a cool CHF3,539,000.
What attracted such interest in this timepiece? For starters, it is one of only two examples of Ref. 2499s known to bear the signature of now-defunct retailer Serpico y Laino. It's also the earliest Ref. 2499 with a Wenger case ever known (Patek switched from Vichet to the Wenger case manufacture shortly after the Ref. 2499 was launched) and comes with a Serpico y Laino stamped yellow gold bracelet, manufactured by Gay Frères. 
Discoveries like this are rarer and rarer these days, but it's a real thrill to see such a unique model come to market. 
Sold in November at The Geneva Watch Auction: XIV
5) Philippe Dufour Duality N°8
Estimate: CHF800,000 - 1,600,000
Sold: CHF3,660,000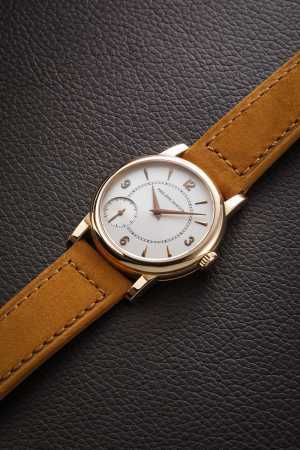 We excitedly previewed the once-in-a-lifetime auction of master watchmaker Philippe Dufour's four finest pieces, and it didn't disappoint when the watches went under the hammer. 
The first of two Dufour timepieces on this list is the Duality. Inspired by the school watch, a right of passage for every student watchmaker, Dufour took several of these pocket watch designs and shrank the complex mechanism to wristwatch size – something that had never been done before. 
It featured two independent balance wheels compensated with a central differential gear as a means of improving accuracy and countering the effects of gravity.
This pink gold reference is one of only three made in this metal, and is also the very last Duality ever made. Unsurprisingly, this was a new world record for the model.
Sold in November at The Geneva Watch Auction: XIV
4) F.P. Journe Chronomètre à résonance "Souscription" n°1
Estimate: CHF200,000 - 400,000
Sold: CHF3,902,000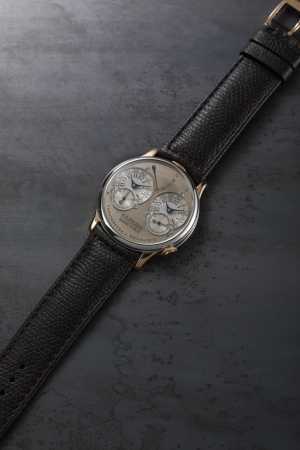 The Resonance, directly inspired by the architecture of Abraham Louis Breguet's resonance pocket watch movement, is arguably F.P. Journe's most iconic movement. Harking back to the days of restoring Breguet watches with his uncle Michel Journe in France, Journe's Resonance movement employs a double balance design, in which two balances oscillate in resonance with each other in order to create a more accurate means of keeping time.
(*Deep breath*) The theory is that two oscillators beating at the same frequency in close proximity correct any deviations in rate which occur with the other thanks to the exchange of rhythmical energy between them. It's genius – if a little complicated to explain.
Anyway, this particular model is numbered 1 of 20 pieces in the subscription series, it's also one of only five to feature a two-tone case in platinum and rose gold, and one of only three two-tone Resonances to feature a silvered dial. 
You get the picture: it's incredibly rare. Hence why it catapulted to CHF3,902,000 – a world record for the model
Sold in November at The Geneva Watch Auction: XIV
3) Philippe Dufour Grande et Petite Sonnerie #1
Estimate: CHF1,000,000 - 2,000,000
Sold: CHF4,749,000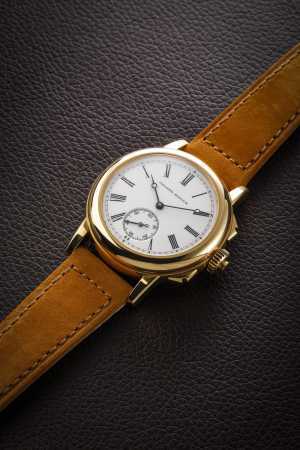 Into the top three we go, with the second timepiece from the genius that is Philippe Dufour. 
The Grande Sonnerie pocket watch automatically chimes the hours on every hour, and quarters on every quarter. When the petite sonnerie mode is activated, the watch will only chime the passing of the quarters. It is an arduous task to build the movement from hand, taking as long as two thousand hours per movement. In other words, this timepiece is not for the faint-hearted watchmaker.
Yet, from 1989 to 1992, Dufour set out on a mission to transform his own Grande Sonnerie minute repeater pocket watch – the watch that first propelled his name into elite watchmaking circles – into a sonnerie movement that would work as a wristwatch.
The result was the present Grande & Petite Sonnerie wristwatch number 1 – a genuine gamechanger, the very first of its kind, and the beginning of Dufour's cult status.
This model was produced in only five examples with white enamel dials, respectively two cased in white gold, one in yellow and one pink gold, as well as one in platinum. It's the yellow gold rendition that went under the hammer, selling for a whopping CHF4,749,000: setting the world record for a Philippe Dufour watch as well as smashing the auction record for any watch produced by an independent watchmaker.
Sold in November at The Geneva Watch Auction: XIV
2) Patek Philippe Ref. 5711/1A-018 "Tiffany Blue" 
Estimate: In excess of US$50,000
Sold: US$6,503,500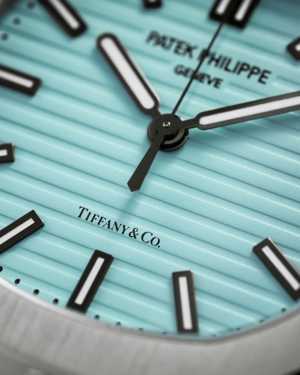 It may come as a surprise to some, but the much-hyped Patek Philippe Nautilus Ref. 5711 with *that* "Tiffany Blue" lacquer dial did not claim the top spot. You'd be forgiven for thinking otherwise, given the $6,503,000 total price makes it the ninth most expensive watch ever sold at auction, but yes it was indeed only the second most expensive watch sold by Phillips in 2021. More on number one in a moment. 
For now let's revel in the almighty pulling power of Patek Philippe and Tiffany & Co – two industry powerhouses who in 1851 forged an agreement that made Tiffany & Co the first official partner for Patek Philippe timepieces in the USA – and their ability to turn a brand-new timepiece with a retail price of just $50,000 into $6.5m for charity.
It didn't just break the world record for the most expensive Nautilus ever sold at auction, it completely obliterated the figure. The previous best? Around $500,000. It also set a record for any wristwatch sold to an online bidder.
The first of the limited-run of 170 Tiffany Blue Nautilus watches to head out into the world (they're already on the wrists of many famous faces, including Jay-Z), this present model was the only one that wasn't exclusively available to purchase at Tiffany & Co. boutiques in New York, Beverly Hills, and San Francisco. For Patek collectors far and wide, this represented a potential once-in-a-lifetime opportunity to get their hands on this piece, but only one came away with the prize…
Sold in December at The 2021 New York Watch Auction
1) Patek Philippe Ref. 2523 "Eurasia Dial"
Estimate: In excess of CHF3.5 million
Sold: CHF7,048,000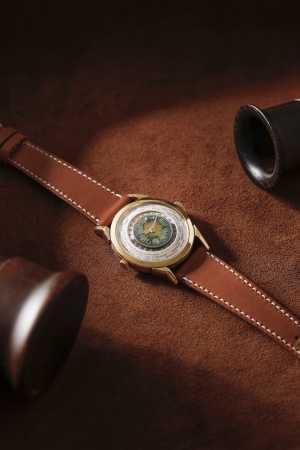 Coming in at number one is a Patek Philippe model that is so elusive that it was believed to be lost. 
The Ref. 2523 world timer is one of the great icons of Patek's historic grand complications catalogue. A smorgasbord of intricate watchmaking and elegant decoration, as well as exceptional cloisonné enamel work on the most coveted models, it's truly deserving of icon status. You could say it put Patek's world timer complication on the map. (Geddit?)
Speaking of maps, experts believe that a mere 11 Ref. 2523 watches were produced with decorative cloisonné enamel map dials; five featuring North America, three South America and three Eurasia.
In terms of the Eurasia dials, one is housed in Patek Philippe's in its Genevan museum, while the other is known to be under the watchful eye of a prominent private collector. The final model was believed to have fallen victim to time itself – forgotten about in someone's attic, at the bottom of the ocean, or perhaps at the end of a treasure map – until it shockingly resurfaced last year, its previous whereabouts still a mystery.
This latest example is estimated to be the earliest of the three known Eurasia dials and certainly the only one likely to find its way to an auction house for a very long time.
Suddenly it's CHF7,048,000 almost feels worth it… almost. In reaching that figure it also broke the world record for a Patek Philippe cloisonné enamel dial wristwatch as well as the world record for a yellow gold wristwatch sold at auction.
Sold in May at The Geneva Watch Auction: XIII