For decades, watches that wore the names of famous fashion houses were often white-label products with inferior movements and cheap build quality, but times have changed of late.
Over the last few years we have seen a sizable investment from brands more readily associated with style and leather goods trying to challenge the horological status quo. It's a trend that shows no sign of dying down anytime soon.
However, Gucci is an interesting case as its relationship with watches dates back to 1972, more than 50 years after Guccio Giovanbattista Giacinto Dario Maria Gucci founded his own shop in Florence in 1921, making it one of the first fashion boutiques to create its own timepieces.
Produced at facilities in La Chaux-de-Fonds, home to the brand's assembly, quality control, and diamond setting facility, with the dials created in Gucci's Fabbrica Quadranti in Ticino, these are pieces with real Swiss watchmaking chops.
As if to further these credentials, in 2013 Gucci created a watch inspired by the most enduring style of timepiece, the dive watch.
The Gucci Dive was originally a limited-edition piece, but its popularity among collectors meant that it later became a permanent part of the collection. Ten years after its initial launch, it's back and better than ever, with a 40mm automatic model boasting a host of new details to shout about.
The Gucci Dive features all the hallmarks of a typical dive watch: the unidirectional coin-edge ceramic bezel, the crown protector, and water resistance to 300m. There are flourishes in the form of the coffin-shaped indices that call to mind a 1950s Omega Seamaster design (Gucci, it would appear, has done its homework) and the bee motif that's become synonymous with Gucci watchmaking.
True to its fashion roots, the Gucci Dive includes three models that come with straps made from a new bio-based material originated from GMO-free feedstock. In person, these textured straps are a great partner to the watch itself, the web motif in green and blue versions, contrasting nicely with the stainless steel case. Suffice it to say, this is one dive watch that isn't in too deep.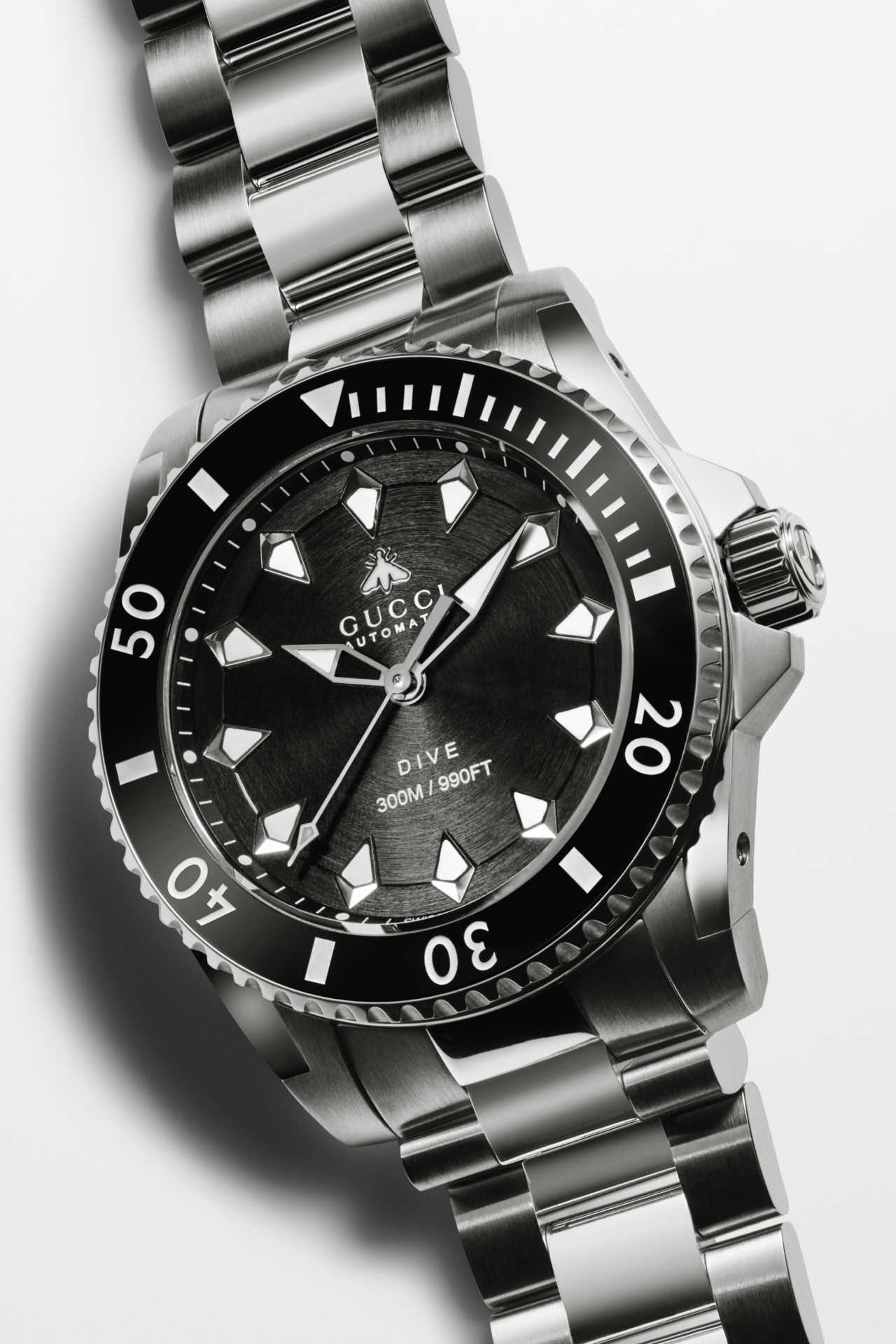 £1,640. For more information, gucci.com