There's a meme circulating through social media at the moment about the world slowly returning to normal – "nature is healing" the refrain goes, usually prefaced by something sarcastic like "City workers are drinking at pubs again". But it's true: as each day goes by, that vague notion of normality creeps ever closer.
In the luxury world, it would appear that big-name brands are too emerging from a pandemic-induced slumber. Notable watchmakers like Patek Philippe, Rolex, and Tudor made the unprecedented call in April to hold back 2020 watch releases until later this year – a decision that, in a sector that literally runs on clockwork, was considered big news – but now at last we're being drip-fed this year's novelties.
Patek Philippe is the latest to have reentered the fray. True to form, the prestigious Swiss manufacture has given its legions of fans several spruced-up references, added a splash of colour to some of its most lauded models, and created a new round of highly collectible pieces.
Let's go through what we've seen so far:
Ref. 6007A-001 Calatrava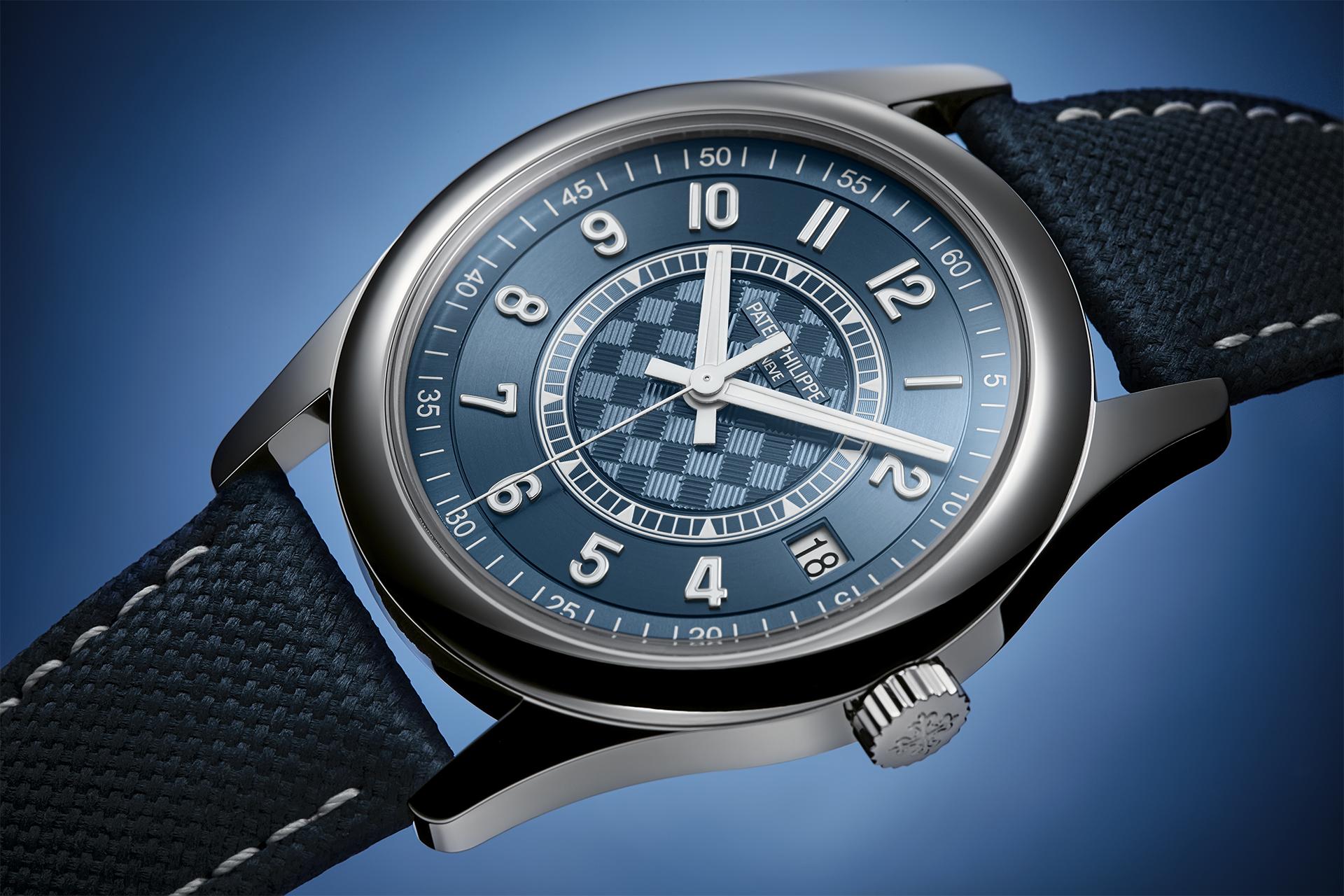 The latest addition to Patek's Calatrava dress watch collection is a limited-edition model that celebrates the company's new manufacture in Plan-les-Ouates, Geneva.
Five years in the making, the alleged CHF 600m (£507m) project was carried out to centralise every facet of the watchmaking process – from movement assembly to hand decoration, and much more besides – within a single property. If the 19th century manufacture approach involved utilising a chain of suppliers and workshops across Switzerland, this incredible construction is what 21st century watchmaking looks like.
The timepiece itself is a neat encapsulation of modern Patek Philippe – balancing a traditional case shape with a contemporary dial composition. In terms of the latter, the design hinges on two concentric circles: the first, an inner hour scale with a striking crosshatch pattern, and the latter, Arabic hour and minute scales. Curiously, this model also features luminous material on the hands and numerals – a first in the current Calatrava collection.
It would appear this is Patek adding a little sporty chic to this typically dressy collection. The blue calfskin strap, with its embossed woven pattern, would suggest the very same.
It may not be for purists, but it's nice to see the Swiss brand going for something a little different.
If the design is somewhat polarising by the Swiss brand's standards, the use of steel in place of precious metal (still a relative rarity by Patek's standards) will have plenty of collectors reaching for their cheque book.
The movement is much more typical – the self-winding Patek Philippe Calibre 324 SC – while there is writing on the clear caseback commemorating the opening of the new manufacture in 2019.
£21,710, patek.com
Ref. 5270J-001 Perpetual Calendar Chronograph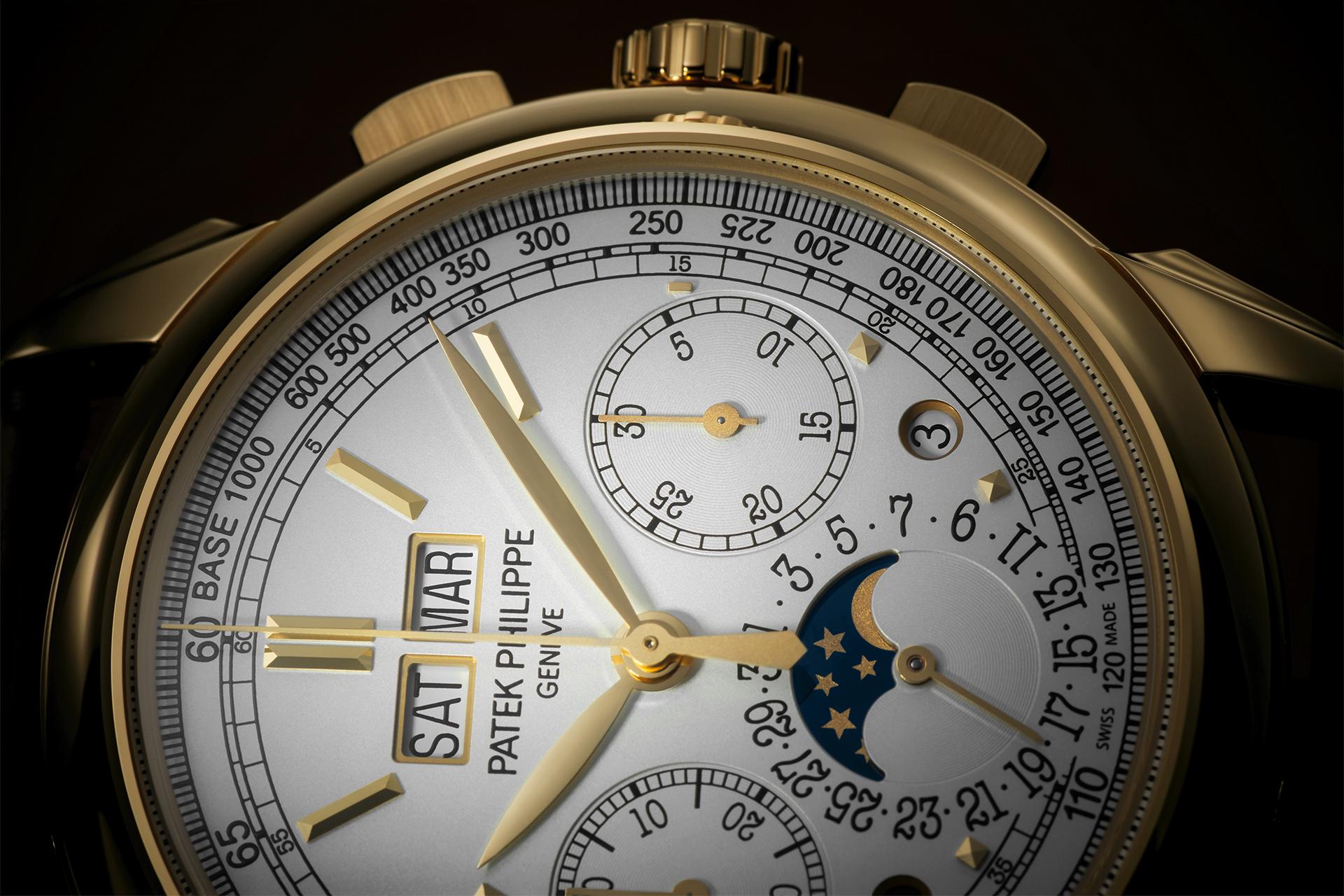 The marriage of perpetual calendar and chronograph complications within one elegant timepiece boils down to the essence of what Patek Philippe is all about – superior, highly technical watchmaking and aesthetic beauty.
A Patek Philippe Perpetual Calendar Chronograph (let's say 'PCC' for short) is therefore an incredibly sought-after model whenever a new one appears – regardless of its hefty price tag. These are legacy items that usually go on to far outweigh their initial retail price several times over.
Since 2011, the flagship PCC from Patek has been its Ref 5270 – notable as being the first PCC movement in the company's lengthy history to be made entirely in-house. Surprisingly, this new iteration of the 5270 is the first to feature a yellow gold case.
If the Ref 6007A Calatrava is modern Patek, the new 5270 is all about classical beauty. There's no getting away from the fact the dial is on the busy side, but combined with the opaline dial, the yellow-gold leaf hands and markers, and the exquisitely framed sub-registers, you can't help but admire the handiwork on show here. And that's before you flip the watch over to admire the finishing on the Calibre CH29-535 PS Q. Woof.
£129,350, patek.com
Ref. 5370P-011 Split-Seconds Chronograph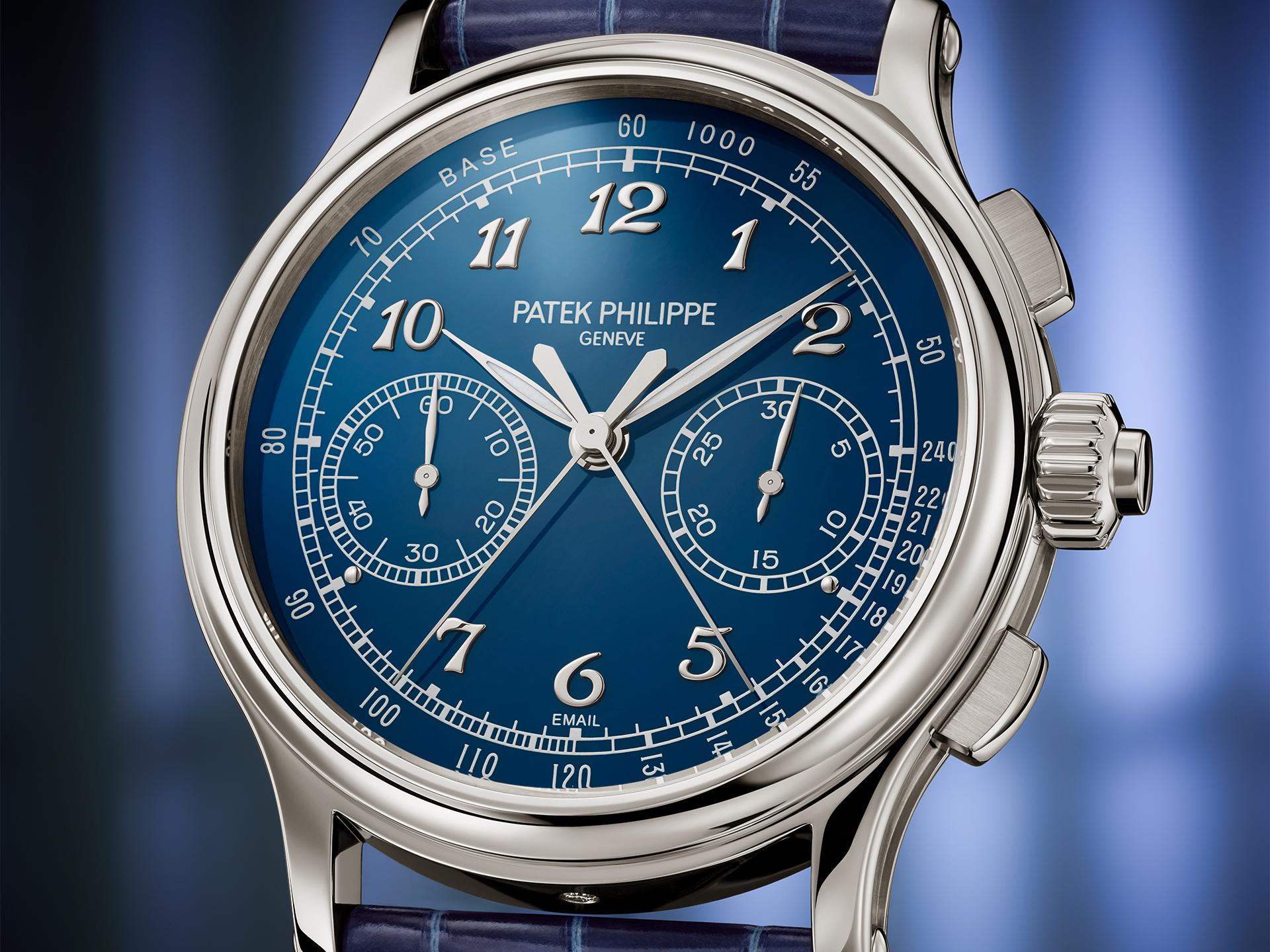 Colour changes are rarely that newsworthy in the world of horology, but when it comes to Patek, each design decision – no matter how small – is scrutinised by collectors and watch media alike.
The Ref. 5370P Split-Seconds Chronograph debuted in 2015 to widespread acclaim. The stunning hand-wound split-seconds chronograph movement doubled with a black enamel dial was a technical and aesthetic smash hit.
As one of Patek's most limited-edition recent watches, there's also just a little bit of mystique attributed to it – that vague sense of intangible beauty.
Well, now it comes in a velvety blue Grand Feu enamel dial.
You'll never own it – it's as rare (and expensive) as any watch currently in the Patek line-up – but, boy, is it pretty. Real pretty.
£201,390, patek.com
Ref. 5303R-001 Minute Repeater Tourbillon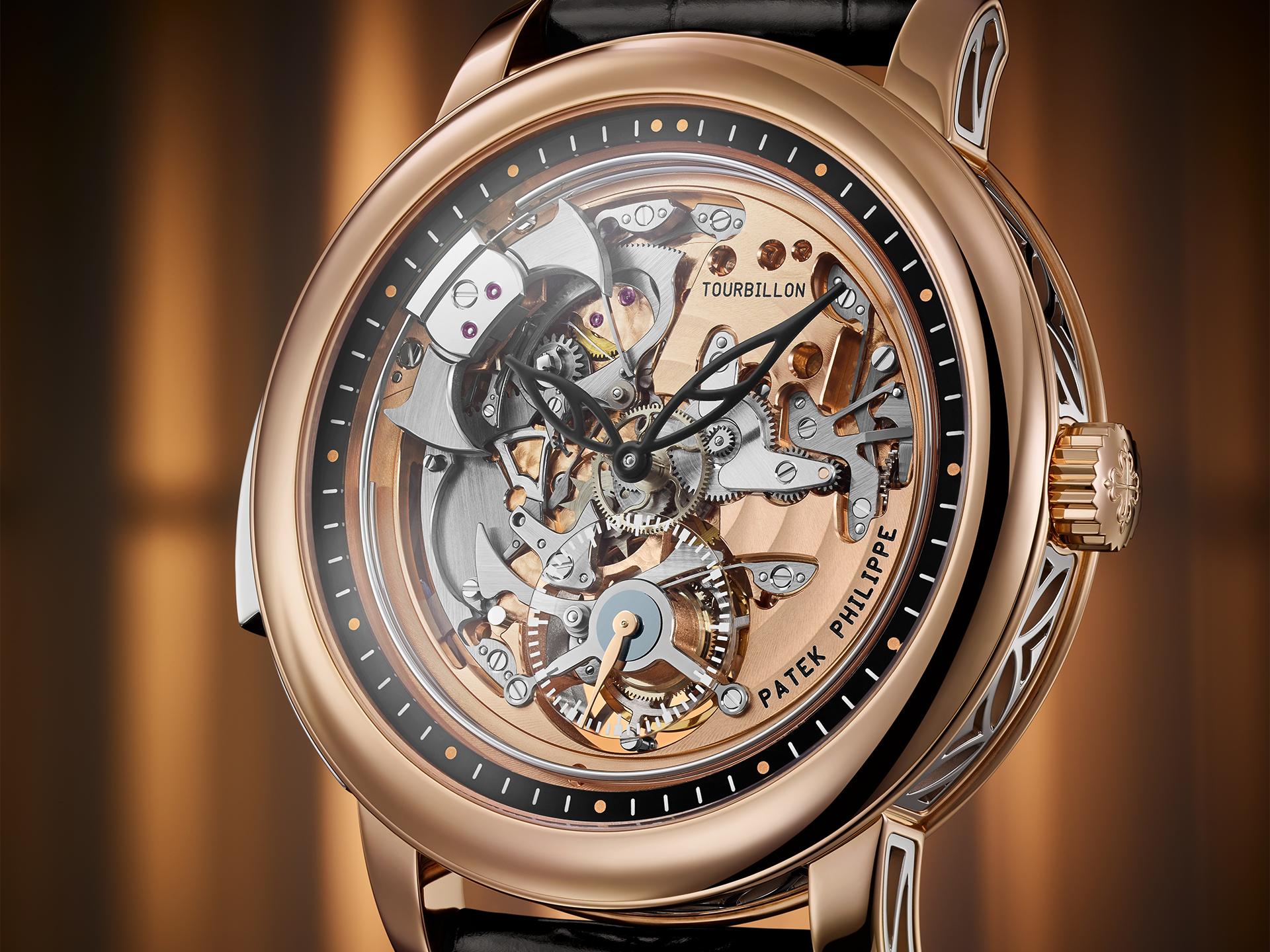 Regular readers of Square Mile may remember an excellent piece by Robin Swithinbank on the unique attraction of Patek Philippe – and why it is the most covetable watch brand on the planet.
For those who missed it, he talked about the impossible, (almost) impassable waiting list for a Nautilus, and the extra-exclusive invite-only events from which the manufacture sells its most complicated pieces. Funnily enough, he noted one particular event last year from which Patek presented a special 'Singapore 2019' Minute Repeater Tourbillon Singapore Ref. 5303R-010 – a batch of watches designed specifically for that marketplace.
The Swiss brand has now announced a new repeating watch that follows up on the Singapore 2019 iteration, available for anyone around the world.
The Ref. 5303R-001 Minute Repeater Tourbillon sports an architectural dial composition, within a 42mm rose-gold case. Funnily enough, in execution this piece feels quite contemporary, but the skill involved is more than 150 years in the making.
Repeaters are not only one of the most highly complex complications to construct, but also one of the few that must be assembled entirely by hand – there are no corners you can cut via use of a machine – the old-fashioned way is the only way here. We'll skip the explanation of how it works (more for our benefit than yours) and say, even by Patek's lofty standards, this piece is an exceptional example of watch craftsmanship. The movement finishing, the decoration, the execution: the mind boggles.
£566,000* The price is approximate because it is calculated from the exchange rate on the day of delivery and therefore can vary. For more information, see patek.com