If you're a Square Mile regular, you'll know we sent watch writer and amateur sailor Justin Hast to join the Alinghi Red Bull Racing team last month. It's fair to say he was impressed with what he saw.
But one thing he wasn't to talk about was this: the new Pelagos FXD and Pelagos FXD Chrono "Alinghi Red Bull Racing Edition", kept under wraps until now.
Tudor takes its sponsorship of the Swiss America's Cup team seriously – it's the first time the brand has ventured into the world of competitive yacht racing.
Naturally, it's chosen rather carefully. Alinghi Red Bull Racing are the only team to have launched a successful challenge to the America's Cup at first attempt, and the only European team to have ever won it in the event's 152-year history.
So rather than simply slapping their brand name across the bow and calling it a day, Tudor has marked its sponsorship of the team with two new watches.
The Pelagos FXD "Alinghi Red Bull Racing Edition" models combine a high-tech carbon composite – a first for Tudor – with titanium and stainless steel. Why this specific combination? Well it's a direct reflection of the material make-up of Alinghi Red Bull's AC75 (America's Cup 75) hydrofoil racing yacht.
For Tudor fans, the addition of a chrono calibre to a watch with a fixed strap-bars case is also a big deal – another first for the brand.
The black matte-finished carbon composite looks as sleek as you like – the AC75 being given a run for its money in that regard. The blue matte dials are finished in the same hue as the yacht's hull. And of course they have the iconic "Snowflake" hands, one of the hallmarks of the Tudor divers' watches since they were introduced in 1969.
The bidirectional 120-notch rotatable bezel is graduated from 60 to 0, so as to allow for easy tracking of countdowns – a key moment before the start of a regatta.
The new models are finished off with 22mm "Team Blue" jacquard-woven ribbon with red accents and a titanium "D" buckle with a self-gripping fastening system. It adapts to different wrist sizes and is very comfortable to wear.
Being Tudor, what's on the inside is just as impressive: a "weekend-proof" 70-hour power reserve, silicon balance spring, and COSC certification.
We couldn't possibly comment on Alinghi Red Bull Racing's chances in the next America's Cup. But one thing is for sure – the new Pelagos FXD is a winner.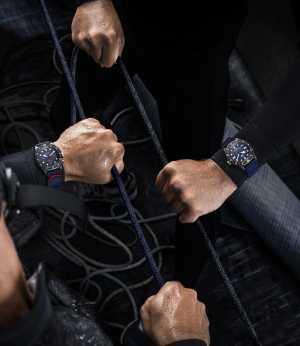 Tudor Pelagos FXD, £3,070; Tudor Pelagos FXD Chrono, £4,250, tudorwatch.com