Watches and movies have a long and illustrious history together. Perhaps it's because the best watchmaking, just like the great works of film, are timeless. Or maybe it's because cultural icons like James Bond taught us what watches to wear to look cool (and to cut through the floor of a train with a laser beam).
Either way, these five watches below show just how the worlds combine on and off the screen...
UNDONE x Batman 80th Anniversary Collection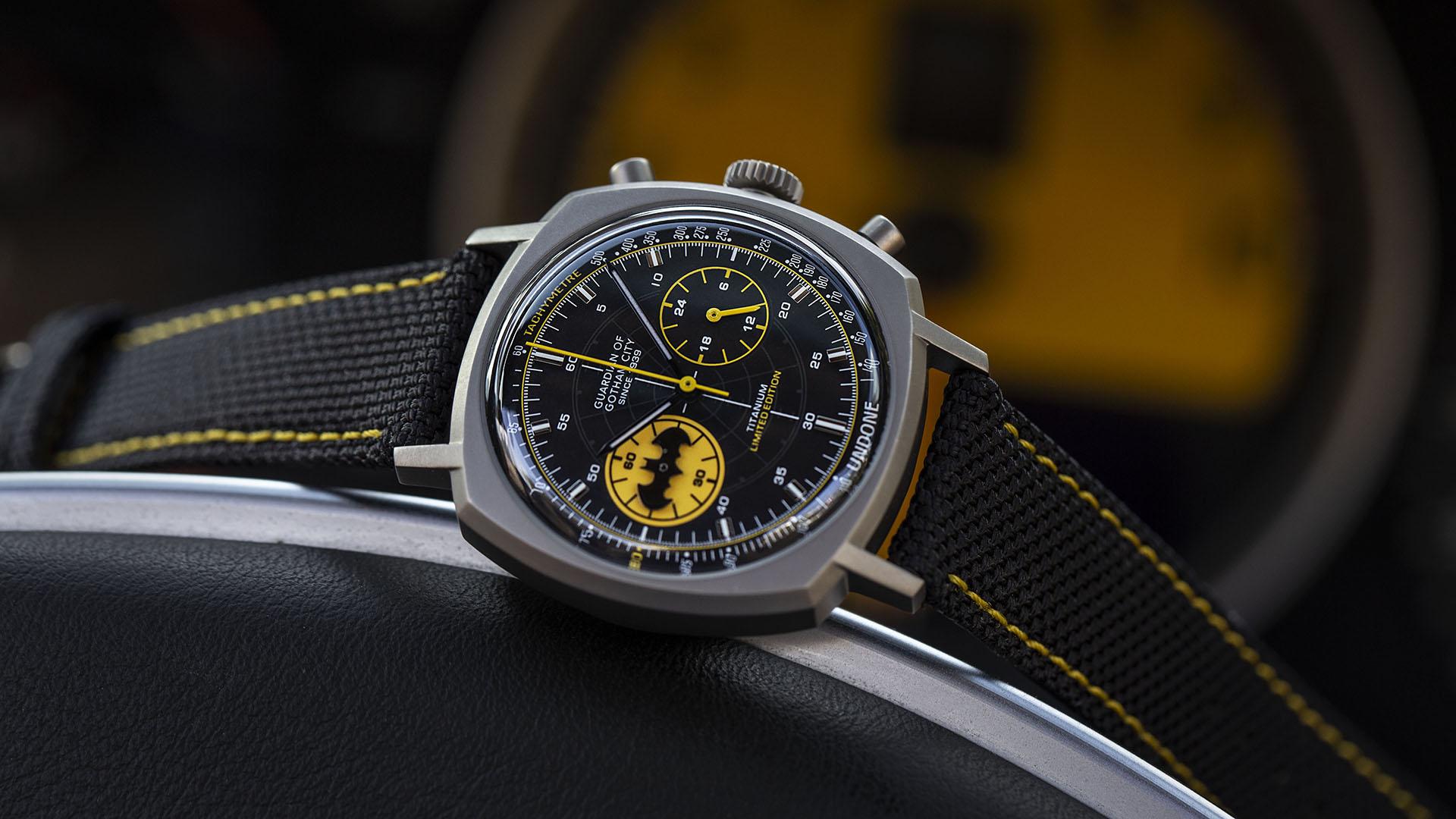 Bruce Wayne has always struck us as a Patek Philippe man, but the Caped Crusader is a different story altogether. Gotham's favourite vigilante would need a watch of great technological prowess - designed by Wayne Enterprises, of course - capable of undoing henchmen, outwitting the Joker, neutering Bane. It, of course, would only be available in black or very dark grey. Not that much to ask, really.
Failing the existence of such a watch, Hong Kong-based watchmakers UNDONE has created a pair of watches marking the 80th anniversary of Batman's first appearance in the comics. The two pieces share a tonneau-style case made out of titanium, and come with chronograph complications, but it's the unique dial designs that makes these watches such fun.
The Caped Crusader's dial features the iconic black-and-yellow Bat symbol of Tim Burton's classic 1989 Batman film. In the dark, it reveals a previously hidden detect-a-scope that shines in a bright green lume. The Dark Knight, on the other hand, is a homage to the modern Batman, as depicted in the 2011 New 52 comics by Scott Snyder and Greg Capullo. Sporting a sleek silver finish, it sees the Wayne Industries logo on the top of the dial, while in the dark the two-tone colours pop out with an icy blue.
While we can't guarantee wearing one of these will make you a hero, it will give you the chance to save lives. The watches are tied to the story of Lenny B Robinson - a charity worker who dressed as Batman to entertain seriously ill children - part of the sales proceeds will go to the Hope For Henry Foundation; a charity that Lenny strongly supported.
Omega Seamaster Diver 300M 007 Edition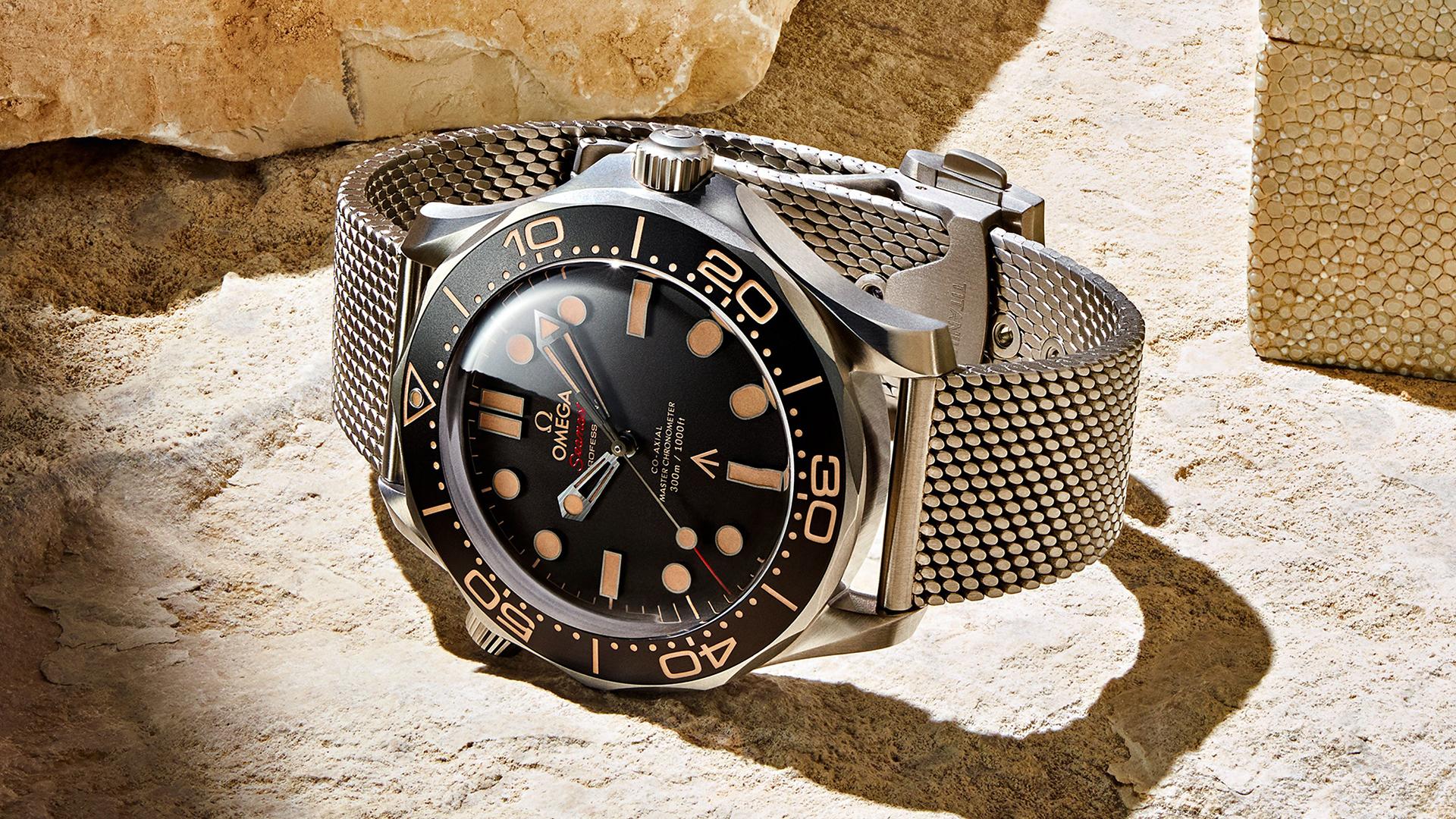 The new James Bond film may be entitled No Time To Die, but that's no excuse for Her Majesty's greatest secret agent to go without a timepiece on his wrist; Bond and watchmaking, after all, are the components of a martini 58 years in the making. Swiss brand Omega continues its ongoing relationship with the spy, and has selected a specially designed Seamaster Diver 300M Co-Axial Master Chronometer for Daniel Craig's final performance as 007 – and, in our opinion, it's the best Omega he's ever saved the world in.
If previous Bond watch models have felt a little bit like a marketing exercise (albeit a successful one), this iteration feels more like a considerate take on a watch designed with espionage in mind. It starts with a lightweight 42mm titanium case, a muted matte black dial and bezel, as well as neat military hallmarks in the form of the tanned lume and the Broad Arrow insignia (the symbol used to mark the issued property of the British government). The dial and bezel are made from an Omega-patended anodized aluminium that sheds a few grams, while the titanium mesh bracelet again feels like the practical choice for a man never too far away from the action.
Sure, it doesn't contain a laser beam, a grappling hook or a bomb, but this is the most certified Bond tool watch we've seen in years. We give it our licence to, er, tick.
Oris Star Wars 'Dark Side' Limited Edition Set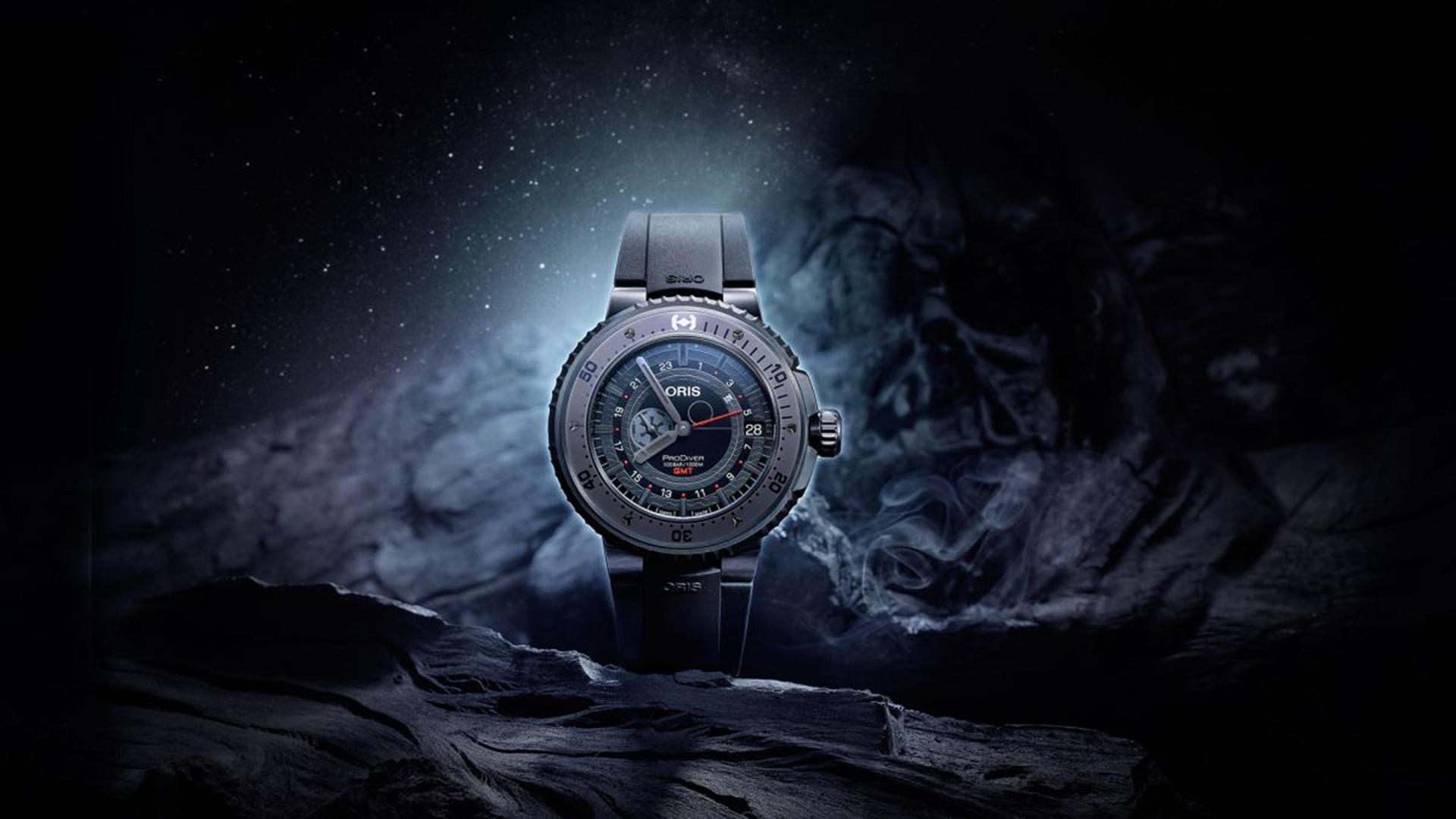 Oris watches conjure images of great value dive watches, built for the ocean's depths. What they do not evoke is pictures of the world's most famous sci-fi saga set in a galaxy far far away. Yet, earlier this year, that's exactly what the Swiss watchmaker brought us, with two limited-edition Oris Star Wars models inspired by stormtroopers and everybody's favourite breathy Big Bad, Darth Vader.
Perhaps more surprising than the confluence of George Lucas's galactic universe and the world of Swiss watchmaking is how tasteful Oris has handled each design. The Stormtrooper watch, a rejigged version of Oris's popular Aquis model, boasts a TIE fighter silhouette at the top of the bezel, and neatly features the white and black of the standard-issue 'trooper armour. The dial goes a step further with an ever-so subtle matte-black Death Star design, as well as employing the Imperial Crest in white. To the devoted fan, these are welcome nods to the franchise, to the uninitiated they simply look like enjoyable design quirks.
Darth Vadar's is a predictably blacked-out design that uses the Oris Prodiver as its base. It also features the subtle Death Star design, but this time replaces the TIE fighter, for Vadar's personal ship,
As the third trilogy comes to an end, Oris has managed to capture a little of the saga's magic in horological form – and reminds us that the Force is still strong with them.
Hamilton Ventura MIB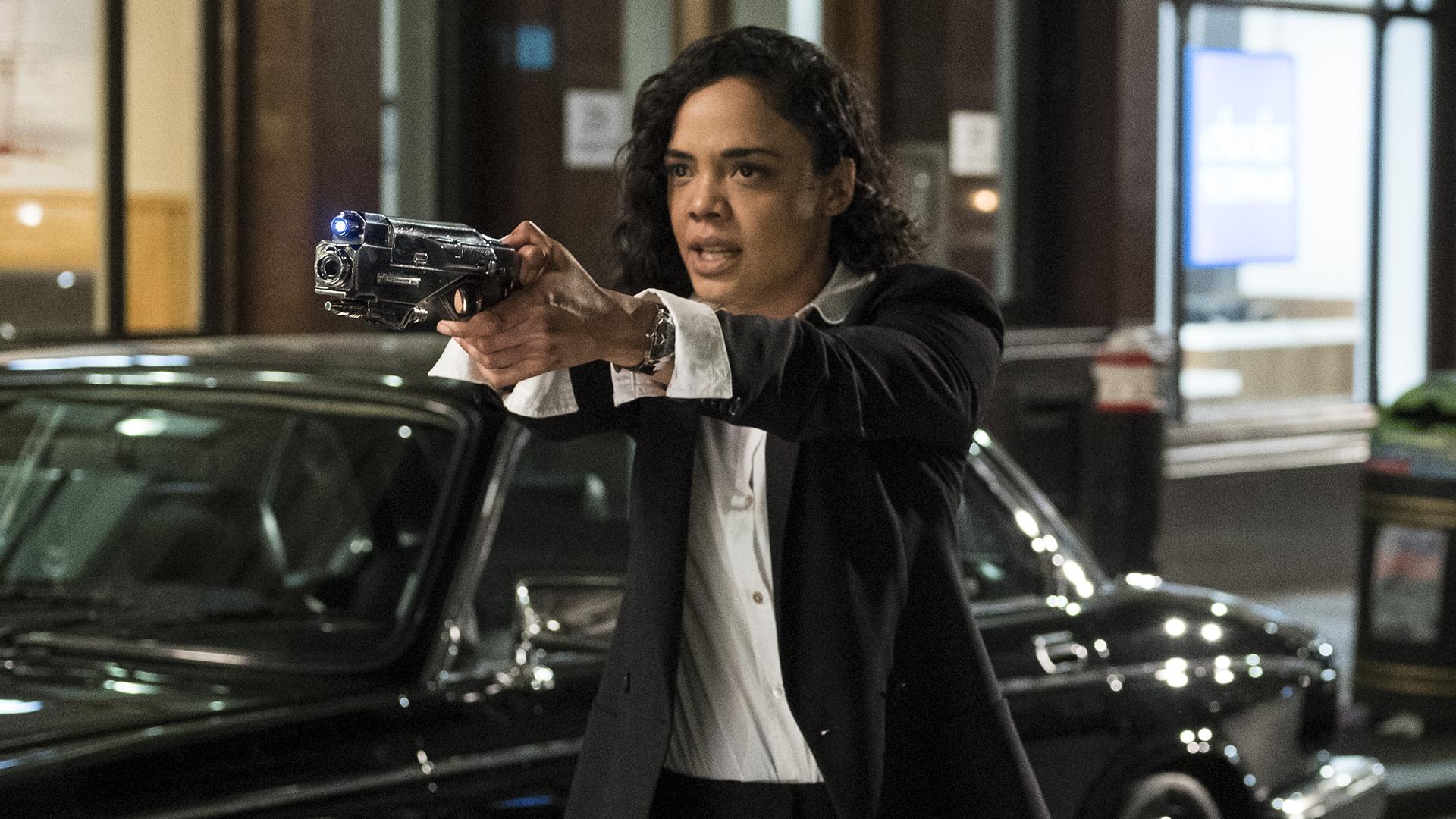 Ever since Will Smith first donned the iconic monochrome suit in Men In Black, we've been obsessed with the real possibility of aliens hiding in plain sight. (Our money's on our features editor Max Williams coming from a different planet.) But Agent J didn't just open our eyes to extraterrestrials living among us, he also introduced us to one of the most unique watch designs on this planet – in the form of the Hamilton Ventura.
The Ventura couldn't be a more perfect accompaniment to MIB: bold, unconventional, and not taking itself too seriously, it shirks the traditional watch stereotype in favour of something altogether more individual.
Agent J has worn several models through the years, including a Ventura Chronograph in MIB 2 that was gifted to a locker full of tiny aliens, but with the expansion of the franchise in MIB: International (the first to not feature Will Smith) it's now Chris Hemsworth's turn to down a brand new watch. The Hamilton Venture Auto is everything we've come to expect from the line, this time featuring a Swiss-made automatic movement and a skeletonised dial.
See more here.
Rolex Explorer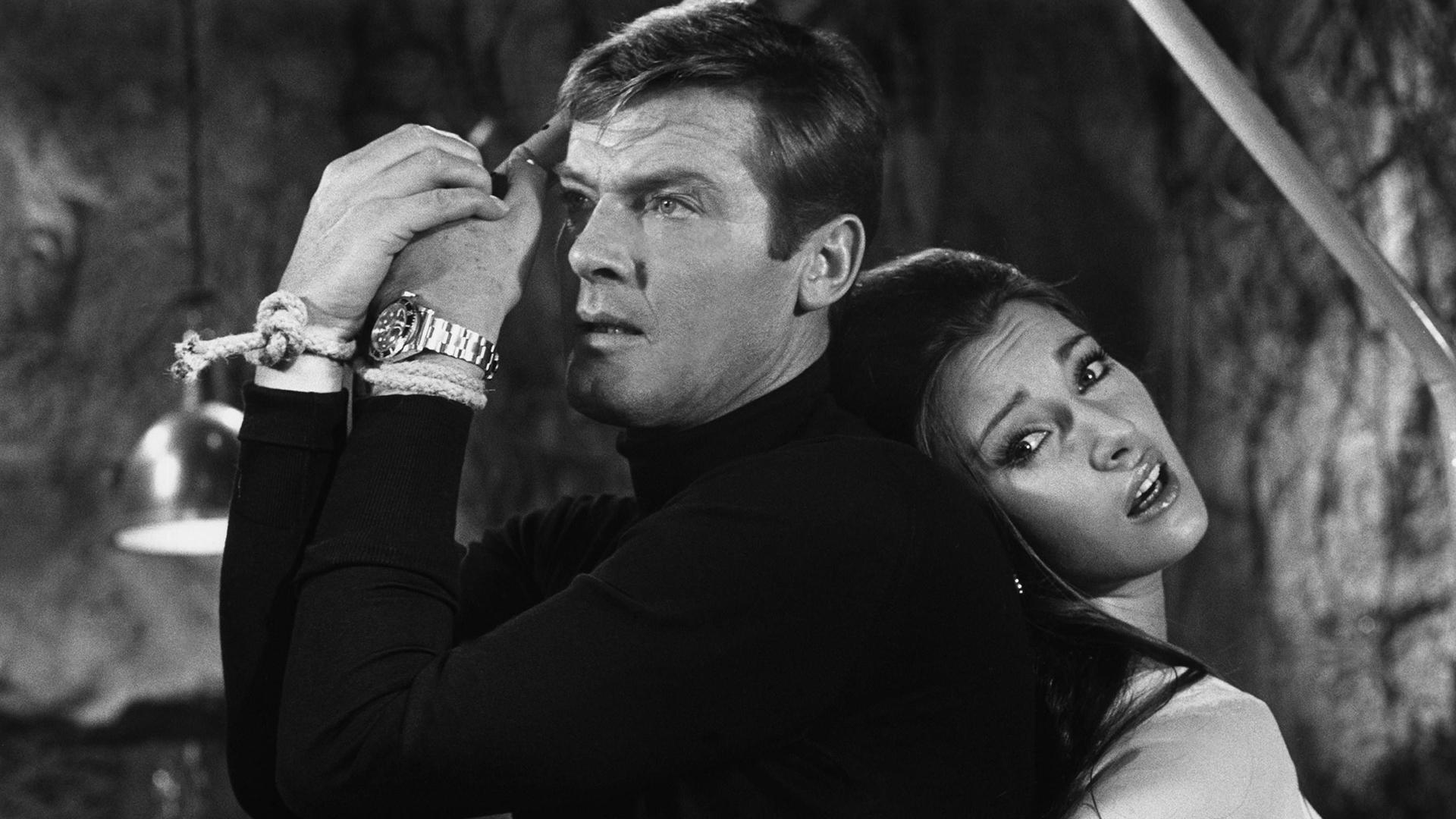 Sportsphoto / Alamy Stock Photo
No self-respecting list of movie watches would be complete without the most iconic timepiece to ever grace our screens. It is, of course, the Rolex Explorer in the early James Bond films.
What could better suit a spy than the ultimate tool watch? A piece designed with function, not form, in mind. Like Bond, it's versatile occasion wise, and pairs remarkably well with a tailored suit, in spite (or perhaps because) of its rugged stylings. It's reliable, can take a hefty beating, and still get the job done with the minimal amount of fuss - the watch, that is.
Ian Fleming himself wore a Rolex Explorer, while he describes Bond's timepiece as a "heavy Rolex Oyster" - an important fact given that the spy should soon brandish it as a knuckleduster in the novel, On Her Majesty's Secret Service.
However, it is the films that Bond and Rolex should become deeply intertwined. Of course, there's the iconic moment in Live and Let Die where 007's Rolex Submariner features a buzzsaw bezel - conveniently cutting the chains he finds himself shackled in. Truthfully, though, it isn't the gadgetry that owes our heart to this timeless watch, it's the magnetic pull of the Bond archetype: saving the world, getting the girl, courting death in the most glamorous of locations. Few cultural icons conjure up such evocative images of style, romance, danger, and masculinity.