Destin Cretton was getting frantic. Casting for Short Term 12, the feature-length remake of Cretton's acclaimed 2009 short film, was nearly complete, and yet the pivotal role of troubled teenager Marcus remained open. No actor had come close to matching Lakeith Stanfield, the Marcus of the original, the kid Cretton had been trying to track down with increasing desperation – but Lakeith had gone off grid. His phone number was no longer in service. Emails bounced back. He'd left his manager, disillusioned after a string of crummy auditions for bad TV shows, commercials, stuff he didn't care about, and now he'd disappeared completely. Cretton even tried to make contact via an internet message board, with no avail.
Only as the pressure from the producers reached its tipping point – 'Destin, you have to cast somebody' – did Lakeith emerge, replying to an email sent several weeks earlier. "He came down the next day with his Mum," says Cretton, "I put him on tape in my living room, and he made me cry. I sent the tape to the producers, and everyone was like, 'thank God'."
In March 2013, Short Term 12 won Grand Jury and Audience awards at the South by Southwest film festival, and was purchased for distribution by Cinedigm. Lakeith spent the next six months on Cretton's couch in LA, eating ramen, attending auditions and running through what little money he had.
Nobody bit. A month before Short Term 12 hit the nation's cinemas, triggering critical adulation, a load more awards, and career liftoff for many of its young stars, including Brie Larson and Rami Malek, Lakeith applied to be a stock boy at the drugstore chain Rite Aid – night shifts, so he could still audition in the day. The opportunity excited him.
"He was like, 'That's my jam, I'm good at that, I'm good at stocking things.'" Cretton laughs. "He thought it would be a really good job for him."
It's hard to imagine many wannabe actors embracing night shifts at a pharmacy, but the "mad genius" living on the couch wasn't like anybody Cretton had ever met. Even today, when I ask Cretton for a description of his former lodger, the s-word is notably recurring.
I used to confide and trust in people who came around me pretty easily. Then that switched
"He's constantly surprising me with how creative he can be – and how loose and out there and unleashed he can be, whether it's in drama, comedy, absurdity, it doesn't matter. He's very good at letting himself be free in this 'I don't give a shit what people think' kind of way, but he's also very surprising in how sincere and caring and genuine he can be, too. He's a very grounded human being, surprisingly. He's just full of surprises."
The CV is predictably eclectic. In the past half decade Lakeith has played civil rights activist Jimmie Lee Stanton (Selma); rapper Snoop Dogg (Straight Outta Compton); and a nameless detective hunting a demonic god (Death Note). His most famous roles are stoner-savant Darius in Donald Glover's acclaimed TV show Atlanta, and the possessed Andre Hayworth in the Oscar-winning Get Out. This year saw his graduation to leading man with the brilliant and bewildering Sorry To Bother You, a dazzling starburst of cinematic innovation that's as hard to pin down as its star.
Not that we haven't tried. The Guardian asked, "Is Lakeith Stanfield the coolest actor of 2018?" Buzzfeed explored how "The Atlanta actor's brand of weird is quietly revolutionizing black masculinity." Headlines such as 'A Bonkers Interview with Lakeith Stanfield' (GQ) and 'Death Note: Lakeith Stanfield Stays in Character For Wild Interview' (Den of Geek) are not uncommon. Perhaps The New York Times said it best: "Lakeith Stanfield Is Playing Us All".
"I used to confide and trust in people who came around me pretty easily," Stanfield will later tell me. "Then that switched: I was like, 'now I don't trust anyone.' Being in this business helped to bring that along."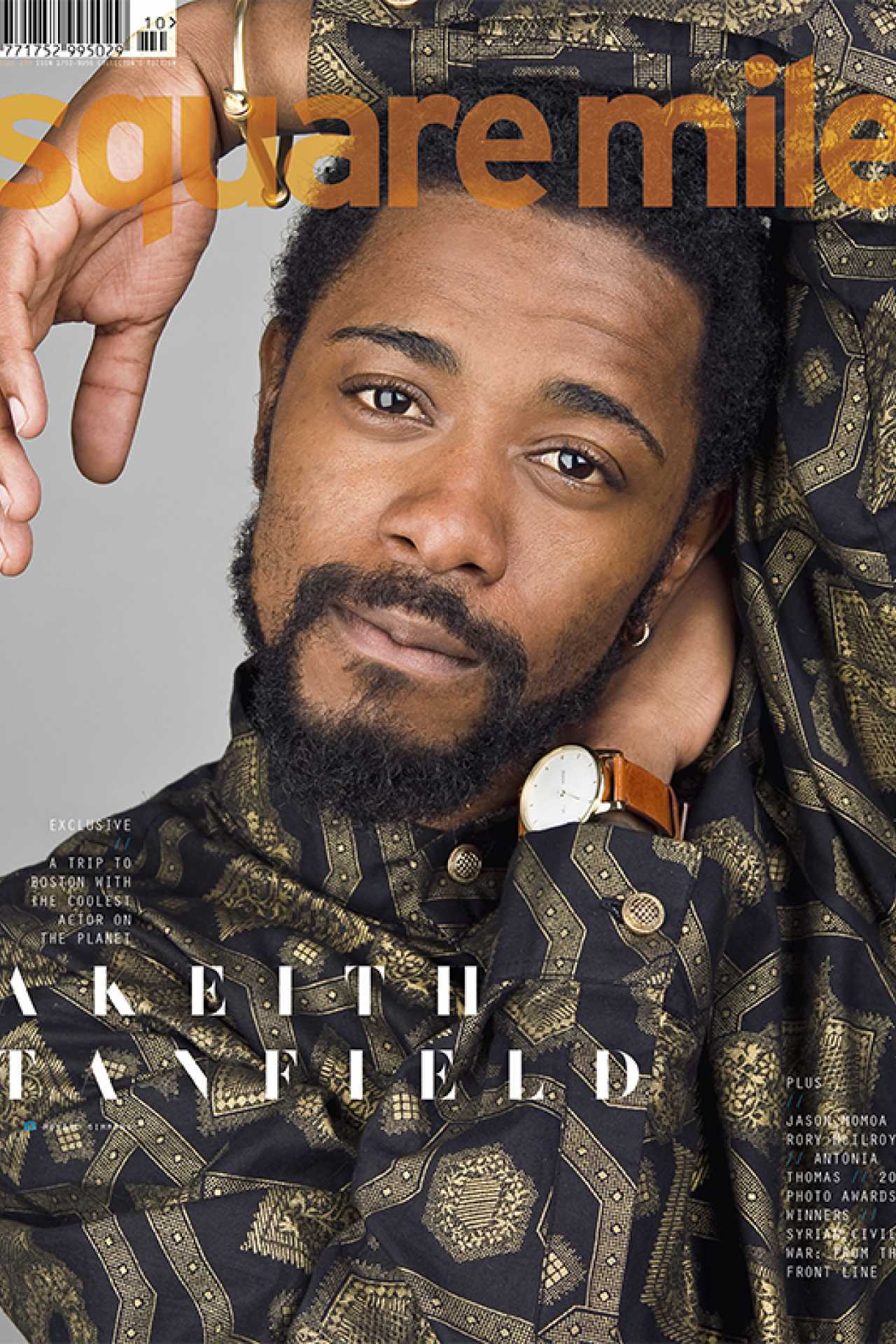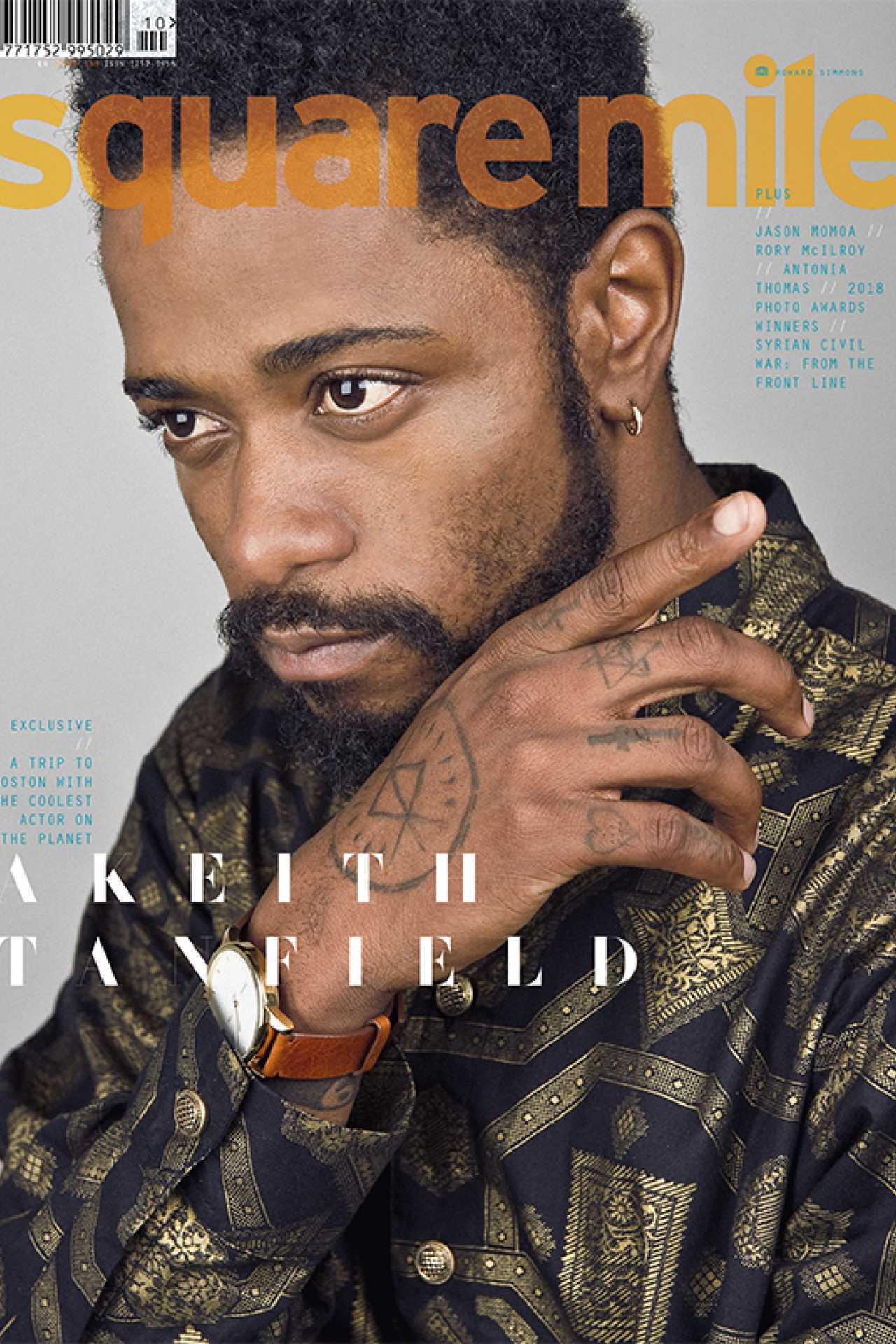 His response was to treat interviews as a game, mess around to stave off the boredom. "Half of it is because I lost respect for the process, but another half is because I need to have fun – and an interview format is never fun unless you make it fun. Doing whatever I felt at any given moment made me able to get through it, and generally I'd have to be drunk."
He isn't drunk when I meet him in Boston, where he is filming the upcoming Rian Johnson murder mystery Knives Out. I'll admit to being a little apprehensive as I knock on the door of his hotel room. I half expect him to jump out in a clown costume screaming "yabba dabba doo!"
More fool me. I'm greeted by a slim, unassuming figure dressed all in black, wiry arms covered by ink, sporting a moustache that makes him look older than his 27 years. He's a little bleary; a tad hungover if I had to guess, or perhaps he's tired of crashing at a hotel in a strange city on the wrong side of America.
It's a smart hotel room, no palace but presumably a touch more comfortable than Destin Cretton's couch. The hamper on the coffee table is a gift from the Knives Out production company. "Everyone's so nice here," says Lakeith, sounding genuinely touched by this niceness. "I walked in my trailer, it was like a six-star hotel room, it was insane. It was beautiful. I was like, 'oh yeah, I forgot – these niggers did Star Wars.' And they gave me that big old thing – everything in there is good!"
He's spent the past few days, like much of the world's population, immersed in the newly released Red Dead Redemption II – fishing and hunting his way across the Old West. Most work trips, "I'm kinda a hermit a little bit. I'm trying to be a little better about it because I think I've missed out on a lot. I just don't indulge much."
That's how it is to be black in this country – to kinda have your identity stolen
Colin, his manager, inspects the large windows that lead onto a sunny balcony and a rather beautiful view of central Boston. "Can you open these?" he asks.
Apparently not. "You can just look," says Lakeith apologetically. "It's quite a tease, man."
The plan is for us to visit the nearby Faneuil Hall, one of the most popular tourist sites in the United States, then maybe grab some lunch at Ye Olde Union Oyster House – an interview format is never fun unless you make it fun. However, as you've probably gathered, Lakeith isn't much of a tourist, certainly not of urban areas. "Pretty much every city's the same," he notes. "There's a mall, there's some bars, some people and stores, and that's it."
There's also the fact that many American landmarks predate the abolition of slavery, were indeed built by slaves, and therefore he finds a passive appreciation of this or that building to be impossible. His might be the type of story the American Dream likes to tell about itself, but that doesn't allow him to ignore the historic and ongoing treatment toward "people who look like me."
Later I ask what inspired his unforgettable performance in Get Out. "I just imagined my body was taken over, and I'm vacant on the outside but there's some little pieces poking through. And I kinda felt at one with that, because sometimes I feel like that's how it is to be black in this country. To kinda have your identity stolen. You're still you deep down, it's sorta been taken, all of your memory base, your history, been taken. And now you're speaking a language that isn't yours."
Growing up
Lakeith Stanfield grew up in the Californian city of Riverside, a less idyllic place than the name suggests. "It's misty in the morning, and it usually just smells like old fast-food rappers – and by rappers I mean actual rappers. 'The Fast And The Food!'" he bellows in a hype voice, and chuckles. "Yeah, it was crazy, man."
Five children, Lakeith included, his mum and her boyfriend, all crammed together in this apartment complex on the city outskirts. The kids kept themselves amused as only kids can. "Pissy mattresses – we'd just pull them out the dumpster and jump on them. That was like our way to have fun. Pull out a mattress – they'd be five of us, cos they were heavy – pop 'em down and get to jumping on them. It was really disgusting but at the time we thought it was just fun. We'd find toys in there and all kind of shit."
In order to drink filter water, "we hollowed out the milk jug, and put wired mesh around the top, and then poured faucet water in there, and that was our filtered water situation."
Another chuckle – wire mesh filters are a thing of the past. A couple of minutes earlier, a maid improbably named Gladys – "she's so sweet" – brought a tray of coffee to his five-star hotel room. Head downstairs and Meritage Restaurant + Wine Bar offers a six-course tasting menu with paired wines for $145pp.
In the Stanfield household: "Breakfast lunch and dinner was always the same, which was dope, we knew what we were getting. Usually just oatmeal or stew or some kind of hot dog combination. Crazy shit. And then if we were lucky we might get some chicken or something, pork chops. That was like nice dinner. So yeah. It was cool. But at the time – I fucked those hot dogs up. It wasn't bad, it was cool, and I was fed – but looking back it was pretty small means.
"You don't realise until you look back, and then you're like, 'damn: it was crazy.' I remember when, like, 25 dollars, I felt rich. And now that's like, gratuity." The thought almost seems to surprise him.
I like the idea of things being on a black backdrop because it feels, like, divine
The family moved to the nearby city of Victorville, where self-described "weird kid" Lakeith found refuge and ambition in the high school drama club. (One of his first roles was a singing frog.) He scribbled poetry and sketches on the walls of his bedroom, built a makeshift recording studio with a microphone and some egg crates.
Perhaps now's as good a time as any to mention the Satellite Award he won for 'So You Know What It's Like', the rap he co-wrote with Cretton for Short Term 12 – "I'm always wishing for something amazing, but when your life is shit there ain't no trading" – and the EP released as one-half of the rap duo MOORS. He paints, too. His oeuvre includes trippy depictions of everyday objects – a sock; an eye on a stalk – and black versions of white cultural icons: Elvis, Marilyn Monroe, Audrey Hepburn.
"I do a lot of stuff on black canvases. You know how if you close your eyes and visualise stuff you get the most detailed images that you've ever seen? I do it sometimes when I act: I close my eyes and think of faces. You see it more detailed even than sometimes it looks in real life. I like the idea of things being on a black backdrop because it feels, like, divine."
After he graduated high school he searched Google for acting jobs, acting schools – anything that contained the word acting. This led to plenty of dead ends, and more than a few con jobs, but eventually he found a modelling school which led to an acting agency which led to a young director called Destin Cretton and his thesis project, Short Term 12.
In February 2009, Short Term 12 won the Jury Prize for US Short Filmmaking at the Sundance Film Festival. While Cretton tried to secure funding to turn the short into a feature, Lakeith stopped acting and returned to Victorville. There he flitted between jobs, including a stint at a legal marijuana dispensary. "I realised plants are actually beings," he told Jimmy Kimmel. "They're beautiful."
Then one day he checked his email.
Faneuil Hall
We've been in the hotel room for more than an hour. Lunchtime is approaching, and Lakeith's bowl of soup remains untouched. (Conversations diminish his appetite, "and as you can see by how skinny I am, I have a lot of conversations.") Colin suggests we wander down to Faneuil Hall, maybe grab some oysters – Colin is very keen on the oysters – and so that's what we do.
I referred to Colin as Lakeith's manager, and he is, but the pair are also close friends. Similar ages, similar outlooks on work and life. They met at a screening of Short Term 12. Colin, then interning for an agency, saw Lakeith do a Q and A, and immediately recognised "a real-deal artist."
Afterward he made his pitch to this virtual stranger. "Listen, I'm going down this one path: I'm willing to go this other direction entirely and devote myself to you." Lakeith phoned two weeks later.
We traipse out of the hotel into the midday sunlight, Lakeith hunched up in a beautiful black sweater and blue hat. The air is crisp and bright, the trees are like fireworks. At the risk of sounding like a tourism board advert, you haven't really experienced autumn until you've experienced autumn in New England.
A doorman greets Lakeith, and he offers a thumbs up. "Only black people recognise me," he chuckles. In fairness to the population of Boston, even I would find it difficult to place him – and I watched Sorry To Bother You on the flight over. It's partly the moustache, no doubt, but he's also very unobtrusive, zero strut or swagger. He says so much of his acting comes from watching and learning, not so much playing a character as channelling them, and I suppose to do that as well as he does must require the ability to withdraw pretty deep into yourself.
Sometimes I'll be in extended states of deja vu, where it'll just be thing after thing
Another guy recognises him as we approach Faneuil Hall. Yes, he's black. Four of his friends come over, their matching green shirts, basketball and boombox marking them out as street performers. As they cluster together for a photo, Colin and I instinctively back away, but one of them beckons us into the shot – "love is love, baby! Love is love!"
"That's only, like, the second time that's happened," remarks Lakeith as we cross the road. "Generally people tend not to acknowledge Colin's existence."
Faneuil Hall dates back to 1742. Samuel Adams and Paul Revere rallied for rebellion here, hence its nickname 'The Cradle of Liberty.' Inside we inspect a facsimile of Revere's depiction of the Boston Massacre, the redcoats firing muskets into the crowd. "Those are some long-ass guns," says Lakeith.
That evening I research Faneuil Hall to find an interesting tidbit or two for the article. I discover Peter Faneuil was a slave merchant, and the hall's construction partly funded by profits from his trade.
Ye Olde Union Oyster House
Ye Olde Union Oyster House has been serving up seafood since 1826 – making it the oldest continuously open restaurant in the United States. It is, unquestionably, a Boston Institution, as diners are reminded by the presence of the gift shop selling Union Oyster House T-shirts for $15.50. Branded merchandise aside, two centuries in the restaurant game proves Union Oyster House knows its thing – as we appreciate on ordering the first plate.
"That's fucking good oyster, bro!" says Lakeith.
"I think it's the best oyster I've ever had," says Colin.
"I think so too. You can really taste it. Doesn't even need much."
The second oyster lives up to the first. "I'm glad this place lived up to its hype," says Lakeith.
The benefits of playing tourist?
"I know! See?" He laughs. Another plate of oysters is ordered.
We're sat at the bar, watching the shuckers do their thing. At one point Lakeith experiences a sudden bout of deja-vu, which prompts the following exchange.
Colin: What is deja vu? What is that shit? It's so real and everyone knows it.
Me: There's not any scientific explanation.
Lakeith: Not any viable one, I don't think. Kinda hard to explain.
Me: Maybe it harks back to a similar time in your life.
L: But it feels like this exact thing happened. That's what's crazy about it. Maybe it feels that way cos there's similar sensations, but I'm pretty sure it's like, no, this happened just like this. Sometimes I'll be in extended states of deja vu, where it'll just be thing after thing, like boom boom boom boom. Usually it's only two things, like just now. But sometimes I've been in situations where that happened and then that happened – and it's like, I can see what's happening! Like That's So Raven.
I can't imagine anything in this universe not being cyclical because that's all I've know
C: Wait, what happened in That's So Raven?
Me: She could see the future.
C [quoting the theme tune]: That's so Raven, it's a future I can see.
L: It's crazy. I wonder what the fuck it is?
Me: You believe in reincarnation?
L: I've seen it happen. People die and then people are born. Nah, I think I do but not in the silly American sense, I think more like in a spiritual way. There's only one spirit and you don't ever really die, your energy just comes back – but not in a human form. Humans are like, 'oh, we want to live forever!'
C: Energy can't die. Energy's always moving. It can get stagnant but it never ends – any type of energy, right? Our consciousness is an energy – maybe it just gets zapped into some new baby.
Me: But then we'd remember: surely we'd remember if our consciousness got zapped into a new baby. If you can't remember the previous life, does it count?
L: Well, not to humans. But memory's not all that important. It's only important because we put importance on it. But I can't imagine anything in this universe not being cyclical because that's all I've known. I mean, in terms of how we measure time, things have a start point and an end point, but really it seems as though it's just a revolution rather than an actual beginning and end.
C: Which will not be televised.
L: Which will not be televised but actually just uploaded to Instagram. Seems like that, right? Like the Eternal Snake and Ouroboros seems more in line with the way things might work. That's why we look at things in terms of spheres and circles, cos they don't have edges. Wooah! Speaking of edge...
The second plate of oysters has arrived. We polish them off, along with three lobster rolls big enough to be used as murder weapons. Colin claims one of the shuckers resembles the actor Paul Giamatti, Lakeith's co-star in Straight Outta Compton.
Dre's house is just like a venue. He was just up all night, hanging with us
C: I like Giamatti.
L: Me too. He can party like a motherfucker. We had a party for Straight Outta Compton, and he was out there with us the whole fucking night. It was a long night. And I looked up and he's still just chilling, and he wasn't drunk or anything – or if he was, he wasn't very drunk.
C: This was at Dre's house?
L: It was at one of those venues – wait, I think it was at Dre's house.
C: The party was at Dre's house.
L: Yeah, it was at Dre's house. His house is just like a venue. Yeah, he was just up all night, hanging with us. I tapped out at like three.
Me: Presumably you met Snoop, right?
L: Mmhm. I met Snoop.
M: Is it weird to meet someone you're playing?
L: No, not at all really. I didn't really think about it too much. I wasn't actually expecting to meet him – it was at the premiere, on the carpet, and my publicist was like, 'oh, there's Snoop.' And I was like, 'oh cool' and I kept walking, and she was like 'wait, you've got to meet him!' I was like, 'Oh. Yeah.' He sends one of his bodyguards over, this huge dude, and he was like, 'right this way Mr Stanfield.'
We walked through a big plume of weed smoke and finally get up to him. He's super tall is the first thing I realised. And he was like, 'oh, that was a great job, nephew. Let me get a photo.' I was like, 'he wants a photo with me? That's interesting.' He gives his phone to somebody and then they take the phone. That was pretty much it.
Then I met him again, cos he was hosting the screening of Get Out when that came out. He rented out this silent theatre, and you could smoke in there. Everyone was allowed to bring weed, it was like a big smoke out.
C: You lit a fucking cigarette.
If I was to do an interview I'd probably turn the music on and dance with people
L: Yeah, I lit a cigarette cos I was probably high, and I get weird when I get high, I get quite uncomfortable, so I ended up leaving the theatre early. And then after that we had a Q and A. There's this one moment that people talk about when Snoop tried to offer me a blunt onstage – he was moderating the Q and A and tried to offer me a blunt – and I denied it. They were like, 'how do you deny a blunt from Snoop?' but I wasn't trying to be mean: I just don't smoke.
C: It was very rude and inconsiderate.
L: Yeah, it's something you just don't do, is deny a blunt from Snoop.
Me: On the other hand, I wouldn't have wanted to do the Q and A high.
L: No. Especially not about Get Out. The movie's freaky enough.
Unprompted he talks about how, after Short Term 12 blew up and the move to LA became permanent, interviews offered a rare opportunity for self-expression. Still in his early 20s, he didn't have many friends in the city so he approached the media with total transparency – "then, as time went on, I realised some interviewers are scumbags, and they write horseshit, and they twist your words around, and they make you out to a version of yourself that you're not."
He's trying to make peace with the process – "I don't have to feel like I'm being crucified every time" – but remains discomforted by the ever-growing number of Lakeith Stanfields scattered across the internet, constructed from brief conversations with complete strangers. "And so many photos! I hate photoshoots now – well, I don't hate them, but I have a hard time with them. How many photos does one person need? I don't know, it's just weird.
"I just get tired of looking at myself. I'm over it. Photos and interviews – I'm just over them. Please, get me out of here. I just want to do the thing without all the extra shit – without it always having to be about me. It's not that deep. Even like interviews and stuff, what I think – so what?"
How would Lakeith conduct an interview? The question is mulled upon. "If I was to do an interview I'd probably turn the music on and dance with people, and in the dance be like, 'so-!'" His fingers click, and he laughs.
Dance off
Thirty minutes later and I'm dancing around a square opposite City Hall, inelegantly twerking (is there any other form of twerking?) to Usher's Yeah along with seven strangers in front of a watching crowd. This isn't some oyster-induced fever dream but real, or rather surreal, life; out of the corner of one eye I can see Lakeith and Colin taking photos.
On the way back to the hotel we passed the street performers and stopped to watch their show, a show which incorporated the selection of random audience members to perform a dance routine, and obviously, obviously I got the call up. The fun lasted for approximately 30 seconds; the embarrassment stage has passed, and we're now entering nightmare territory.
After Usher stops we're told to form a line and bend over so one of the performers can jump over us all, like Evel Knievel without the motorbike (and, hopefully, the accident record). "I bet you're wondering how you got here," says the guy next to me as we reach for the ground. Buddy, you have no idea.
He clears us, thank God, and the show ends before we reach the Human Centipede segment. Lakeith gives me a hug, which is very nice of him. (Do I really dance that badly?)
Lakeith enjoyed the performance; he was less impressed with the patter. "There were many, many – far to many in my opinion – jokes about being black and how it relates to the larger population, and none of them were positive. It's always negative, it's always, 'well, don't worry, I'm taking your purse but I'm black!' And I always have to deal with that, and that whole time I'm thinking, why does that have to be the case? Why do you have to look at it in a negative way?"
We're back in the hotel room; his flight departs in a couple of hours, carrying him across America to LA and the "cute little Japanese place" he shares with his partner and child. Home brings out his zen. "I was in an apartment before, just felt like another hotel room. Now I feel like I have a yard; I always wanted a yard, that was like a bucket-list thing."
A man and a woman should just feel dignified and honest and try their best to do unto other people
A young Lakeith used to put on sock puppet shows for his family: a performer from the very beginning. More than two decades later the shows are still running. "Now I do them for my baby. I bought actual puppets from Amazon, and I lay on the couch, push baby back on the couch, tucked in a little crevice, and then I create characters. It's really beautiful – I love it. I love it."
Last few questions. What can we expect from Sorry To Bother You? (Got there eventually.)
"The unexpected. This movie's crazy. It's really fun, and will take many twists and turns. Actually, I should say it's the most normal movie you'll have see – so that way, when you get there, everything will be destroyed in your head. Don't look at the trailers, don't ask people what it's about – just go see it, without any preconceived notions or expectations. I think that's the best way to watch a movie like this. You'll have a good time."
At the Oyster House he mentioned wanting to write his own stuff – like what? "I'm interested in seeing stories where things are more what I know them to be, which is more universal. The black dynamic – in quotes 'the black dynamic' – I don't know what it is, there's just so much to it. People with minds open know that someone can be a gangster and gay. To me, I have no idea why that could be a crazy thing – well, actually, I do, because it's the imagery, right? You pound people with images and then they tend to think that's the only way things can go."
He talks about the macho culture foisted upon young black men, and the importance of pushing back against the idea that self-worth must be proved through aggression or physical toughness. "I think a man and a woman should just feel dignified and honest and try their best to do unto other people as they want done to them. It's really quite simple. Try not to make people's lives miserable, and be the best version of yourself everyday you can be."
And on those words I take my leave, apologising for having dragged him from the hotel room and spoiled his appetite with my many questions. I hope he enjoyed the excursion. "This was fun," Lakeith smiles. "I got out because of you. Thanks! I don't regret a thing. It was fun."