Luke Bracey never intended to become an actor.  His ambitions lay on the rugby pitch or perhaps following his father into the building trade. Yet fate had other plans for the charismatic Australian. 
A school friend invited him to an audition – Bracey didn't land the role but he did attract the attention of the casting agent, who invited him to another audition – Home and Away. (Well, it was either going to be that or Neighbours.) Second time's a charm: Bracey soon established himself as a series regular. His father wanted to know when Luke might be back building houses. Luke had to confess: "Oh, it's probably going to be a while, man." 
More than a decade later and Bracey is still going strong. The actor plays talent manager Jerry Schilling in Elvis, the highly anticipated biopic from the legendary Baz Luhrmann. "Is this going to be the best movie ever?" our interviewer asked Bracey after his casting.  
"Could be," replied Bracey. "Could be." 
Our interviewer is herself no stranger to the movie industry – indeed, Emma Roberts starred with Bracey in the romantic comedy Holidate and the upcoming Maybe I Do. The two are old friends, and their natural warmth and camaraderie makes for a delightful conversation.  We hope you enjoy it.
Emma Roberts: I'm in LA, just sitting at home; I love you're doing this from a pub in London – it's quite fitting. 
LB: Well, yes, it is, isn't it? I thought, you know, "If it ain't broke, don't fix it," right? It's six in the afternoon, and it's a lovely day here. I'm taking it easy. I've just had a little holiday, actually, to Amsterdam, which was fun. 
ER: What did you do?
LB: Well, it was a friend's birthday. I went over and had a nice weekend. Our friend's brother lives there. He said, "Oh, if you're going back on Monday, you should stay until Wednesday, because on Wednesday it's the King's birthday, and it's this big party." So I stayed until Thursday. And then on Thursday, I decided to miss my flight and stay for another day. I've just been travelling around.
ER: I love that. I feel like you're always travelling around and always seeing friends, and always doing something really fun. I was very excited to talk to you for this interview, because I feel like I have so many questions that I haven't got to ask you in our endless hours on set together.
LB: We never talk about any work stuff.
ER: We love to share a newspaper and talk about current events. It was funny because I was like, "Oh, what do I ask Luke?" Like, you know when you feel like you know someone so well that you can't go backwards to small talk? But we're going to go backwards to small talk, a little bit.
LB: Sounds good.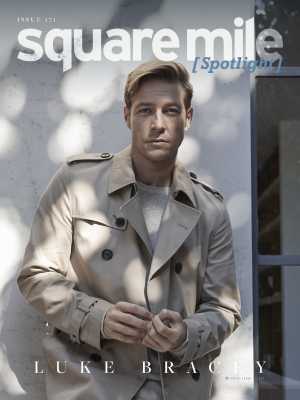 ER: So, can you tell me how a boy from Australia got into acting and is now travelling the world being in movies, please?
LB: I never wanted to be in movies or to be an actor. Then I finished high school, and a guy I went to school with and played rugby with, his father is a big TV producer in Australia. He called me up one day. I think I was on schoolies – when you finish school you go to a big party for a week or two, and you're 18 and debaucherous, and you're celebrating the fact that you're an adult now.
He called me when I was on schoolies and said, "Can you come and audition for something I'm making?" I did drama as a subject in my last year at school. He might have seen me in something that I did for that. So I went along to the audition, and they kept bringing me back. I obviously had no idea what was going on.
Apparently, they were callbacks, and then I was suddenly working with an actress, and it was a chemistry read. I didn't end up getting that job, and so I just went on with my life. I wanted to be a rugby player. I was trying to be a builder with my dad, and I was going to go to university for that. Then the casting agent called me back a few months later and asked me to audition for Home and Away.
ER: Yes, I know it. I feel like that's a rite of passage, as an Australian actor. Like, you're on Home and Away.
LB: It is. You're on Home and Away. If you're serious about it, you can get yourself on Home and Away. I wasn't serious about it, and I fell on Home and Away – my first couple of days were really terrifying. Then they were really fun. I remembered I was getting paid after, like, three days. 
I went, "Oh, fuck, I'm getting paid to do this, and it's paying a lot more than my mates who were working in pubs. This is pretty good." I just really enjoyed it. I had to tell my father that I wasn't going to be a builder for him. He said, "Oh, no." 
ER: What did your family say when you were like, "I'm going to pursue acting"?
LB: Originally, when I said I got this job on TV, they were a bit, "Oh, that's a bit strange." I said, "Well, it's not everyday you get asked to be on TV, so I think I'll do it." They said, "Oh yeah, you ought to do it." I was like, 18 or 19.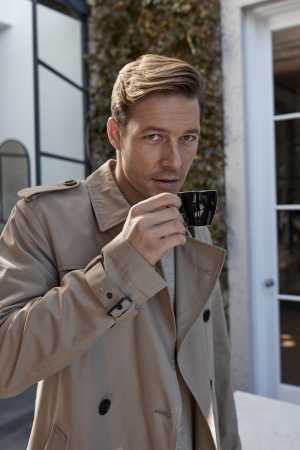 ER: Everyone says this about people and sometimes it's not true, but it's true about you. You're such a normal, down-to-earth person, and that's why we're such good friends, and you're so not the 'actor-y', looking-in-the-mirror type of guy. That's why I was like, "Yeah, why did Luke become an actor? Why did he go to the dark side?" But I love you wanting to be a builder and rugby player.
LB: Yes, exactly, and why I did it was because I just got an opportunity and I found it really fun – and the pay was good. I was like, 'Wow, this is probably more exciting than measuring a house.' So, I just kept doing it. 
Then my dad asked me after a couple of weeks I'd been on it, when I was going to be back working for him. So I asked the production and they said, "Oh, no, we really liked your first couple of weeks, so we've written you in for six months." I went, "Oh, OK," and I told my dad, and I was like, "Oh, it's probably going to be a while, man." 
ER: That is so funny.
LB: I didn't have an agent or anything at this point in my career. With Home and Away, it's like a three-month gap between filming and when it airs. Then, when my stuff started airing, agents were calling the network to try and meet with me. So I met with a few agents, and met with one, and he said, "Hey, if you do this, this and this, there's no reason we can't go alright in America." So I went, "OK, what do I have to do?" 
He told me some classes to go to, and some things to work on, and I suddenly was an actor. I'd saved a bunch of my money from Home and Away, so I had a number of months, five months, where I was suddenly an actor that didn't have to have a job. Then I got a movie that was filming in Europe for 20th Century Fox, and I went to Europe and filmed that. 
ER: Which one was that?
LB: Monte Carlo. 
ER: Oh, my God, yes, yes, yes, I definitely, definitely saw that when it came out. Oh, my God, that's so funny and then made your way over to America, as you do.
LB: Yes. I was lucky – I did an American film before I went to LA, so that made life a bit easier when you get to LA, right? You don't have to go and put headshots in and try to get meetings. I'd been in a meeting. So agents and managers wanted to meet me. My first week in LA was just meeting agents and all that.
I felt, "OK, this is alright. There are people that think I can do this, so maybe I'll be alright." My parents still – they still stress, but I can't imagine what it was like, in the first couple of years, when their son suddenly moved to Los Angeles and said he was going to be an actor.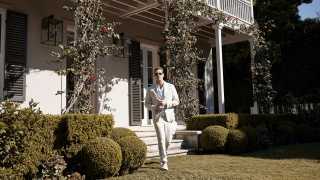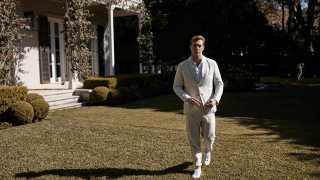 ER: That's hilarious; I love that so much. I know, it's so funny. I remember when we were doing the chemistry read for Holidate, and I didn't know that you were Australian. No one told me that John, our director, had told you to do the audition in an Australian accent. So, you started doing an Australian accent and I was like, "Oh, my God, what? This character is not Australian." 
John was like, "No, no, I told him to be Australian." I was like, "OK, well, maybe let me know," because here I am being like, "Wait, what?" I was like, "You're Australian?" I'd seen you doing American only, and I was like, "Wait, what's happening?"
LB: There was so much confusion, I hadn't realised that you had started reading! It was just this, like, 30 seconds of ultimate confusion, and then we just started laughing and thought it was really, really funny. Then we went, "Oh, this should probably work now." It was kind of like those 30 seconds where we were like, "Oh, this'll probably work then, if we do this."
ER: Totally. But that's the thing that I loved so much, too, is that they totally tailored that role to both you and I. I think that's what made it so unique. It was more fun than us trying to fit into a certain box. But yes, I was like, "He's Australian."
LB: I think that's what we enjoyed about that. It's like we got there, and we were allowed to, kind of, be us, a little bit. I remember getting to Atlanta and you and I having a beer at the pub, and a bite to eat and just laughing about how our conversations were very similar.
ER: You're also the only person I'll drink a beer with. I don't drink beer with anyone except for you. Then, you actually taught me that beer does get you drunk, because I didn't know before.
LB: Well, stick with me, you'll be alright.
ER: So we did Holidate – it was the year before lockdown, and it was such a free, fun time. Then, I didn't see you for years. So, what's your favourite thing you've done since, and what's the next thing that's coming out? Tell me. 
LB: Well, yes, everything went to shit, didn't it? And we didn't get to hang out or go anywhere, no one did. But I was lucky; I was back in Australia when it all was bad, when it all started. Suddenly, halfway through 2020, I was thinking, "You'll never work again," because our industry requires people to be closer than 1.5m from each other. 
I suddenly got a call saying, "Baz Luhrmann would like to have a chat with you, about being in the Elvis biopic, playing Elvis's best mate." So that was pretty awesome. September 2020, I went up to Queensland and I had the most amazing six months making a crazy movie. You know what it's like on those big ones, where you're still just so blown away by the size of them. 
You are transported, you have those funny days. I remember going up so many days on set on Elvis where you'd get to work in the studio. Everything is normal and then, suddenly, 300 people who are dressed as the 1960s walk past you in single file into a studio. Then these old cars go past and you're just going, "Wow, this is huge." So yes, that was a really fun one. That's probably one of the best things I got to do in the pandemic, for sure.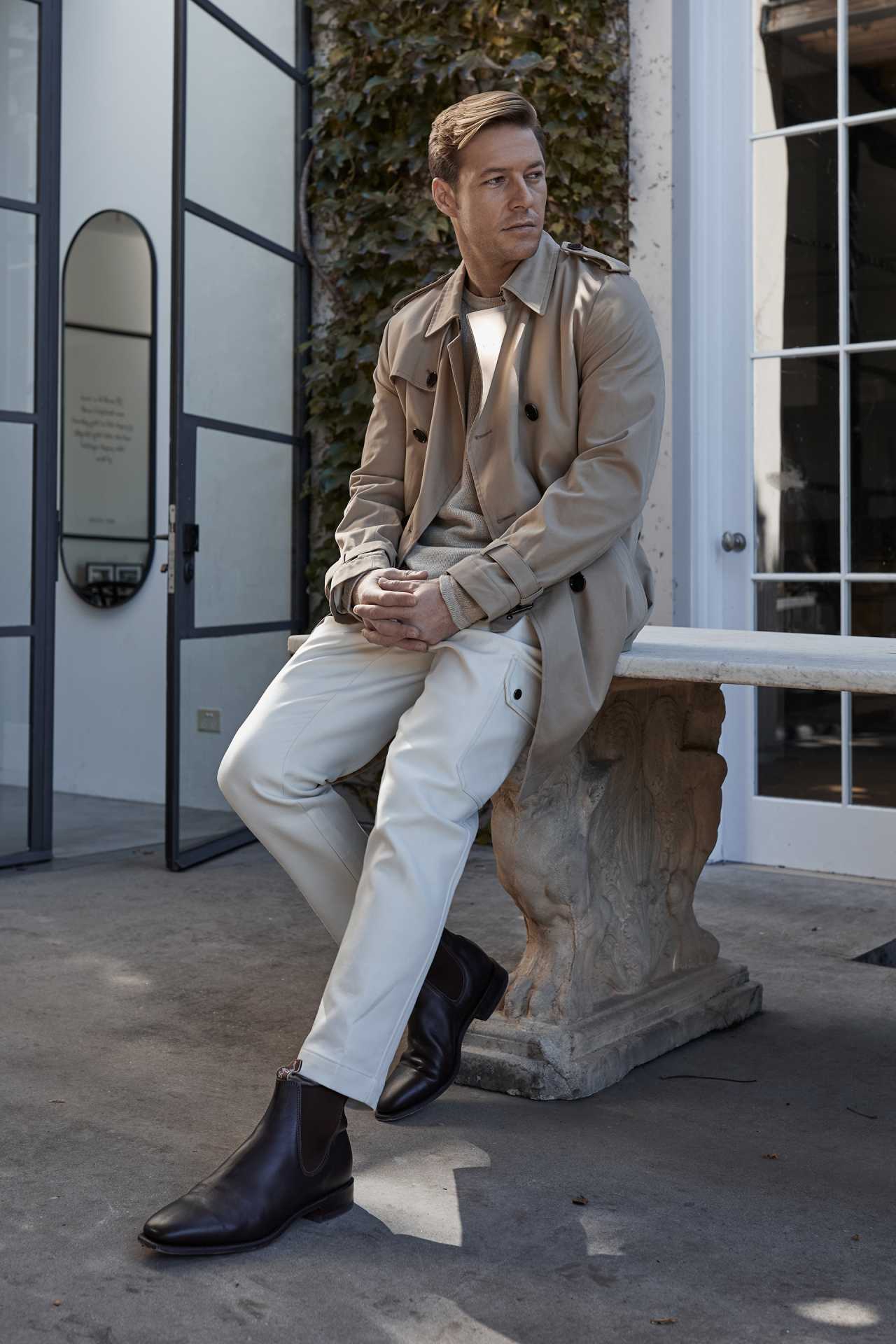 ER: Not only a once-in-a-lifetime job, but also just experience to have, where you're transported to a different world, when the world is in the midst of something so insane. I'm so glad you got to do that. It was so cool, too, because I remember my mum was the one that told me. She was like, "Emma, do you know Luke is going to be in the Elvis movie?" 
I was like, "I didn't." She was like, "Oh, my gosh, have you congratulated him?" I was like, "I haven't talked to him in a bit." My mum was so excited, because as you know, my mum is your biggest fan. She still cries about you in Hacksaw Ridge. I was like, "To know that movie verbatim, I'm a little concerned for you." Yes, it was so cute. 
She told me, and I was like, "Oh, my God." Then I looked it up and I saw that you are playing Elvis's manager and best friend. What's his name, tell me?
LB: His name is Jerry Schilling, and I just found out that he saw the movie recently and really liked it.
ER: Oh, good. We love getting the real person's check of approval! 
LB: That was, yes, a nice stress relief. 
ER: Obviously, six months is such a long time to work together, and it feels like it was a very intense and intimate project. Did you guys become like a family, a pod? Did you all stay in the same place? What was it like?
LB: Yes, we stayed at this place on the Gold Coast called Peppers, which is a new apartment building. We were all in the one spot. There was a great restaurant downstairs called The Social that we would congregate at. If you ever wanted to see anyone, if you were a bit lonely, you just had to get the elevator down and then walk out, and someone would be sitting at this restaurant having a bite to eat or having a glass of wine.
We had a great crew on it. It was such a good group of people, and we would even party together on the weekends. Everyone was aware that we were doing something pretty awesome, in a pretty crazy time. That made it even more special. We were so aware of how lucky we were to be working, first and foremost. Then, the second thought was, "Oh, my God, we're working on, potentially, one of the biggest movies ever." It was a great moment.
ER: Luke, remember when I said, "Is this going to be the best movie ever?" You're like, "Could be, I don't know. Could be." 
LB: It really could be. 
ER: Did you know anyone beforehand? Or did you guys all meet on this?
LB: I knew Richard Roxburgh who plays Elvis' dad – Vernon Presley. We'd done two movies together but hadn't been in scenes together. But I knew him just through being in the films. He is the best dude ever. He actually lives just up the road from my parents. I would see him before we did the movie.
ER: Australia is, like, the small town of Hollywood. You guys all know each other, it's so funny. I love how much you guys stick together. I'm like, "I need to be Australian in my next life." 
LB: It's like a nod and a wink, if you know what I mean? You're like, "Oh, yes, there you are." So, I knew Richard. Maybe I didn't really know anyone else, actually. But I tell you what, we became fast friends, and we had a really good group of people on it – like cast, crew, we all became friends. It was our little world that we created up there, because that was our little world, because everyone was in their own little world. 
We were just lucky that our little world included friends that we'd made, and that life was really, really normal on the Gold Coast at that time. There was no Covid. So, we got to have a normal life.
ER: That's so good. It seems like there are such good vibes around this movie. I almost died seeing Austin Butler on the Met Gala carpet with Priscilla Presley. It was such an iconic picture. Did you see them together?
LB: I just saw it briefly, yes, it was good to see. I think she saw it and she really loved it, as well. I think she saw it with Jerry, the guy that I play. They watched it together and they both really liked it. For Austin's sake, that's a big load off that she loved it, and got the tick of approval. She's the only person that really matters in a way. If she liked the film, nothing else really matters. 
I remember doing Hacksaw Ridge and we were doing some press for that, and we met some veterans of Hacksaw Ridge. And we screened the movie for them – they were 90-something-year-old guys who were actually there. This was just before the movie came out, and we met them after. They loved it. They thought the movie was amazing. I was with Mel [Gibson] and Vince [Vaughan] and Andrew [Garfield], and everyone just went, "Oh, well, you know it doesn't really matter what everyone else thinks." That's a nice weight off your shoulders.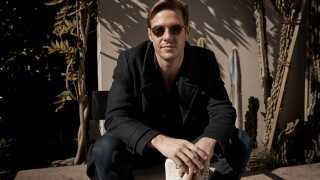 ER: It's a real cherry on top, when everyone else likes it too. I feel like everybody loved Hacksaw and everyone is going to love this. So this was probably checking something off a bucket list – working with Baz Luhrmann, doing such an iconic biopic, playing a real person. I would love to play a real person.
LB: Have you ever done it?
ER: No, I don't think so. My dream is to play Joan Didion, and you know how much I love me some Joan Didion. 
LB: Oh, you love Joan. Rest in peace, Joan. It was really sad when we lost her.
ER: Rest in peace, Joan. But I feel like she's someone that I could, aesthetically, look like. Because you know I'm so small. There are some people that I would love to play but I'm below the height limit. Tell me something that's a bucket list goal for you?
LB: I'd always loved movies that took you somewhere you hadn't been, or that were exotic. There's something about an 'Indiana Jones' type, kind of film, but an original version of it. It would be really nice to create your own seminal character, if you know what I mean. I think that would be really fun. You know, to create a swashbuckling-type, enigmatic adventurer figure. 
ER: You'd be so good as that. We should make that. 
LB: I love Indiana Jones, I love The Thomas Crown Affair, The Talented Mr Ripley is a great movie, but maybe without the murder.