Dylan Llewellyn doesn't take himself too seriously. He's warm and endearing – just what you'd expect from the actor who won the nation's hearts playing the 'Wee English Fella' in one of Channel 4's most popular comedies, Derry Girls.
Although slightly less sombre than his character James, there are certainly similarities – yet perhaps that's testament to Derry Girls' cultural ubiquity. Despite being 29, his Cupidlike curls and dimples mean Llewellyn is often cast as a baby-faced schoolboy. There are worse problems to have – ask the square mile editor, newly 40.
Llewellyn got his break playing student Martin "Jono" Johnson in Hollyoaks – joining the likes of Ricky Whittle and Nathalie Emmanuel as some of the soap's notable alumni. After Hollyoaks, he landed a few smaller roles, including a stint playing the lead in the West End spectacle War Horse. But then the work started to dry up. 
"I did have a period where I just didn't really land much, I wasn't getting many auditions. And that's just the reality of being an actor – the struggles. You have to kind  of learn that and realise that it is tough. And there's so much competition. It isn't as glamorous as people think it is."
Almost losing all hope, Llewellyn got a job working behind the counter at Cullenders deli in Reigate – where he grew up with his parents and brother. "It was tough. Because I love acting so much. I really wanted it to happen, but it wasn't. Then Derry Girls came around the corner, and kind of rescued me really, and put me back into the acting world."
He auditioned for the show more in hope than expectation. "I found out I got the part when I was washing dishes," smiles Llewellyn. I hope he dried his hands before picking up the phone. 
Did he immediately quit? "No," he exclaims, laughing. "My boss was rooting for me actually, because I was working part time just to help, I was helping him and he was helping me I guess. He was really sweet about it."

Sitting back in his armchair in a sunny corner of Soho House, occasionally leaning forward to refill his teacup from the pot, Llewellyn makes a delightful interviewee – slightly awkward, but funny, and self-deprecating. He's jocular, brushing off compliments with an air of modesty. He has a lightness to him, and laughs a lot.
Growing up, the actor felt like he didn't fit into the stereotypical mould. He attended a school for autistic and dyslexic pupils after finding mainstream education difficult. "I went to normal schools beforehand, and I was struggling, because they just didn't really know about dyslexia. I was always falling behind because I just couldn't keep up with everyone."
Struggling with reading and writing, Llewellyn dedicated his time to more visual pursuits. Before acting found him, he originally wanted to be a photographer and had a penchant for capturing portraits and street art. "I actually wanted to be a photographer and work behind the camera. I love photography, and I still do," he says. "I've got, like, six cameras."
Would you ever want to try your hand at directing? "I don't know. I think I'm better at being told what to do," he says, laughing. "But yeah, maybe a DOP."
Interestingly, no one in Llewellyn's family is particularly creative – he's not sure where he gets his artistic streak. He lives with his brother, who does one of those jobs that no one can quite explain or understand. "I can never explain… I find it very confusing," Llewellyn chuckles. "He makes deals and… works in aviation." Mad Men meets Top Gun? Where does one apply for this job?  
Given he plays such a funny character in Derry Girls, I ask if Llewellyn considers himself a funny person. He throws his head back. "Oh god. I don't know. I don't know how to answer that, I don't want to come across as…" He leans back, pondering. "Hold on, let me think about this. Yeah, I think I've got a decent sense of humour. I'm a kind of a happy, smiley, laughy person. And I can handle banter. So yeah, I think so."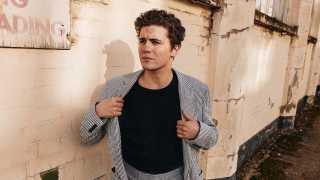 There was no shortage of banter behind the scenes on Derry Girls. "Especially from family, they're great," he recalls. "I mean Tommy Tiernan, he's a comedian, and he's full of great banter. And Siobhan (McSweeney), she's so funny. And the crew as well. It's just a great time really." What was the funniest thing that happened? "Just bloopers, and people corpsing [when an actor messes up their line or starts laughing] and laughing at each other on set. The whole experience was hilarious."
Llewellyn knew that he wanted to be involved in the show as soon as he read the script. He didn't know exactly how popular it was going to be, but something inside him told him it was special. And it was funny. 
"I knew it was something good, something special, just from the writing. When I was reading the script and auditioning for it, I was like, 'wow, this is really, really funny.' I knew it was going to be at least loved by the Irish. But it's been global, the response has been amazing from everyone."
The third and final season has just landed on Channel 4. Although Llewellyn is sad to say goodbye to Our Lady Immaculate College, he thinks the show has come to a natural end. After all, there can be too much of a good thing. Like Fawlty Towers and The Office, better to leave the audience wanting more and the characters untainted by diminishing returns. "It's the end of an era, really," says Llewellyn. "But I think it is quite good to have the quality over quantity, and it's a perfect way to end it."
Among his most prized possessions is the Doctor Who scarf that James wore attending the school prom in series two, and his Our Lady Immaculate school blazer. He might auction off the blazer for charity, he says. But he's holding on to the scarf. "The Doctor Who scarf is pretty snazzy, I might bust it out at some events… maybe." Another laugh.  
In some ways, Llewellyn was also the Wee English Fella, or "fish out of water", on set. "I was working in Ireland, which was another country to me. So I didn't have my home comforts, or my family and friends. But I made my new family and friends. The Irish are like my family now," he grins. He's half joking, but there's obviously a deep affection for the country there, too.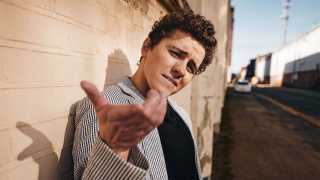 His friendship with Nicola Coughlan led him to explore other parts of the Emerald Isle, as Couglan took Llewellyn on a trip to Galway where he stayed with her family. "I want to be a Galway girl," Lewellyn says cheekily, raising his eyebrows. "She's like my sister," he says of Coughlan.
But as the show comes to an end, it's time to move on to pastures new. Derry Girls has served as a springboard for many of the cast: Coughlan stars in Shonda Rhimes' Bridgerton, Jamie-Lee O'Donnell is a lead in the Channel 4 prison comedy Screw. "Everyone in the cast, especially the girls, I think they're all smashing it. I'm buzzing for them all. I'm really, really proud of them all," says Llewellyn.
Rather a far cry from Our Lady Immaculate College, Llewellyn will soon be taking on the rock'n'roll lifestyle in Pistol, Danny Boyle's upcoming Sex Pistols mini-series. Llewellyn plays Wally Nightingale, the former Pistols – or The Swankers as they were called then – guitarist who was infamously kicked out of the band by Malcom McLaren for not being "punk" enough: he was never without a pair of extremely large glasses which he, unfortunately, needed for seeing.
"It's really sad," says Llewellyn. "Because he didn't have the punk look they wanted to replace him. And he lived the rock and roll life without the money. He did all the drugs and booze and everything, but he just didn't have the fame and the money. But I'm happy that his story is getting told."
It wasn't easy for Llewellyn to construct a very real character out of very limited archival footage. Compared to the reams of footage that other roles like Sid Vicious and Johnny Rotten had access to, Llewellyn didn't have much to play with."I just didn't really have any footage to work with, so I had to paint the picture in my head. There are only about 15 pictures of him out there, so I was kind of basing it off those shots." And he wanted to do Nightingale justice. "It was kind of a blessing in disguise as well because I could mould it. But at the same time, I want to be true to him."
Although he kept it PG himself while filming – no week-long drug-infused benders or trashed hotel rooms for this actor – Llewellyn did learn guitar and play as part of a real band. "Danny had us all on a band camp thing, and all of us as a band learned together for a couple of weeks, it was an amazing experience. And I was playing guitar in the show, which is awesome."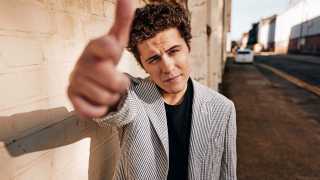 Incredulously, Llewellyn had never played an instrument before. As he's dyslexic, he'd always struggled with reading music. "Guitar was good in a way because it's a lot of shapes and reading that with the chords was quite easy," he recalls."I've got small hands so it was a bit tough, but I made it work. When I first started practising, even picking it up I'm like 'Is this how you pick it up?!' It was like an alien object, I didn't want to break it or anything."
He prefers classic rock to punk himself, favouring the likes of David Bowie and the Rolling Stones to the uneven guitar slamming and shouting of punk music. But the pipedream of being a rock star still hangs in the back of Llewellyn's mind, although he's not sure he'd ever be able to commit to mastering an instrument on his own time.
"I think I struggle on my own," he says. So will he keep playing? "Yeah," he responds, hesitantly. "Let's say yeah, I'd love to keep learning." But he doesn't seem so convinced.
When asked about what it was like to work with Danny Boyle, Llewellyn simply replies "surreal". He initially went for the role of Paul Cook, the Pistols drummer, but the casting director wanted someone with more musical ability. Luckily for Llewellyn, they liked his tape so much that he was asked to audition for the part of Nightingale.
Then there was a Zoom call with Boyle himself. "I was so nervous beforehand," he says. "But then I just took a break, stepped back and was like, OK, just treat him like any other director. Just be normal. Just be yourself and do your thing. And don't get starstruck." 
For Lewellyn, nerves are the worst part of auditions – and self-taping and Zoom calls don't make it any easier. When your only chance at getting the role of a lifetime hangs between you and your fuzzy laptop screen, it's easy to see how tensions can run high.
Llewellyn is also set to be the star of new comedy drama Big Boys, written by his friend, Jack Rooke. The programme, which is based on Rooke's own life, will explore grief, sexuality and modern masculinity. It's going to be an important series, Llewellyn feels. 
"There's a stigma with [men talking about mental health]," he explains. "Because guys normally bottle things in, and it's tough to talk about things. But it's getting better and people are opening up, and it is okay to talk. And this show deals with that so well, and it's an amazing comedy on top of that."
"And also, it's an LGBTQ-led show. I think it's important to have that representation more in the media. It's important for people to see that, and to acknowledge that, and to have those kind of role models growing up when they're discovering themselves."
Derry Girls and Big Boys are both on Channel 4, but with recent announcements to sell the channel off, its future seems uncertain. Llewellyn just hopes that whatever happens, they will continue to represent diverse talent and voices. What makes Channel 4 so great? "Because it's got so much awesome content!" he exclaims passionately. "It's just full of so much talent – talented writers, talented actors, performers, presenters, and it's an amazing, brilliant machine that works. And I think it's perfect the way it is."
As for the future? Llewellyn has big dreams, harbouring a secret ambition to star in a Quentin Tarantino or Edgar Wright flick. After working with Danny Boyle, this seems more possible than ever. Just don't expect Hollywood to turn his head. He may find himself among the bright lights of La La Land one day, but he'll always be our Wee English Fella. 
The third season of Derry Girls is out now. Pistol will stream May 31