Josh Taylor is shadowboxing in front of a mirror. What does he see?
A 30-year-old Scotsman of 5'10 and roughly 140lb. A boxer unbeaten in 17 fights. An Olympian. A Commonwealth Games gold medallist. The holder of two world titles and a plausible claim to be the best light welterweight on the planet. On 22 May in Las Vegas, Taylor will test that claim against his Mexican-American rival José Ramírez, holder of the other two titles in the division. The victor will be crowned undisputed champion. There's more than belts on the line. We're talking legacy. Glory. The stuff that dreams are made of.
"It's massive," says Taylor. "It's a massive, massive fight. I'm going to do everything in my power to make sure I'm flying for this fight."
Watching Taylor work the pads with his trainer Ben Davison, 'flying' feels the appropriate verb. His white boxing boots rarely leave the canvas but nor do they ever really touch it. Instead they are committed to a process of perpetual rearrangement and realignment, shifting, forming, drawing invisible patterns that are gone before they were ever there.
Davison straps on a black padded breastplate that transforms the trainer into a two-legged tortoise with its shell the wrong way round. They practise combinations, Taylor rattling punches off the pads then thumping a hook into the body with such ferocity you wonder if Davison owes him money. What do they use to test the breastplate's durability – a sledgehammer?
Great fighters are wired differently. They all have a desire to fight the very best
His chest is soon glistening with sweat. The black tattoo on his right flank? It means Taekwondo in Korean. Taylor is a black belt. He got the inking as a teenager. Took the bus to Edinburgh and shuffled into the parlour.
"First tattoo, son?" growled the tattooist.
"Aye."
"On the ribs?" asked the tattooist in exaggerated disbelief. (The ribcage is one of the most painful areas of the body to get tattooed, and for a first-timer akin to taking your driving test at a demolition derby.)
"Aye," said the increasingly nervous Taylor.
He didn't have enough money for numbing cream. But he endured the pain, like he always does, and more than a decade later it's one of only two tattoos on his body. The other is on his left thigh, a portrait of his late Staffie Manny – named after Taylor's hero Manny Pacquiao.
Pacquiao is one of the greatest boxers in history. He won world titles in eight different weight classes – but he was never the undisputed champion in any of them. It's a nigh-on impossible achievement in the current era.
Yet Josh Taylor is one fight away.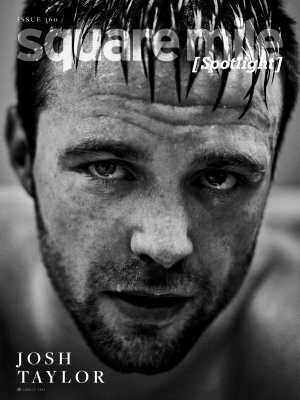 Chasing greatness
"This is history on the line," Bob Arum informs me. Arum is a man who knows history; he's lived a fair chunk of it. The 89-year-old Hall of Fame promoter has worked with the likes of Muhammad Ali, Sugar Ray Leonard, Marvin Hagler and George Foreman. You can add Josh Taylor and José Ramirez to that list.
"Great fighters are wired differently," notes Arum. "They all have a desire to fight the very best. José and Josh demanded the fight, and that's why it got done. They both have that old-school mentality."
Arum describes the fight as "legacy-defining" and that isn't promotional spiel. Beat Ramirez and Taylor will join his illustrious predecessor Ken Buchanan as one of Scotland's boxing greats. Not that he'll linger long on the achievement: this is a fighter relentless in his pursuit of new challenges. The moment that he reaches the top of the mountain, he's scanning the horizon for a higher summit.
"New challenges, new goals, new targets," confirms Taylor when we sit down after his training session. He's perched on the ring apron, his long bare arms resting on its ropes. "Otherwise you're just standing still. I always believe in moving forward. In any walk of life, you want to try for something, you want to go for something, you've got to work hard for it, do it, and set new goals, set new targets so you're never standing still. You're always moving forward."
I've got to do everything the best: the quickest, the fastest, the strongest
Before the session, I ask Davison what makes Taylor a special fighter. He pauses and then reels off a list: "tenacity, will to win, desire, toughness, chin, skill. All the attributes. He's not got lucky to achieve what he's achieved in such a short space of time."
Davison cites Taylor's mentality, his hatred of stasis. Why polish a championship belt when you can win another one? And another?
"I'm calm and relaxed but I'm very highly strung," admits Taylor. "Everything's 100%, flat out, all the time. I've got to do everything the best: the quickest, the fastest, the strongest. I'm super competitive in everything I do. Ben's very good at reeling that in. Pausing it, slowing it down."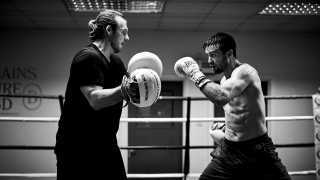 Lockdown enforced Taylor's first extended break for boxing since adolescence. For once, he looked back as well as forward. Admired the belts and trophies displayed in his East Lothian living room. "It gave me the first opportunity to sit back and reflect how I've done over my career. And I've come to realise that I'm extremely, extremely proud of myself."
He discovered boxing through his mother – she was working at the Meadowbank Sports Centre in Edinburgh and encouraged her son to join its boxing club. There Taylor watched Scottish featherweight Alex Arthur train and decided to don a pair of gloves himself – "more to keep fit than anything else."
After a few weeks, Taylor was invited to spar and acquitted himself well against a far more experienced opponent. A few weeks after his first spar, he entered the Eastern District Scottish Championships, drawing with the Scottish champion in the first round only to lose on countback. "I was very, very disappointed because I was the world's sorest loser."
Commonwealth gold is definitely up there with the best of my achievements, if not the best.
He won the Scottish championships in his seventh fight. Returned from the 2008 Commonwealth Youth Games with a bronze medal. "That's when I started taking it a little bit more seriously." Two years later, Taylor won silver at the Commonwealth Games and committed himself to a career in the ring.
He scaled a peak at the 2014 Commonwealth Games in Glasgow, upgrading that silver medal into gold before his home crowd. Seven years and two world titles later, Taylor's voice swells at the memory.
"It was a really, really proud moment for me. That's definitely up there with the best of my achievements, if not the best."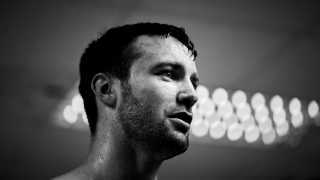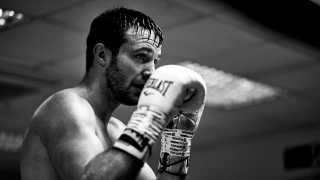 Top of the world
He turned professional the following summer. He moved fast, winning the Commonwealth title in only his seventh fight. His tenth brought fellow unbeaten prospect Ohara Davies. It was billed as an even matchup – much to Taylor's disbelief: "I knew it was never going to be a 50-50 fight. I knew I was gonna beat him. I knew I was gonna beat him up."
He stopped Davies in the seventh round, a victory made extra enjoyable by the brash Londoner's trash talk in the build-up. "It was quite a satisfactory win for me," grins Taylor. "He was so mouthy, so disrespectful." Davies's 0 was the first taken by Taylor. His last four opponents have all been unbeaten. At least they were, until they shared a ring with him.
Taylor claims his hardest fight came against experienced Ukrainian Viktor Postol, a man as tough as his name suggests. He stared across the ring at an opponent with more than twice as many professional fights – 30 to 13 – whose only defeat had come against Terrence Crawford, a boxer widely regarded as the finest on the planet.
Doubt entered Josh Taylor's soul. 
Am I ready for this? This is a massive step-up. God, I'm up against it here. It's sink or swim time. I know I'm world class. But what if I'm not?
"This was the only time I was really nervous," says Taylor. "The only time I still had that little bit of self-doubt. What if I'm not ready?"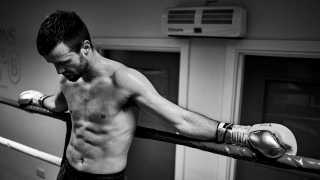 He started slow. Nervous. "I put immense pressure on myself to win that fight at all costs and it showed in my performance for the first couple of rounds." But Taylor asserted himself and dropped Postol on his way to a unanimous decision. Doubt has been a stranger ever since.
He entered the World Boxing Super Series, a tournament designed to crown the best boxer of their weight class, separate The Man from the rest. He eased to the final to face the charismatic New Orleanian Regis Prograis. Both men's world titles were on the line, along with the Muhammad Ali trophy and The Ring magazine lineal championship – recognition from boxing's Bible that you are number one.
"The Prograis fight wasn't that hard a fight," says Taylor, superbly matter-of-fact. "It just got tough at the end because I couldn't see."
A clash of heads produced a swollen eye, one made worse by the fists of the skilful Prograis. Taylor fought the last three rounds half blind. "All my boxing abilities went out of the window because I couldn't see what was coming, or even what I was doing on that side. I had to completely change the way I boxed."
He survived on pure instinct, battling his way to a majority decision in a Fight of the Year contender. His right eye resembled a rotten plum but the belts, the trophy, the glory belonged to him. Except José Ramirez and his two world titles didn't enter the Super Series.
So Taylor is flying to Vegas to fetch them.
The History Boy
Despite, well, everything you've just read, Taylor has a relatively low profile outside of boxing. He's not a celebrity in the manner of his compatriot Andy Murray or his friend and occasional training partner Tyson Fury. He likes his privacy, observing, "I don't know who in their right mind would want to be famous. Their life is not their own."
He's happy to chat to fans, spend a few minutes, take a few photos. It's nice to be recognised – but for his accomplishments, not because somebody saw his face on TV and therefore must interrupt his evening out.
"I'm not really fussed for the fame. I'm really not fussed for it. It doesn't bother me, I don't lose sleep over it. Should I be bigger than what I am? Probably. Should I maybe be celebrated a little bit more in my home country? Probably. But I'm not one that lives for the fame, for the bright lights.
"I'm just a quiet, normal guy. I like to go about my life and go about my day-to-day business."
Successfully unifying the belts against Ramirez will bring further recognition but it won't transform his life. But there is another fight, the fight he craves after Ramirez. A fight that could make Josh Taylor immortal.
I love the Terence Crawford fight. I would fight him tomorrow
Quick tutorial in How Boxing Works: there are belts and there are weight divisions. An undisputed champion must win every belt in their weight division. This is very rare: the last undisputed heavyweight champion was Lennox Lewis two decades ago – and Lewis is among the more recent ones. (There has literally never been an undisputed super-middleweight champion.) The difficulty of becoming undisputed says nothing about the quality of boxers and everything about the surplus of sanctioning bodies – which sanction the belts – but you'll be glad to hear that's one for another article.
The winner of Taylor vs Ramirez will become undisputed champion at 140lb. He will likely then move up seven pounds to the more glamorous welterweight division – where the previous undisputed 140lb champion Terence Crawford is searching for a viable dance partner.
Taylor isn't looking past Ramirez but when I inquire about potential future opponents he answers without hesitation. "I love the Terence Crawford fight. He was the last person to unify the belts in the 140-pound division. That would be a huge fight. That would be undisputed champion versus undisputed champion."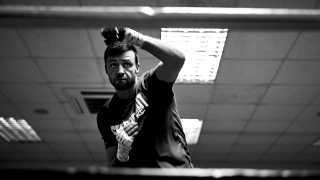 Defeating Crawford is a Herculean task. In 37 fights, nobody has yet managed it. Nobody has come close. Journalist Tris Dixon isn't alone in his opinion that "Crawford looks virtually unbeatable. He looks very comfortable at the weight. He's very strong, very well-rounded. Hasn't ever looked in any kind of trouble."
Dixon sits on The Ring's rating panel. The magazine will celebrate its centenary next year, and began publishing annual ratings of boxers in 1924. These include ranking the weight divisions – Taylor is Ring champion at 140lb – and also the pound-for-pound list: essentially, which boxer would win if everyone was the same size.
Anthony Joshua doesn't make The Ring's P4P list. Neither does Tyson Fury. Taylor is ranked nine. Crawford is three. Many believe the latter to be two too low; ESPN, for example, places the Nebraskan top of its P4P list. The best of the best. A three-weight world champion, a lock for the Hall of Fame, the switch-hitting, hard punching Crawford is considered the most avoided boxer in the sport.
I don't want to be one of those fighters that lose and end up being a stepping stone 
"Yeah, I know," says Taylor with a soft, rueful smile. "I know. I would fight him tomorrow. I'd fight him tomorrow. If that fight came about, I'd fight him tomorrow."
Would he take a tune-up at 147? "No. I would go straight up. I back myself. I believe in myself."
Over the phone, I ask Dixon how beating Ramirez and Crawford would affect Taylor's P4P ranking. "You could make a case for him to be number one," he replies. "Certainly top three."
Like Taylor and Ramirez, Crawford is promoted by Bob Arum. On the possibility of a Taylor victory, the legendary promoter says: "Well, if that fight happened and if Taylor were to win, it would rank as one of the great victories by a British fighter in boxing history. Simple as that."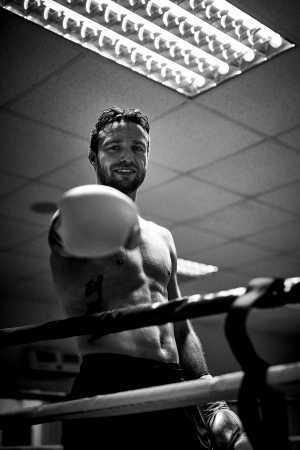 Beyond the ropes
Taylor didn't win another belt in 2020, but he managed to give away a ring. He proposed to longtime girlfriend Danielle Murphy in Dubai last winter. Ben Davison proposed to his girlfriend on the same trip. (Both successfully, I should add.)
Taylor enjoys recounting how he nearly lost the engagement ring after diving off the side of their rented yacht. "The lads were on the boat, going 'what's that behind ya?' Even my missus was like, 'what's that behind ya?' I had a wave of panic, I thought there was something in the water!"
It wasn't a shark. It was his ring box. The ring didn't fall out, thankfully. (He checked in the toilet before emerging to pop the question.)
So that's the personal life sorted. Professionally, Taylor hopes to one day fight at Edinburgh Castle. "It would just be iconic," he says, face lighting up at the prospect. "It would be fantastic. It would be a dream come true. It would be a real one for the legacy and all-time history books, that one. Once in a lifetime event."
And his ambitions after boxing? "I would like to open up my own gym. A community gym. Teach boxing and fitness but also teach lifestyle and health and eating properly, living right, living clean, living a good life. Respect, discipline, self-discipline, self-worth. My home area has not got anything like that."
We speak a few days after Taylor's close friend Carl Frampton announced his retirement following a stoppage defeat to Jamal Herring. "That was hard for me, watching Carl," says Taylor quietly. "The first half of my career I was under his wing. It was very hard for me to watch because he's such a good guy, good for the sport. He dared to be great. I admire that about him. I really admire that about him."
Few leave boxing on their own terms. Greatness is a hard drug to quit. In the prime of his career, Taylor isn't contemplating his own exit strategy but he knows what it won't look like.
"I don't want to be one of those fighters that lose and end up being a stepping stone for fighters coming through. Being a name to beat."
Far better to administer the beatings. José Ramirez is next. Another peak to scale; another 0 to snatch. And should Taylor win, should win number 18 be added to the ledger, don't expect this likeable, insatiable champion to stand still.
Josh Taylor doesn't stand still. Not in the ring, nor the record books. He will celebrate a truly remarkable achievement. Then he will put his four belts aside, move up in weight class, and there he will seek his destiny.
Watch Josh Taylor vs José Ramírez on 22 May