Sophia Brown has the soul of an artist. I say this not because she has chosen acting as her career, but because she's the kind of person that creates regardless of other people's permission.
It's not what she does; it's who she is. An old soul, unafraid to unravel herself, Brown has a voice like fine wine and will only get better with age. I have utter confidence in saying her career has just begun. 
She has been grafting from the very beginning. Her versatility can only be understood by watching her. She's had stints in West End, plays at the Donmar and National Theatre, led the cast of the Netflix original The Witcher: Blood Origin, is an ensemble member in the performance art group Theo Adams Company, and is now a lead in the upcoming Russell T Davies drama You & Me. 
She's refined, fiercely present, and always looking for that space to connect with another. Without it, she withers.
It's why she nearly walked away from the career she loves so much. But thank god she stuck with it, because in time, she will be a name that we all remember.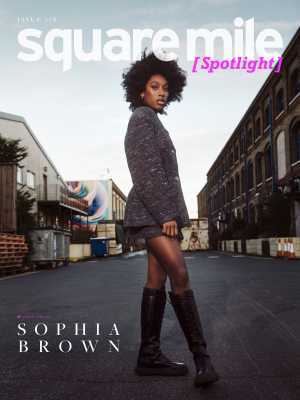 Square Mile: Tell me about your upbringing. Where did you grow up?
Sophia Brown: I was born in Northampton and moved to London [for performing arts school ArtsEd's sixth form] when I was 15 years old.
SM: Were you always drawn towards performance as a kid?
SB: I originally wanted to be a runner. Sports for me was the base. My dad was a PE teacher, and a football fanatic. My sister was an amazing footballer so I followed in her footsteps. But there's this rule in Northampton: you can't play with boys over the age of 11. So my dad would pretend I was a boy to play. It got to a point where I couldn't pass anymore, but my sister did it until the age of 16.
SM: Did you guys wear hats? 
SB: We'd have cane rows. So if you see little black boys and girls when they're younger and they just wear a baggy football top or something, you can't really tell. And even if you can, they aren't going to ask.
I played netball. Became obsessed with running – I ran for Northampton, long distance. Then I remember dancing at my cousin's wedding, doing a little talent show with my cousins, and my sister was like, 'you're so good at performing and acting and stuff.' I admired my sister, and still do today. It was something that I secretly enjoyed.
I was doing school performances. I was just like, 'What? We get to do this? And miss science? Let's do it.'So two things happened at the same time. But I told my mum I wanted to start doing some kind of performance on the weekend.
SM: How old were you at this point?
SB: I was about 12. I started looking at Saturday schools, and started going with a friend every weekend to do these drama performances. Then when you get to your GCSEs, you have to ask yourself, 'What do you want to do? Sports or drama?' A secretary at my school told me that she'd heard of this school where you can do your A-levels as well as vocational stuff.
My mum was very adamant that I get my A levels. I can't even remember who filled out the application. I had the audition. I got recalled. Then I had to do an essay. And then the next thing I knew I was moving into my aunt's house in Waltham and I was going there. It was all a bit of a whirlwind.