Sophia Brown has the soul of an artist. I say this not because she has chosen acting as her career, but because she's the kind of person that creates regardless of other people's permission.
It's not what she does; it's who she is. An old soul, unafraid to unravel herself, Brown has a voice like fine wine and will only get better with age. I have utter confidence in saying her career has just begun. 
She has been grafting from the very beginning. Her versatility can only be understood by watching her. She's had stints in West End, plays at the Donmar and National Theatre, led the cast of the Netflix original The Witcher: Blood Origin, is an ensemble member in the performance art group Theo Adams Company, and is now a lead in the upcoming Russell T Davies drama You & Me. 
She's refined, fiercely present, and always looking for that space to connect with another. Without it, she withers.
It's why she nearly walked away from the career she loves so much. But thank god she stuck with it, because in time, she will be a name that we all remember.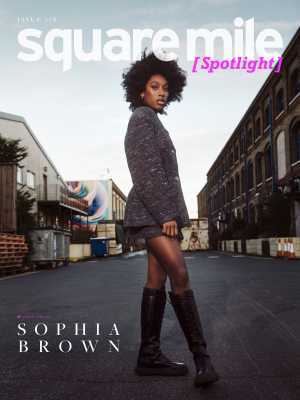 Square Mile: Tell me about your upbringing. Where did you grow up?
Sophia Brown: I was born in Northampton and moved to London [for performing arts school ArtsEd's sixth form] when I was 15 years old.
SM: Were you always drawn towards performance as a kid?
SB: I originally wanted to be a runner. Sports for me was the base. My dad was a PE teacher, and a football fanatic. My sister was an amazing footballer so I followed in her footsteps. But there's this rule in Northampton: you can't play with boys over the age of 11. So my dad would pretend I was a boy to play. It got to a point where I couldn't pass anymore, but my sister did it until the age of 16.
SM: Did you guys wear hats? 
SB: We'd have cane rows. So if you see little black boys and girls when they're younger and they just wear a baggy football top or something, you can't really tell. And even if you can, they aren't going to ask.
I played netball. Became obsessed with running – I ran for Northampton, long distance. Then I remember dancing at my cousin's wedding, doing a little talent show with my cousins, and my sister was like, 'you're so good at performing and acting and stuff.' I admired my sister, and still do today. It was something that I secretly enjoyed.
I was doing school performances. I was just like, 'What? We get to do this? And miss science? Let's do it.'So two things happened at the same time. But I told my mum I wanted to start doing some kind of performance on the weekend.
SM: How old were you at this point?
SB: I was about 12. I started looking at Saturday schools, and started going with a friend every weekend to do these drama performances. Then when you get to your GCSEs, you have to ask yourself, 'What do you want to do? Sports or drama?' A secretary at my school told me that she'd heard of this school where you can do your A-levels as well as vocational stuff.
My mum was very adamant that I get my A levels. I can't even remember who filled out the application. I had the audition. I got recalled. Then I had to do an essay. And then the next thing I knew I was moving into my aunt's house in Waltham and I was going there. It was all a bit of a whirlwind.
SM: What did you audition with?
SB: I sang, 'Close Every Door to Me' from Joseph and the Amazing Technicolor Dreamcoat. We did it for our school musical – I knew that song, and didn't really think it was a man's song, it just sits really nicely in my voice. Then I did a dance to 'Purple Rain' by Prince.
SM: Did you immediately love it?
SB: Loved it. As soon as I moved to London, I didn't look back. It's been all consuming, but fulfilling. I've met my people. My friends. My life partner. Everything came from that point in my life. I don't know where I would be if I hadn't gone there.
SM: How would you compare the experiences of London vs Northampton?
SB: In Northampton, I came from a big unit of people. I felt very much Sophia as a unit. I was navigating the town as a person in a group. As opposed to London, you're alone. I'm alone. I navigate it as Sophia today, or Sophia from yesterday, or in the future. I can play around with that.
SM: You went back to Arts Ed for Uni, didn't you? Tell me about that experience. How did you make the decision to act full time?
SB: It came quite quietly. It was an unconscious decision that I was going to do this forever. After I moved, I'd realised the big decision I'd made after and I was like, 'Oh, damn, I'm living on my own.' I am travelling to West London back and forth, from east to west. By the time I finished sixth form, I was like, 'We are doing this.'
SM: Was your family supportive?
SB: My mum and dad are quite supportive people. They're adventurous. They understood the rocky road of being an artist. My two older sisters are musicians. They knew that as long as I was patient and persistent, I'd be fine. So I auditioned for the uni. I got in. And then I got advice to audition for other places. Teachers told me not to go to the first place I got into. 
I was old enough to do my own research this time around. So I auditioned for another school called Arden. But I had accepted my place at ArtsEd. While I was there it was a very white space. In Northampton, I was surrounded by my family. I got dropped into white London, really. I was in Chiswick, in a school where I was the only black person. I realised quite quickly that it wasn't the place for me. I changed to Arden.
SM: How long were you at ArtsEd before switching over?
SB: A couple months. I went to Arden because I felt like I would feel more comfortable in my blackness in London. It was an amazing move. Who knows what would have happened if I stayed at ArtsEd? But they were amazing, my teachers understood. So I was at Arden for three years, graduated, and then went straight into Sister Act.
SM: How was your course at Arden? What was the training like?
SB: It was performance studies, alongside critical theory and movement study with different types of dance elements. We would do ballet, we would do tap, jazz, and animal study. Everything. Breaking down the qualities of the voice. I combined the three things I loved doing which was singing, acting and dancing.
SM: Do you have a favourite musical?
SB: Parade. I love the music. I fell in love with musical theatre. But I also quickly realised that was not what I wanted to do.
I did Sister Act, I adored the music. I was also able to work alongside Cynthia Erivo. I got to watch her every night. I remember at the time thinking, I am going to remember standing here watching this. Every night she was 100%. She set the bar.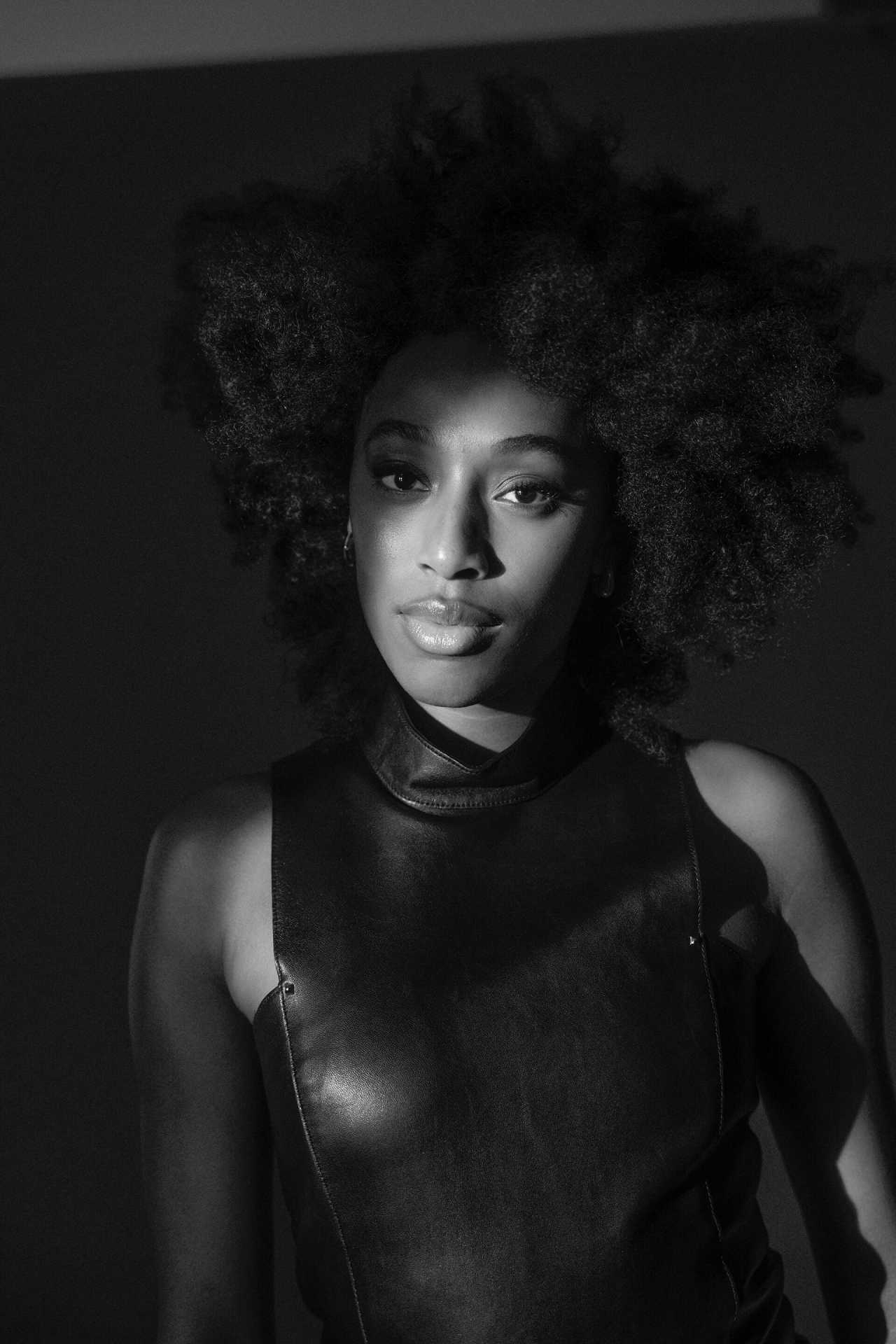 SM: And yet you didn't want to go the that route she did?
SB: I knew that Cynthia was an exception. That Dolores character is an amazing part to play. But what other parts are there for me to explore in musical theatre? That gets put on in the West End?
I started realising the lack of creativity I would have. I would either be singing Motown songs or The Lion King. Am I going to be stuck in the 1960s and 1970s, or playing an animal? Where's the craft? I was observing the industry during Sister Act. 
I got Hairspray right after that. Which was one of the best jobs because I met so many of my best friends from that. But that solidified that this was not for me. I made the decision to no longer do musical theatre. I wanted to re-route back to the original plan to do straight theatre and film. I started doing film before theatre because the transition from musical theatre to straight theatre in the UK was so difficult.
SM: Why is that?
SB: They regard musical theatre performers as being too big, over the top. And that was all that was on my CV. That's why I started doing workshops in different places.
SM: That's when you head to the States?
SB: Yes. I go to New York first. Amazing experience. I mean I love New York. I'm still trying to figure out a way to live there. But jobs come in and they keep me here. It's not the right time now but I know I'll have a period in my life where I am there.
SM: How was your adjustment to film?
SB: It's always been tough. In the beginning I was constantly trying to persuade people to just let me in the room. And that comes down to where I trained and people not thinking I was capable because of that. The spaces I could get into, it was great. As soon as I would read with them they would see there was a connection. I booked my first screen credit with Casualty, which is like a rite of passage.
SM: Did it start to feel real at that point?
SB: It was like the ball was in motion. Patience and persistence. I finished Hairspray in 2013, I booked Casualty in 2015. I booked my first series regular with Clique, which put me on the map. I was a familiar face. That gave me the foundation to say 'I am an actress. I am versatile.'
Since then, there have been a lot of cool projects. I did this project called Guerrilla which was cast by Shaheen Baig, and he's cast me in three other things since then.
SM: So now you're in a place of finding people that you best work with?
SB: Yes, exactly. I enjoy so many different mediums of art. Which is why I'll do one job like The Witcher, and after finishing that, I don't want to do action for a long time. I want to play around in stillness. When You & Me came around, it was perfect.
I'm not saying that I chose my jobs but you always have the power to say no. I said no to projects to allow myself the freedom to do the one or two that I really wanted. Fortunately the ones I've wanted to do over the past year or so have all given me the green light.
SM: I know you were going to quit acting before The Witcher.  Why?
SB: My last screen job before Covid was Giri/Haji. And then I did a play at the Donmar. The ball was rolling nicely. But Covid came at a time where I didn't have much momentum. Not enough to carry me through. I felt that I was going to be starting over somewhat. Again. On top of the industry changing so much. There was no more going in the room and meeting the director. It was self tapes, alone.
SM: Your strength is connecting in the room?
SB: Yes. I only have a finite amount of options to offer a character. It's a collaboration in the beginning – of what the writer wants, the director, the producer. I'm going to give you my version of who this person is, if you think it's dead on, great. We've shot through the dark. But if we haven't, that's when it becomes collaborative. 
I revel in that moment. Offering something and then being told to subtly change. The decisions, and the circumstances; it becomes so much more colourful. I've created a character that I can run with. Self tapes killed so much of what I loved about the process.
SM: So you were only doing self tapes, and nothing was coming through?
SB: Nothing was coming through. I screen tested about ten times. The last chemistry test I did, I was really happy with. I didn't get it. It got to the point where I didn't know if this industry was for me. I knew I could create in other ways. I want to produce my own work. I want to write. I'm part of a performance art theatre company. I am fulfilled creatively in other parts of my life.
SM: What did you do during Covid?
SB: I was able to strip myself back. I wrote a lot. I did some of my own performance artwork. I watched films, read plays, immersed myself in the sight of where and how I want to create. As opposed to being an actor and waiting for the jobs to come around.
I'm working on a project with my partner. He's a writer. It's a blur when we started it, but I'd say in one of the second waves is when we started working together. Now, we're trying to get the finances together to shoot that short.
SM: Can I get a little bit of the plot?
SB: It's about autograph hunters. It's from experiences that we both have had when we were working. He used to work near a place where he would see a lot of that kind of stuff happen. He is an amazing writer, he focuses on the more comedic side of things.
SM: Do you lean more  towards drama?
SB: Yes, but I would love to do comedy: writing and acting. I think it scares me a bit and I like to do things that scare me. So that's why we're doing it. There's so many things that I want to do. During Covid, we were connecting on an artistic level. 
I was just done with the industry. It was just draining. I still find it difficult now. It really frustrated me that you can't go to a room. You don't go to Soho anymore. Sometimes it's six o'clock and I'm doing a self tape with my partner.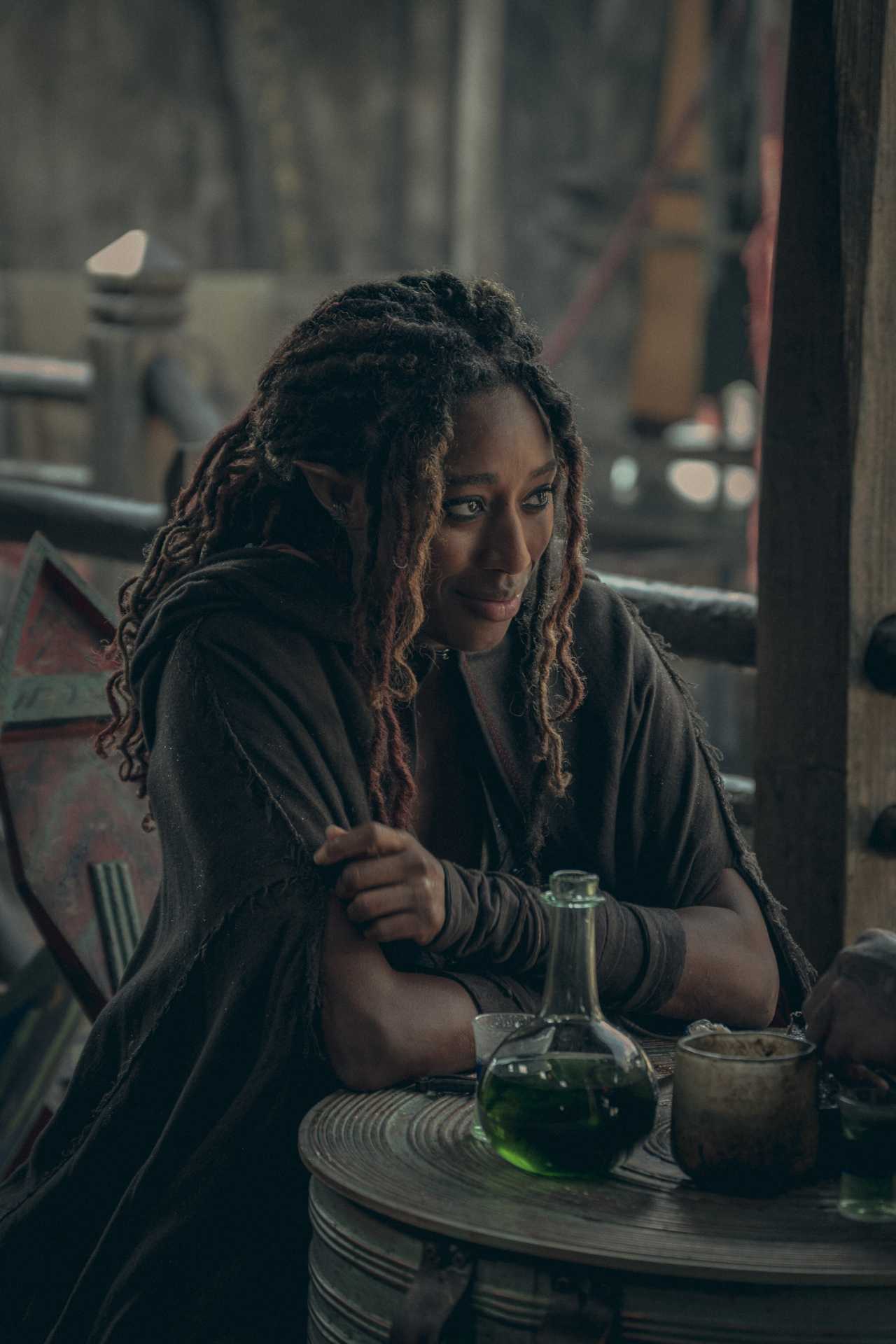 SM: When did The Witcher audition come?
SB: So, Covid started March 2020. I'd sat on leave for a good ten months. There was a lack of auditions, and then the auditions that were coming in were going well, and I'd chemistry read, and then wouldn't get the job.
It was March that I decided to leave. I booked my flights to Jamaica because my nan was out there. I called my agent on a Friday. She had already been aware that I was struggling, on top of the emotional highs and lows of an actor with an agent. I had a breakdown and said, 'I just can't do this anymore. This isn't healthy for me.' She thought I should just take a couple months out. I said, 'No, I don't think I can.' It was a hard decision to make, I just needed her to respect that.
It was in a space of eight hours that she called me back and said, 'There's this job that's just come in and it's perfect for you.' I was so confused. I just had an emotional closing. She sent it through and said to have a look. If I want to do it, fine. If I don't, also fine. When Sunday rolled around, I became curious. 
I read the sides and I remember seeing the name Éile, and thinking that's a really nice name. I emailed my agent and said, 'Hey, I'm gonna send this tape in. I feel I'll live to regret it, this will be my last one.' When I taped it, I had to put pieces of paper with the lines around the room because I wasn't in the brain space to learn it. So I read it off of things.
SM: Do you think being in such an emotional state let you do the tape without the attachment?
SB: Maybe. But also, that's psychotic that the world would have to bring you that low. I was ready to go to Jamaica. As time was going on, my agent was calling me and saying hey you got a recall. Great, one of these again. They're going to call me back so that there are bodies in the room, and I'll be alongside someone that's done some huge show. I re-did the tape and sent it off.
Then she said the producer wants to do a chemistry read. I read with Laurence O'Fuarain who was just so present. His warmth just exuded. I could tell he was a sound person. I remember doing the audition and leaving and thinking, 'Cool, I've got a holiday now, peace out.' Then my agent called and said that the producer wanted to meet.
Declan de Barra, the showrunner, called me and said, 'You would be doing this.' And I was like, 'I would be doing what? I? Me specifically?' He kept talking me through the process as if I had gotten it. I was getting quite emotional because there I was again, invested. I've been here before. My agent called me when I was driving. She was like, 'Hiya, where are you? Do you want to pull over?' I was like, 'What, why do I need to pull over? Tell me now, tell me now!' She was like, 'You have an offer for The Witcher.'
I was so confused. I'm still confused. For it to happen then is so baffling to me. I'm so damn glad I did that tape. I know I want to be creating the rest of my life. I'm just glad I get to do it in this way.
SM: What does it feel like to be making the decisions on the roles that are offered to you?
SB: You know what, I had a teacher at Arden who taught me the power of 'no'. For a long time, I thrived on that. I used to go into auditions and take up as much space in the room. Sometimes I'd turn auditions down. But I'm by no means picking and choosing. I still have a long way to go. I still feel like I'm at the beginning of my career.
SM: Tell me about the experience of being cast in The Crucible at the National Theatre?
SB: So I didn't study it for my GCSEs. I remember seeing the book, and being like, 'What is that?' I come from a Christian household where witches and wizards were a no-go. I remember it being this forbidden book. Everything I knew about The Crucible was I think from a Simpsons episode. How have I not read this play? I was able to play a Caribbean woman in the 1800s on the Olivier Stage. To think of the women that came before me, and to say those words in that accent made me feel so powerful.
SM: How did you find You & Me?
SB: I love the back and forth from big to small. I went from playing an elf going through a war over two empires to playing a girl from Brighton who lives in London who meets a guy, falls in love and lets that unfold.
SM: Did you identify with the character? 
SB: Yes. Harry Lawtey [who plays Ben] and I had similar situations. We both had left home quite young and moved to London to pursue performing. Our idea and experience of London is very much surviving and thriving. Surviving and thriving. The environment we capture, and what they go through is real. 
When you're not from London, it can be a very lonely place. When you come here you have to find your community, your group. And that's what I related to. Their relationship moves so fast because they found their person, but it kind of tailspins into this whirlwind. 
I think in an alternate universe, some people might not go down the same road that Jess did, if you catch my drift. However, Jess chose her path. It was so nice to be able to play real life. Life is driving everything, and so naturally it goes off course. 
Stream You & Me on ITVX