A quick scan of Isaac Carew's Instagram feed makes for depressing viewing. Not for him – God no, the man is clearly loving life – but rather for the rest of us. Those who are not male models, who are not professional chefs, and who are not dating Dua Lipa.
Over the last six months alone, you'll find him hanging out with Lewis Hamilton at Spa-Francorchamps; on a tiger safari in Rajasthan; in black tie for a Cartier event at the Louvre; driving a fully loaded Mercedes-AMG; drinking iced tea in New York's West Village; kissing his girlfriend in a Goan beach bar. You get the picture(s). There's a reason he has more than half a million followers.
And that's before you spot the food: huge plates of pasta, burgers dripping in hot sauce, sea bass crisping in a pan – it's salivatory stuff, and was the launchpad for The Dirty Dishes, his website, YouTube channel and new cookbook.
When I meet him he's recently returned from a holiday with his girlfriend in the Bahamas and neighbouring Miami. Today, we're at the Square Mile photo studio on a bitter Tuesday in January. It's less Caribbean, more Clapham. Despite a decade as an international fashion model, he's quick to assure me he's used to it: "A low point was a complete outfit change in the middle of a traffic junction in Dalston."
Despite the low temperature and early hour, Carew is a bounder – big steps and a bigger smile. He has real presence – and not just because of his 6ft 2in height. He arrives bang on his allotted call time, wearing a monochrome-patterned AMI overcoat, black jeans and white sneakers (Yeezys, natch). He could have come straight from a fashion show. Indeed, a week prior, he was: "I just walked at London Fashion Week Men's for Oliver Spencer – he's a good friend of mine. But generally I've moved on from catwalks."
He's not kidding: alongside international model, Carew can now list professional chef, cookbook writer, entrepreneur and TV presenter to his CV. He's flown the world, walked red carpets, and lit up the internet.
He may be in Clapham right now, but he's come a long way from his Hackney roots.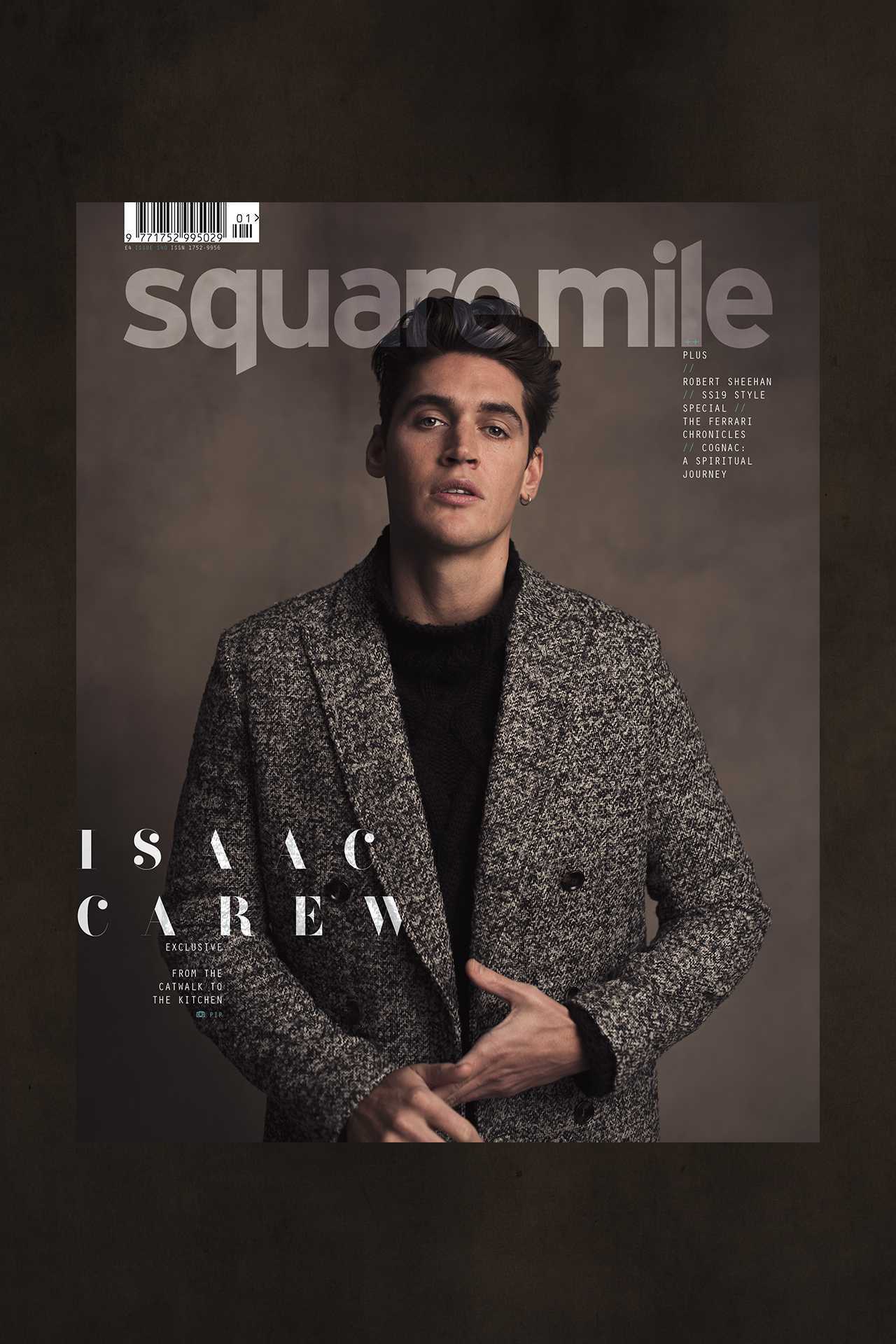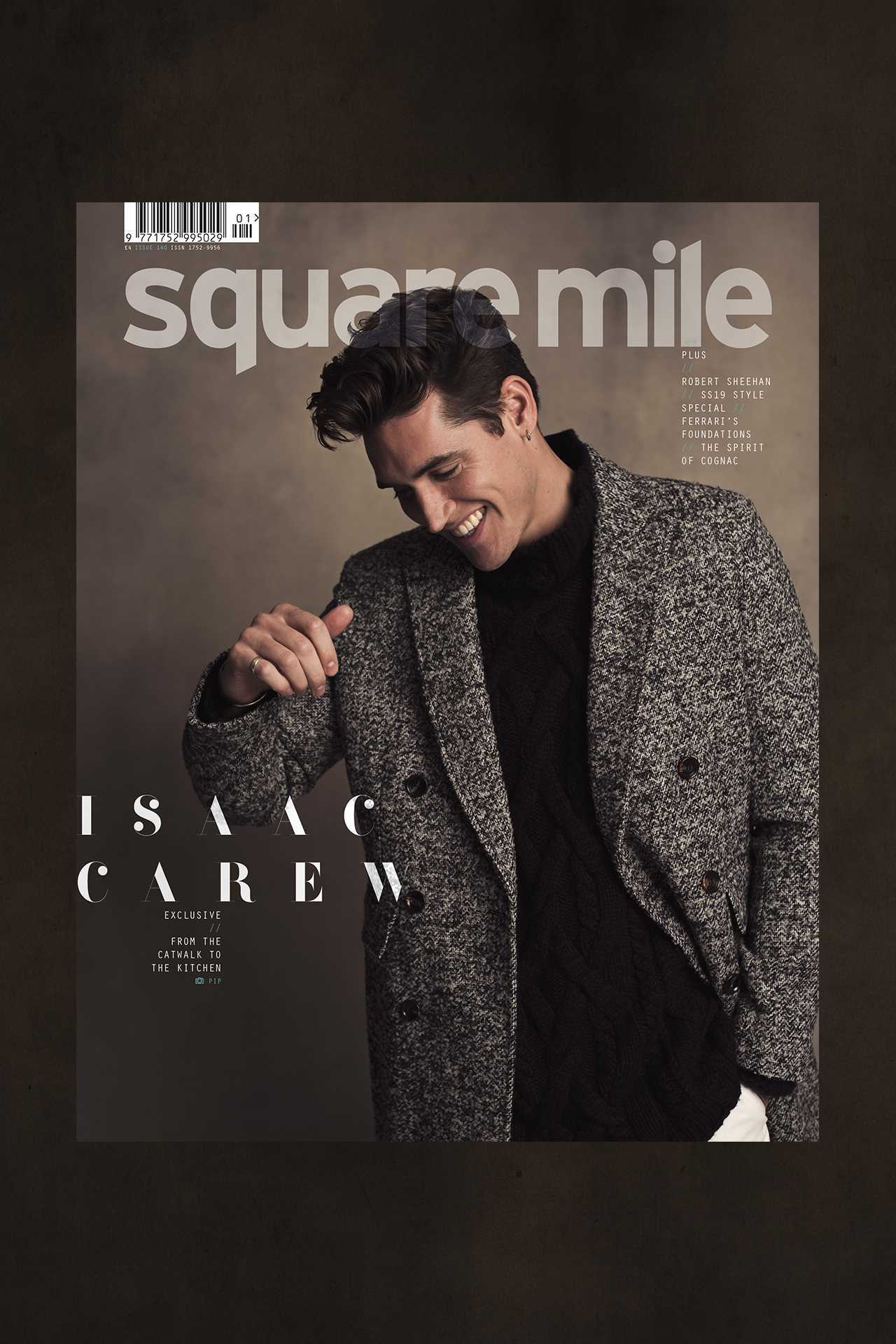 A taste for it
Born in Tottenham, Carew moved east at the age of 12 – "I was brought up in Hackney – your teenage years have more of a standing on who you are later in life."
Back then he spent a lot of his time swimming, going to the public baths five times a week, his main release from a challenging education. Struggling with dyslexia, he stuck it out at school until his GCSEs – "I didn't do very many; some I didn't even turn up to. But I did get an A in Food Tech."
He attended catering college, but it was his home life that really shaped his passion for cooking. His father and godfather worked together as chefs at a number of restaurants including South Kensington's La Bouchée and Joe Allen in Covent Garden. "I can remember the first time I wanted to become a chef. My mum took me to see Dad at work. I was sat on a stool by the kitchen. My dad was busy cooking and one of his chefs gave me a huge multi-tiered chocolate cake. I looked into the kitchen and knew: 'This is what I want to do.'"
Even from his first part-time job at the age of 12, Carew was surrounded by food, absorbing (albeit subconsciously at first) an appreciation for quality produce. "I worked in a greengrocers in Hackney until I was 14 years old. Every day, I finished school at 3.15pm, and I'd start at the greengrocers at 3.30pm. I'd run across the school fields, grab the train to London Fields, then run to Well Street."
Next followed a stint at a butcher's. "I had been on a work placement with my godfather and he sent me over there for 'some steak, some chicken and a long wait'. I was made to hang around for about 20 minutes before I figured out the practical joke." Despite this, the butchers still employed him.
When you're doing Michelin-star cooking, even the salad section is one of the hardest jobs
After leaving catering college, he secured his first chef's role at a hotel in Hampstead, before joining gastropub the Junction Tavern in Kentish Town. "The team there said 'you should do Michelin-star food'. I said that was way out of my league; it wasn't for me.
I passed it off, but they sent in an application for me to the Gordon Ramsay Group. The first thing I knew anything about it, they gave me the letter saying I had an interview."
At the time, Angela Hartnett was the darling of the British restaurant scene. She was Gordon Ramsay's most high-profile protégé, a regular on Hell's Kitchen, and had already bagged both an MBE and her first Michelin star. "The first week of working at Angela Hartnett at the Connaught was like an initiation. They hammered down on me, shouted at me. Even if I did something well, I'd get a bollocking. They're testing to see if you can go the distance. I ended up staying there for more than a year."
He began as a commis chef. His first section was salad – "when you're doing Michelin-star cooking, even the salad section is one of the hardest jobs" – before going to the pass and then the pasta section. It was the latter that ignited his love for Italian cooking. On the front cover of his new cookbook he's grinning with a forkful of tagliatelle in hand.
His passion for pasta also helped kick off his social media career. "I would just post pictures of what I was making at home on Instagram – often homemade pasta. I didn't think much of it, but my friends said I had to do something with it."
Fast forward three years, and one of those bowls of pasta garners more than 14,000 likes. "I was fed up with how many books and feeds were about 'healthy this' and 'clean-eating that'. I wanted to do something different – something great. And what do you get after every great meal? Dirty dishes."
And so the Dirty Dishes brand was born. Website, YouTube, Instagram; etailer for The Dirty Sauce ("I hate hot sauce that doesn't taste of anything, that's just hot and nothing else; mine is full of flavour") – and from 7 March 2019, a cookbook.
TV work offered a natural career progression. A guest slot on This Morning helped push his profile – the MailOnline gleefully reported, "This Morning viewers go into meltdown over Dua Lipa's hunky Elvis lookalike boyfriend Isaac Carew". By this point he'd also secured a regular gig alongside Michel Roux Jr hosting Tried and Tasted: The Ultimate Shopping List.
Gordon Ramsey said, 'You're so lanky you should have been a basketball player not a chef'
"I was starstruck meeting and working with Michel Roux Jr," Carew admits. "I thought he was going to be scary in real life, but he was charming and lovely."
The show was also the launchpad for Carew's most recent gig, a number of hugely successful supper clubs run alongside acclaimed Italian chef Francesco Mazzei. "We met on Tried and Tested; and then again at a pasta class with Peroni at Soho House. We kept in touch and the supper clubs were the result. It's so good to get back into an actual kitchen and be behind the pass cooking again."
There are more coming up later on this year, and Carew plans to continue with other guest chefs down the line.
As for the big man? "I didn't work with Ramsay directly. But one time he came into the Connaught when he was filming a TV show. I was cooking a risotto. He tried it and said it was nice. Then he walked off, dropping: "You're so lanky you should have been a basketball player not a chef".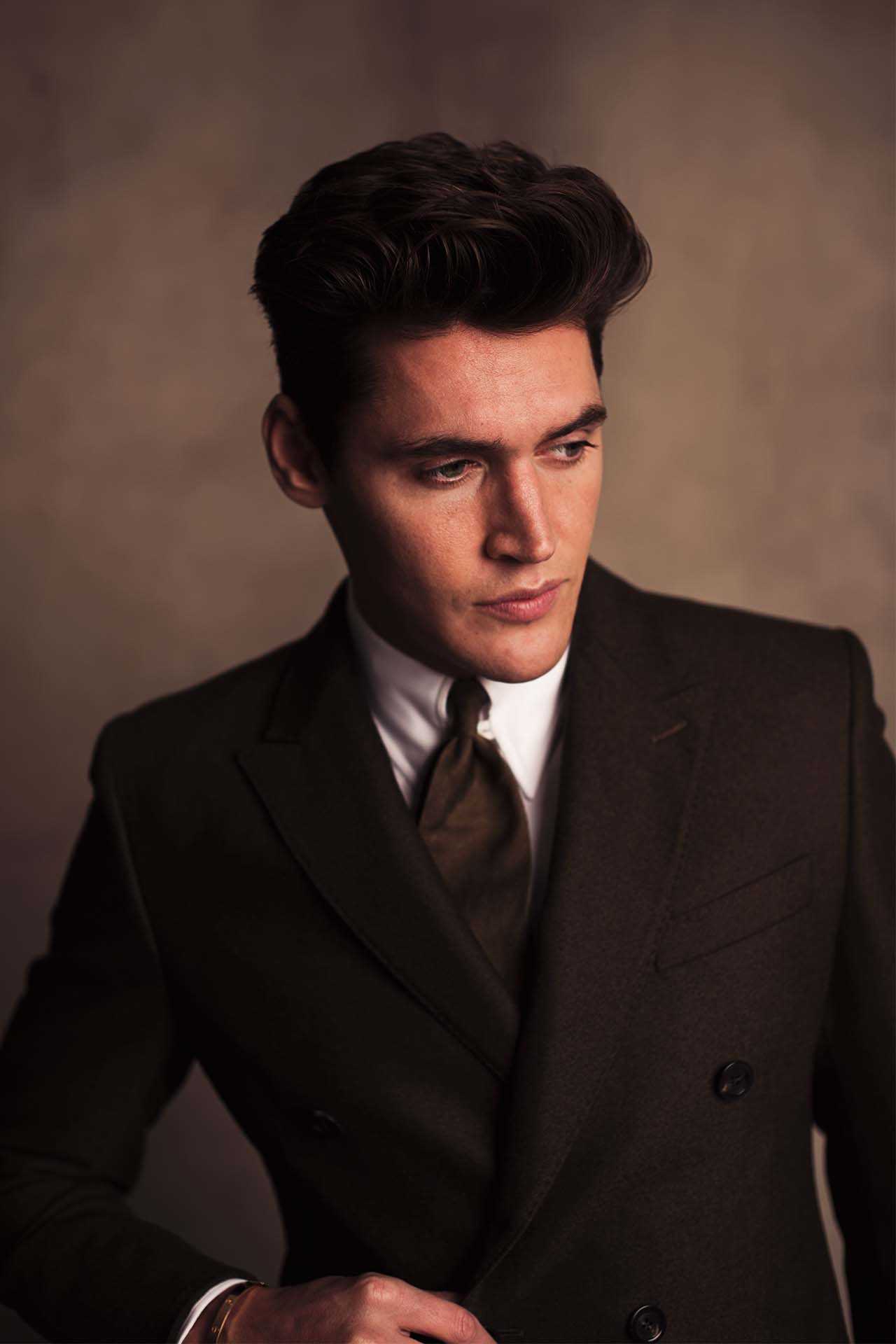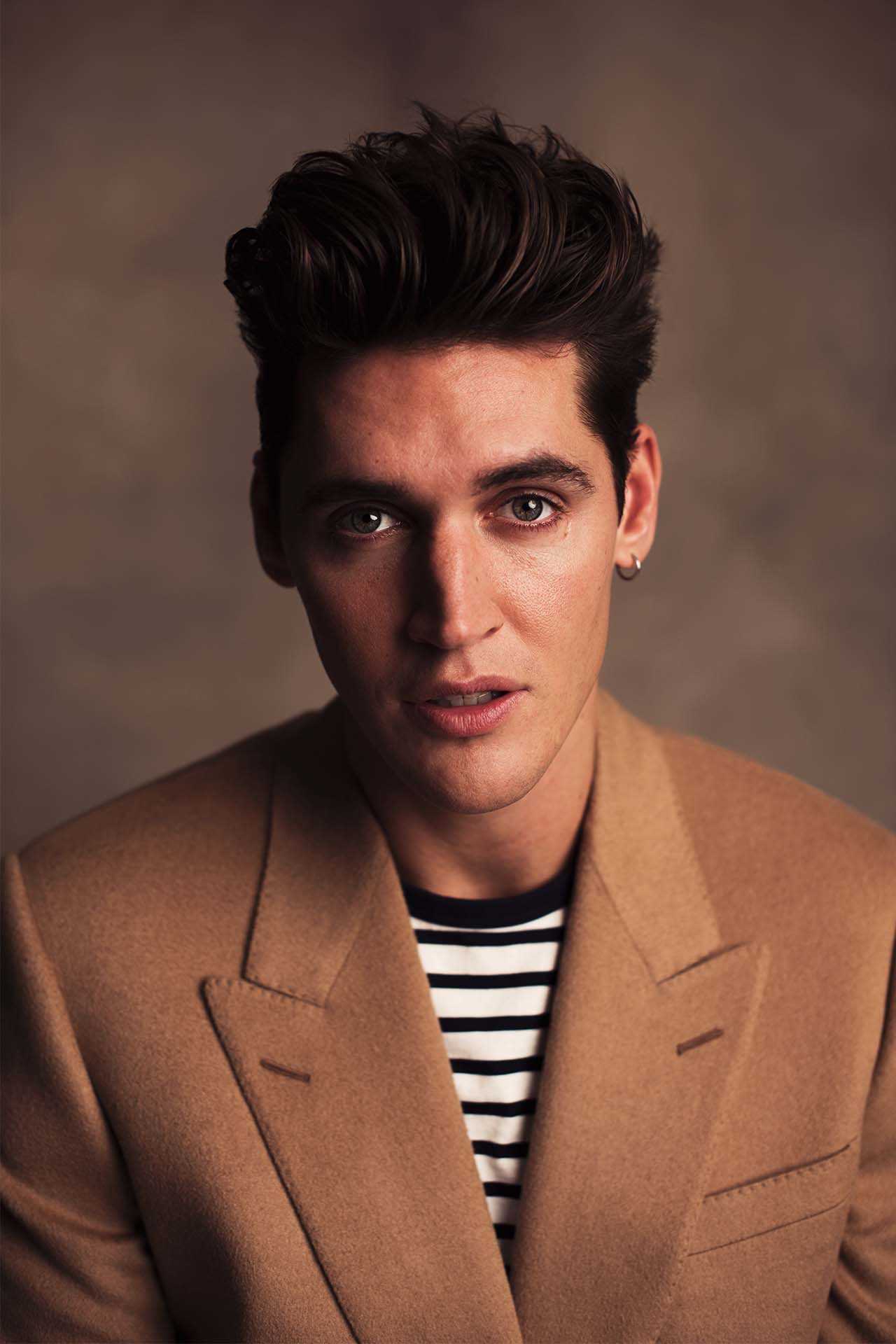 Campaign manager
As it happens, his height and frame were critical to Carew's second vocation. After a stint at Angela Hartnett's Miami outpost Cielo at the Boca Raton Resort and Club, he returned to London and cheffed at a Berkeley Square members' club. It was then, in his early twenties, that he was spotted by an agency scout outside Selfridges.
"I thought I'd model for six months or maybe a year. Ten years later…. The first three months were tough. I'd be going to eight interviews a day. They may call them castings, but they are interviews. This was before the days of iPhones, so you'd have to plan out your day with an A-Z."
And then month four, he landed a Topman campaign. "As soon as I had that, everything else followed. Catwalk shows in Paris and Milan. That's when it became more fashiony."
The list of clients is as long as it is distinguished: Moschino, Valentino, Hermès, Etro, Issey Miyake, Swatch, Reiss, L'Oreal, Oliver Spencer, Zegna. And those were just the ones he could remember off the top of his head.
People thought I was Macaulay Culkin as a kid. I even got stopped in Wood Green High Road
It wasn't just his brands who were impressed by his work: "Isaac is one of my favourite people to photograph," world-renowned photographer Rankin tells me. This is high praise indeed from a man who has shot everyone from Kate Moss to Cara Delevingne, Bono to Bowie. The two have worked together on countless campaigns as well as a front cover for Rankin's own Hunger magazine.
"He's always a lot more than your 'average model'," continues Rankin. "Plus he is the spitting image of a young Elvis. More than anything he's an all-round salt-of-the-earth good person. To be honest, I've always had a little bit of a crush on him!"
The Elvis connection has been one of Carew's calling cards – from the facial structure to the hairstyle; just whack on a leather jacket and call him the King.
It wasn't always the case: "Weirdly, people thought I was Macaulay Culkin as a kid. I even got stopped in Wood Green High Road by two girls and was asked for my autograph, they were that convinced I was him.
"Now I'm older, it's more Elvis or Jonathan Rhys Meyers. Although one time a guy came up to me and said I looked just like a footballer. David Beckham? I joked. Nah – Peter Crouch." They are both tall, I suppose.
A decade of catwalks and campaigns, exotic clothes and even more exotic destinations, and who has been the best designer to work with?
"I've worked with Hermès for four years. I used to do a show every season. I did their campaign once and their lookbook twice, which is cool as they don't usually rebook models after using them. They've ended up being like a family."
My first Times Square billboard was shot by Rankin. I remember seeing my big ol' head up there
Career highlight?
"My first Times Square billboard was shot by Rankin. I remember going to New York and seeing my big ol' head up there."
Was that the moment you thought 'Yes – now I've made it'?
"Nah. My mum thought it was hilarious. There are a lot of hurdles I have to jump over before I reach 'I've-made-it' status." Maybe so, but there's no doubt he's well on his way.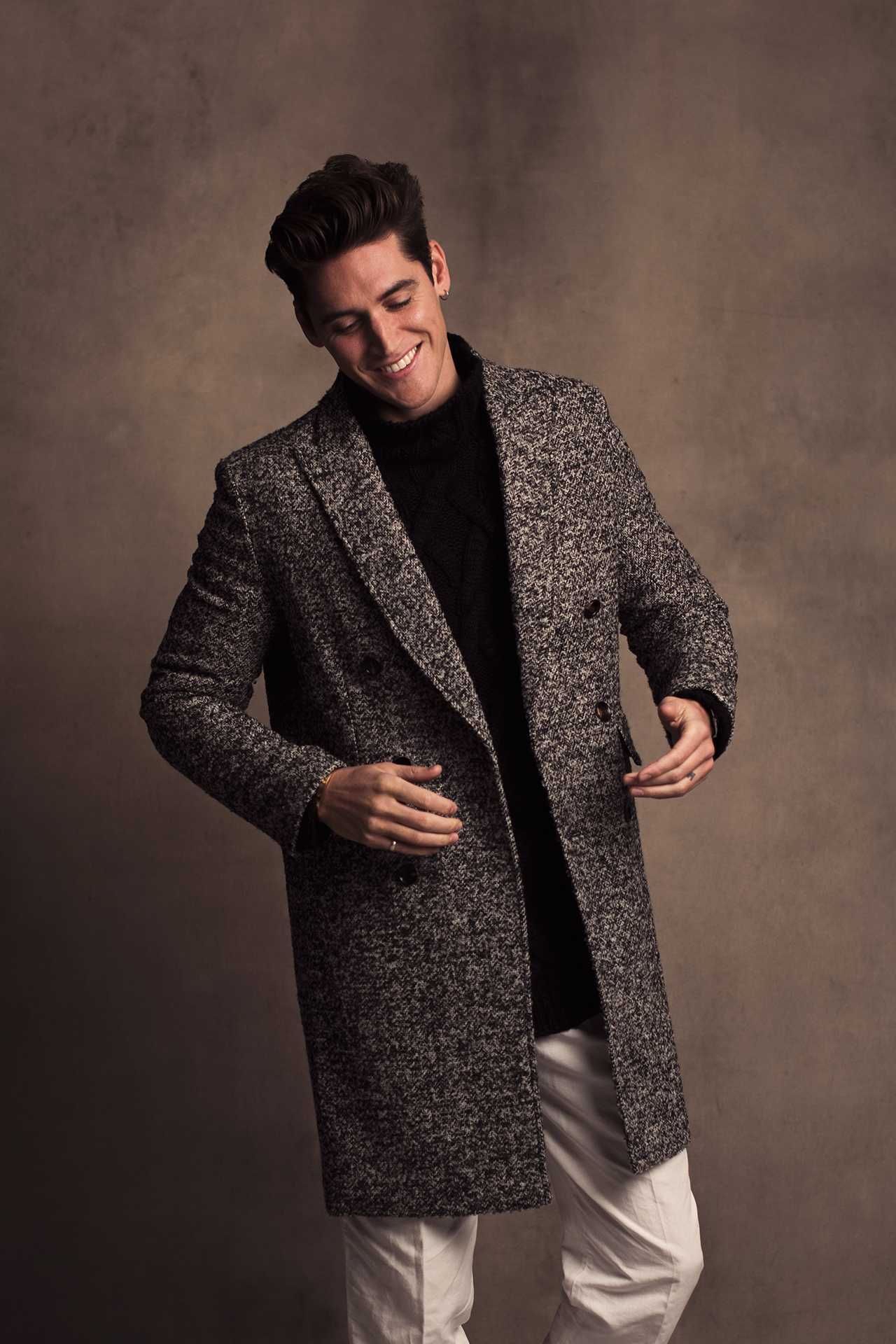 London calling
Carew is keen to settle down. Modelling isn't out of the picture entirely, but it's clear that it's on the back burner. Building the Dirty Dishes brand is now at the top of his priority list.
That, and his home life. He currently lives in North London, and has a new place he's waiting to move into. He freely admits that living a relationship in the public eye is not easy, though. "Sure, it's harder, but it's something we have to deal with. It's just life. For example, if I'm with my girlfriend [Dua Lipa], we sometimes need to have security with us, especially if people know where we're going to be."
His pet peeve is when they're out for dinner and someone interrupts to get a photograph: "It can be a bit weird and creepy. One person pretended to have a reservation and just sat beside us – they had to kick her out when they realised she hadn't booked".
Favourite restaurants include Padella ("just incredible") and Blacklock ("go for the All-In Platter"), but if you do spot them, don't ask for a selfie whatever you do.
Cooking at home is a big thing for the couple. Although he loves cooking comfort food for Lipa when she returns from tour, apparently she's a dab hand in the kitchen, too: "She's taught me how to make traditional Kosovan food – including a fli, this pie that's almost like a quiche. It's delicious."
She's good in the kitchen; can he sing?
"No, I'm terrible. I can't hit high notes. When she sings acapella I can go along with that up until a certain note. When I was young I thought I could sing; now I know I can't."
I've had offers to open my own restaurant. I do really want one, but I don't think now is the right time
No chance of a duet then? "Definitely not."
So, where next for Carew – surely his own restaurant? "I've had offers. I do really want one, but I don't think now is the right time. I have too much to do with the book right now."
In the short term, it's a trip to Courchevel as a guest of Moët et Chandon: "I only went skiing for the first time last year. I wouldn't exactly say I was a natural; my instructor said I had 'more balls than skill'."
Well, it's good to know that he's bad at something. It gives the rest of us a chance.
Isaac Carew's new cookbook The Dirty Dishes is available from all good book stores from 7 March 2019. The new issue of Square Mile is out to subscribers on 5 February, and to City distribution points on 12 February.