Oxymoron is a nice word. A nice horrible word, to be exact. And we, for one, commend the Circa Waves boys for releasing an album that celebrates everything it encompasses: bringing opposites together. 
Happy Sad, the indie rock band's fourth studio album in just seven short years, is being split in two and released at separate times (Happy is out today; Sad later in the year).
Unusual? Perhaps. Clever? Extremely. The record is already making waves in the industry. " With the different ways music is listened to these days, it's interesting to play around with the way you release it," the band told us when we chatted to them.
Formed in Liverpool and representing everything that's good about the northern music scene, the band is made up of Kieran Shudall, Sam Rourke, Colin Jones and Joe Falconer. 
The group talked to Square Mile about scouse creativity, how David Bowie has played a big part in their careers, and the artist they think we should all be watching out for in 2020.  
How did the four of you meet?
Kieran: We met in different scenarios. Sam and I met on a five-a-side pitch and were immediately impressed by the other's skills. Joe asked me drunkenly in a bar if he could play lead guitar in the band – he was a bass player. Colin was our guitar tech and eventually worked his way up to being our drummer. Hard work."
I'm actually from Liverpool myself – I was born in Crosby and lived there until I was 7 – are you all from there?
Joe: Only Kieran is a true scouser. Sam and I moved there for university and stuck around for quite a while after.
How has Liverpool influenced the music you make?
A lot, it's a huge part of Kieran's songwriting and lyrics and because it's such a huge and iconic music city, it was always inevitable that it was going to have an impact on the kind of songs we made. 
Sad Happy is your fourth album in seven years – how does it compare to the last three?
Sam: It's our best yet. I think we've really distilled what the Circa Waves sound is on this record and we've had an opportunity to experiment with what that means.
Does it seem mad that this is the fourth one?
It does, it genuinely feels like yesterday we were releasing [our first studio album] Young Chasers.
What was the inspiration for creating an album like this?
It's the next stage in the progression of our sound and that came quite naturally. Inspiration comes from lots of places, quite often from other artists that are nothing like Circa Waves. You can hear a wide range of influences on the record but still with our distinctive sound.
Can you explain the split – why do it like this, and why release the two halves individually?
There's a song on the sad side called 'Sad Happy' and when we were talking about album titles we realised that you could kind of split the songs in two categories, and we went all-in on the idea and decided to release it separately. With the different ways music is listened to these days, it's interesting to play around with the way you release it.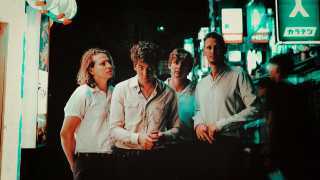 Will you be touring the album as a whole, rather than in halves? 
When it's all out we'll play everything together but until the release of Sad we'll play a few songs off of Happy, yeah.
What artists have inspired you guys to get to where you are today?
There are the people who've inspired us to pick up guitars like the Foo Fighters, then there are those who've inspired us to write songs like Joni Mitchell and, of course, people like David Bowie who have shown us and everyone else that it's possible to constantly evolve and keep your music interesting.
'Jacqueline' really seemed to take off and had a lot of people talking – what's the story behind it, and its horror-esque music video?
It's an ode to Kieran's cousin and all single mothers really. The video is completely unrelated but it's definitely our favourite video we've ever made. The director came to us with the idea for a killer conga line and we knew that we had to shoot it.
What's been your favourite collaboration to date?
We've loved working with Alan Moulder on two of our albums. He's made some of our favourite records and he's incredibly nice as well; in between takes he'd very graciously answer questions about working with people like Smashing Pumpkins.
Are there any artists you think we should be watching out for this year?
Brooke Bentham is definitely someone we'd recommend – everything she makes is worth listening to.
You can listen to the Happy half of Happy Sad here