You're playing in several venues in Ibiza this summer, do you have a favourite?
Yeah so I've been twice already. It's been good so far, it's going to be an incredible year if the two gigs I've already done are anything to go by. The first one I did this year was for David Guetta, he's got a night called BIG that he does at Ushuaia – that was very cool. A couple of days ago I did a gig, Dimitri Vegas and Like Mike they have Tomorrowland branded event that they do so that was – very cool because I'm playing Tomorrowland's main stage this year again, so yeah very cool two amazing gigs so far. Also doing Hi and then there's a couple of Cafe Mambos in there as well.
I'd say for me Ushuaia is a favourite. I never got to go to Ibiza in the 90s – I would have loved to have done. However I feel like Ushuaia captures that space and vibe with the terrace which would have originally been all open tarp and gives you that real sense of being in Ibiza, seeing the planes fly over and clubbing at the same time. So yeah, probably Ushuaia.
Tell us your best Ibiza story…
So I celebrate my birthday in Ibiza, seems like for the last three years running – it's in August so it works out well to throw it in Ibiza. The first one was at a villa we had, it was owned by a German porn star and it very much reflected that – that was very cool. [Gestures to his manager.] He jumped from the roof into the pool, it was a great party. So every year we try and top that.
How do you look after yourself going a season in Ibiza?
Just drink as much as you can! No I'm joking. To be honest no, there isn't anything. There's great food there, that does really help my hangovers.
My first gig was my best friend Rachel's birthday party on Halloween. I got £50 for it. My whole setup broke on that night!
How was working with Rita Ora and Tiësto on the new single 'Ritual'?
It's been an incredible experience working with Rita. I've always wanted to work with her, she's such a performer and she can really convince with any song that she sings. When I was writing 'Ritual' I had her in mind for it. I felt like she could get the song across in the best way possible. The song kind of got a little bit of that Madonna influence as well in the chores with the ritual being like a prayer in some way.
I actually met Tiësto for the first time last year when I was performing at Live. I had already written 'Ritual' and I sent it to him, hoping that he'd like it. He loved it and he asked who I wanted to get to sing it and I was like, 'Rita'. It all came together.
Who inspired you to become a DJ?
Ummm, my cousin was the first person. He wasn't a DJ, he was like a really terrible garage MC. He used to go round to his friends' and record cassettes, play music and do some 'MCing'. One day he asked if I would go and pick him up with my auntie, his mum. I saw the deck and it was like a lightbulb moment. I was like, 'whatever this is I have to do it'.
Around the same time I started watching this program called Club Reps. As much as it wasn't a great show or a great side to Ibiza, it would show elements where you would see Carl Cox, Erick Morillo or Roger Sanchez DJing in the clubs. I was just like, 'wow what is this?' It all came together at that point.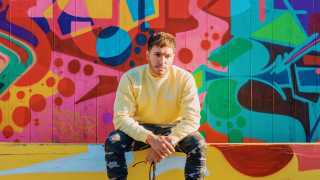 Do you remember your first gig?
Yes I do! My first gig was my best friend Rachel's birthday party on Halloween. I got £50 for it. My whole setup broke on that night! It all blew, all the speakers blew, everything! It was tough.
Worst gig?
One of my first gigs as Jones Blue in Mexico City. I only had Fast Car out at the time and we were performing at the Azteca Stadium, this legendary stadium where Pele scored that goal in the 1970 World Cup. So – legendary stadium, it was raining and everything got soaked. It cut out three times during my set! They had to keep taking me off and then reintroducing me!
Did you always want to be a performer, as opposed to someone producing behind the scenes?
Yeah I've always kind of wanted my mug out there. I've always wanted to be in the forefront as an artist and performer. It's been the case where DJs have never really wanted it and have kept quiet, just stood behind the decks. But I'm not really like that. I like to engage with people and I want to get involved.
I would love to do a collaboration with Shawn Mendes. On a DJ level, probably Calvin Harris
If you could collaborate with any artists, who would they be?
I always say it but at this moment in time, in terms of songwriter and incredible artist it would be Shawn Mendes. I would love to do a collaboration with him. On a DJ level, probably Calvin Harris. He'd be amazing.
With a relatively quick rise to fame, what do you do to switch off from it all?
It's quite hard. The only way I can really take it all in is at home; just sitting at home, watching Come Dine With Me, or sitting in my amazing new studio that I've just built and being like, 'wow. How did we get here?' It's quite incredible, the last four years it's been quite a journey.
On the road you're meeting all different people and you move at the fastest pace possible. And it's quite hard to take it in like that. I did one thing the other day: I stood at the front of my house on the drive and just looked at my house like, 'what the fuck? This is mental!' I wanted to run around my garden naked... but I didn't.