There's a murky warehouse and in the centre of the warehouse falls a perfect cone of light, white as the moon, and in this white cone paces Olajide Olayinka Williams Olatunji, a charismatic 27-year-old known to his friends as JJ and his social media followers as KSI.
I won't speculate on JJ's friends but KSI has 33.8M subscribers on YouTube alone: 22.6M on his personal channel and 11.2M on Sideman, a sort of YouTuber collective made of seven friends who used to play video games together and now have their own clothing line. The Late, Late Show, for which KSI is filming a performance of his new single 'Patience', has 26.2M YouTube subscribers; BMG, the record label KSI shares with Kylie Minogue, Lenny Kravitz and Keith Richards, has 11,000.
The first chords crash over the sound system. "Little bit, little bit, little bit... I need a little bit of patience… Cos we be going through changes…" The gloom moves with various crew members, talented and no doubt delightful people transformed into the flitting shadows of nightmare. More people huddle in the adjacent office, staring at computer screens, picking at snacks. Midway through the performance, a circle of fire encircles KSI. The flames blaze for thirty seconds and then switch off.
KSI runs through the track one, two, five, six times. "Little bit, little bit, little bit... I need a little bit of patience…" The line "seen a lot of shit to make me hate" must be changed to "seen a lot of ssh to make me hate" for delicate American ears. On one recording, KSI forgets this change and his voice, loud, ebullient, booms into the office. "I fucked up! I fucked up! I said 'shit'. I fucked up, I'm sorry!"
'Patience' is the second single of KSI's second album All Over The Place: the first 'Really Love' (ft Craig David) reached number three in the charts. In January, 'Don't Play', a collaboration with Anne Marie, reached number two in the charts. Team KSI are very keen for 'Patience' to reach number one in the charts. Hence the acoustic video: views of the official video for a single and views of an acoustic video for the same single both count towards that single's chart performance. The more music videos an artist releases, the better their chances of achieving top spot. Although people need to watch these videos; otherwise you're wasting time (which is yours to waste) and money (which may not be).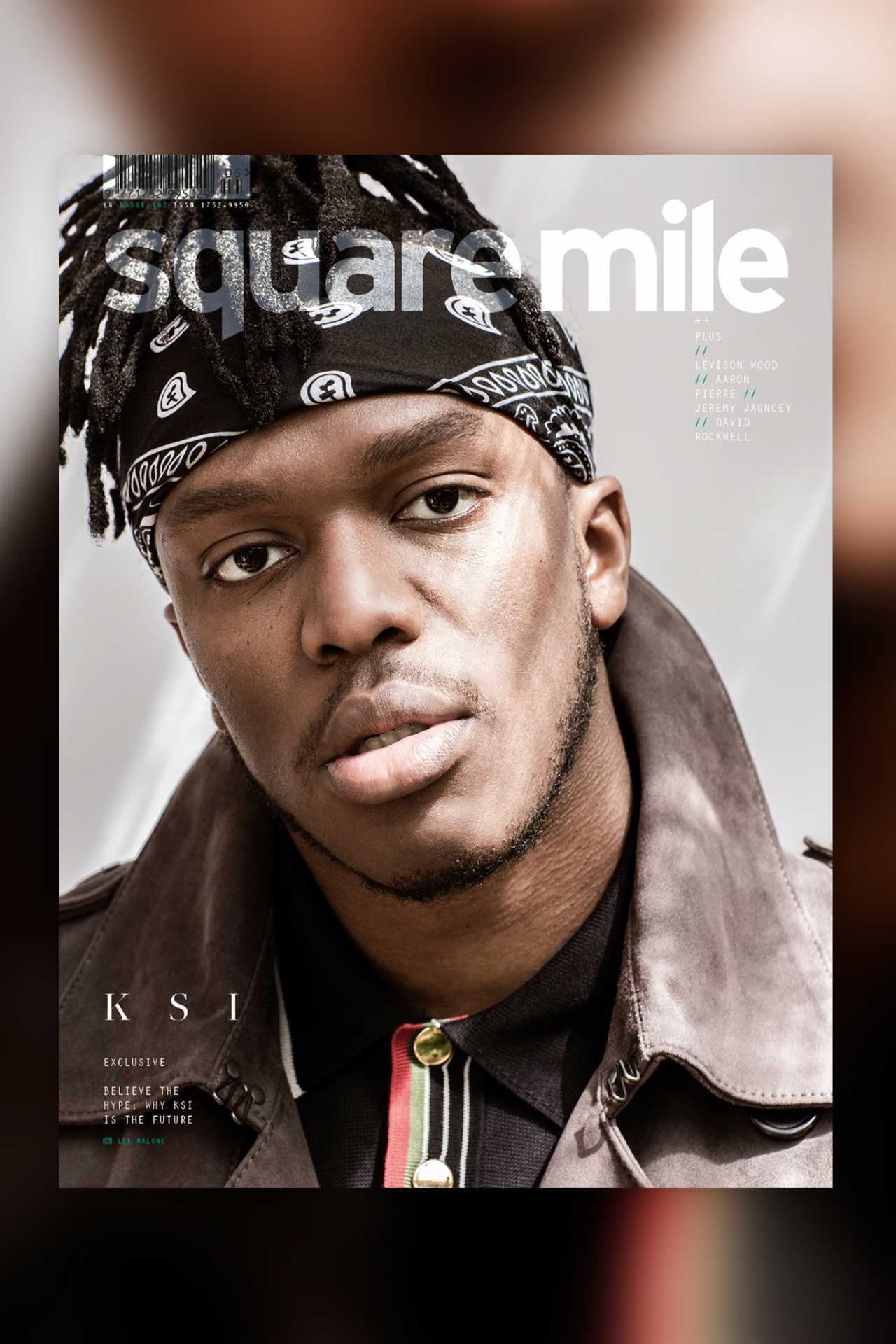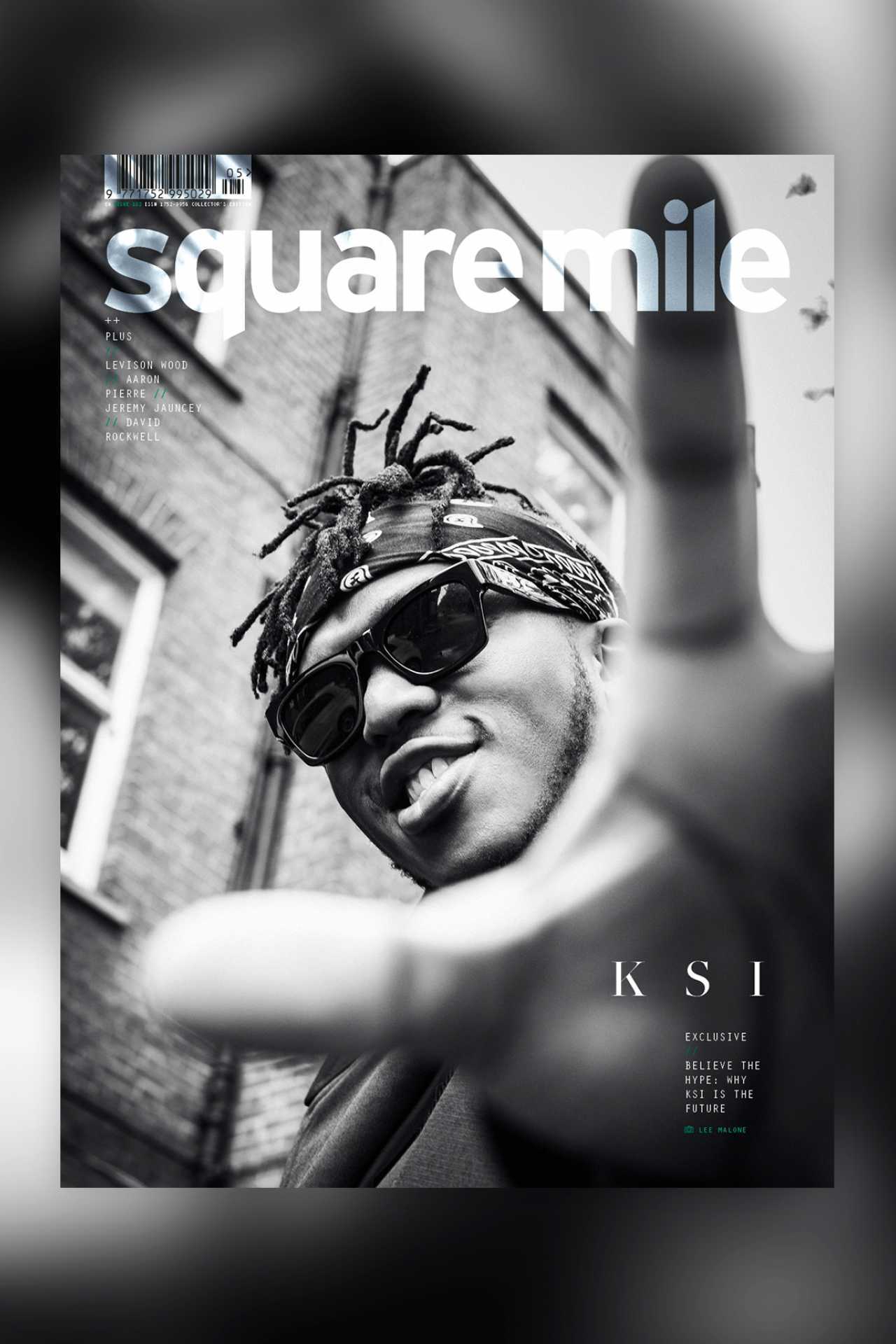 Subscribe to the print edition
In the four days since its 15 March premiere, six million people have watched the official video for 'Patience'. That's good enough for number three on the midweek charts: the acoustic video could well push KSI to the top of the podium. "Unless Adele decides to drop a new track," notes one of the team in the office. Everybody chuckles. A bit.
In the break between recordings, I pop upstairs to the dressing room to say hello. He's a friendly, engaging presence, quick to laugh, no apparent ego – impressive for somebody whose blue Gucci jacket is being steam-dried quite literally as we speak. The PR, a very lovely man named Harry, is concerned KSI will change his hair between our cover shoot and the publication of the magazine. Currently it's black; yet when KSI filmed Celebrity Bake Off his hair was red. KSI assures us he has no plans to change his hair.
We discuss his appearance on Celebrity Bake Off. One of his tasks was making fondant fancies; a little unfair considering fellow contestant Anne Marie was given scones. Fondant fancies are harder than scones, claims KSI. The standout moment of the episode occurred when KSI somehow placed his cherry lattice pie on the cake stand upside down. He stared at the bottom of the pie in silent dismay, quipped "this might have been a bad decision" and then sank to his knees to the delight of host Matt Lucas, who grinned like a man fully aware another viral moment had just been ticked off. The YouTube clip has clocked up more than three and a quarter million views at the time of writing.
Questionable culinary skills aside, Bake Off ft KSI – or should that be KSI ft Bake Off? – proved a sizeable hit. Viewers liked him, which isn't surprising because KSI is very likeable, possessing the rare ability to evaluate his successes and failings with equal balance and candour. "I'm just me," he will offer when we meet a second time. "It's not like I'm trying to be someone. I've had phases in my years when I've tried to act a certain way or tried to be a certain way. But it's so much easier just to be me. I've just been me this whole time."
The identity of that 'me' varies from day to day. This variance is personal (like all of us) and professional (slightly more unique: few CVs contain both 'professional boxer' and 'chart-topping musician'). Hence the title of his album. "As a person I am all over the place. There isn't a specific sound for me. There isn't a specific flow. I can kinda do it all. Jack of all trades – you could say I'm a master of none, but I definitely feel like it's kinda cool to be a jack of all trades.
"Just to be able to do a drill song or do a pop song or do a dance song or do grime. All these other random genres. I think it's cool to be able to bounce around. As long as you're making good music that people are happy to listen to, I think that's what matters."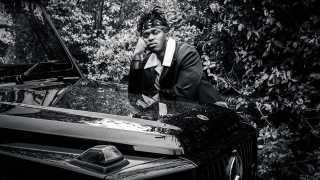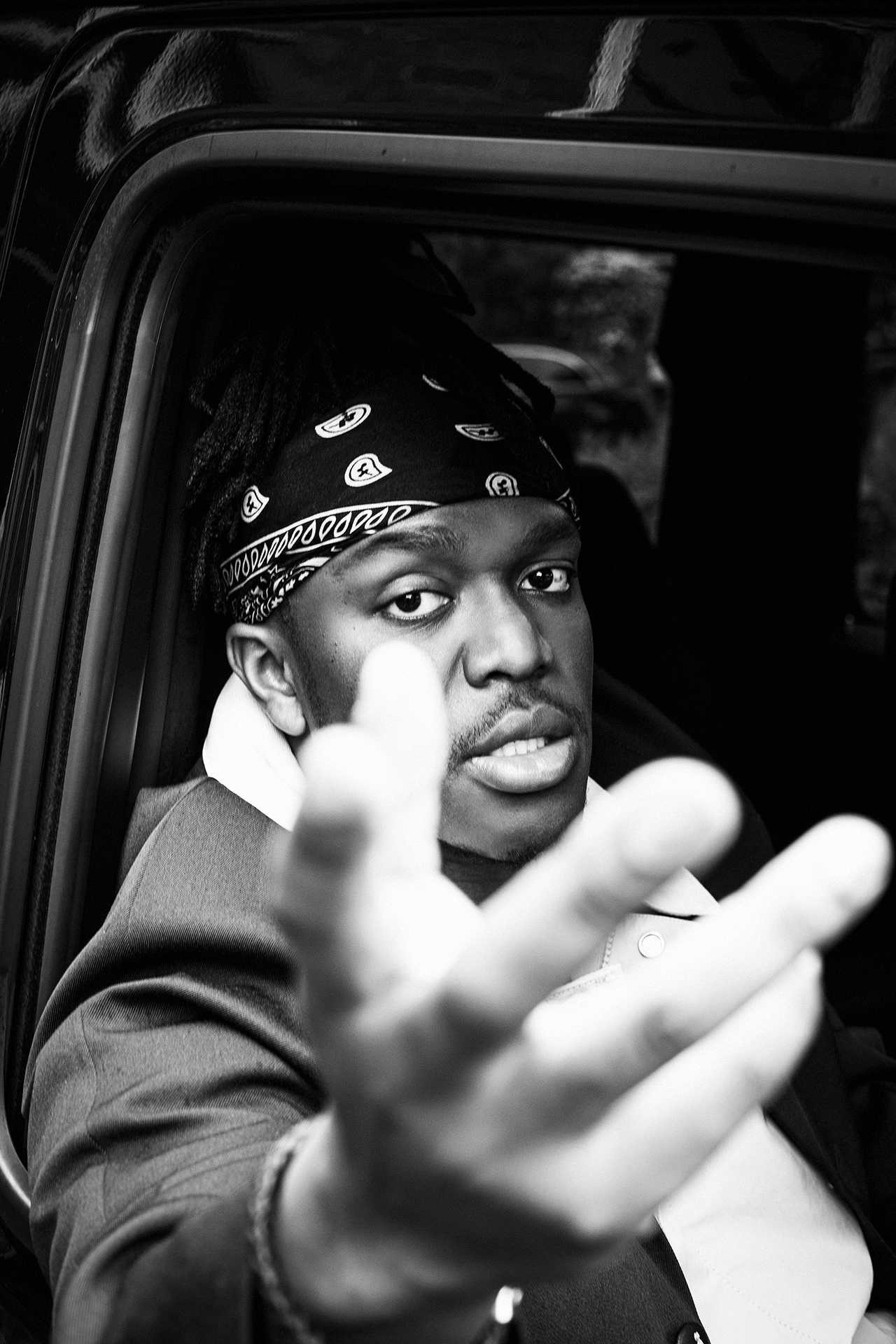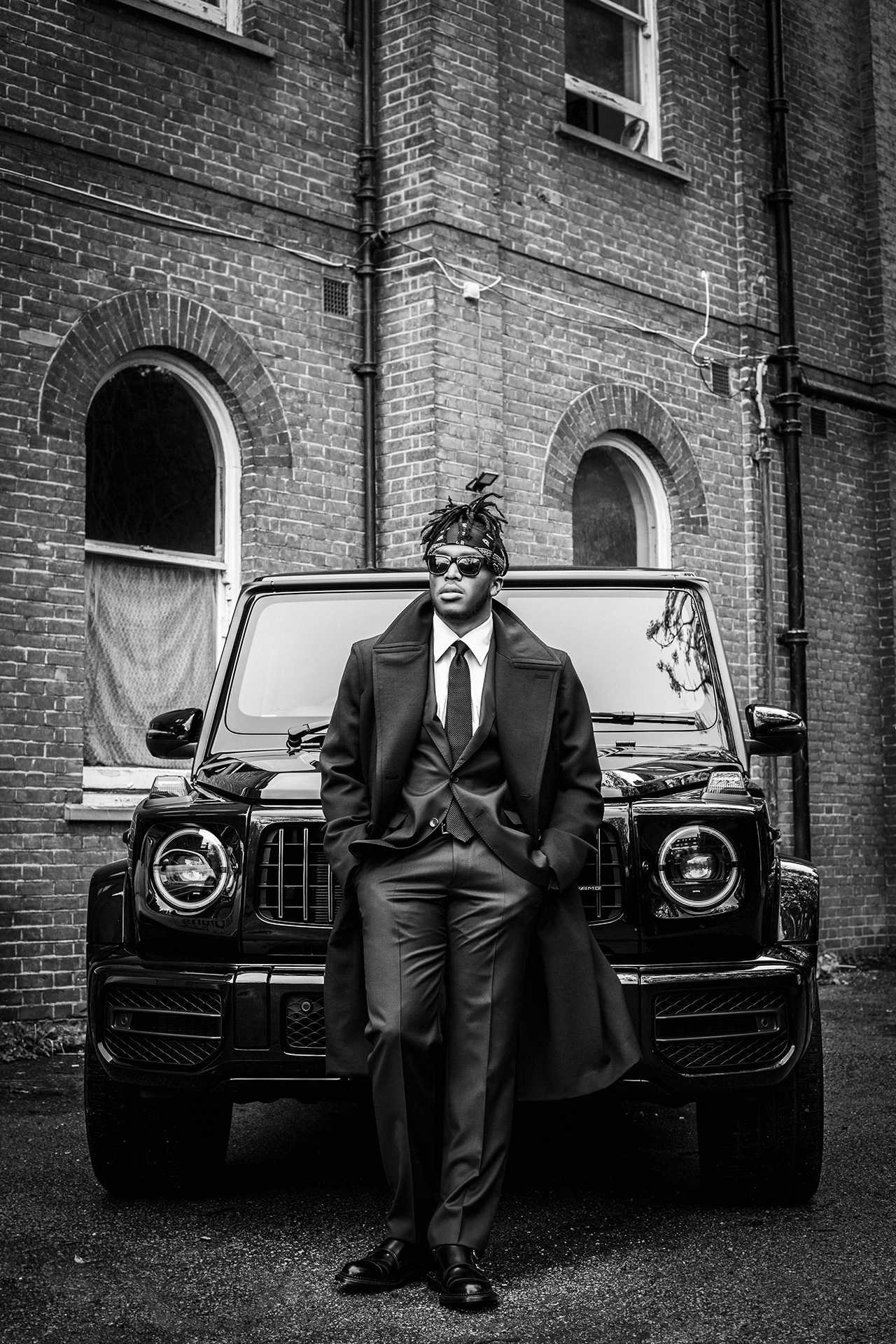 For now, KSI is very much in music mode. His enthusiasm for the album is palpable – "I've found a product that is way beyond anything that I thought I could do" – and he's confident its success will confirm his arrival as a major player in the industry. Fittingly, All Over The Place bounces between genres, reflecting its creator's peripatetic nature – and his business acumen. In the age of streaming services, "people rarely listen to an album all the way through. They just go, 'which songs are the best? Which songs will I like?'"
Making an album for everyone is particularly shrewd when the listener could be anyone. The KSI fanbase is spread across numerous demographics. "I've created this audience that is everywhere. I don't have a niche audience. I have an audience from the boxing, from the YouTube, from my Sidemen group. From all these things and all the collaborations I've done. There are so many ways of people finding out who I am."
In the coming days his appearances on Bake Off and The Late Late Show will screen to millions on both sides of the Atlantic. 'Patience' will chart at three, his next single 'Holiday' – a solo effort – will go one better at two. June sees the announcement of a new promotional company in partnership with Wasserman Boxing. Oh, and 17 July brings The KSI Show, a globally streamed event combining musical performances, superstar guest appearances, comedy skits with Jonathan Ross, acrobats and sponsorship by Dan Bilzerian's Ignite cannabis brand.
"This is a once-in-a-lifetime experience," promises KSI. "Ya boy is gonna take you all on an adventure that will be remembered for years to come. I'll be taking you through my journey from being a YouTuber to a boxer to a musician and more. This experience has everything. Mainstream meets the internet in a way never done before."
Yeah. That sounds about right.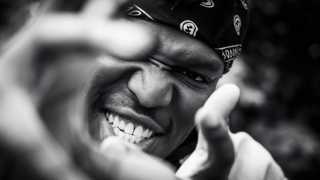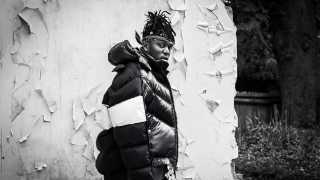 Identity
A few years ago you might have read that opening section in a state of mild bemusement: OK, there are a lot of big numbers, but who is this KSI and why am I reading about him in my favourite magazine? (Clue: the answer can be found in the previous sentence.)
And I would have told you that KSI is a YouTuber: someone who makes videos of themselves and uploads these videos onto YouTube, videos such as makeup tutorials or pranks or in KSI's case videos of him playing video games, primarily FIFA.
And you would frown and ponder, 'is there money in YouTube?'. Very much so. KSI dropped out of sixth-form after discovering his monthly income surpassed that of his teacher. His videos were getting enough views to earn approximately £1,500 per month from advertising. That was a decade back. They earn a lot more now.
I hate just sticking to one idea or one project the whole time. Because eventually I lose my way
But in 2021 it's a relatively safe assumption that you will have heard of KSI. You mightn't be aware of the exact numbers – here's another: the total views for his videos are approach nine billion – and the biographical specifics might be hazy – born and raised in Watford; parents supportive and loving; younger brother Deji also a YouTuber – but you'll probably be aware of the name, or rather the pseudonym. (Which he stole from a Halo clan – "now the clan hates me because everyone thinks they're KSI fanboys!")
His songs occupy the upper echelons of the charts. (The past four singles placed three, two, three, two.) His baking mishaps delight the nation. His two boxing matches with rival social media sensation Logan Paul were bonafide crossover events that may have changed the sport forever. Calling KSI a YouTuber is akin to branding Donald Glover an actor or Rihanna a singer. These are people of multitudes; evolution is their nature.
"I can't do one thing forever. I have to switch it up," says KSI of his mindset. "I hate just sticking to one idea or one project the whole time. Because eventually I lose my way or I have to work on something else. I feel like that's also helped my longevity in the space. I know a lot of people I grew up with and started this whole YouTube thing, haven't been as successful as me because they struggled to change, they struggled to adapt. Whereas for me, I easily adapt to everything."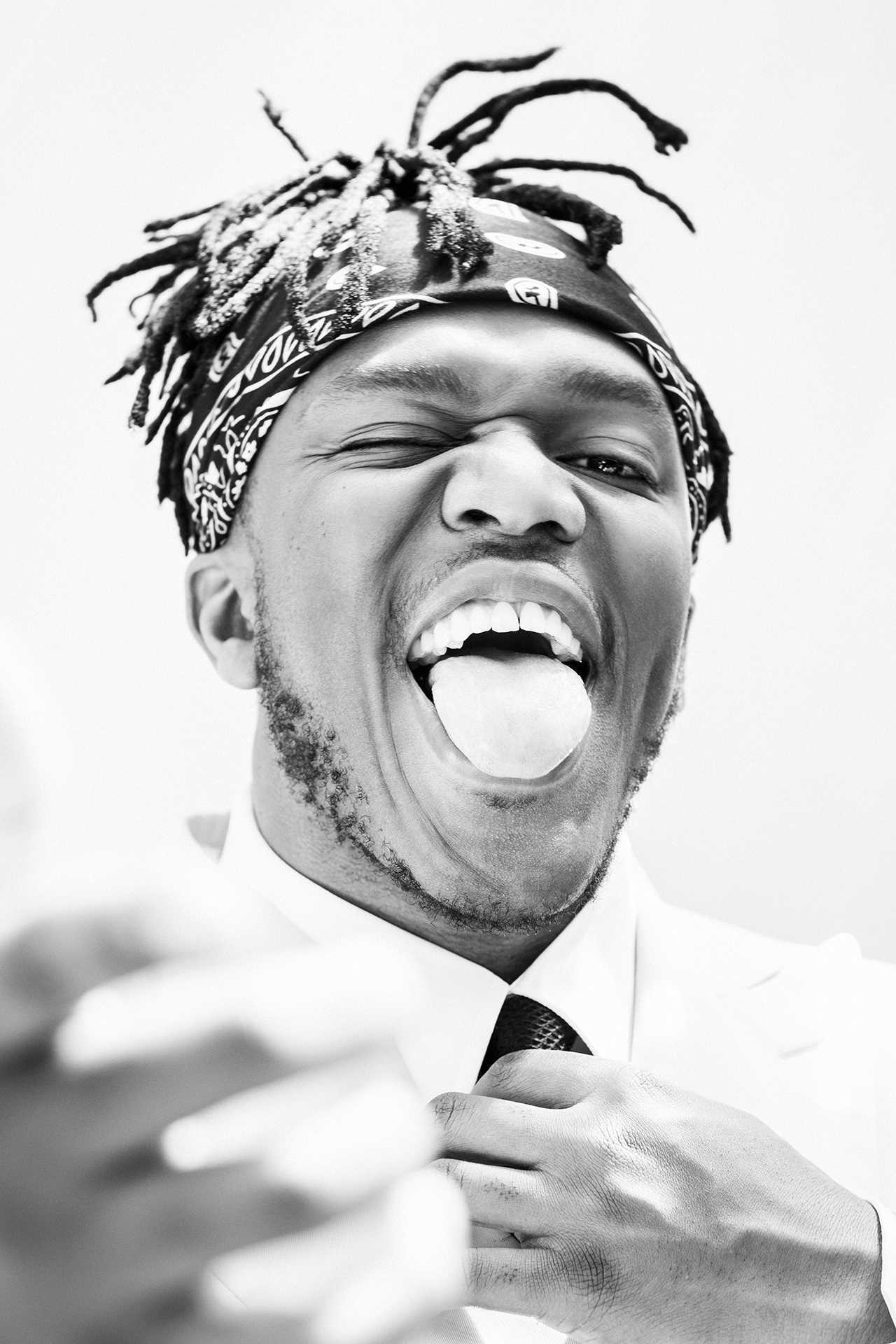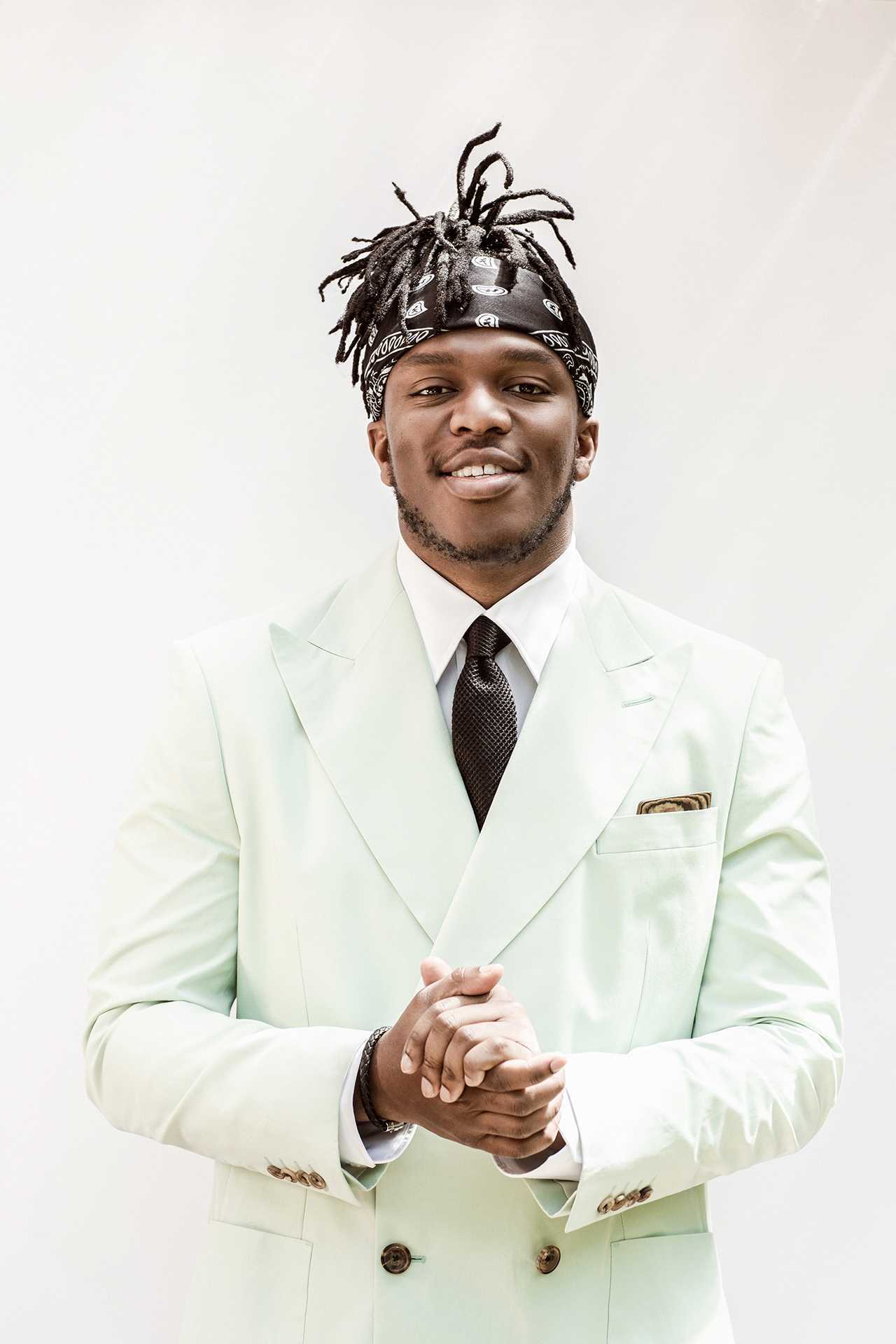 Growth
Two months after our first meeting, I'm watching KSI attempt to sink a basketball on an abandoned outdoor court. There's a group of us bunched on the veranda of the spectacular North London house that hosted the recent photoshoot. The spectators observe from a distance as KSI lines up his angle.
Swish! Nailed it on take two.
He lets out a triumphant roar and high fives the cameraman – for naturally there is a cameraman – while we spectators applaud. It's the final act of an afternoon that has incorporated multiple outfit changes, a Mercedes Z-Class that could belong to the A-Team, and one very happy photographer. "Fucking awesome, man," Lee tells me, and looking at the pictures it's hard to disagree.
Then KSI and I retire to the kitchen and I listen as he attempts to explain what it is to be him. Occupy a space in the cultural landscape that nobody has ever occupied before. Be a genuine pioneer, the very first – what, exactly? YouTuber, sure, but also a musician, a sportsman, an entrepreneur, promoter, whatever the hell might come next.
[Director: Lee Malone | DOP Ben Garnett]
"You never know what to expect," confirms the man himself. "That's why my audience are so intrigued and so excited to see what I do. You don't know what to expect from me. One minute I'm doing FIFA videos, the next I'm in a ring in front of thousands of people. Next year I'm going to be performing at Wembley Arena. You don't know what to expect from me. I feel that's what draws people to me – because it's just interesting."
He's right: it is interesting. Even if you have zero investment in KSI the brand, or the human, it would require a grey and dismal intellect not to be at the very least intrigued by the trajectory of this truly modern phenomenon, an entirely self-constructed rocket that has launched itself among the stars fuelled by charisma and entrepreneurial can-do and an uncanny ability to decipher the code of the zeitgeist or perhaps make it up as he goes along.
Nobody knows what KSI will do next – least of all KSI. There's never been a blueprint, a checklist of industries to conquer, poles to climb. He didn't start making gaming videos with the ambition of becoming a celebrity multi-millionaire. He did it because he liked video games.
"There was a little community where everyone else was posting gaming videos I thought it was dope! I like playing games, I'd always play games as a kid. To be able to post that and have other people see me playing games? I was like, 'holy shit, that's insane!' I just thought it was really cool and so I did it. Pretty much the same with everything.
"I didn't have a mindset and go, 'this is the destination I want to get to.' Nah, man. It all started with me having fun and enjoying myself. That's what's got me to this point here: I'm just enjoying myself. I'm having fun. I feel like the moment I stop having fun is the moment you won't see me anymore!" He laughs. "In life, that's what it's all about: happiness. If you're not happy doing something, why do it?"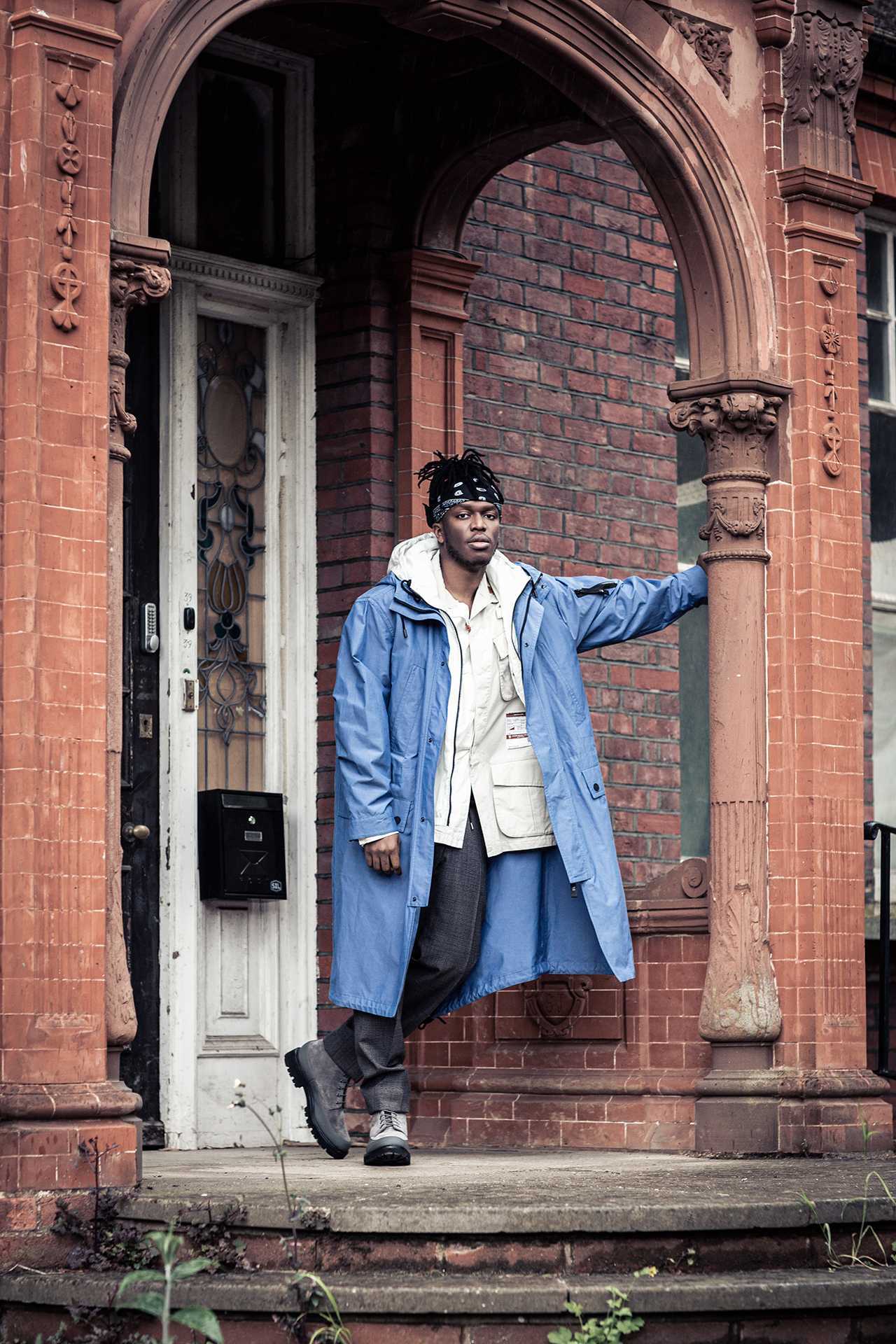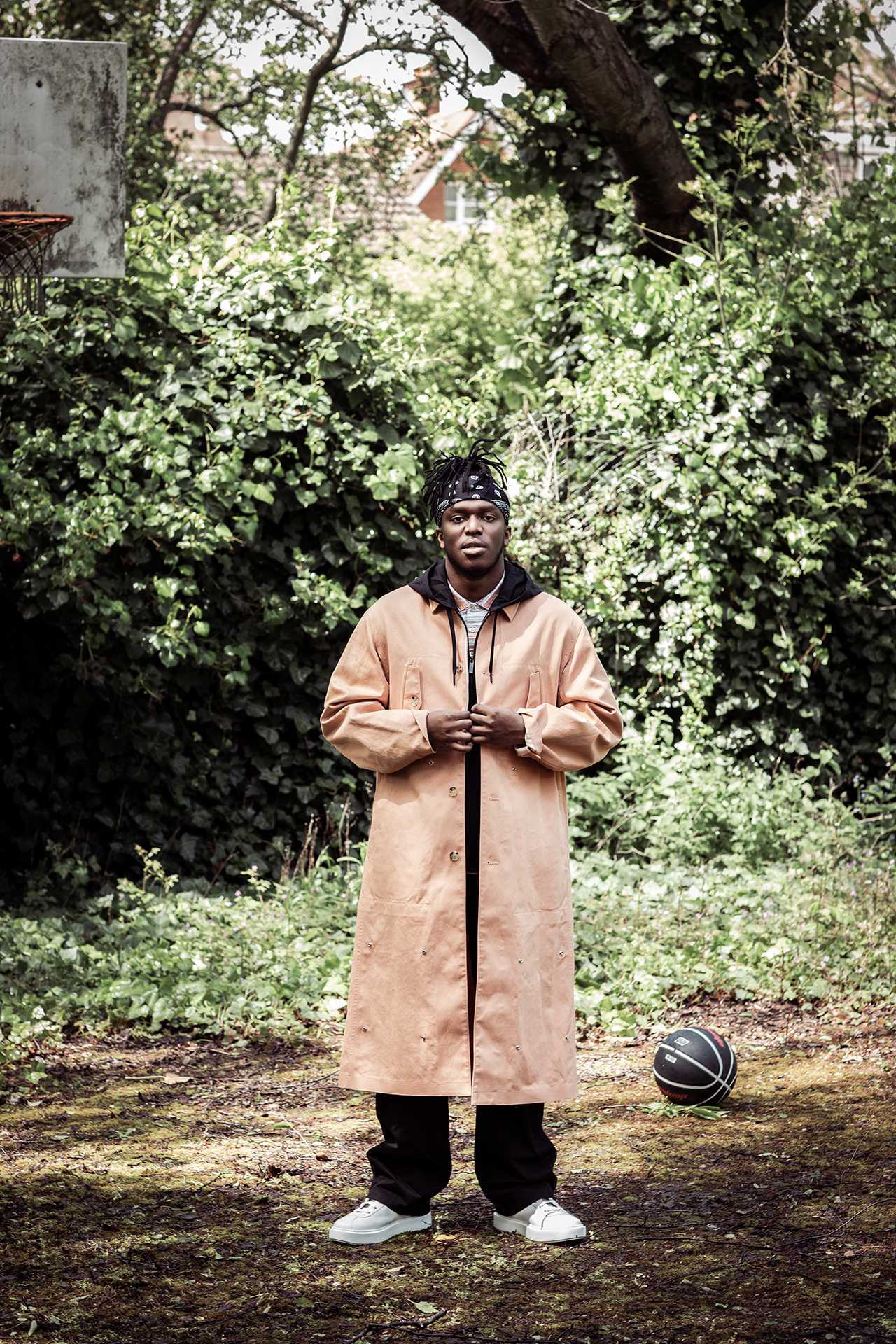 And why do something when you can do everything? The refusal to be pinned down or pigeonholed was evident from the very start. He didn't stick to gaming videos but diversified his content to include pranks, vlogs, comedy sketches. His persona was brash and exuberant; the joker of the class, the kid your parents didn't like and everybody wanted at the party.
Yet when he wasn't recording, when the cameras weren't on so he didn't have to be either, the teenage JJ was a huge introvert. "I'd struggle to even talk to a female," recalls KSI of his younger self. "I'd say hi and then I'd just start sweating. Have to leave. Yeah, man. It's so funny – my girlfriend is introverted. It's flipped. I'm super extroverted in general. She's super introverted.
"I still have my introverted moments. If there's a load of people in a room and I walk in, I'm not really going to go over and talk to people. I'll keep to myself. But if you talk to me, I'll talk to you. That's just it."
He credits the use of dating apps such as Tinder with helping him overcome his shyness. (I won't speculate on the ratio of subscribes to swipe rights but when the latter are measured in the millions one assumes the former takes care of itself.) Not forgetting the simple yet unspeakably complicated process of growing up and into a person whose skin you can comfortably inhabit.
"I definitely feel that now I'm more myself. Back in the day, I'd say I was a lot more wild. I thought I had to be a certain person online. Whereas now I don't have to act cool, be cool. I can just be me. I can be a loser at times. I'm not going to be perfect all the time. But that's OK. That's just me. That's just life!"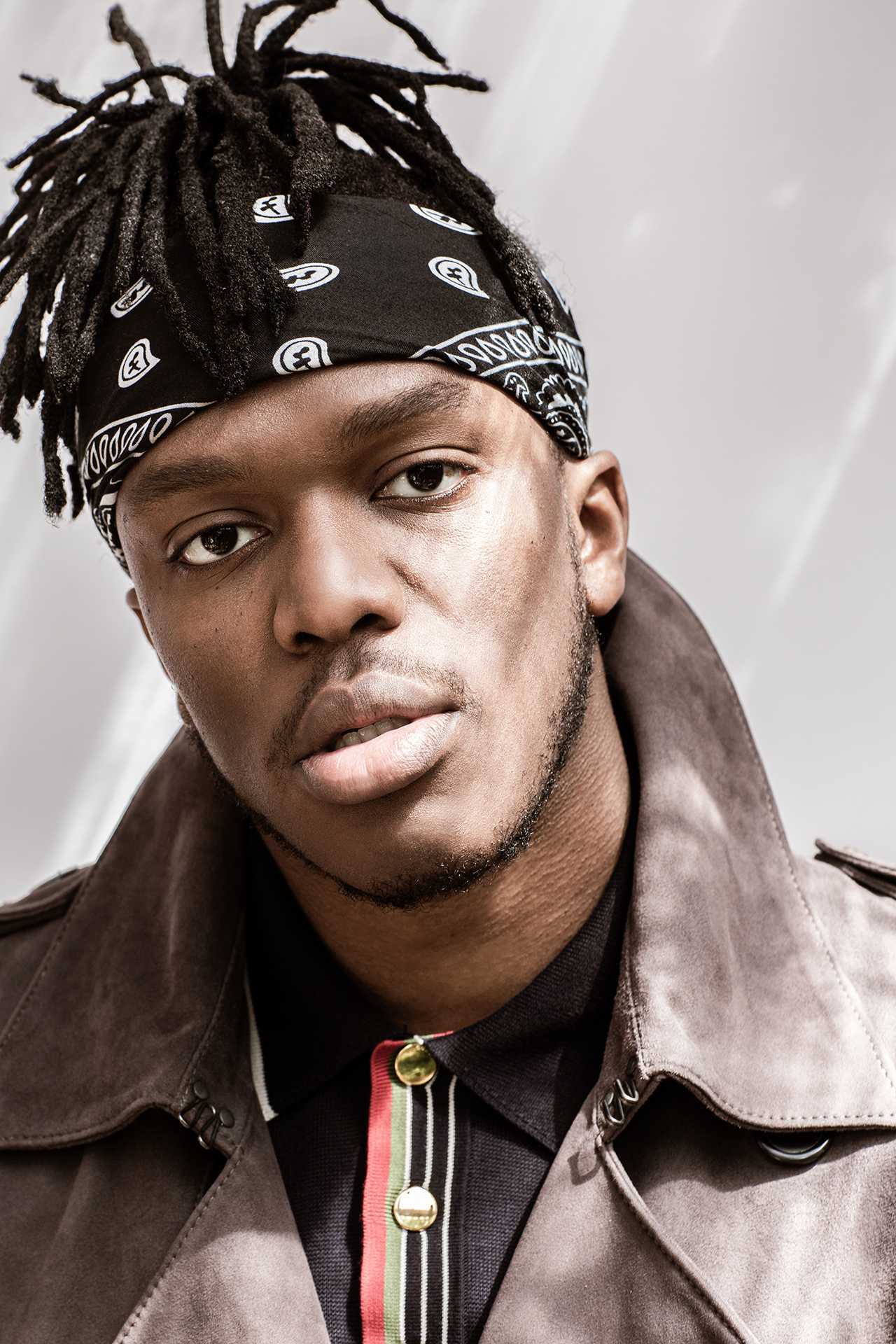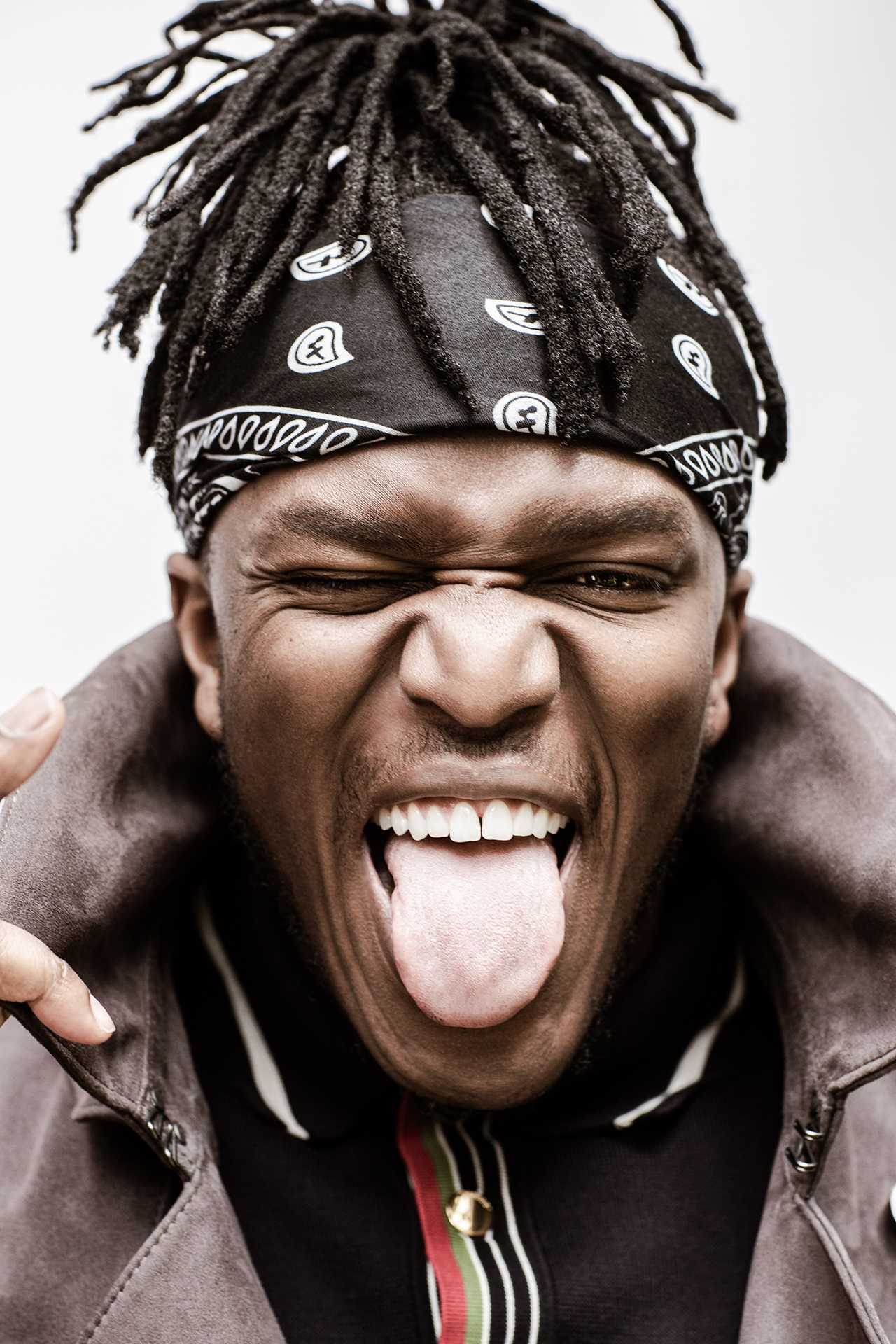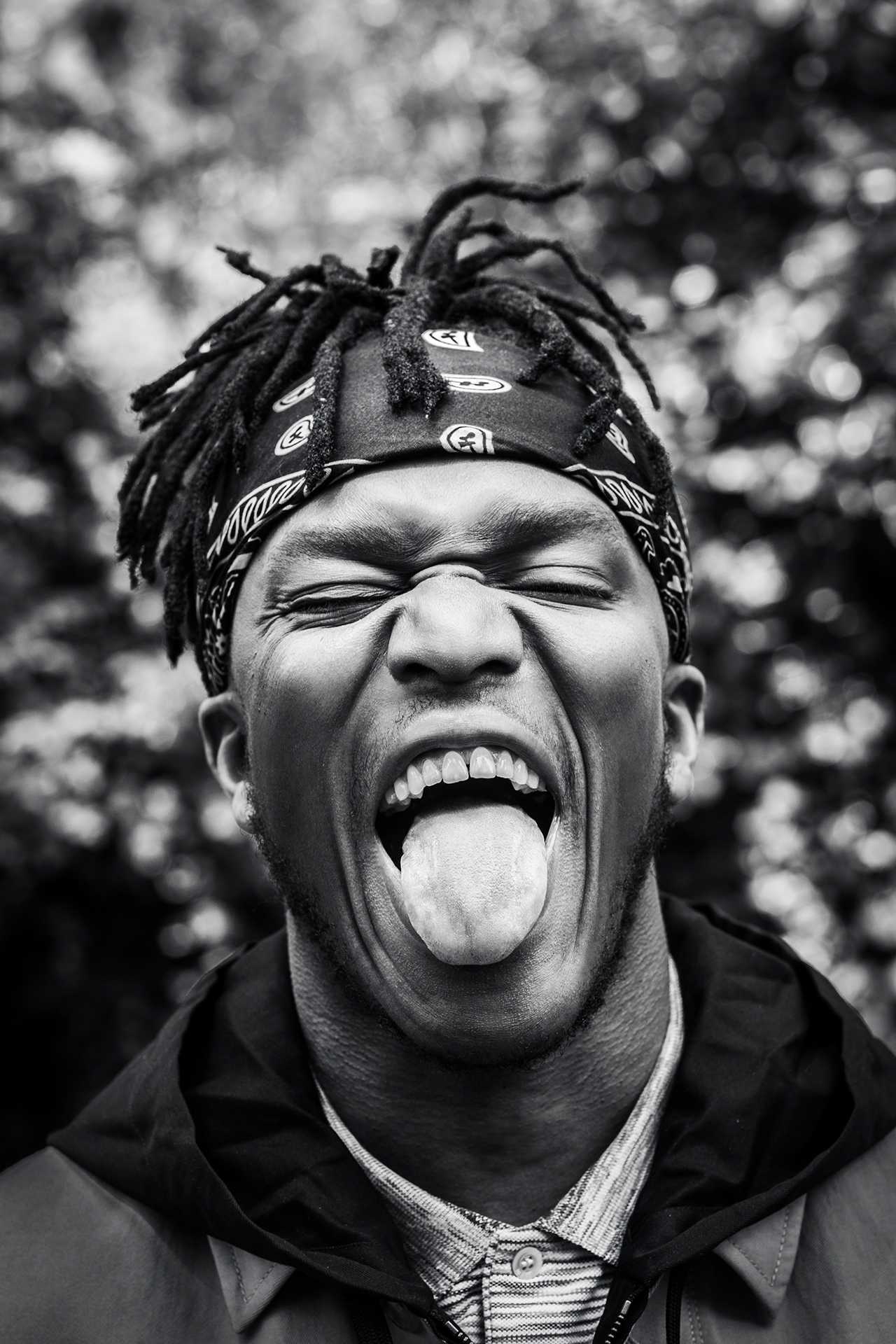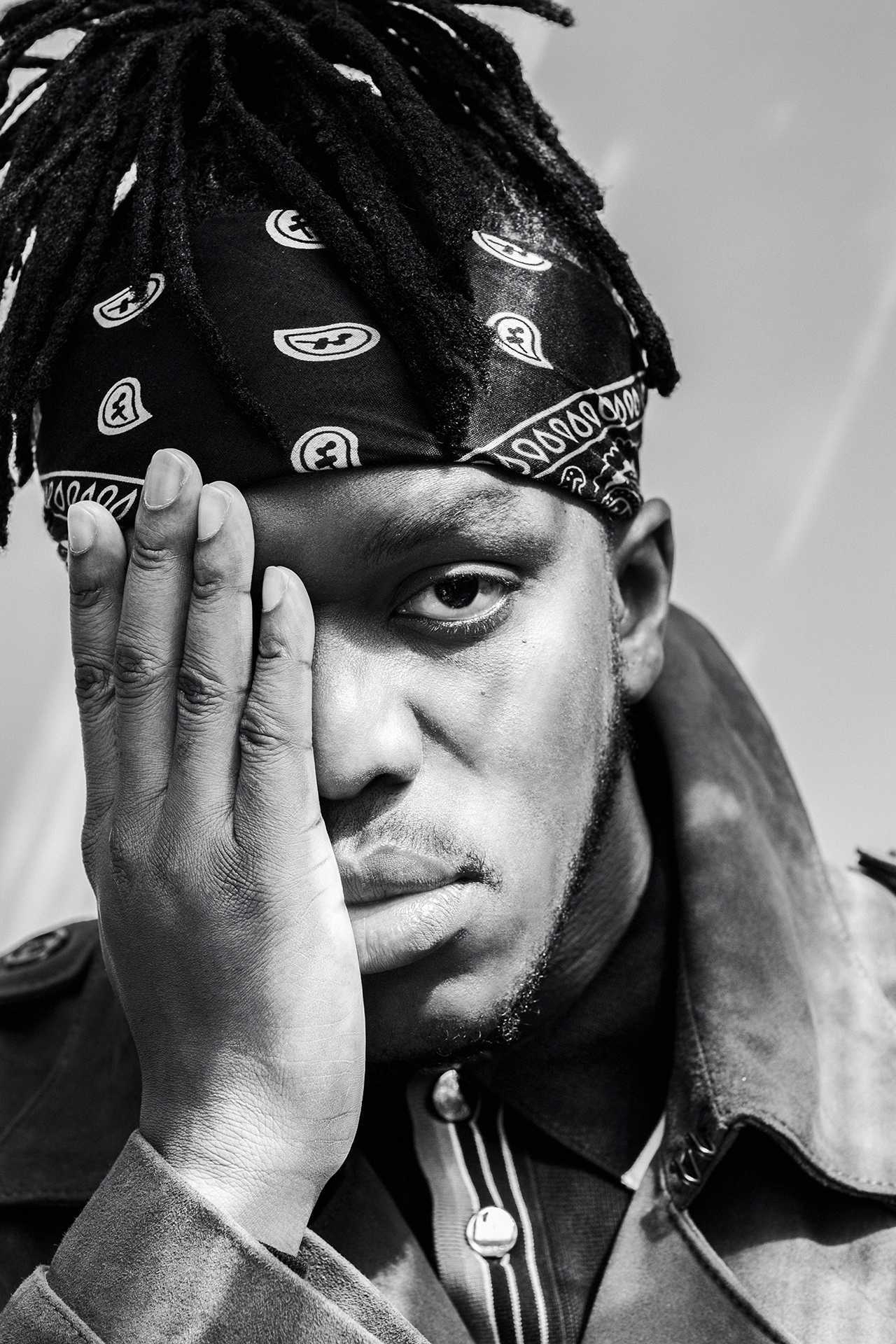 Knowledge
Some of his youthful transgressions were harmless, albeit cringeworthy – such as calling his 2015 autobiography I Am A Bellend. "I was like, 'yo, this will be jokes! Having bellend across all these stores, it will be hilarious!' Now I'm just like..." He kisses his teeth and explodes into laughter. "Fucking hell that was just… Yeah."
The vulgar and offensive language of his older videos caused more of a backlash. "There's plenty I regret," says the adult version. "Just Google 'KSI controversies' – I'm sure you'll find plenty!" In 2013, lewd comments made to women at a gaming convention brought widespread condemnation and the severing of ties with Microsoft. In subsequent years, KSI hasn't hesitated in criticising his 18-year-old self. He does so again today.
"I was young. I didn't really understand the internet. I didn't understand everything going on. And now I do! Now I know what not to do. I just move differently. I move according to who I actually am rather than who I thought I had to be."
It's hard to find a prominent YouTuber who hasn't experienced some form of public controversy, a reckoning with their online selves. Young men – and yes, the noun is relevant here, but so is the adjective – their moral compasses awhirl in the remorseless pursuit of content, abruptly forced to confront the limits of their digital fiefdom.
The only way you learn or get better is through time. It's literally the answer everyone hates to hear
"It happens with everyone," sighs KSI. "With every YouTuber there's a moment when you cross the line and it makes you realise, 'oh shit – I'm not invincible.' I'm not just living in a bubble. There's the whole wide world and I need to cater toward that. I need to change according to that and I need to adapt to the new world that we're living in. The world's always changing and it's really hard to stay on top of it."
The important thing, he says, is that you try. Provided you keep trying to better yourself, and show that self-betterment to be genuine, most people will forgive your past mistakes.
He refers to the Amazon Prime show The Boys, which portrays superheroes as flawed human beings rather than Captain America. "You can't just be like, 'ah, this guy is evil forever.' Nothing is ever black and white."
In a complicated world, there is one very simple truth. "The only way you learn or get better is through time. It's literally the answer everyone hates to hear but it is the best answer. Time is the only way to get a thick skin when you've got people saying certain things to you or bad-mouthing you online. Time helps you heal. Time helps you improve as a person. There's nothing better than time, man."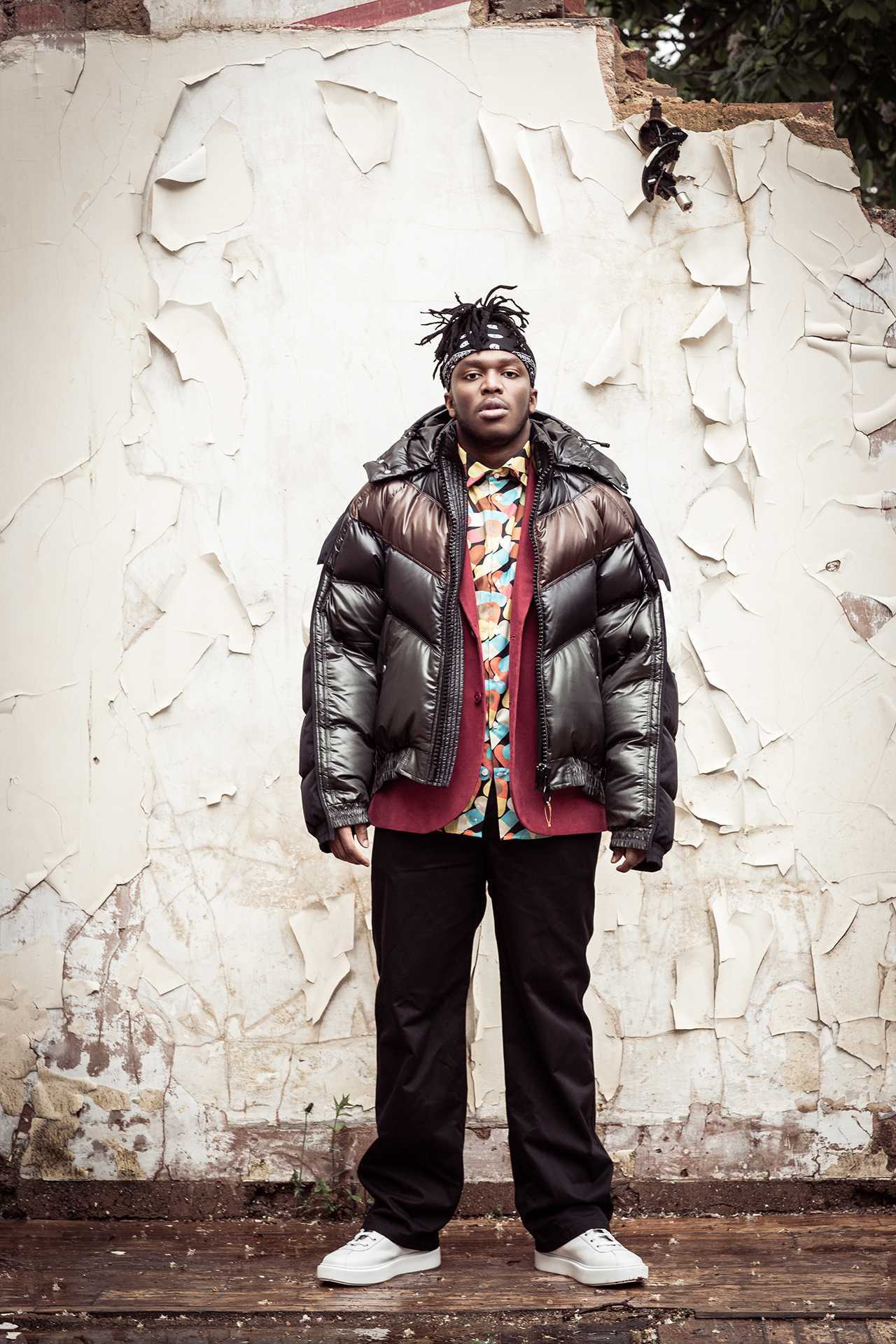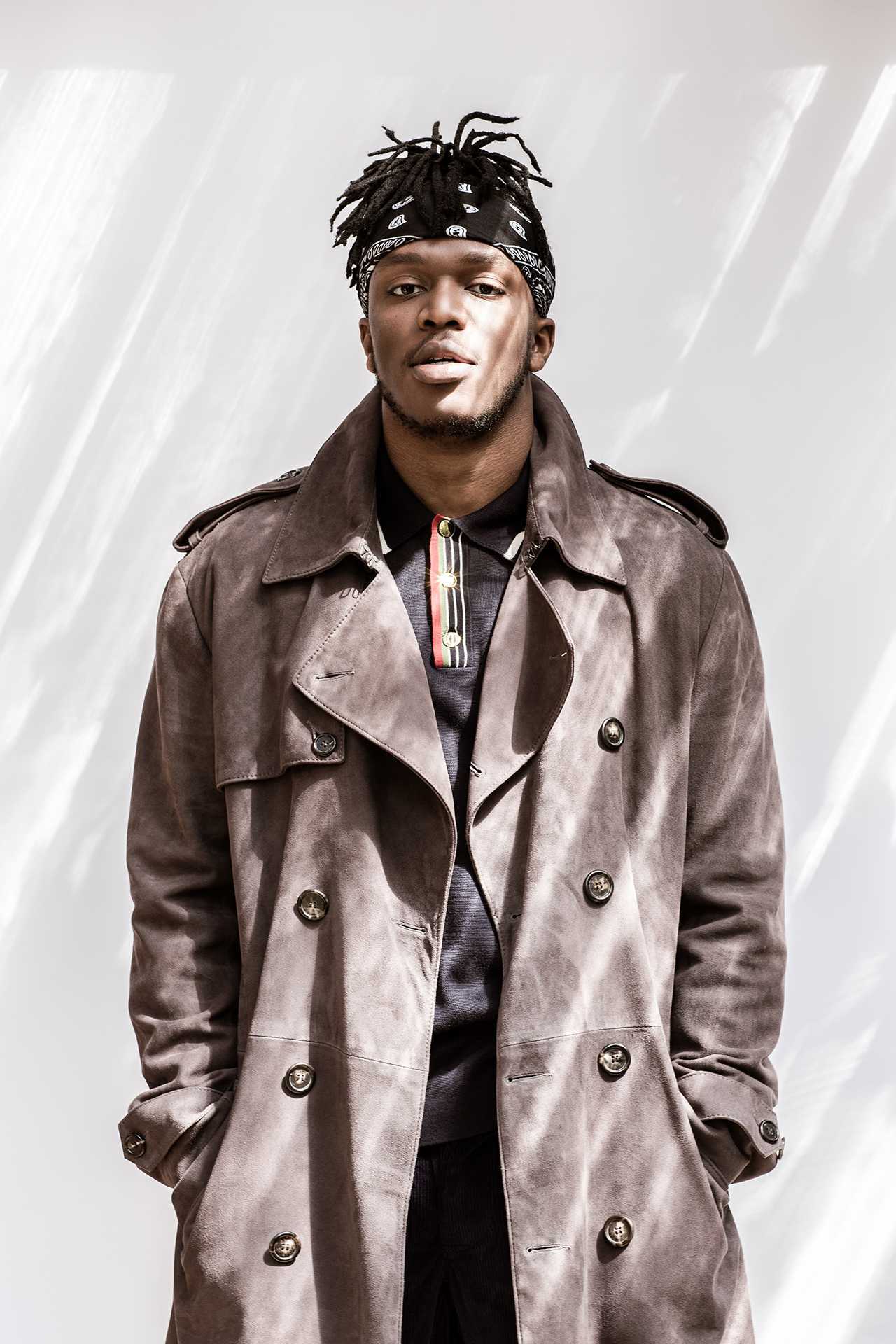 Strength
The most notorious collusion of YouTube vs The Outside World occurred when American social media personality Logan Paul uploaded a video that showed a dead body in the Japanese forest of Aokigahara, a notorious suicide site. The condemnation was global; Paul apologised and donated $1m to suicide prevention agencies.) Paul and KSI will be forever yoked by two blockbuster boxing matches that took the YouTube phenomenon to unimagined territory. The first, fought as amateurs before a capacity Manchester Arena, ended in a draw. The pair controversially turned pro for the second fight at LA's Staples Centre, won by KSI on split decision.
Nearly two years since the rematch, boxing is still reckoning with the legacy of the KSI-Paul rivalry. It's manifested in the recent blizzard of exhibition bouts such as Mike Tyson vs Roy Jones Jr (both now in their 50s), English entrepreneur Joe Fournier stopping Colombian Reggaeton artist Reykon, and Paul himself (who has never won a professional fight) going eight rounds with Floyd Mayweather (who has never lost one).
Even less welcome for the purists is the nascent yet noisy boxing journey of Logan's younger brother Jake, a bonafide PPV sensation with a loud mouth and heavy hands to back up the trash talk. (All three of Jake's opponents to date – a YouTuber, a basketball player and a retired MMA fighter – were dispatched by early knockout).
And then there's Triller Fight Club, a promotional partnership between social networking app Triller and, um, Snoop Dogg that combines boxing with musical performances in one surreal package. The inaugural event featured the likes of Justin Bieber, Dojo Cat and Saweetie; Jake Paul smashed Ben Askren in the headline bout. (The MMA guy. If you're wondering.)
I knew it was gonna be as big because me and Logan were at the top of the game with YouTube
"It is ridiculous how everything's just started from this little YouTube thing," says KSI. He still hasn't fought since the Paul rematch, although a few weeks after our interview he announced a partnership with Wasserman Boxing to form a new promotional company, promising "incredible events featuring the biggest names from the world of sport and entertainment."
The success of KSI vs Paul I – watched live by more than 2.25 million viewers and generating 1.3 million PPV buys – sent shockwaves through the sport. KSI had expected nothing less. He and Logan were among the world's preeminent YouTubers. That distinction mightn't have mattered to those unfamiliar with the industry – i.e. the vast majority of over-30s – but it proved the difference between staging a niche event or the largest non-professional boxing match of all time.
"I knew it was gonna be as big because me and Logan were at the top of the game with YouTube. It made sense." He compares their respective statuses to "Canelo fighting Mayweather or some shit like that. Because it's YouTube, people don't get it, but these YouTubers are the top of the top."
Later, he draws another comparison. "Imagine Drake fighting Lil Wayne. Two people at the top of the game. Of course there's going to be an audience to see them fight! Because even if they don't normally fight, people are going to tune in to see what's going on here."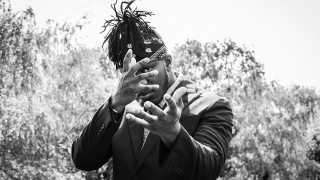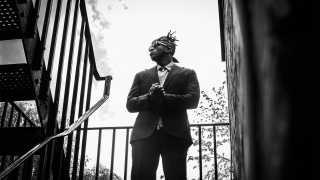 While a fight with Jake remains a distinct possibility – the numbers! The build up! – relations with Logan appear to have mellowed. "He's definitely the better brother, for sure," says KSI of his former nemesis and fellow historymaker. "He's definitely got a good head on his shoulders. You can see he's improved tremendously. And just like me and every other YouTuber, he's matured. He's grown up. He's seen his crazy ways and gone 'fuck! Who was that guy?'"
Logan was recently spotted in London, fuelling rumours of a collaboration between the pair. "I'm pretty sure he was just visiting," insists KSI when I mention this possibility to him. "My schedule is a bit too mad for us to do anything together anyway. I think he tried to reach out but I wasn't on it."
He'd make a fine poker player: Logan not only appears on The KSI Show but also goes fishing with the Sidemen in a video that racks up six million views in 24 hours. Nice work if you can get it. 
Between the photoshoot and this issue's press day, KSI turns 28 and announces his latest vocation as a boxing promoter. So we catch up for a quick phone call to discuss.
Needless to say he's in flux. It's been a busy day: starting with various press commitments, then filming with MTV, now heading over to Gogglebox. He takes the call in the car.
Happy birthday, I say. How's 28?
"Well, my back hurts randomly now." At least the laugh is still going strong.
Long-term goal is to become Floyd Mayweather, bro! Money Mayweather!
Wasserman Boxing came to him. What else? Promoters Kalle and Nisse Sauerland had seen the unique fusion of boxing and celebrity, and the brothers wanted in. "We got into talks and we made it happen," says KSI.
He stresses that Misfit Promotions won't challenge the likes of Matchroom or Top Rank. "We'll leave the athletes and all the professionals in their own lane. But for this lane, it's all entertainment, social media stars, celebrities. All these types of people who want to fight? This is the place to do it."
What's the long-term goal? "Long-term goal is to become Floyd Mayweather, bro! Money Mayweather! You see what he's doing with his promotions. Just being the best in the biz, man. For me, with most of my goals, it's just being up there with the greats."
I look forward to watching his journey in the coming years, wherever it may take him.
He laughs. "Yeah, yeah, it's a different life! What I need is a holiday."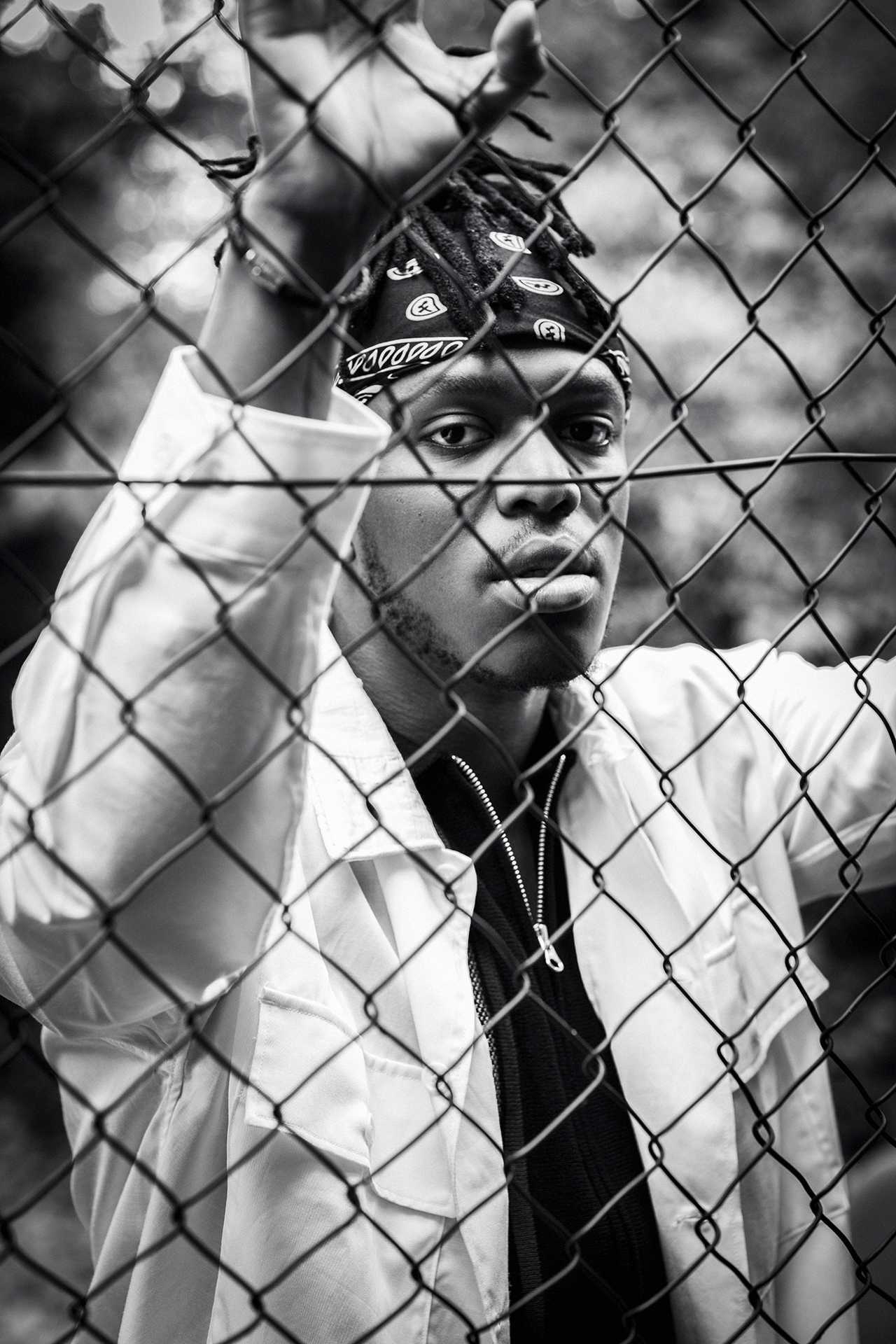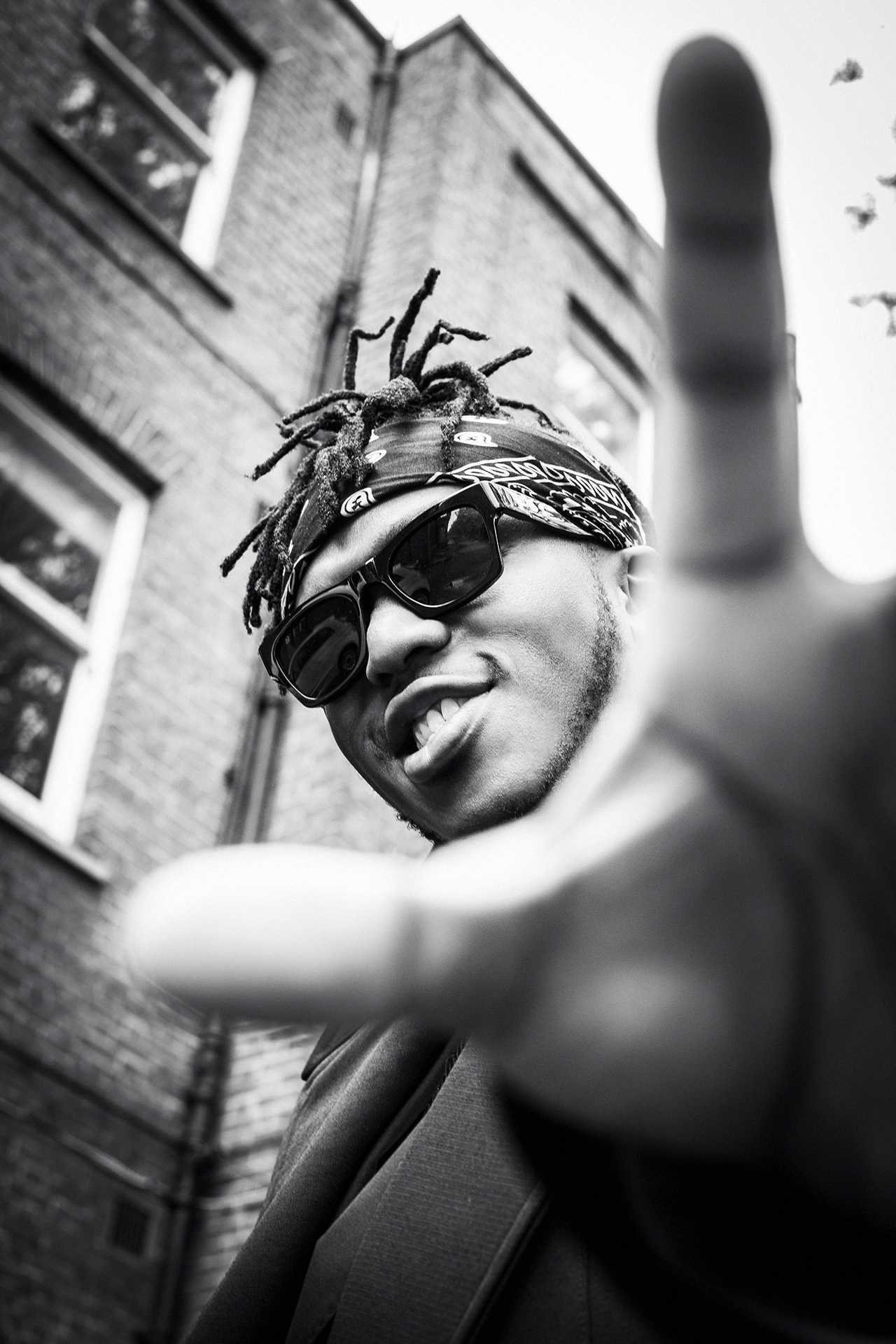 Integrity
In 2017, KSI went offline for six months. No YouTube, no social media. He retreated from the public eye. Travelled. Reflected on a question that not enough people ask themselves: what makes me happy?
"It was like a restart. Restart my career, restart in general. I wasn't happy in the position I was in, I wasn't happy with what I was, I wasn't happy with what was happening. I wasn't at peace. I wasn't happy in general. Sometimes, in order for you to be happy, you have to stop everything and reassess the situation."
He found the answer in music. At Coachella Festival, he gazed up at the stage and knew he wanted to perform on it – or at the very least give himself the chance. Music made him happy so music it would be. His life and his album might be all over the place but his purpose has remained unwavering. Seek out happiness, whatever form it might take.
Was it not weird, detaching from the platforms that had become his life? "It was extremely weird. There was part of me thinking, 'if I come back, will anyone care? Will anyone want to watch me anymore?"
I know I can invest in property and be OK if shit hits the fan. It never did!
Yet, as brands are discovering, the bond between YouTubers and their audiences is a strong one. KSI compares it to a relationship. "You never just forget about them. You're always wondering, 'what's he saying? What's she saying? What's going on with them?' Because I've also grown up with my audience, I think I've hit the sweet spot."
The teenagers who first watched his gaming videos are now adults. Now they stream his music, buy his fights. Maybe even rent one of his flats – KSI commands a burgeoning property empire.
"That was the first thing I did, as soon as I got money. That was my parents. I was like, 18, 19. I always thought YouTube wouldn't last forever. Something that will last forever is property. I know I can invest in that and be OK if shit hits the fan. It never did!"
His latest pursuit is cryptocurrency, because obviously it is. He wants to buy a million pounds of Bitcoin. Ignore the fluctuation, he tells me, and look at the big picture. "The price is always going up. It's one of those assets that in ten years time, it will probably be worth over a million for one Bitcoin. It's crazy. Because there's a finite amount. There's no inflation. It's only going to decrease. The amount of Bitcoin is only going to get smaller and smaller to the point the price just has to go up. The demand for it will increase. I see it as digital gold."
Not bad for a guy who never finished his A-Levels. But there's more to intelligence than a number on an exam paper. There's more to success than the name of your university – or even the size of your bank balance. KSI still has ambitions. Of course he does. But those ambitions don't define him. He doesn't lose sleep over them.
"I never think, 'I need to do this! Oh my God, oh my God!' If it comes, it comes; if it doesn't, it doesn't. I'm not going to base my whole life on making sure it happens – because then if it never does happen, and I see myself as a failure, it's like, was my whole life a fail? I don't really see it like that.
It's a remarkably healthy perspective for somebody in his position – bearing in mind that nobody else is, or has ever really been. The acronyms taken from the Halo clan all those years ago proved more prophetic anybody could have expected. It's only right for the final words to go to the man himself.
"You shouldn't follow what everyone else is doing or feel like you need to be a certain thing in this world. Just be yourself. Look at me: I've been myself and I've smashed it!" 
Subscribe to the print edition
KSI's album All Over the Place is out now. He has a number of live shows throughout the autumn