The O2, the world's most popular music, entertainment and leisure venue is celebrating its 15th birthday this month with a stellar line-up of content to come this year – including a summer of sport with UFC, boxing and the Laver Cup, along with headline shows from Kings of Leon, Lewis Capaldi, Mo Gilligan, Kendrick Lamar and more.
2023 is set to be the biggest ever year in The O2, with Justin Bieber and Elton John both gracing the stage, and the launch of comedy festival Just For Laughs LONDON in March, it's the perfect time to join over 100 million people who have visited The O2 since it opened in 2007 and book your tickets to enjoy some of the world's best content from some of the best seats in the house with The O2 Premium.
Whether it's music, sport, comedy or family-friendly shows you're after, The O2 hosts over 200 arena events per year, with a varied line-up of best-in-class content to suit all occasions, from birthdays to client hosting to watching the bucket list artist you've been waiting to see.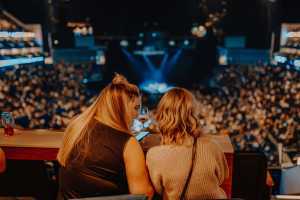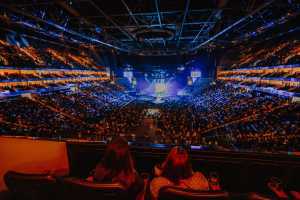 Keen to enjoy a VIP experience but not ready for a long-term commitment? The O2 Premium has got you covered with varied packages which range from hiring a suite for one night only to celebrate that special occasion in style, to year-round access through annual memberships through Encore individual seats or Shared Suites, where you'll have the same seats for each show.
For those looking to lock-in for the long-term and really make the VIP experience their own, why not check out the suite options at The O2, which allow guests to personalise their VIP space with their very own touches. And yes, you really can add anything – including a shuffleboard if that's what you really want (true story). Suite sizes range from 15 to 28 guests, giving you the flexibility you need to choose the option that's right for you.
Now let's talk food and drink. Everyone who sits in a Premium seat has access to different options that are scalable depending on what you want. Gone are the days where the white tablecloth and three course meals are rolled out – if you're rocking to Rod Stewart or dancing the night away to Pete Tong, there's a fully stocked bar (both in our suites and accessible from Club 101 and Shared Suites) and food available to pre-order, from delicious seasonal menus to the classic pizzas and burgers.


Planning your journey? The O2 is located just 15 minutes from Central London, and is easily accessible by road, boat or tube, with a wide range of bars, restaurants, attractions and outlet shopping all available under one roof. For Premium visitors, The O2 also offers valet parking and entry via a VIP walkway, so the superstar experience really does begin when you walk through the door.
Before or after the show head to the AMEX Lounge at The O2 to enjoy delicious cocktails (they really can make anything), tasty snacks and some live music to help get you in the mood.

Interested in hearing more? Get in touch with The O2 Premium here.