It's a beautiful Paris evening in late April, an evening to inspire songs and quicken the souls of poets, and inside Les Étoiles nightclub Santino Le Saint is swaying alone on stage, guitar strapped over his shoulder, almost in a trance. He scratches out some chords, sending them jangling around the empty venue. It won't stay empty for long: a sizeable queue has already formed outside, half an hour before the doors are due to open. The excitement is palpable but then Paris has always been fond of its saints.
This one cuts an impressive figure, 6ft 2 with the lean muscular build of an athlete. Ripped jeans, designer hoodie, rectangular tinted shades. A 21st century rock star in the process of being birthed. He leans into the microphone and sings a few lines of what will be the set opener, 'Best Day of My Life': "I wanna live life like a movie / do it all before I die / and if I pass away tonight / I can say they were the best days of my life". His voice is pure as a mountain stream, strong as the stones its currents flow over.
Santino has been playing music since his teenage years, and by the age of 20 his star was already in the ascendancy. We previously interviewed him in 2019. Confident, mature, articulate, abundantly talented – here was an artist with all the potential in the world. The intervening three years have brought a debut album Beautiful Disaster, several sold out shows, and a filmed performance on COLORS, the wildly popular, achingly cool German YouTube channel that has hosted the likes of Billie Eilish, Dojo Cat and Matt DeMarco. The success of his COLORS sets – watched by millions online – further convinced Team Tino that a European tour was viable.
"When you go on a tour like that, your first tour, it's low budget – you're really on the road, you know? You're walking around with your bag, you've got no sleep, you're not staying in any luxury hotels. It's the rawest form of touring. It's everything that any young musician dreams of as a kid – of what a tour is. That is it. I really lived it to its fullest."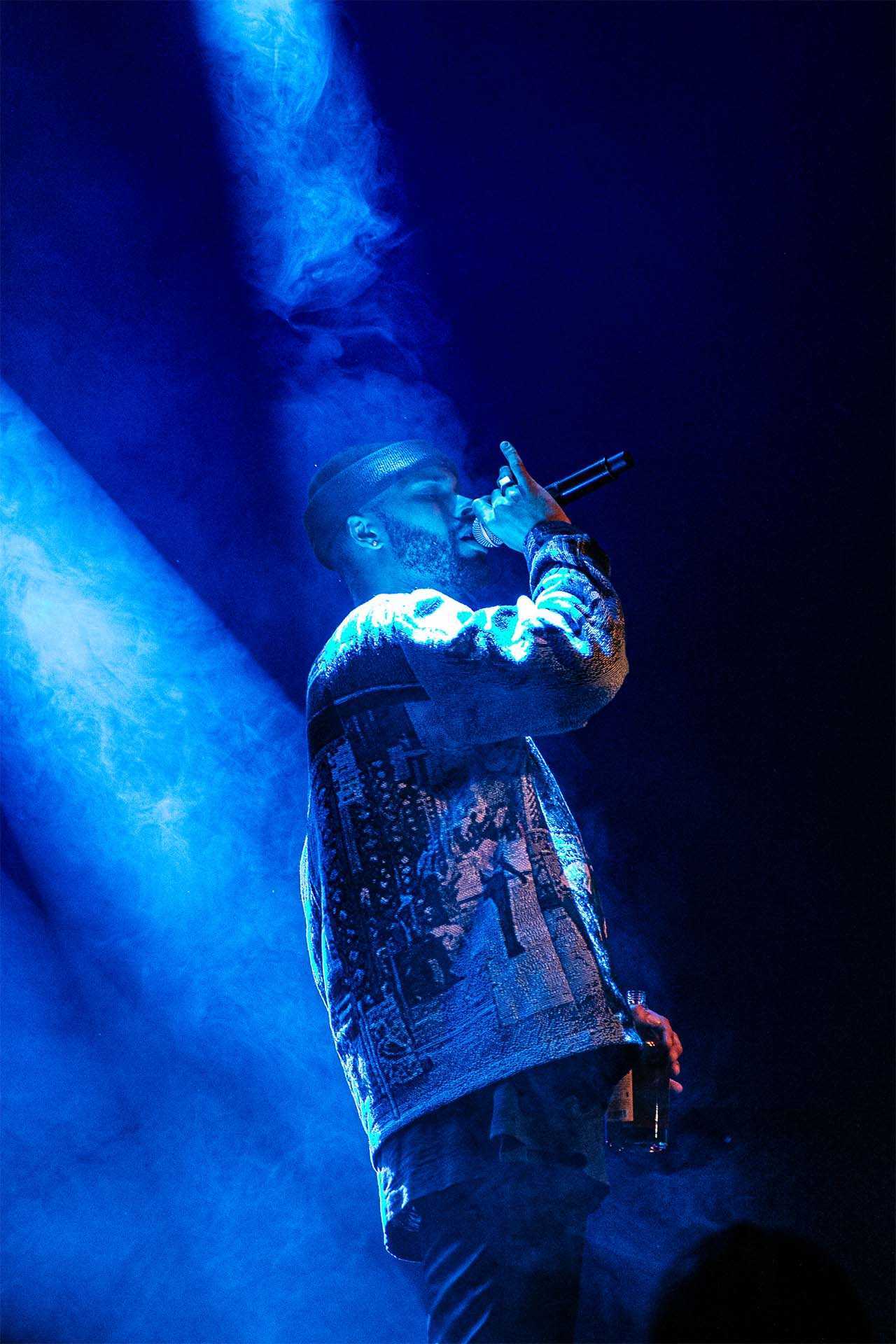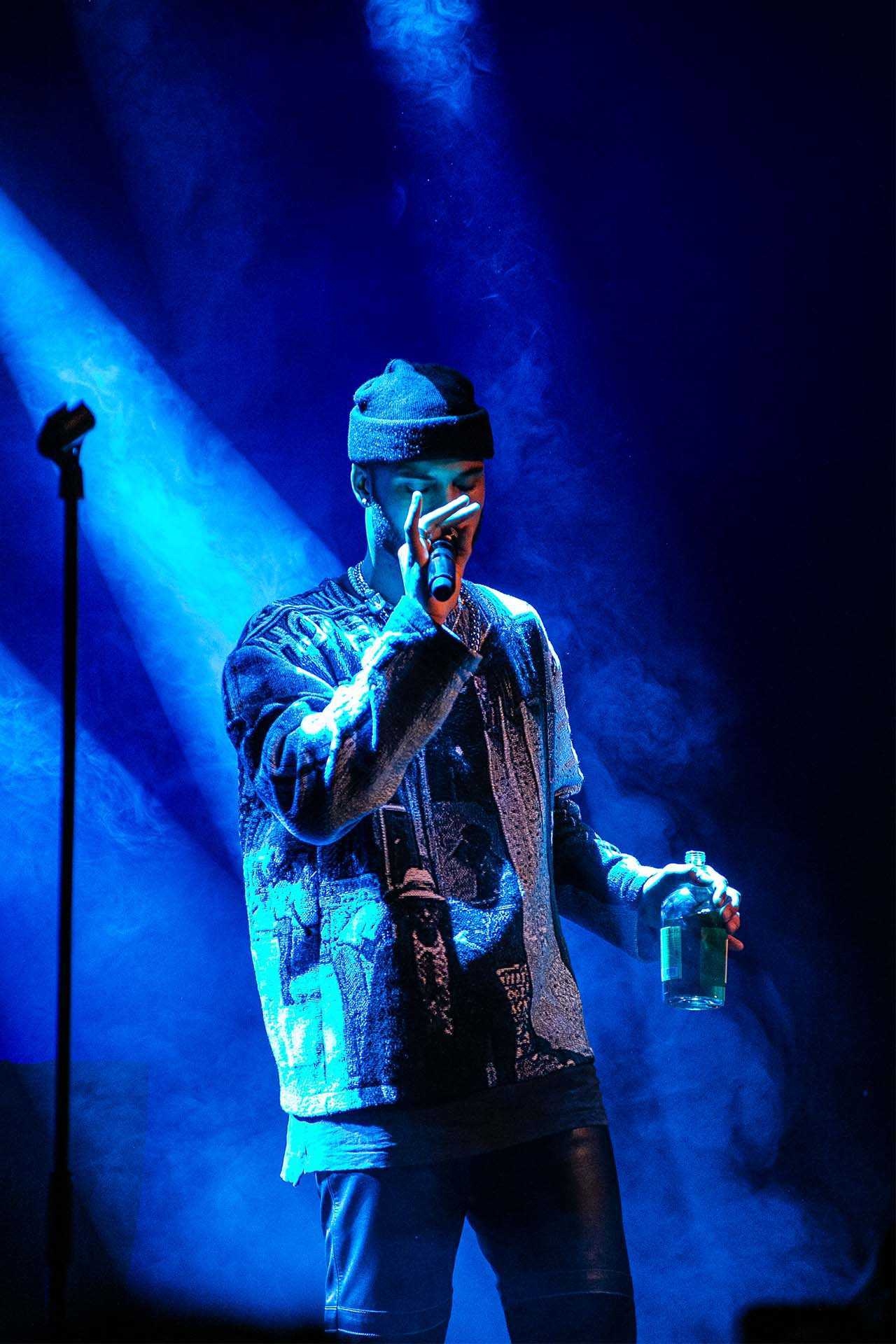 So the hotel is a bolthole in the 10th Arrondissement. The dressing room at Les Étoiles is a tiny space upstairs with a ceiling just high enough to comfortably accommodate a pygmy, and walls that practically vibrate from the performance occurring beneath. The support act, a collection of leather clothing and piercings held together by some humans, occupy a slightly larger room across the hallway. Someone asks Tino if he wants the bigger room – it's his name on the poster, after all – but he demurs. One of the final shows of the tour is no time to start getting precious.
Soundcheck complete, a few of us head to dinner at a lively bistro around the corner. Snails in garlic butter, roast poulet, streak as red as the wine – bienvenue à Paris au printemps. As well as Tino, there's also Ben, his co-manager; Tao, the tour manager; and the diminutive DJ Jojo who shares Santino's musical ability and love of a night out
"Jojo is sick," says Santino of his DJ. They've only known each other a few weeks but their friendship is already deep. Everything is elevated on tour. "We're partying together. Sleep on the train together. Eat together. Every single day."
Despite having been up till 6am last night in Amsterdam, Santino is in an ebullient mood. He's 23, hangovers don't really exist and a couple of streets away there's a queue stretching round the block for him. Paris is the final stop of a week that started in Berlin and snaked through Hamburg and Amsterdam, playing to sellouts, partying till dawn. I've read enough rock biographies to know that jaded exhaustion may lie ahead – but these times are very much the fun ones.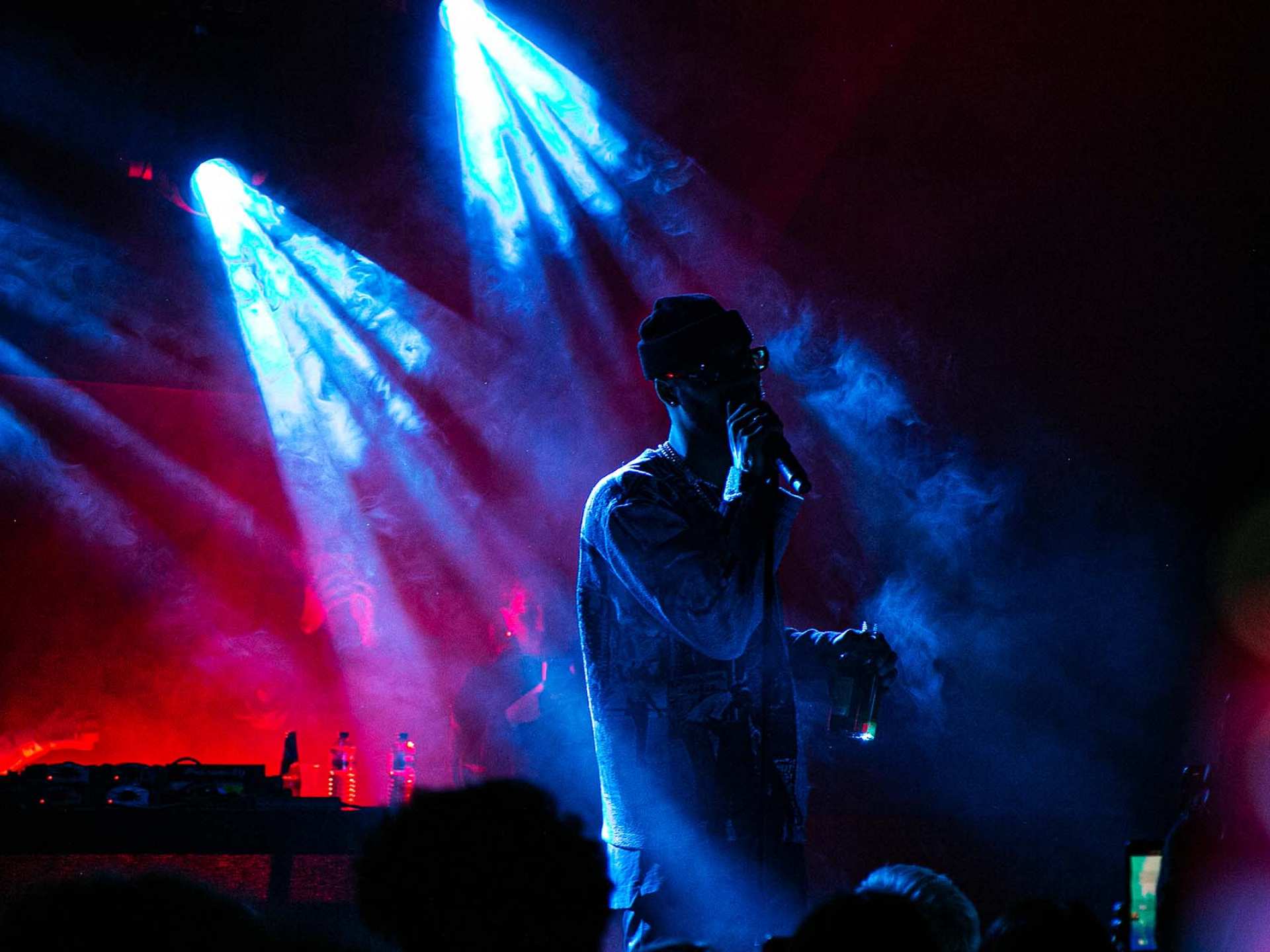 "Amsterdam was pretty crazy," Santino tells me when we catch up in his Brixton studio a couple of weeks after the tour. "Berlin was wild. Hamburg was probably the wildest. It was like 150, 200 people after every show just outside, waiting in the middle of the street. Packed out."
Was that weird? "Yeah, extremely weird," he laughs. "Very, very weird."
Presumably weird in a good way? "Yeah, it's cool. I like talking to people if they've got something to say and they love talking about music. In Europe, whilst they're super fans, they were also quite respectful."
He deliberately eschewed the talent shows when starting out. He wanted to build his profile organically. For Santino, the music is what matters. He's quite old-fashioned in that regard.
"I've had people say, can you get these numbers on Instagram? I've done it. Can you get these Spotify numbers? I've done it. After you go on tour and you see 300 people singing your lyrics for five or six days in a row, you're like: I know I can go to any of these countries and 300 people are turning up. That is a power in itself. It's not controlled by whether someone puts you on a playlist or not. That's realer than anything else in the industry."
A few years ago, Santino was invited to join a boyband. He turned the offer down. Does he feel vindicated by that decision? "A hundred and ten thousand percent," he says with feeling. "Everything I've been told over the years that I didn't do, after going on that tour I'm just like big middle finger energy to all those people. I'm so glad that I didn't do it!"
Back at the Parisian bistro, there's a slight issue: Santino has left his performing outfit in the hotel. Can he not wear his current clothes? Apparently not – certain brands are expected to be worn on-stage. So Tao and Tino take a cab back to the hotel and Jojo gets to play an extended DJ set. The audience at Les Étoiles doesn't seem perturbed by the delayed start. It's a music gig. It's meant to start late.
Santino's eventual arrival is quite something. Ben smuggles him through the crowd and he climbs on stage as though he's been hiding in the front row all night. He launches into 'Best Day' and within seconds several hundred young Parisians are chanting a chorus that had been sung into silence three hours earlier: "They say don't smoke, they say don't drink / they say the drugs corrupt your mind / but when I'm high, only time I'm alive / I can say they were the best days of my life."
Does he normally access the stage via the crowd? "Um, no!" he laughs. "That was because I was late to the show! I was in the hotel and realised I had five minutes to get on the stage. When I'd been cutting my steak up in the restaurant, like, 'yeah, it's fine! But it was fun coming on through the crowd.'"
It made a cool entrance. He nods. "It was a big mistake that I didn't film it."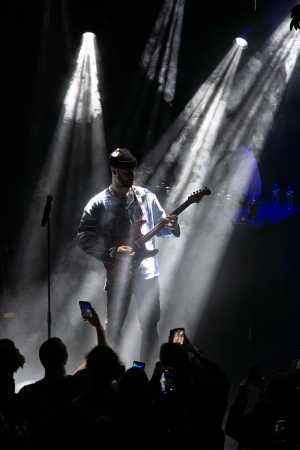 Some musicians have an onstage alter ego – or at the very least, become someone different when performing . But as he jokes with the audience – knocking back whisky from the bottle, handing someone his belt – there seems little disparity between the Santino on stage and the Santino at dinner. A little more swagger perhaps, a little less goof, but the difference is the setting rather than the person. He's having all the fun you'd expect from a extravagantly talented, exuberantly confident 23-year-old performing for a packed nightclub, the lyrics that he wrote in his bedroom being chanted back to him at maximum volume.
"It's nuts. Half of those songs I remember making were ideas that started on my phone, started in the studio, wrote some of them in a train or in an Uber. Going from that to having all the European shows sold out, like 250, 300 people – ridiculous. It's such a surreal feeling; it's really hard to put into words."
He grins when I note his relaxed stage presence. "I've done all the mistakes. I've done all the fuck ups. I've stepped on my guitar lead; I've fallen over on stage. My mic has cut out. My track has stopped working. I've forgot my lyrics. I've done it all before. Now when I go up there, it's not that deep. I'm playing some songs for an hour!"
As the set heats up, Tino starts dispensing whisky to the front row between songs. "Who wants a shot?" he cries. A lot of people, judging by the resulting screams. Plastic cups are raised into the air alongside the ubiquitous camera phones. This interplay continues throughout the set, Tino taking a break from the music to moonlight as Paris's most popular garçon, a bartender without a bar.
On he powers.The opening chords of 'Maria Don't Call Me', one of his breakout hits, brings the whole place out in screams. On the final song, he descends into the crowd and sings up to Tao, filming onstage. Only it's not the final song of course – the crowd chants for an encore and back he comes for a rendition of I Know. "You think that you love me, you're just lonely / Baby, I told you I'm unholy…"
In the tiny dressing room backstage, the mood is triumphant. Beer in hand, Tino lowers himself into a chair. "I can't sit down in these leather trousers!" he cries in mock anguish.
Tao had been worried the set would overrun past its scheduled finish due to the late start. "They might fine you," she notes.
"So?" laughs Santino. "We're on that rock star shit! We could've gone on for another two hours!" An understandable mentality but one that's easier to maintain when you're the rock star rather than the tour manager.
He'll stay in France for a few more days after the tour is complete. Then back to London for some much needed relaxation. How did he feel when he got home? "Messed up! I was absolutely finished, man." Prior to the tour, he'd done a songwriting retreat in France and spent some time in LA. It's been a busy, busy few months. I get the sense even Santino is grateful for his current downtime. "I've been taking it easy. Trying not to drink." He smiles. "Just for a week or two."
What next? He's working on a clothing brand – BySaint – "like streetwear, rock stuff... It's very deconstructed. Patches, rips and stuff. But it's very high quality, it fits well." Tino is no stranger to the front row of a fashion show.
New music must be recorded, of course – the aim is to release an EP by the end of the year. He enjoyed recording Beautiful Disaster. "The process of making it was really fun. Diving into the studio with my friends, essentially. There was a period of six, seven weeks where we just made music every single day."
There's still plenty of world to conquer. He wants to tour the US, ideally with a band. He played Hackney with a band and loved the experience. He remembers waiting to go onstage, listening for Jojo to play 'Best Day of My Life' to signal his entrance. There was a countdown. "Then I opened the doors and the whole crowd just went 'aaaahhh!' I was walking on stage, everyone was screaming and shit, and I was like, 'this is insane.'"
In Paris, Tino has a couple of drinks with his team in the dressing room, allowing the adrenaline to wear off. Then it's down to the street for photos. Several dozen fans are clustered on the pavement outside. They queue up for their snaps, Tino's arms around their shoulders, whisky bottle in one hand, cigarette in the other. He makes time for all of them. Everyone is smiling, charmed.
Jojo has her own fan club – "shoutout for Jojo!" Tino cries at one point and everyone starts chanting her name. Many people are now sporting Beautiful Disaster T-shirts and sweaters. It must be strange talking to an attractive woman wearing your face on her chest. Tino copes. He'll be up until the early hours: an after-party at a producer's house, a nightclub, another nightclub. There's plenty to celebrate. Tonight might be the end of a chapter but the story is only beginning.
"It doesn't give me an ego trip," says Santino of music. "It's not like it makes me feel like I'm on top of the world. It's actually more of an escape thing. This music that I've used in my life as an escape for myself.
"Everyone uses music as an escape in some form or to help you feel something or to harness something. You get in a room and you're all doing it together. Anything outside that room you don't think about anymore. It's a beautiful thing." 
Beautiful Disaster is out now