There's a classic episode of Peep Show in which Jez and Super Hans are entrusted with a dilapidated pub. The benefactor will shortly be sectioned, which largely explains why she entrusted her pub to Jez and Super Hans.
The pair gaze round the venue. It's seen better days. It might have seen worse days but those days probably involved a fire. The interior isn't messy so much as rubble.
"Let's start by getting rid of this," says Jez, tapping the washing machine that's somehow ended up in the middle of the room.
"That stays," snarls Super Hans. "That's the reason I fell in love with this place."
"You want a washing machine in the pub?"
"It'll freak 'em out!" insists Super Hans. "What the fuck's a washing machine doing in a pub? Jesus, I need a drink. Yeah? And boom, they'll have to have one of our organic scrumpies."
Now there are few similarities between Soho's The Little Scarlet Door and Jez and Super Hans's pub. The Little Scarlet Door is in considerably better condition. It doesn't serve organic scrumpies. And it isn't called Free The Pedos. It does, however, have a washing machine – tucked away unobtrusively in the corner but a veritable washing machine nonetheless.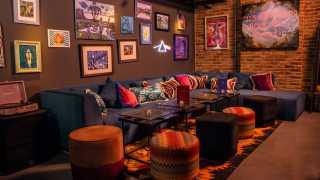 What's the vibe? 
Scarlet Door is the latest addition to Little Door and Co: joining The Little Orange Door in Clapham, The Little Blue Door in Fulham, The Little Yellow Door in Notting Hill and The Little Green Door in Bag End. (Wait, scrap that last one.) The vibe is simple: neighbourhood house party where you needn't bring any booze nor expect to clear up afterwards.
In the case of Scarlet Door, the house is actually a Manhattan apartment that belongs to a teenage millionaire. So there's a painting of Hulk Hogan, multicoloured basketballs, board games and bookshelves. There's also a shower, a bed and, yes, a washing machine. None of which were being used when we visited but hey, it was early in the evening.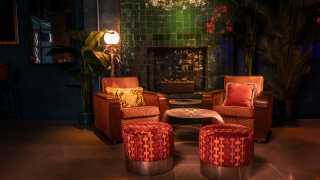 What to order?
Oh, plenty. However we shall concentrate on the ample cocktail menu with drinks named after films – specifically the kind of films you'd expect to find in this kind of apartment.
Y Tu Mama Tambien (Enemigo Cristalino Tequila, Mezcal, Agave) comes with a giant sprig of rosemary, "like Christmas in a cup," says my friend. She's a fan but prefers the Bohemian Rhapsody (El Jimador Tequila, Mezcal, Martini Ambrato, Aperol and Apricot). It slips down smooth and sweet, one of those dangerous cocktails where you can't taste the alcohol. Easy come, easy go, easy come again and one for my friend, too.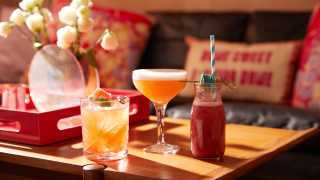 There are also VIP cocktails, or rather Shit Hot Tipples. Goodfellas (Gentleman Jack, Glenfiddich Fire & Cane, Campari and Martini Fiero) is like being kicked in the tastebuds with a velvet boot. Very nice indeed. If you're feeling particularly suave, opt for Casino Royale (Grey Goose Vodka, Botanist Gin, Lillet, Caperberry). "That looks naughty!" says my friend. It tastes divine, crisp and clear as a winter morning. You will have to play high-stakes poker afterwards, though – or at least visit the Las Vegas Arcade just down the street.
The peckish may sample a selection of small plates and toasties, all of which are very high quality. We had the burrata and prosciutto toastie along with, um, burrata and sundried tomato pesto. You can never have too much burrata. Certainly not this burrata, which is very good.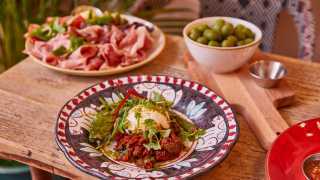 What's the damage?
Pretty reasonable. Cocktails range from £9 to £11, the Shit Hot Topples retail at £14.50. All toasties come under £10. There's also a range for long drinks, G & Ts and sharers, none of which will leave you weeping at the bill.
Coming with a group? Then order the Fear and Loathing in Las Vegas (Bacardi Coconut, Toti White Rum, Wray & Nephew Rum, Le Tuffeau Rosé, Guava and Pomegranate San Pellegrino), £110 but will serve at least ten of you. Plus you can win it back at the arcade.
Anything else to note?
The staff are far more competent than Jez and Super Hans, and the clientele significantly more glamorous than Mark Corrigan and Dobby. If you're debating whether to wear that funky shirt, wear that funky shirt. It's a party, after all.
12-13 Greek St, London W1D 4DL; The Little Scarlet Door