The sun's out, and it's too hot to work. Time to unwind with a good drink.
Yet you don't want to jostle for space on the kerb, holding your melting pint glass. London has a plethora of great rooftop bars that offer the ideal boozy escape – quite literally the high life.
And when night falls? You've found yourself some of the most romantic date spots in the city.
Whether you're sat in the sun or under the moon, these rooftop bars will see you right.
Unless it rains. But we don't mention that. 
London's Best Rooftop Bars
Savage Garden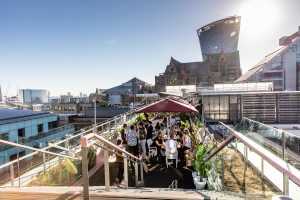 Savage Garden is sleek and a little dramatic.
Candy chandeliers. Marbled feature walls. Quippy neon signs.
Head out to the terrace to admire the view from the twelve-story vantage point.
Watch the city rush along beneath you. Take a photo on the steps as Trinity Square stands proudly behind you. Watch the sun set behind Tower Bridge. Point at the Gherkin and say "Gherkin."
Or just sit and relax.
You're in the garden, after all. Do as you please.
Floor 12, 7 Pepys St, EC3N 4AF. For more info, visit savagegarden.co.uk
Bōkan 39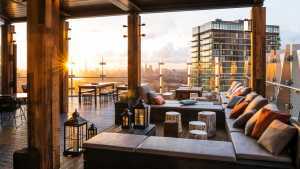 Situated slap bang in the middle of Canary Wharf, with panoramic views across the City of London and beyond, Bōkan 39 is the perfect place to grab a City-based cocktail in the summer months.
Chill out on cushioned day beds while enjoying a spot of live jazz or a resident DJ.
Feeling peckish? Pop down to Bōkan 37 two floors below; the fine-dining restaurant recently appointed Guillaume Gillan, protégé of the legendary Joël Robuchon, as its new executive chef.
40 Marsh Wall, Isle of Dogs, E14 9TP. For more information, visit bokanlondon.co.uk
Eight Members' Club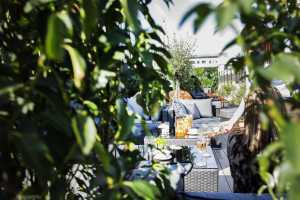 With a cocktail list only rivalled in quality by that of its restaurant servings, Eight Members' Club (or just Eight if you prefer) is, in the grand scheme of things, still young, but undoubtedly one of the best rooftop bars in London.
Established in 2009, a membership to Eight guarantees you unlimited access to the illustrious Moorgate and Bank venues, with up to three guests per member, making it perfect for a Friday evening with your team.
Eight Members' Club, Moorgate, EC2A 2BX. For more information, visit eightclub.co.uk
Radio Bar, ME Hotel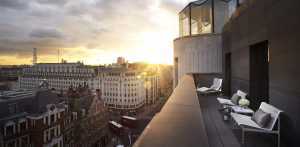 On the tenth floor of the ME Hotel, Radio Bar is one of the capital's most peerless venues, with panoramic views of Tower Bridge, the Shard, London Bridge, St.Paul's Cathedral, Parliament and more. 
The sumptuous cocktail list is the only thing that'll distract.
Radio Bar, ME Hotel, WC2R 1HA. For more information, visit melia.com
Sushisamba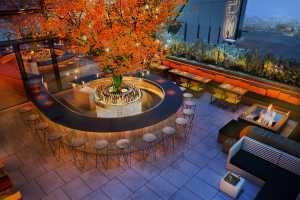 A "tri-cultural coalition" is what inspired the creation of London's Sushisamba, when Japanese emigrants traveled to South America to cultivate Peruvian coffee.
Still with us? Good.
Sushisamba has set up residence in the 38th and 39th floors of the City's 110 Bishopsgate (aka the Heron Tower). Sip on some sake and marvel at the teeny ant people below.
It's easily one of the best rooftop bars in London.
110 Bishopsgate, EC2N 4AY. For more information, visit sushisamba.com
The Trafalgar St James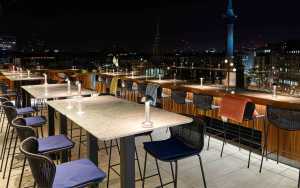 Unless you're sat in the clock tower of Big Ben, you're unlikely to find somewhere that summarises London better than Trafalgar Square.
The Rooftop, at The Trafalgar St. James overlooks the square, so toast a glass of champagne to Lord Nelson and enjoy your time away from the crowds.
2 Spring Gardens, SW1A 2TS. For more information, visit thetrafalgarstjames.com
Coq D'Argent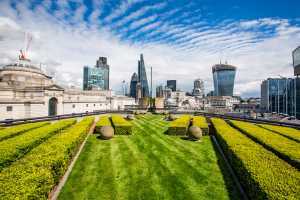 A real City stalwart, Coq D'Argent is a regular feature on London's best bars (rooftop or otherwise) and continues to champion the best French cuisine in the Square Mile.
Soak in the view with a glass of champagne on the lawn. 
Feeling peckish? Try 'Rosé on the Roof', a new Saturday brunch menu in partnership with M de Minuty.
Drawing inspiration from the South of France, the menu full of classic dishes found in the Southern France. 
Let's just hope we have the weather to match, eh?  
No.1 Poultry, EC2R 8EJ. For more information, visit coqdargent.co.uk
Sky Garden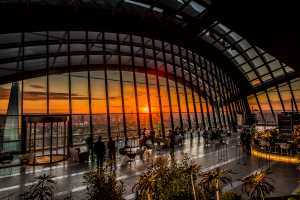 Perhaps one of the most recognisable spaces this side of the Square Mile, the Sky Garden is the go-to place for a lazy Sunday afternoon otherwise spent carousing London's best and brightest spots.
Perfect with a Bloody Mary and a significant other, you'll forget all about the hustle and bustle of London as soon as the elevator doors slide open.
20 Fenchurch St, EC3M 8AF. For more information, visit skygarden.london
Aqua Spirit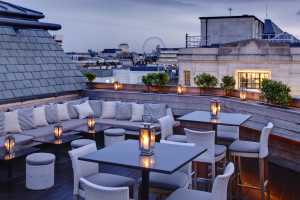 Whilst not in the Square Mile, you'll be glad to have made the trip to Aqua Spirit as soon as you get off at Oxford Circus.
On the fifth floor above Dickins and Jones, the bar is the perfect answer for both pre and post dinner drinking.
So perfect, in fact, that you'll probably forget about dinner altogether after a sip of their signature cocktail Rose & Li.
240 Regent St, Soho, W1B 3BR. For more information, visit aquaspirit.co.uk
Madison, St Paul's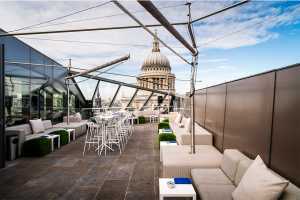 Perched on the penthouse spot of One New Change, Madison – right by St.Paul's – has gasp-inducing views of the City, making it one of the best rooftop bars in London.
It also stays open all year round, in case you're a whatever-the-weather sort. (Weirdo.)
Rooftop Terrace One, New Change, EC4M 9AF. For more information, visit madisonlondon.net
12th Knot, Sea Containers London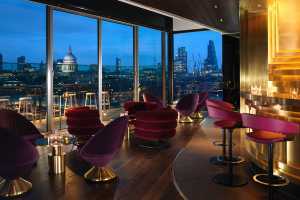 The spirit of 1920s hedonism is at the core of Sea Containers' 12th Knot, (formerly the Rumpus Room).
The lounge sits within a glass box, surrounded by 360° views of the City and lives just south of the Thames.
The bar list is enjoyed best as the sun goes down over London's skyline.
20 Upper Ground, South Bank, London SE1 9PD. For more information, visit morganshotelgroup.com
Lost in Brixton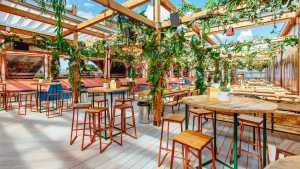 Lost in Brixton is back for a second summer session.
With a little imagination and a lot of love, this hidden corner of Brixton has been turned into a secret rooftop terrace, big enough to get lost in.
Take a staircase from a quiet corner of Brixton Market up to the rooftop spot above, packed with exotic flowers and vibrant wall murals.
The drinks menu features summer spritzes and classic cocktails, as well as fresh beer pumped straight from the adjacent Brixton Brewery and Corona on tap.
Brixton Village, Coldharbour Ln, SW9 8PS; For more information, visit lostinbrixton.com
Willows On The Roof

John Lewis fan? If you're popping in for a shop but need to escape into your own little bubble, here's your bar.
We mean that literally. There are giant glass bubbles for you and the squad to roll into as part of the seating plan.
If it's a bit nippy, indoor seating is cute too. Separated into huts, the tables have trees spliced into them. The branches are lit and mystical, so it feels like Christmas in the summer.
It's on the fifth floor of the Oxford Street store. Warning though, it's only open when John Lewis is, so keep an eye out for opening times.
300 Oxford Street, London, W1C 1DX; For more information, visit Willows On The Roof
SkyLark Roof Garden

Ever wanted the experience of a Californian seaside? Well here you go, only inside of the sea you've got Hyde Park to accompany you. 
You've got the beach-y sun shields and even a rooftop basketball court in case you get tired of all the sippin'.
We haven't. Which is why we recommend you go for the Tiki Zombie Killer. It's Spiced Rum, aged Rum, Golden Rum, Apricot Brandy, Mango Juice, bitters & a shot of Absinth Crème.
Definitely shoot the hoops before you drink.
10th Floor, 4 Kingdom Street, Paddington Central, London W2 6BD; For more information, visit Skylark Garden 
Sabine Rooftop Bar

You want to come here at nighttime. It's plush and candlelit, and right next to St. Paul's Cathedral so there's an enchanting, gothic-esque feel to contrast the oasis vibe of the bar.
It really is a secret escape, with a bite.
Speaking of bites, you want to be munching on their lamb and jackfruit tostadas.
Soak 'em up with their Spring In A Sip: Whitley Neill Distiller's Cut, Licor 43, Lemon Juice, Sugar Syrup, Egg White and Fever Tree Elderflower Tonic.
10 Godliman St, London EC4V 5AJ; For more information, visit Sabine London