So, what do you do?
"Actually, I'm Ambassador of Joy for the most-awarded cognac house in the world."
Said no one ever. Because surely jobs don't get that good?
Well, they do for British Nigerian artist Yinka Ilori, who returns this summer as Courvoisier's official Ambassador of Joy.
His main task? Designing a limited-edition bottle design for the Courvoisier VSOP (Very Superior Old Pale) bottle and creating a striking makeover of Selfridge's ground floor Wonder Room to match.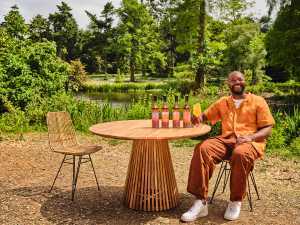 The result is a new design available in four unique ombre colours inspired by the joy of a summer's day in Jarnac, France – the home of Courvoisier. The Courvoisier x Yinka Ilori space is an apt reflection built around a vivid colour palette to match both the artist's signature bold designs as well as the vibrant beauty of Jarnac.
Central to the space will be a striking bar, serving up three bespoke Courvoisier VSOP cognac cocktails.
Each cocktail will be paired with a bold creation from gourmet confectionist The Marshmallowist, especially conceived to match the drinks' flavours.
Here's what's on the menu:
The Gala, which blends Courvoisier VSOP with Sicilian lemonade, and will be paired with a vibrantly coloured blueberry, hibiscus and lemon marshmallow decorated with dramatic chocolate print.
Roasted Peach Daisy, a blend of cognac with apricot liqueur, roasted peach syrup and lemon juice, matched with a peach flavoured marshmallow whose caramelised Courvoisier sugar top will be torched for a brûlé effect.
And finally, the French 125, which mixes the cognac with lemon juice, sparkling wine and spiced vanilla syrup, served alongside an ombre chocolate teacake marshmallow - its vanilla mallow fluff surrounding a Courvoisier gel centre encased in white Belgian chocolate.
Courvoisier VS and XO cognacs will also be available from the bar for the duration in case you want to enjoy the spirit in its purest form.
And if you want to bring the sunshine home? Ilori's limited-edition bottle will be available in the UK exclusively at Selfridges London and on selfridges.com, retailing at £200. Only 1,000 bottles will be available globally, with 400 available in-store and online at Selfridges.
For more information, see selfridges.com