Eccentric cocktail bars in London are in abundance. Among the mania of this bustling city, every venue needs a USP that draws in locals and tourists alike.
The Sun Tavern in Bethnal Green certainly hits that remit. In fact, the bar is so unique that I struggled to think of a sentence to describe it. So, let's go with: a sophisticated dive bar with speakeasy inspired cocktails and a large helping of Irish culture.
Got your imagination running wild yet?
The authentic rustic interior and dim lighting gives the ambience of a smooth speakeasy. Yet once through the doors, music from the likes of The White Stripes and Pulp is on hand to rev up those endorphins. Soon you'll be ready to try a Poitin, or perhaps an Irish whiskey from a menu that's longer than the Piccadilly line.
It's a simple concept with an eccentric vibe, and must be attended to experience its true artistry. Oh – and it's dog friendly.
What to drink?
The cocktail menu consists of ten carefully curated drinks. Be warned – they aren't for the faint-hearted.
'In Bloom' is the ultimate choice. Don't be fooled by its lighthearted, floral name. Ever had a cocktail with IPA and Absinthe shaken up together? Probably not. It's pretty stiff, but not overpoweringly so thanks to the kiwi cordial. If you have the courage to order it, you'll be rewarded with a truly delicious drink – blooming fantastic, even.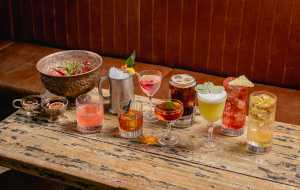 For something (ever so slightly) sweeter, the Ellesworth St Swizzle is your perfect companion. Served in a tankard over crushed ice, this cocktail was aptly described by my guest as "it tastes like it's getting me drunk" – a sentiment with which I couldn't agree more. The Acid King lives up to its name: The Sun Tavern's own twist on a Tommy's Margarita, it's sour, super moreish and is served over the largest ice cube I have ever seen.
There are plenty (and I mean, plenty) of other choices if the cocktails have too much activity in one glass. If you're a whiskey connoisseur, line your stomach because it's going to be a long evening. With 200 variations, the largest range of Irish whiskeys in London (according to their website) and a 'rare and vintage' shelf, you're guaranteed to discover a new favourite tipple of choice.
For a truly authentic Irish evening, try a Poitín if you dare. The bartender attempted to teach us the pronunciation, a task that becomes increasingly challenging after drinking a few of them. Ranging from 40% - 90% ABV, you might want to book the next day off work.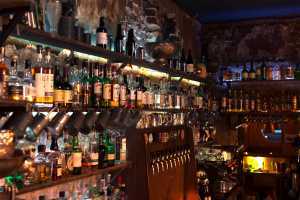 What to eat?
If charcuterie isn't your style – but who on earth doesn't like charcuterie? – then your food options are rather limited. The Mixed Board is perfectly sized for two to share. A delightful selection of saucisson, cheeses, and accompaniments, it's the perfect sized portion to fill a hole without overindulging.
If you'd prefer a veggie option, Three Cheese Board will similarly hit the spot. There are also some smaller options if you're looking for a snack – again, very much on the meat and cheese spectrum.
Will it bankrupt me?
Not at all. The cleverly crafted cocktails will only set you back £9 a piece. There's a sharing option for four people for £25 – or between two people if you're heading for a long night. (It's open until 2am.)
The food is even better value. Each board is between £12 - £15, while all other smaller menu items are £2 - £9.
It's possible to have a reasonably priced night, although if you were to power through the whole whiskey menu, the bill would quickly rack up. Probably without recollection by the time you leave.
Anything else to note?
Don't want to keep going to Bethnal Green for a fix of your newfound favourite beverage? There's no need thanks to The Sun Tavern's online shop.
Plus, get the complete Poitín fix on 18 November on 'International Poitin Day'. The team at The Sun Tavern have a live Irish DJ, free tasting and an exclusive cocktail list.
441 Bethnal Green Rd, London E2 0AN; The Sun Tavern