Just like micro breweries, veganism and, well, Brexit, pop-ups has become a bit of a buzz word as of late. Actually, it does every year during the all-consuming run-up to Christmas.
It might well be the original buzz word, because since what seems like the beginning of time brands have used the festive months of November and December to launch snow-themed spaces in cities around the world. And London knows all too well what that feels and looks like.
In short, it's a handful of impressive live music lineups, a lot of faux fur blankets, mulled something, alcoholic everything, baked Camembert for lunch, dinner and post-boozing food, and above all else a competition to be the best.
Well, all we can advise is do as we do. Sit back, watch brands go head-to-head and reap the benefits of visiting any and every Christmas pop-up that you can in the next few weeks.
Because, let's be honest, before you know it Paul from accounts will be in the midst his January cleanse and making you feel bad for every indulgence you made in these next few weeks. 
So, in the meantime, here's the best festive pop-ups to visit before the big day.
Lodge d'Argent at Coq d'Argent, near Bank
"I mean, if you're going to do a winter pop-up – you may as well do it properly." That's how we imagine the conversation went at Coq d'Argent when the luxury French restaurant decided to open its very own winter lodge. Similar to Flat Iron Square, the vibes are very much halfway-down-the-mountain, only here you are in Verbier, being treated like member of the Shelby family and surrounded by some of the most high-quality Christmas installation decor the City of London has to offer. And that is not an exaggeration. Seriously, it's not. Cocktails on the menu range from a Hennessy cognac, to Moet & Chandon champagne, and with accompanying food, such as Raclette cheese alongside new potatoes and dry cured ham gratin – you're sure to leave happier and fuller than you were before arriving.
Until 29 February. For more information, visit coqdargent.co.uk
Alpine Whisky Lodge, Flat Iron Square
Yes, it's suddenly become unnecessarily cold. Yes, it's pitch black by the time we all leave work. And yes, we all agree that our time would be better spent at home in front of a fire. Or, for some, on a yearly or first-time ski trip. Well, looky here, Flat Iron Square has opened its festive Alpine Whisky Lodge for winter and we couldn't be happier. With Maker's Mark, Laphroaig and Highland Park to sip on, furry blankets to warm down under, and toasted marshmallows for both snacking on and adding to your drink, this cosy corner offers it all. And if you really can't shake that need to ski, head on down to the venue's apres ski lodge and enjoy candied pecans on the side of carefully crafted post-ski cocktails from around the world. Warning: a chairlift home may be necessary.
Until January. For more information, visit flatironsquare.co.uk
Virtual Highland Lodge, Devonshire Square
Few pop-ups can promise what Smoky Barrels does. A virtual lodge where you can 'shoot' game? Check. A self-serving drinks machine, with endless amounts of beer, whisky – and just about anything and everything else? Check. Food catered for by big sister, and famed, restaurant Mac and Wild? Check. It seems too good to be true, but it's not. Smoky Barrels opens tomorrow and is taking bookings now. You don't have to be a regular shooter, or even agree with the process of hunting to recognise that the premise of this one is pretty special: going above and beyond to provide an unmatched festive experience in the City. And to show just how much the quirky space is catering to all, there is a vegan burger of dreams on the menu. You're welcome.
Until 21 December. For more information, visit smokybarrels.com
Moet & Chandon's winter bar pop-up, Sky Garden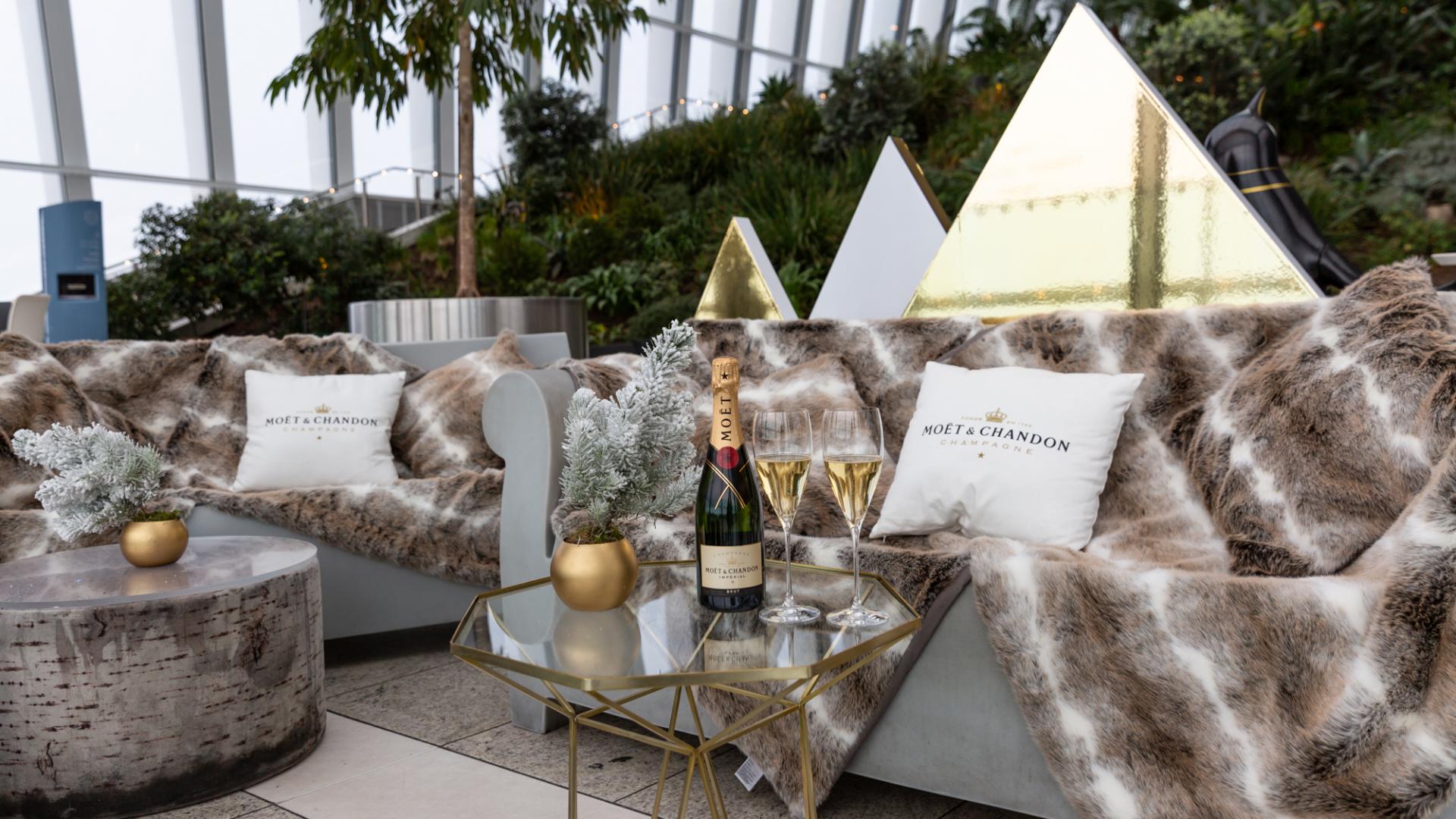 Speaking of Moet & Chandon, they've actually launched their own winter-themed bar right at the top of the biggest Christmas tree of them all. Well, in Sky Garden at the top of the Walkie Talkie but you get the picture. Being that its a Moet-themed affair, all the stops have been pulled out – from faux fur cushions, to a sea of candle-filled jar lanterns that really set the scene and chunky cable-knit throws sure to keep you warm among the City's stars (well the ones that you can see). The cocktail menu is vast, too, and isn't one drowned by the brand that sponsors it. Festive goers can expect winter warmers such as Sky Garden's classic Tea Time: a gin, elderflower and English breakfast tea concoction, as well as an alcoholic hot chocolate. And just to go that extra Moet (that's mile), there's an array of live music to enjoy throughout the bar's impressive near-two month stint.
Until 6 January. For more information, visit skygarden.com
FriendsFestive, Truman Brewery Shoreditch
Could there BE any more to do in the lead up to Christmas? Yes, yes there could. Welcome to Friends Festive – the immersive Friends experience, with a yuletide twist. If you aren't a Friends fan and don't get these next references – or indeed didn't get my first sentence – I won't ask that you leave right away, instead I implore that you get yourself down to the Truman Brewery and become said fan after experiencing this pop-up. From the Holiday Armadillo and a live action remake of the New Year's Rockin' Eve Disco to Central Perk's festive glow-up and the chance to ring Phoebe's charity Christmas bells – this is more than an installation. It is the chance to do what we all dream of doing and live a life of drinking coffee and rent-free luxury, even if it's only for the night.
Until 21 December. For more information, visit friendsfestive.co.uk
Ice Ice Baby in the Secret Garden, South Place Hotel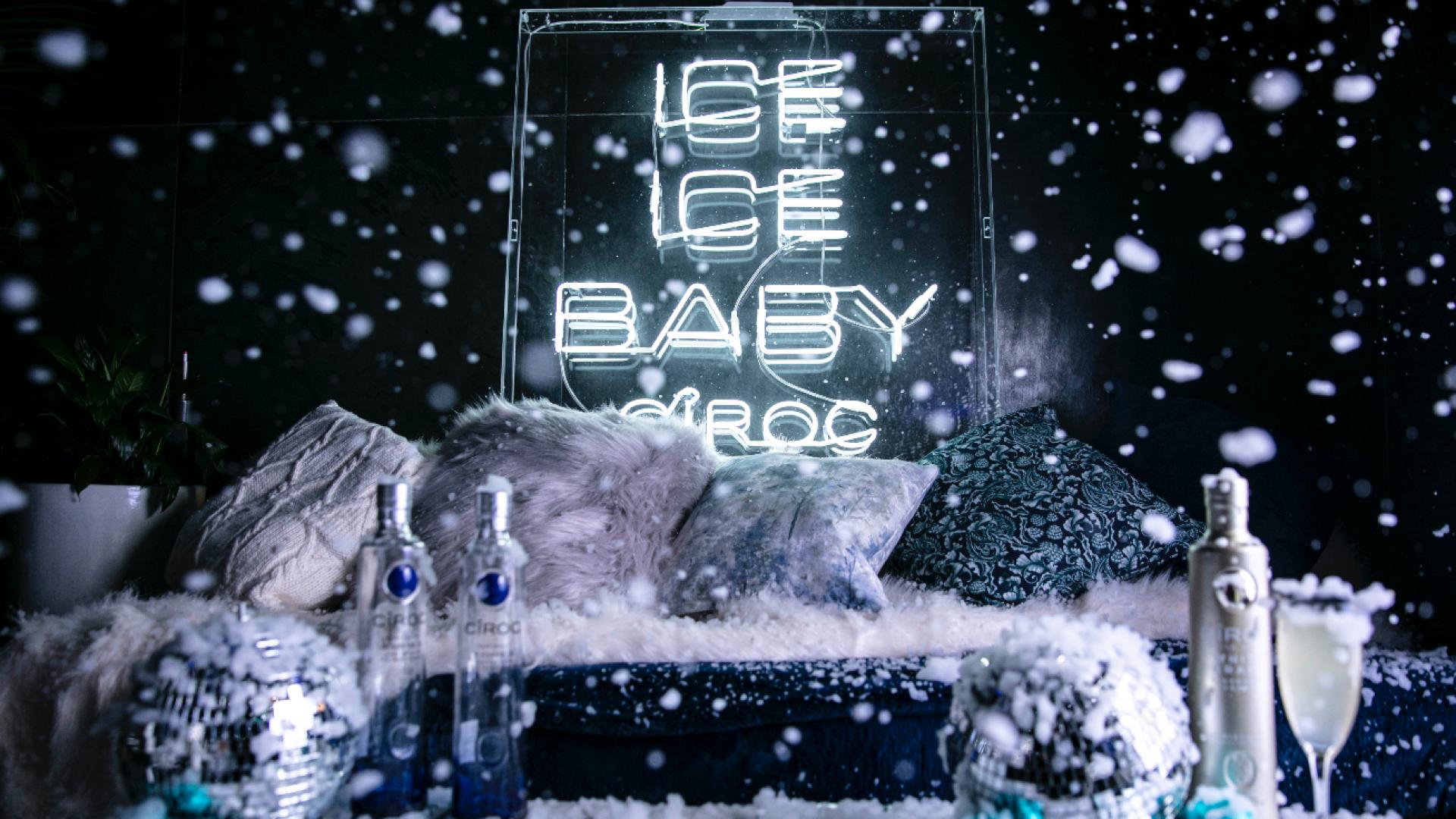 Ah, Jedward. What, you didn't think of Jedward when you read the name of this one? Fair enough, and probably for the best. We did, but we also thought of sipping icy cold drinks on the roof of one of London's most sought after hotels. CÎROC vodka is known for its premium status and with events like this one, it's no wonder. Amongst many offerings, Ice Ice Baby is guaranteeing snowfall as we step into Christmas this year – even if it's fake, the novelty really doesn't wear off. Especially when you're surrounded by such lush interiors and exteriors. Winner winner, vodka for dinner. And as part of their festive run, the South Place Hotel will be serving CÎROC's limited-edition white grape flavour voddy, too. Cheers.
Until 30 December. For more information, visit southplacehotel.com
Fever-Tree Winter Lodge, Broadgate Circle
An ice cold gin and tonic isn't just for Christmas, it's for life. Fact. The Fever-Tree Winter Lodge, on the other hand, most definitely is just for Christmas and will be making a stir at Broadgate Circle's Winter Forest until 20 December. With a bar dedicated to creating a mix of warming tonic concoctions, alongside masterclasses hosted by spirit brands such as The Botanist, Portobello Road and Seedlip, this really is a spot for any and everyone who loves a single, double or Christmas-size G&T. Set against one of the City's most buzzing backdrops, the winter escape provides the perfect balance of post-work and out-of-the-city feels. And if you fancy yourself as a bit of a flavour connoisseur, guests are encouraged to pick herbs from a garnish garden to personalise their Fever-Tree mixed drinks.
Until 20 December. For more information, visit broadgate.co.uk