Why sing for your supper when someone else can do the job for you? Boisdale of Canary Wharf hosts live music performances every evening to ensure diners get more than a meal. This isn't a restaurant with a soundtrack; more like a nightclub with food.
Boisdale has been a London institution since the 1980s. The Belgravia outlet was opened by Ranald MacDonald with the intention of celebrating four of his passions: Scotland, whisky, cigars and jazz. So the menu concentrated on Highland beef, oysters and haggis; the whisky bar sparkled with Scotch; the cigar room offered numerous different cuts; and live jazz performances were commonplace.
Unsurprisingly, this proved a popular combination and Boisdale of Belgravia was followed by Boisdale of Bishopsgate and Boisdale of Canary Wharf. Each restaurant offers a different experience while sticking to the same four tenants that MacDonald founded his success upon. Well, if it ain't broke.
Canary Wharf is the largest and most raucous Boisdale. Both the downstairs oyster bar and the upstairs restaurant resemble a Highland Lodge that got lost and somehow ended up in the City. Their scarlet wallpaper is decorated with monochrome photographs of various movie stars and musicians, while floor-to-ceiling windows look out over Canada Square. People watching is at its premium here, especially after work on a Friday.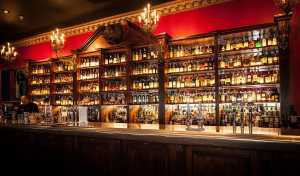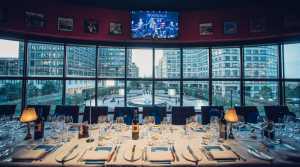 Of course, if you really want the best view you should step onto the cigar terrace and recline in one of its tartan-lined chairs. Don't have a cigar to hand? No matter: there's a Cuban cigar library and shop on-site. It will also sell you a bottle of whisky to take home with you.
First, the show: which takes place in the restaurant, the vast whisky bar running along the far wall. Expect plenty of tribute acts – Bootleg Beatles, Fleetwood Bac – but also some old favourites: Boney M and Scouting For Girls are both slated to appear in the next month. Our visit coincided with 1970s soul group Odyssey. People appeared to be having the time of their lives, quite literally dancing between the tables.
The one downside is the food menu is quite limited during the shows, with only a handful of options for each course. (Don't expect any oysters, either.) However you can still enjoy the award-winning smoked salmon, haggis and my poached fillet of wild sea bass went down a treat. Plus there is no shortage of cocktails to get you in the grooving mood.
There's not enough fun in the world and the dinner and show experience at Boisdale Canary Wharf offers just that: fun. Come with an empty stomach; leave with swaying hips and a song in your heart. 
Cabot Square, London E14 4QT; Boisdale