Just around the corner from Piccadilly Circus and firmly embedded among the scattering of West End venues, from the outside Farzi Café is, in one word, sleek.
Opened in 2019 by the son of the late Jiggs Kalra, otherwise known as the 'czar of Indian cuisine', the bistro offers experimental twists on familiar Indian and British dishes, crafted to tease your palate. The sleek exterior continues inside, with its sultry furnishings of copper and deep turquoise.
Farzi Cafe immediately promises a dazzling pre-theatre dining experience. The bar takes centre stage, adorned with an intriguing cascade of pipettes, blow torches, and other paraphernalia lifted from a science lab.
As we take our seats, soft jazz is our soundtrack for the evening, and we are in a prime position to sit back and enjoy the smooth, hypnotic choreography of Farzi's bartenders.
What to drink?
As the sun moves across Aries and Taurus this month, Farzi Café has introduced a new menu of zodiac inspired cocktails. Expect to taste expertly subtle yet flavourful combinations to take you to an ethereal dimension. Even if you are yet to be convinced by the whole astrology thing, these drinks are not worth missing out on.
As would only be right, we kicked things off with the drinks pre-determined for us by the stars. A romantic Pisces? You'll be enchanted by Grapes of Meena, a floral concoction of vodka, aromatic wine, grape, and rose that hits a perfectly sweet balance, even with the presence of a rather inconveniently large ice-cube.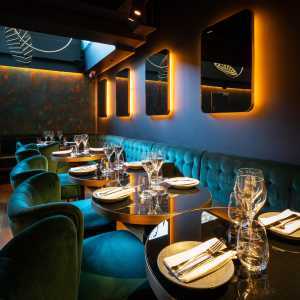 An ambitious Capricorn? Switch off from the grind with Makara's Tropic, a crisp and clean Equiano Rum cocktail served with a generous shard of nutmeg-infused white chocolate to cleanse the palate. It's an outstanding pairing: the milky sweetness of the chocolate blending seamlessly with the depth of the rum and wintery notes of nutmeg. Perhaps I'm a little biased, but this was the superior drink of the night.
If a more fiery sign takes your fancy, connect with your inner Sagittarius by sipping on Dhanus' Journey (Rivington gin, Riesling cordial, grapefruit, plum). The sharp bitterness of this cocktail is cut through by the small side serving of saccharine mango sorbet, another delightful combination and one that encourages you to embrace your softer side.
There is also Farzi Café's normal cocktail offering (though normal is a rather misleading description). These beverages are the classics but 'Farzified', similarly promising scintillating creativity.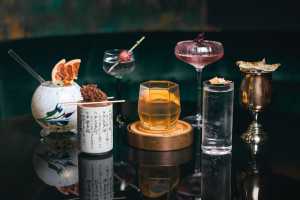 How's the food?
As original and imaginative as their drinks, I'm afraid you will want to try everything on the menu. Fortunately, the range of small plates and sharers on offer makes it easy to pick and divide dishes between friends.
For vegetarians, the sweet and satisfyingly crispy dal chawal arancini serve a mild kick and are as good a place to start as any. If you're feeling more adventurous, there is the kache kele ka ragda pattice, a platter of crispy banana slices accompanied by gorgeously tangy green pea foam and a scattering of peanuts for a welcome extra crunch.
And for the carnivores, the zaffrani murg tikka will be a guaranteed crowd-pleaser. You might also opt for bhuna goat taco or the manglorian rava fried prawns.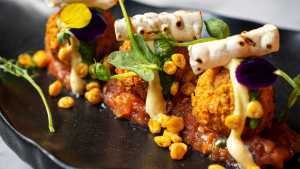 Reluctant sharers, we see you. Have no fear, there is a long list of mains you can have all to yourself. Among these options are Butter Garlic Masala Rib-Eye Steak, Sea-Bream Patori, or Tandoori Paneer and Mushroom Butter Masala.
To finish things off we had the Fig and Ginger Pudding served with vanilla ice-cream and salted caramel foam – a perfectly sized portion of rich, melt-in-the-mouth goodness.
Will it bankrupt me?
A couple of celestial cocktails at Farzi Café will set you back £28. If you are tempted to immerse yourself in the full Farzi experience, small plates range between £11- £19 whilst veggie mains sit at £18 and their meatier counterparts begin at £21.
It is by no means a cheap evening, but worth every penny for the warm ambience, the gracious staff, and every unique flavour that will be dancing on your palate.
Haymarket, London SW1Y 4BP; Farzi Café