The Galvin Brothers have bestrode the British restaurant scene for more than twenty years. Their combined CV would make a gourmand swoon: Chris has worked at the Ritz, the Lanesborough, the Wolseley; Jeff has notched up the Savoy, Chez Nico and L'Escargot. And those are only the London joints.
Culinary rock stars they may be, but happily the Galvins have a considerably better relationship than the Gallaghers. In the 1990s, the brothers worked together at the Orrery restaurant in Mayfair – a Michelin star was the result. The boys have picked up a few more in the intervening years.
In 2006, the Galvins launched their first joint venture – Galvin Bistrot de Luxe in Marylebone. That was followed by Galvin La Chapelle, Galvin Bistrot & Bar and Galvin at Windows, among others. Basically, there are a lot of Gavlins these days and we're here for all of them.
However, for this specific review, we are here for Galvin La Chapelle. The restaurant's classic French cooking won a Michelin star in 2011 and maintained it in the decade since. C'est magnifique indeed!
What's the vibe?
Galvin La Chapelle has a case for being the most beautiful restaurant in London. The building was formerly known as St. Botolph's Hall. It housed the parish hall and also the gym of a Victorian girls' school. Try to refrain from playing hopscotch.
The magnificent setting – all arched windows and vaulted stone ceilings – will have you knelt in supplication. However the restaurant is not named for a chapel but a wine: ​​Paul Jaboulet Aîné Hermitage La Chapelle to be exact. Paul Jaboulet Aîné is a French wine producer with one of the longest histories of any winery in the world and Galvin is one of only three ambassadors to distribute it.
The whole experience just screams class, from the moment the champagne trolley is wheeled over to your table. Actually, 'screams' is the wrong verb: Galvin La Chapelle croons class. It murmurs class gently into your ear while tucking a beautiful white napkin around your throat. C'est bon, c'est bon.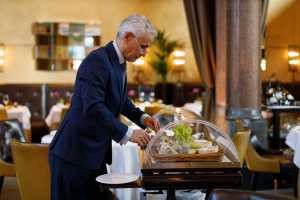 What to order?
Now shit gets real. Galvin La Chapelle recently welcomed the sickeningly young and talented head chef Arturo Granato – the Italian previously ran the Michelin-starred Club Gascon. He's wonderful enough to make you forgive Italy for the Euros.
If you want to treat yourself – and your presence at Galvin La Chapelle would suggest the affirmative – then order the Menu Gourmand: seven courses showcasing Arturo's signature dishes. And if that's not enough, head sommelier Stephen Nisbet has paired a wine with each course to really add to the sense of occasion.
So you open with nettle-cured stone bass burrata and caviar – that goes with a 2020 Saint-Bris Exogyra Virgula from Burgundy. Barbecued monkfish, artichoke barigoule and clam velouté? Sample alongside a 2019 Godello 'Louro do Bolo'. Tuck into your 38-day aged roast Cumbrian beef fillet with BBQ Charlotte potato – perhaps the standout among standouts – while knocking back a 2014 Château La Tour du By.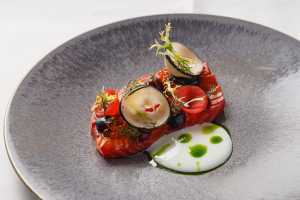 Carnivore? No matter. The Menu Gourmand is also available for vegetarians and vegans. And if, like my dining companion, you like most of the dishes but try to eschew meat, the restaurant can easily source a delicious alternative to the relevant courses. It's that kind of place.
Occasionally sommelier Nisbet will replace one of the on-menu wines with a different vintage, just to show off. This is very exciting and makes you feel like restaurant royalty. But then the whole experience at Galvin La Chapelle makes you feel like royalty. May it reign for 70 years and more.
Will it bankrupt me?
Look, it isn't cheap. The Menu Gourmand costs £200pp including wines or £125pp for the menu only. The vegetarian option comes at £175pp or £100pp. It pays to abstain from meat (a little) and alcohol (a lot). But hey, you can't put a value on the memories and the wine is quite spectacular.
It's also worth noting the lunchtime Menu du Chef retails at £48pp for three courses and is available with half a bottle of wine and tea or coffee for £65pp. That's stonking value for one of the best restaurants in London.
Anything else to note?
Galvin La Chapelle may be the classiest BYOB joint in the city. Diners are welcome to bring up to two bottles of their own wine or champagne, with a corkage charge of £65 per bottle or £130 for a magnum. But the wine selection is so good here, you'll be missing out.
5 Spital Square, London E1 6DY; Galvin La Chapelle