Entering the dining room at Benares, Mayfair we are greeted by the sound of clinking glasses and cheery voices, with plates of mouth watering food adorning every table.
Guided by a welcoming host, I slide into a sofa seat to be handed a heavy leather menu. I barely have a chance to open it before the host returns with a waiter carrying papadams, mango chutney, and a spicy liquid in a medicinal looking bottle to be squeezed onto the crunchy dough with a pipette. "No more than three drops," the host warns. There's a small spoon for the chutney, but a general instruction to eat with our hands. How else?
Blending delicious flavours and playful presentation in a refined but relaxed environment, Benares is modern, Michelin-star dining done right. The dining room is bustling with happy guests, a far cry from the hushed tones some fine dining establishments attract. The windowless room is moody, with spotlights and rectangles of white tiling along the walls simulating evening light.
Though there's an extensive à la carte menu on offer – spanning the land (tandoori lamb), the ocean (Scottish lobster), and the breadth of India – you can't go wrong with the tasting menu. Executive chef Sameer Taneja does it very well, combining high-quality seasonal British ingredients with Indian flavours across nine well-balanced courses.
We eagerly crunch through the snack, two drops from the pipette providing ample heat. Then arrives a more formal snack in the form of course one: Street Snacks. One is a crispy cone full of a delicate puree that arrives in a box of dry black beans; the other is corn-based and served on a skewer wedged into the soil of a little tree that sits in the middle of our table. There's a note from Taneja clipped to one of the branches, reading: "This is a tribute to all roadside street vendors in India who work hard to make a living selling street food. We salute them." Both are bite-sized, but each chew reveals more flavour.
Though he grew up in Delhi, India, Taneja did not cook Indian food professionally until 2011. Having worked under rigorous French practitioners such as Pascal Proyart, Alain Roux and Joel Antunes, it was Pierre Koffmann – legendary French chef who earned three Michelin stars at La Tante Claire, London – who encouraged Taneja to bring Indian recipes and flavours into his haute cuisine dishes.
Taneja then re-cut his teeth at Benares from 2012-2015, working under Atil Kochhar and experimenting in pursuit of a blended European-Indian cooking style. He returned to Benares in 2019, and in 2021 – a decade after Koffmann's suggestion – Taneja earned a Michelin star for Benares, which it has retained for 2022.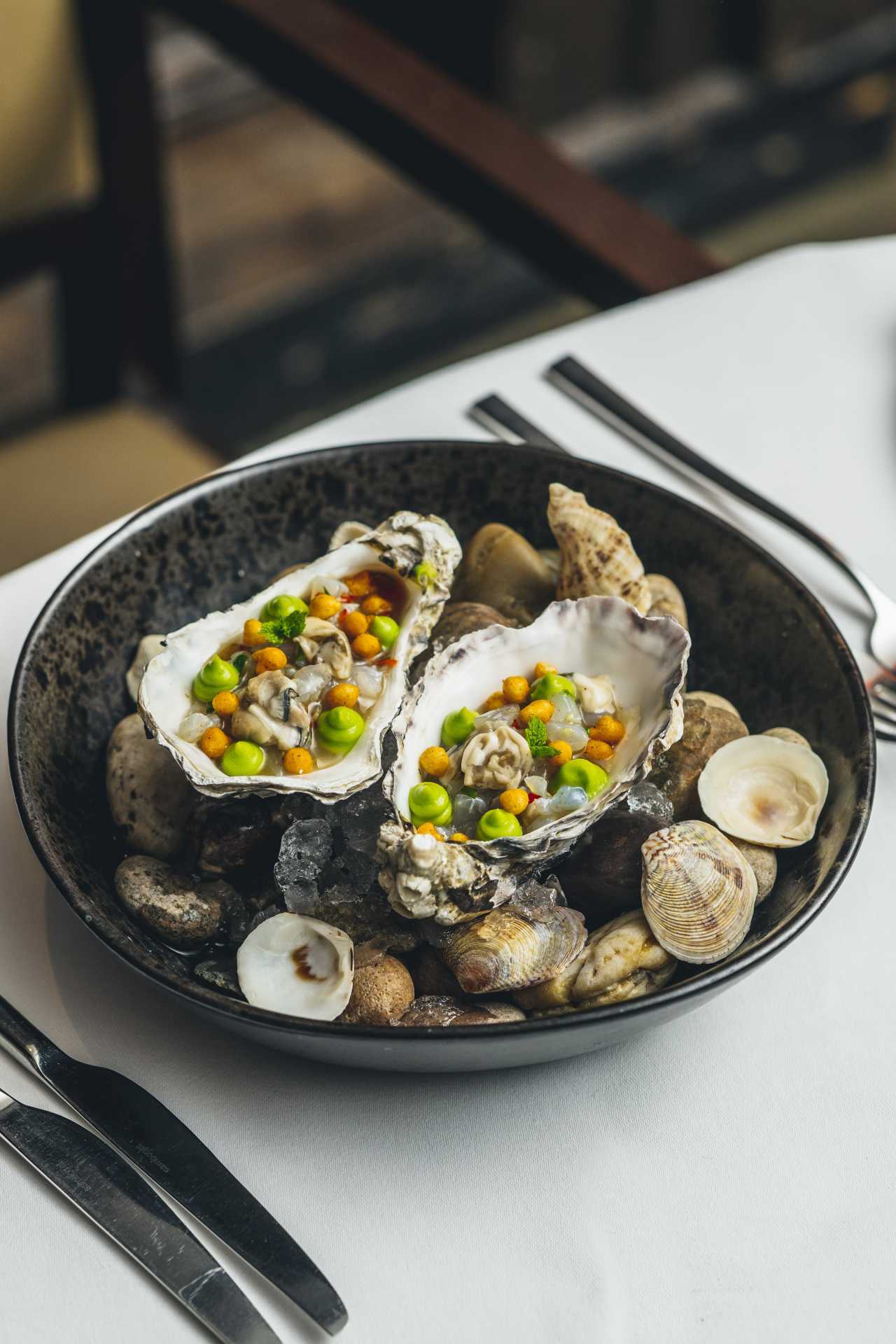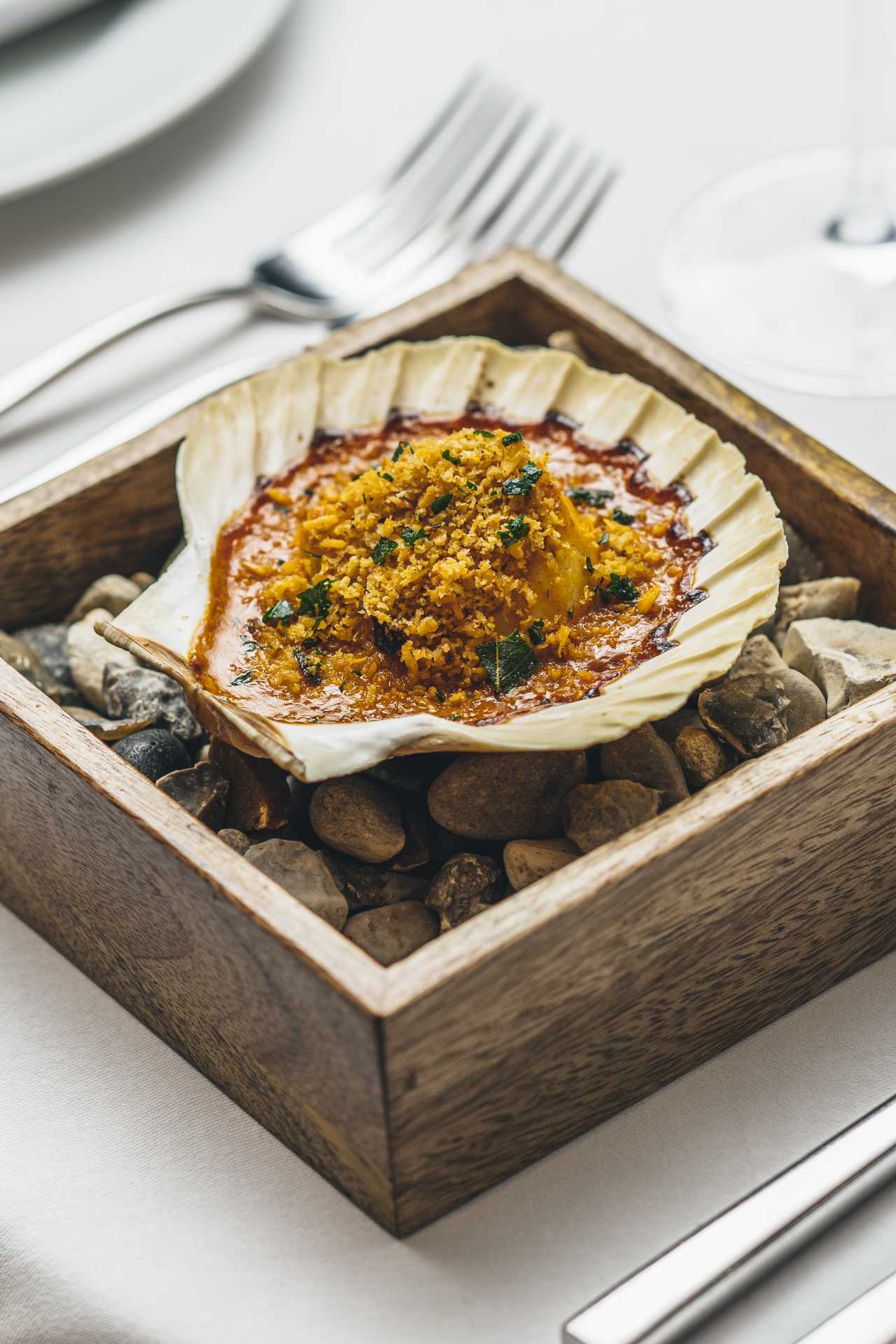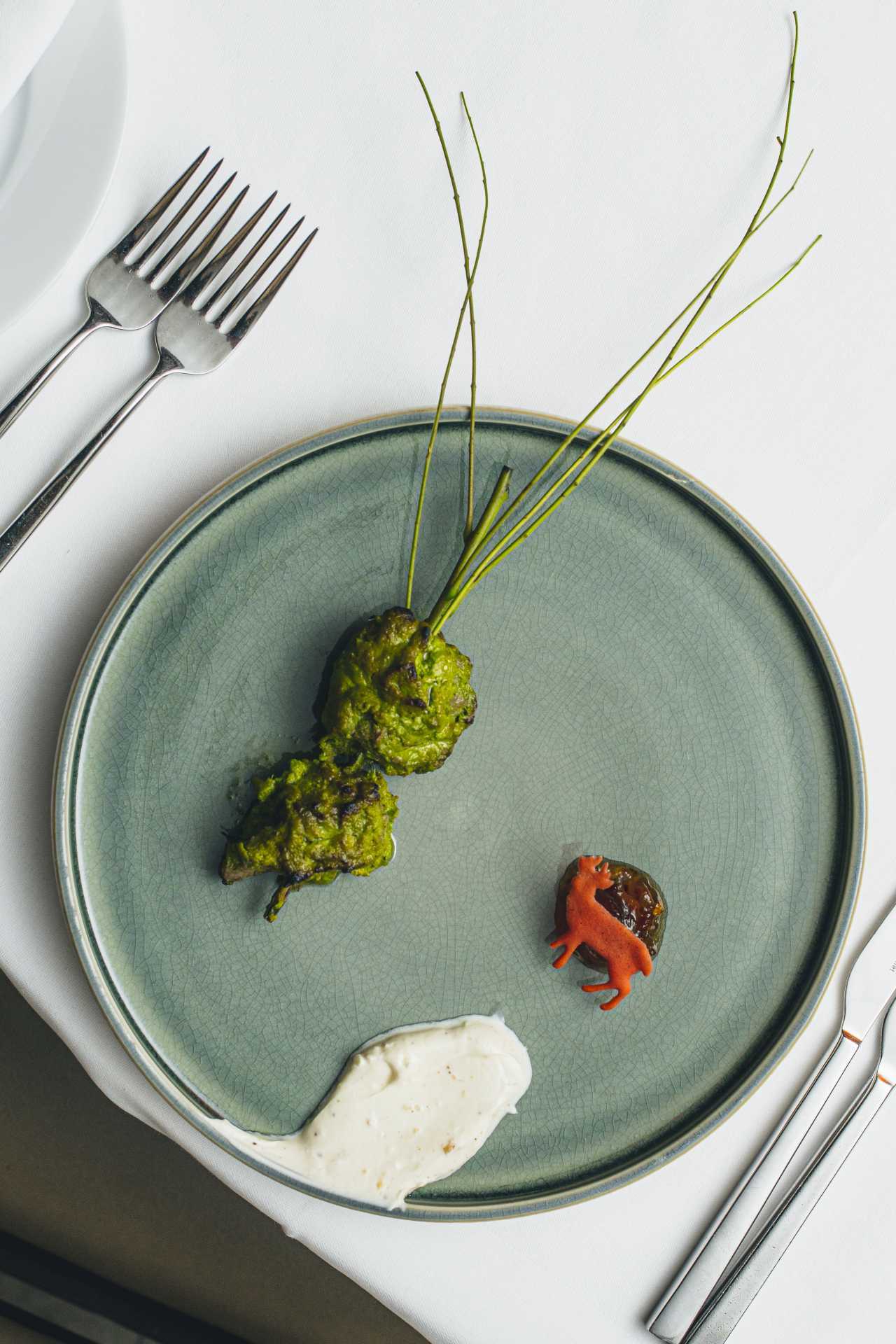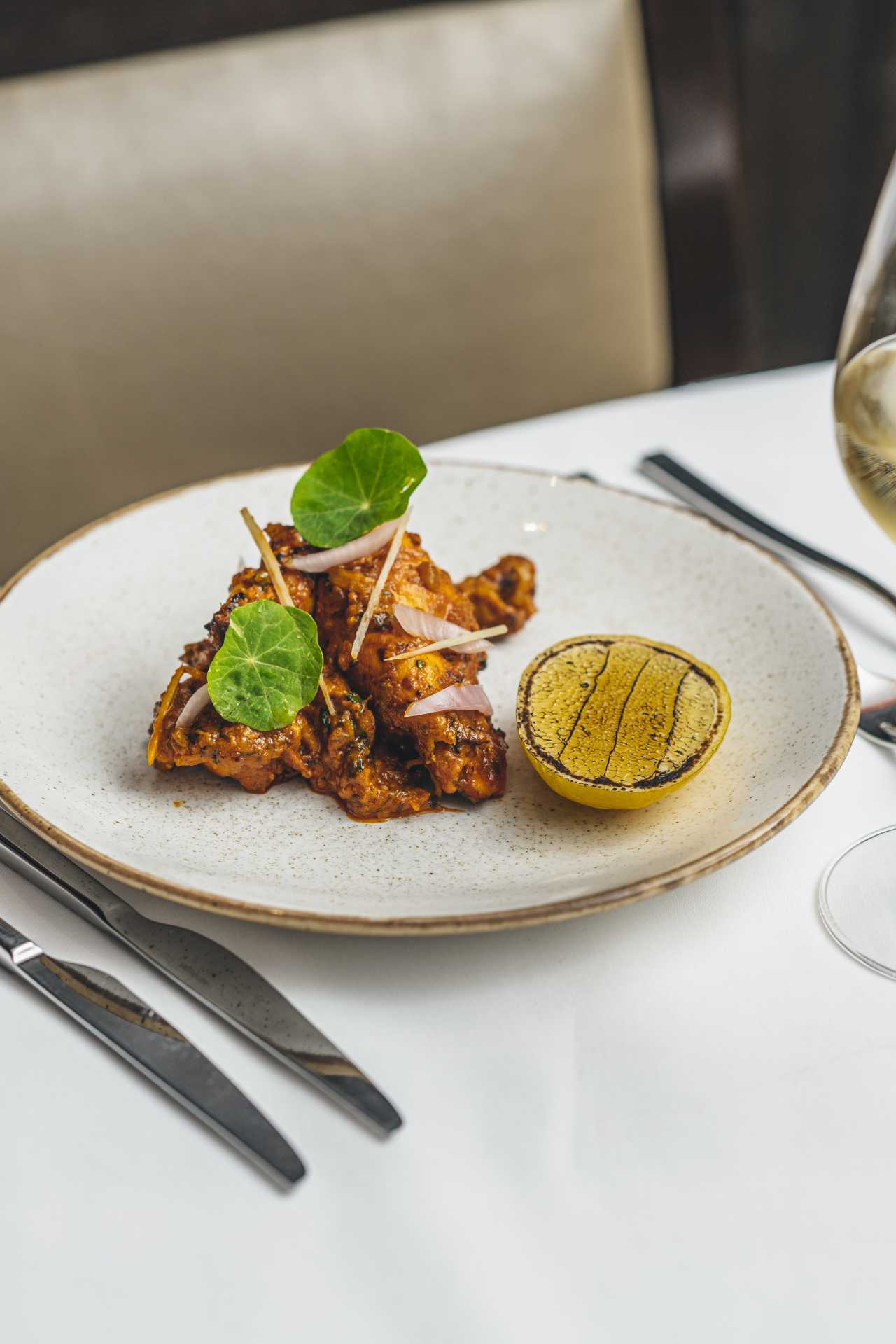 From street food to the coast: after a palate cleansing but flavourful truffle shorba, course three – Porlock Bay oyster and cured sea bream chaat – is presented in oyster shells balanced on smooth looking stones, which we are warned not to touch for their iciness. With a theatrical flourish, the host pours water on the stones, creating an icy mist. With his permission, we tuck in with our forks. The dish is cold, sharp, refreshing.
With another course comes another shell. Course four: baked Malabar-style scallop with crispy bread podi. My knife cuts through the scallop – Scottish, hand-dived – like butter. It is melt-in-the-mouth tender, and the rich sauce leads us elegantly into course five: tawa masala halibut with Portsmouth clam moilee. The fish is delicate, the perfect vessel for Taneja's masterful flavours. We take our time, savouring every bite.
Though the presentation is precise and playful, Taneja's emphasis is on flavour combinations and textural contrasts, either within dishes (the crispy bread podi enlivens the saucy scallop's texture) or between courses.
We return to the land next for tandoori muntjac with garlic yoghurt and chilli chutney accompaniments. The tougher, gamier meat is a pleasant change from the fish we've had so far, slightly (but noticeably and deliciously) charred from its time cooking on a skewer.
A fruit soda prepares our taste buds for a new course – unexpectedly, the largest yet: poussin tikka masala. It is a classic carried off beautifully, served with naan bread, lentil dal and rice to share. We dig into the tender meat, passing the dishes between us and eat our fill – which isn't as much as we would like, our bellies bursting from the previous six courses.
Rasmalai – a creamy, moreish milk-based eastern Indian dessert served with a crunchy, intricately patterned biscuit leaf on top – and petit fours, courses eight and nine, bring the meal to a close. Stuffed, we are grateful for the lightness of the Rasmalai and the smallness of the petit fours: a cinnamon deep fried flower, a creamy white chocolate, and a delicate sugar leaf balanced on snow-powdered twigs resting on a wooden box of coffee beans. The playful presentation persists into this last course, as does the host's warm explanation of every course laid before us.
We lean back in our seats and sip the dregs of our wine – a bottle of house white, delicate and sweet, which has accompanied every course delightfully – and sigh, satisfied. The dining room is quieter now as guests head home, satiated. Taneja, who salutes the street vendors in India, should be saluted for the sumptuous experience he has crafted at Benares, as should the staff who bring his visions to life with detailed descriptions and final presentational flourishes. Benares is a true triumph.
Tasting menu: £119 (vegetarian £109); wine pairing: £65-95 per person. 12a Berkeley Square, Mayfair, London, W1J 6BS; benaresrestaurant.com