"'Every night at the casino beautiful women used to try and catch my eye!'
'Presumably they thought you were a waiter, sir.'"
Jeeves had a point. Casinos have been attracting the foolish and luckless for hundreds of years now. Everyone knows the rule – 'the house always wins' – but still they come. Why? Because there is something inherently both thrilling and glamorous about these places.
While it may appear to be a riskless endeavour when your bank balance has eight digits to it, gaming clubs have persuaded more than a few millionaires to part with their fortunes.
And this is especially true in London, which contains some of the most seductive of them, where your eyes will be dazzled by glamour and your shoulders will rub with the highest of high rollers.  
The best casinos in London
Maxim's Casino
Originally constructed in 1862 for John Forster - a celebrated critic of the age and close friend to Charles Dickens – Maxims at No 1 Palace Gate House was "built for a gentleman by gentlemen". 
You cannot deny the place oozes class, with intimate gaming areas that are spread across two floors. The main Gaming Room is housed in what used to be the Drawing Room, complete with marble fireplaces and pearwood panelling along with several other private gaming rooms including the glorious glass-roofed Library. Yet it's not all Ye Olde Cards: Maxims has introduced a brand new Electronic Gaming experience with slots and electronic roulette from December 2019.
Maxims is open 24 hours a day, all year round, apart from Christmas Day, with a late food and beverage licence. The restaurant specialises in Arabic, Chinese and European cuisine along with a lounge bar serving an extensive array of premium wines and rare whisky from around the world.
1a Palace Gates Rd, Palace Gate, South Kensington, W8 5LS; maximsclub.com
Aspinall's 
While the Ritz is grandiose, Aspinall's is prestigious. For many, it is the most exclusive and elegant of all Mayfair casinos. The discreet exterior blends into what looks like a residential street, but the interior is incredibly lush and exclusive, with an air of rumpled tuxedoes and expensive cigars rolling the dice under chandeliers and silks and velvets. Come on an evening and you'll feel the walls thumping with the adrenaline of sweat-browed Oofys throwing life-changing bets onto the blue baize.
Aspinall's heyday was in the 1970s, with the regular presence of men such as James Goldsmith, the Sultan of Brunei, Tiny Rowland and Adnan Khashoggi. The place maintains an air of discretion but stories do seep out. For example, there's one memorable evening when a punter won £12m, a win which required the owners to seek refinancing. 
27-28 Curzon Street, W1J 7TJ; crownlondonaspinalls.com
LES AMBASSADEURS
Remember the scene in Dr No when Sean Connery appears with inimitable suaveness, lights a Morland cigarette on the baccarat table, and introduces himself to the world with the superbly nondescript line: "Bond. James Bond"? That is set in 'Les A'. The place was called Le Cercle back then and it is to casinos what Aston Martin is to cars – slick, elegant and refined and probably with the odd Bond sitting inside. The grand Georgian building was owned by Leopold de Rothschild who lived there in 1879. Membership is £1,000 and the views across Hyde Park are breathtaking.
Bond aside, the place has attracted its share of modern-day Blofelds. Philip Green has been a regular at Les Ambassadeurs in the past, reportedly winning (and losing) millions in a night. Mike Ashley has attended, though not gambled. Caitlyn Jenner, Teddy Sheringham and Nicklas Bendtner also make up the alumni.
5 Hamilton Place, W1J 7ED; lesambassadeurs.com
CROCKFORDS
The private suites at Crockfords are stocked with free Krug champagne, caviar and lobster. The casino is based on the gaming club established in 1828 by William Crockford a few streets away in St James's. The son of a fishmonger, Crockford raised gambling from the cobbles of the East End to an elite activity in Mayfair where it could net a more aristocratic fish. The Duke of Wellington was a member.
It is from the existing club that the modern day casino was opened in a suave white Georgian mansion on Curzon Street where you play under imposing ceilings and chandeliers. High rollers come in their droves to gamble at what is effectively the oldest of them all. Not least was Kerry Packer who spent time here and is said to have one lost £11m in a three-week spree in 1999. 
30 Curzon Street, W1J 7TJ; crockfords.com
The London Hippodrome
The London Hippodrome opened as a musical hall in 1900, with a young Charlie Chaplin starring in the first show performed at the venue. It was later transformed into a nightclub called The Talk of the Town, which hosted a Who's Who of 20th century musical legends: Frank Sinatra, The Jackson 5, Judy Garland and Ella Fitzgerald are just a fraction of the names who played there. Subsequent owners included Peter Stringfellow, before the lease was acquired in 2009 by Jimmy and Simon Thomas, who opened the casino in 2012.
Such is the size of the casino, it technically houses three separate casinos over its five floors. The ground-floor Grand Casino is very much the centrepiece, a giant goldfish bowl of gambling; Lola's on the lower-ground floor is like a buzzy speakeasy; and The Craybourn Club on floor three is a more relaxed environment – plus it's next to the smoking terrace.
Want to take a break for the tables? The 325-seat theatre hosts Magic Mike Live, the stage version of Channing Tatum's two-film franchise; expect plenty of moves and minimal clothing. Meanwhile the Heliot Steak House is one of London's finest, and a more than worthy way to start spending your winnings.
Cranbourn St, Leicester Square, WC2H 7JH; hippodromecasino.com
The Empire Casino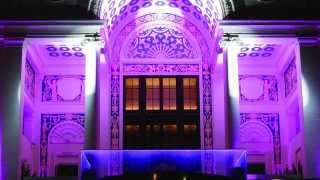 Las Vegas by way of Leicester Square. The Empire is very much the Manchester United of London casinos; it's the Coca Cola of London casinos, the MCU of London casinos. An unashamedly populist behemoth that caters to everyone from the high rollers to students looking to spin a cheeky £20. Those who had gaming experience only at online casinos, will be amazed by the luxury gambling venue.
At 55,000 square feet, The Empire is the largest casino in London, so it must be doing something right. The venue was formerly a ballroom and a theatre – classy – but was transformed into a casino in 2007 by the mighty Caesars Entertainment. The result is the type of palace that would not look out of place on the Strip. There are 127 slot machines and 50 table games: that's a lot of gambling.
Take a break from the action at one of the five bars: The Kings Sports Bar, Vapor Bar, Poker Room Bar, Dragon Lounge Bar and Icon Balcony Bar. The VIP Dragon Lounge is very much a club-within-a-club: players are treated like royalty (often because they are) and the stakes can induce nosebleeds.
5-6 Leicester Square, WC2H 7NA; thecasinolsq.com
Read more on casinoguardian.co.uk