Happy days! Above at Hide has launched a new tasting menu courtesy of its extravagantly gifted co-founder and executive chef Ollie Dabbous – and the results are just as delicious as you'd expect.
Hide has long been a Square Mile favourite: there's a reason we included it on our list of must-visit London restaurants. Hide, Below is one of the capital's finest cocktail bars – Above serves up the finest of fine dining and a view to match. Floor-to-ceiling windows overlook Green Park and the pedestrians of Piccadilly. It's a phenomenal people-watching spot: you're also likely to see more than a few supercars and open-top tourist buses. Keep smiling: you could end up in someone's holiday snaps.
But then smiling at Hide comes naturally. Being a cultivated man of the world, I took my mum (a kind of amalgamation of belated Mother's Day and even-more belated birthday present) and the old girl had a wonderful time.
There are two tasting menus: five courses and seven courses. The two additional courses are pea tartlet (near the beginning) and lychee sherbet (near the end). The latter is perfectly nice; the former is so good it makes going for the magnificent seven less a choice than an obligation.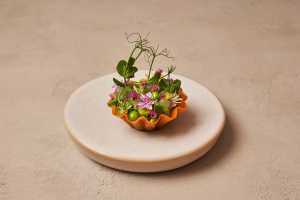 "The pea tart, with the peas individually peeled, reminded me of a dress I had in the 70s, simple, white and green and springlike and – in the case of the peas – utterly delicious. Like eating early summer." Thus Mum's verdict – and I can only concur, albeit with no idea if the dress comparison is accurate. I do know that Hide's legendary Nest Egg, tiny mushrooms swimming within its buttery yoke, very much lives up to the hype.  
Most courses offer a choice between two dishes: naturally, we picked one of each and I fear I tended to land the jackpot. (Like, she still won big in the culinary stakes; I just got EuroMillions.) Her John Dory with courgettes with crushed nasturtium broth was phenomenal; my Orkney scallops were out of this world, requiring another order of bread for their cauliflower sauce.
Ditto, her charcoal-cooked Herdwick lamb was as fine a piece of lamb as you could imagine; my glazed veal sweatbread was one of those rare dishes that you simultaneously crave to guzzle down as quickly as possible while also linger over for the rest of the evening – or week. Honestly, I'm smiling at the memory while I write these words.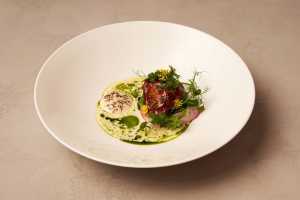 All courses are paired with carefully selected wines: a total treat for oenophiles. Hide is supplied by Hedonism wines and its list is the largest in Europe. For the tasting menu, choose from Classic (£105), Iconic (£280) or Hedonistic (£545) pairings, depending how well the month has gone. 
We visited during Jubilee week, and were offered a selection of English wines – apparently this offer was only for the Jubilee but you can always ask! A Danbury Ridge Chardonnay from Essex went down so well that Mum pledged to order a bottle for her cupboard. The woman's a member of the Wine Society and knows her grapes.
Hide is a restaurant operating at maximum capacity on every metric: from service to food to drink to decor (this really is a beautiful place to eat). This summer we suggest you rise Above. 
For more info, see Hide Above