Edinburgh is one of the world's great cities, a magical, majestic destination that has inspired writers and artists for centuries. (The odd comedian has also been known to visit of an August.) It also has some absolutely stonking restaurants – and The Palmerston is a worthy addition to their number. 
The Palmerston was opened in August 2021 by Lloyd Morse and James Snowdon. The restaurant specialises in nose-to-tail cooking – essentially, if it's there, eat it – using only the finest local produce. We're talking fruit and vegetables from local farms Phantassie and The Free Company; meat from Butchery at Bowhouse and Kildermorie Estate; and fish from Welch Fishmongers and Stevie Fish.
The restaurant is housed in a 19th century bank and the menu is bang on the money. The space isn't bad, either: trendy art decorates olive walls, the floor starts off wooden and then turns tiled when you reach the bar. The stairs are lined with old cartoons and sketches to distract you on the way back from the bathroom. (On the way to the bathroom, you will presumably have other matters on your mind.)
Back to that menu. It changes daily so I can't promise you that any of the dishes mentioned below will be there when you visit. However I would be very, very surprised indeed if their replacements weren't equally high quality. One notable constant is the bread: the Palmerston is also a bakery and even supplies other restaurants in Edinburgh.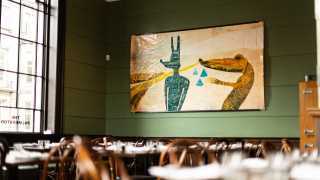 What to order?
Depends on the day! I started with grilled spring onions and ricotta on toast. The ricotta was wonderfully creamy, as warm and reassuring as a hug from a favoured aunt. The onions were sharp, the toast gave impeccable crunch. It's a gorgeous little creation with a balance that Thanos would approve of.
Fried courgette flowers – the courgette is battered, a light and crisp coating that would win the envy of the most seasoned chippy. I can't speak with too much authority as I wasn't the one who ordered it and the plus one only allowed me a small bite, which I guess is telling in itself. Suffice to say she was a fan.
So the mains, I went for slow roast Jacob lamb and olive oil potatoes. This proved to be a big swaggering prize fighter of a dish that carried some serious knockout power. Proper Scottish food that fills your stomach, stiffens the sinews and possibly even bulges your biceps a wee bit.
I was convinced I'd chosen the best option but – and this really kills me – the plus one did even better with her baked hake. It came served with mussels and this amazing tomato and basil sauce that literally got us asking for extra bread. Meat and fish dishes demonstrate both the Palmerstons quality and its versatility in the kitchen.
We finished by sharing a lovely light raspberry and almond tart perfectly paired with a Sweetdram Escubac – a botanical spirit from Edinburgh that makes a great digestif.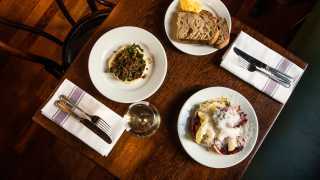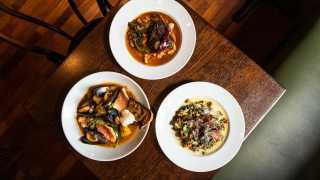 What's the damage?
Not crazy cheap but you should still easily escape with a two-figure bill if you don't go overboard on the booze. Starters tend to hover around the £10 mark, mains oscillate between £20 - £30.
There's normally a sharing option – venison pie when we visited – that would ease the financial outlay a little.
Anything else to note? 
We sat at the bar, which proved an utter delight. Easy to converse with the staff, examine the bottles and generally take in the ambience. Plus sitting at the bar is just cooler. Everyone knows that. 
1 Palmerston Pl, Edinburgh EH12 5AF; The Palmerston