It doesn't take long after sitting down in Seabird, located in The Hoxton hotel's Southwark residence, to feel right at home. The breezy space, heavy on potted plants and wicker furniture, is somewhere between a tiki bar and a chic Floridian house – it's only the views of London outside the floor-to-ceiling windows that pull you back into the capital. It's a beauty.
There's a selection of bottled cocktails to choose from behind the bar, an Iberian-inspired menu that sways from delicious porcine cold cuts to charcoal-grilled fish on the bone, and a terrace for soaking in the rays during warmer months. You've got to give it to Seabird, it paints a colourful picture of the modern restaurant.
As we nose through the menu, an outrageously large platter of raw seafood arrives on the table next to ours to a chorus of 'oohs' and 'aahs'. It's brimming with three gleaming tiers: crab, clams, oysters, lobster, prawns, and mussels. It's unavoidable: we imitate the order to stave off mounting food envy.
In amongst the treasure trove of marine jewels, it's the oysters that win our affection. The plump bivalves are in abundance on the menu, with Seabird allegedly boasting the widest selection in London. We opt for a small Japanese breed called Kumomoto grown in Maldon, Essex, as well as the Rolls Royce of oysters, Gillardeau from just outside La Rochelle.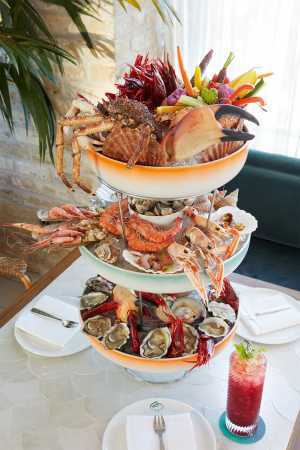 Elsewhere, a singular carabiñero prawn is simply grilled and served butterflied – its intense shellfish flavour magnified when you rapaciously suck the crustacean's head. Trust me, it has to be done.
Crab buñuelos are a doughy Latin American croquetas equivalent, while an octopus roll replaces the usual frankfurter in a hot dog, and comes served with padron peppers and a sobrasada aioli. The emphasis here is on flavour, with a little frivolity thrown in for good measure.
We bypass the mains on this occasion – despite a lingering glance at the Iberian pork – in favour of a sweet finish. The baked manchego cheesecake is a triumphant final salvo: it arrives without its usual biscuit base, and is completed tableside by a generous shaving of more cheese on top. It's a decadent, fluffy slice of cheesy goodness – nothing at all like the fridge-cold disappointments elsewhere.
We slip downstairs to the bar for music and martinis, and daydream of a return trip in the summer when shellfish platters and sunshine make perfect bedfellows.
Seabird, 40 Blackfriars Road, South Bank, SE1 8PB. For more info, see thehoxton.com