Since its opening in 2015, Sexy Fish has firmly established itself as the koolest koi in the pond. It's not so much a restaurant as a vibe, a place to play and people watch and plaster all over your Instagram. There's even dinner, if you so wish.
Some restaurants require decades, even centuries, to reach iconic status. Sexy Fish needed only a matter of months to place itself at the epicentre of the London social scene. Name the celebrity, they've almost certainly hosted a birthday here – or at the very least, attended someone else's. On any given Saturday night, the combined social media following of the room will likely exceed the population of Europe.
Sexy Fish was launched with great fanfare: billionaire owner Richard Caring has a portfolio that includes the Ivy, Annabel's, and Soho House. Everything about the restaurant is a statement, from the bronze mermaids designed by Damien Hirst to the Frank Gehry fish lamps.
Take the name itself: ridiculous, yes, but eminently memorable and really quite straightforward in its mission statement. There's fish, it's sexy. Turn your nose up, more fool you. Would you mind holding the door open for Kendall Jenner on your way out?
We like to imagine the name is a very clever Simpsons reference, with the show's resident celebrity Troy McClure (you might remember him from episodes such as A Fish Called Selma) harbouring a peculiar fondness for our aquatic friends that is heavily implied to be sexual. Troy McClure would definitely dine at Sexy Fish. At least until he got banned for skinny dipping in the coral reef tank.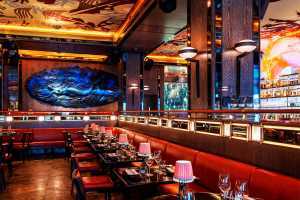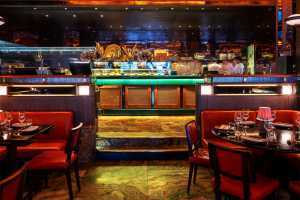 What's the vibe?
Aquatic. A mermaid swims towards the open plan kitchen. Blue octopi rise from the staircase. Dolphins gambol above the bar and a waterfall descends behind it. The lights are low, the music bumping. If Poseidon ran a supper club, it would look a lot like Sexy Fish, with Bacchus taking care of the entertainment.
The artwork only adds to the sense of knowing decadence: yes, there's a 13-foot mirrored crocodile clambering up one of the walls. Yes, it's designed by Frank Gehry, one of America's greatest living architects. Yes, it's hard not to imagine the headlines should the crocodile come loose and crash onto the table below, flattening its occupants (say, half a boyband and two Hollyoaks alumni).
Even on a Wednesday, the place was packed and the atmosphere more akin to Whisky Mist than Wiltons. (That venerable restaurant famously has a 'no phones policy' – but then how can you Instagram your cheesecake?) You don't become the most popular kid in school without a sense of fun – and above all, Sexy Fish wants to show you a good time.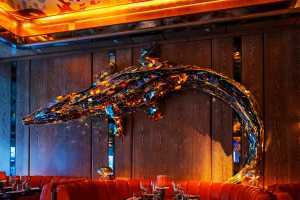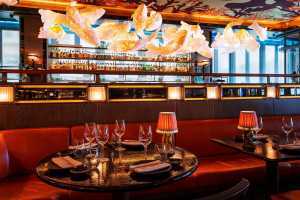 What to order?
Fish, you sexy thing! The Asian-inspired menu unsurprisingly leans heavily into sushi and sashimi, offered by the piece or a variety of Chef's Selections. (The Seafood Platter includes half a lobster – bonus!) This food is both high class and low calorie, fine dining that won't overly impact your gym workout the next morning.
Standouts include the caramelised black cod with spicy miso, a genuinely excellent dish that really shouldn't be shared. The jalapeno scallops with pickled apple also slips down very smoothly indeed. And the cheesecake mightn't be the lightest of deserts but my word is it moreish – plus served on a very photogenic platter. All three dishes should feature on the Sekushi menu, which offers 10 Sexy Fish classics for the table.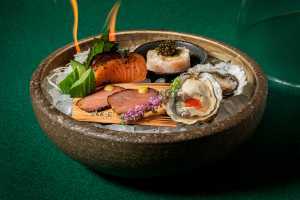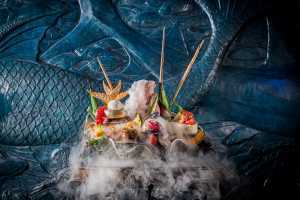 Want to splash out? The Premium menu includes gold fish and caviar, lobster tempura, and wagyu and king crab. There's also a reduced late night menu from Thursday to Saturday, available until 1am. Enjoy the most extravagant midnight snack of your life.
Speaking of splashing out – Sexy Fish has a new cocktail menu brimming with delicious concoctions. Cleanse the palette with a Pear & Cardamom (Crystal Head vodka, pear, cardamom, acids, champagne), deliciously light and fragrant. As the evening progresses, a Blueberry and Maple (Blueberry infused Chita Whisky, maple & blueberry syrup, sweet vermouth, manzanilla makes a magnificent digestif.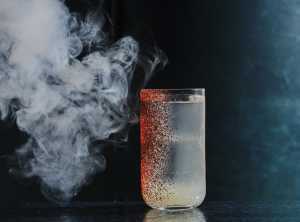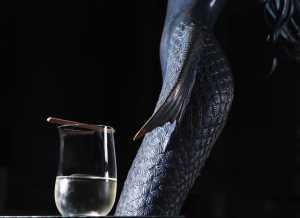 What's the damage?
Extensive. Obviously. That's the point. Of the aforementioned menus, Sekushi and Premium are respectively £98 and £158 per person. The Seafood Platter is a relatively light £92 for the table. Dishes are individually priced, ranging from £13.10 (us nether) for salt and pepper squid to a £110 Japanese wagyu fillet.
The cocktails span £12 to £21 but obviously the real damage could be done by the wine. Treat yourself to a six-litre Methuselah of 2002 Rosé Dom Perignon for £18,000 – then play credit card roulette and pray you get lucky / sprint out of the restaurant in the direction of Heathrow Airport.
After Dinner?
Stay at your table and order more drinks! Sexy Fish runs till 1am Sunday-Wednesday and 2am Thursday to Saturday, meaning you've already gained entry to one of the most exclusive parties in town. And should you really wish to carry on the evening, Mayfair is hardly short of notable clubs – Mahiki, anyone?
Berkeley Square House, Berkeley Square, London W1J 6BR; Sexy Fish