For the past two decades, the Affordable Art Fair has showcased the work of emerging and established artists from around the world. This year, its creative offering is the most eclectic yet.
As well as exhibits, a number of artists are set to carry out 'live art sessions' - so guests can soak up their craft first-hand. We caught up with some of the individuals taking part in these live workshops, to discuss their careers, aspirations and the impact the fair has had on their lives.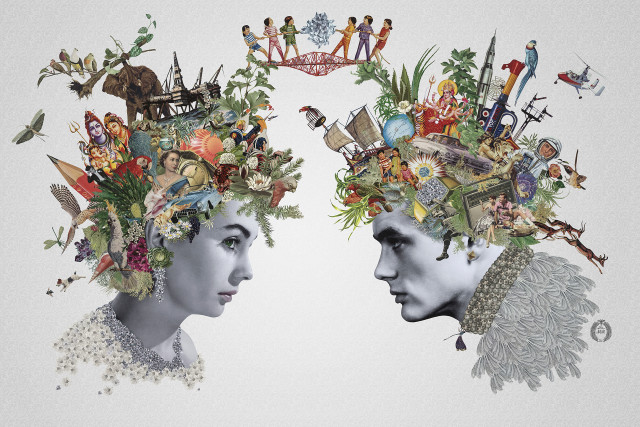 Maria Rivans at Liberty Gallery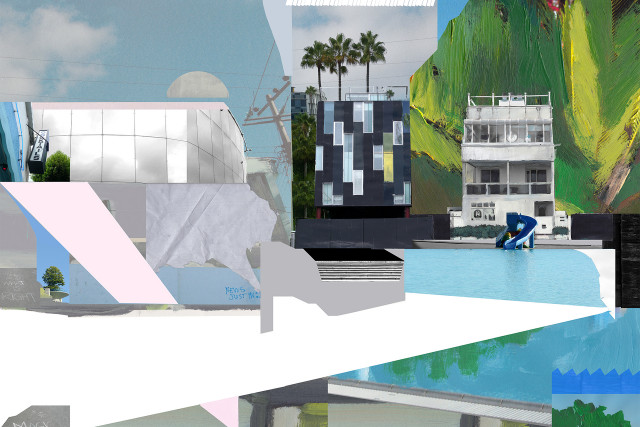 Bonnie and Clyde at Liberty Gallery
Maria Rivans & Bonnie and Clyde
Maria Rivans and Bonnie and Clyde are both British collage artists who share a studio in 
Brighton. The former is best known for fusing Surrealism with Pop-Art, while the latter uses photography, paint and print to form mixed media works. The pair will be teaming up for a live session on the last day of the fair, to showcase their colour and composition techniques.
Tell me about some of the pieces you'll be exhibiting at the Affordable Art Fair (AAF)?
Maria Rivans: I will be showing a selection of new original collages which are made from my extensive collection of vintage ephemera. I assemble cut-out images to create the collages with an intense attention to detail. They take months of deliberation. I work on both large-scale originals and limited edition prints.
For the live art event, I will be launching a new print called Eugenie featuring Janet Leigh who starred in Alfred Hitchcock's film Psycho. This print will be available with hand finished collaged elements - a cat mask, an eye patch and light flashes around the chandeliers. I will hand cut these and apply them live.
How has the AAF impacted your career?
Bonnie & Clyde: It's a great platform for new artists to sit alongside established artists and, as such, it's been really beneficial to my career. It has allowed space for the development of my work and style.
AAF allows people to see and buy art in an informal setting that's based around purchasing art, rather than just viewing and appreciating it. I feel that it encourages the interaction between artist and customer which allows investment of energy by everyone and mutual appreciation.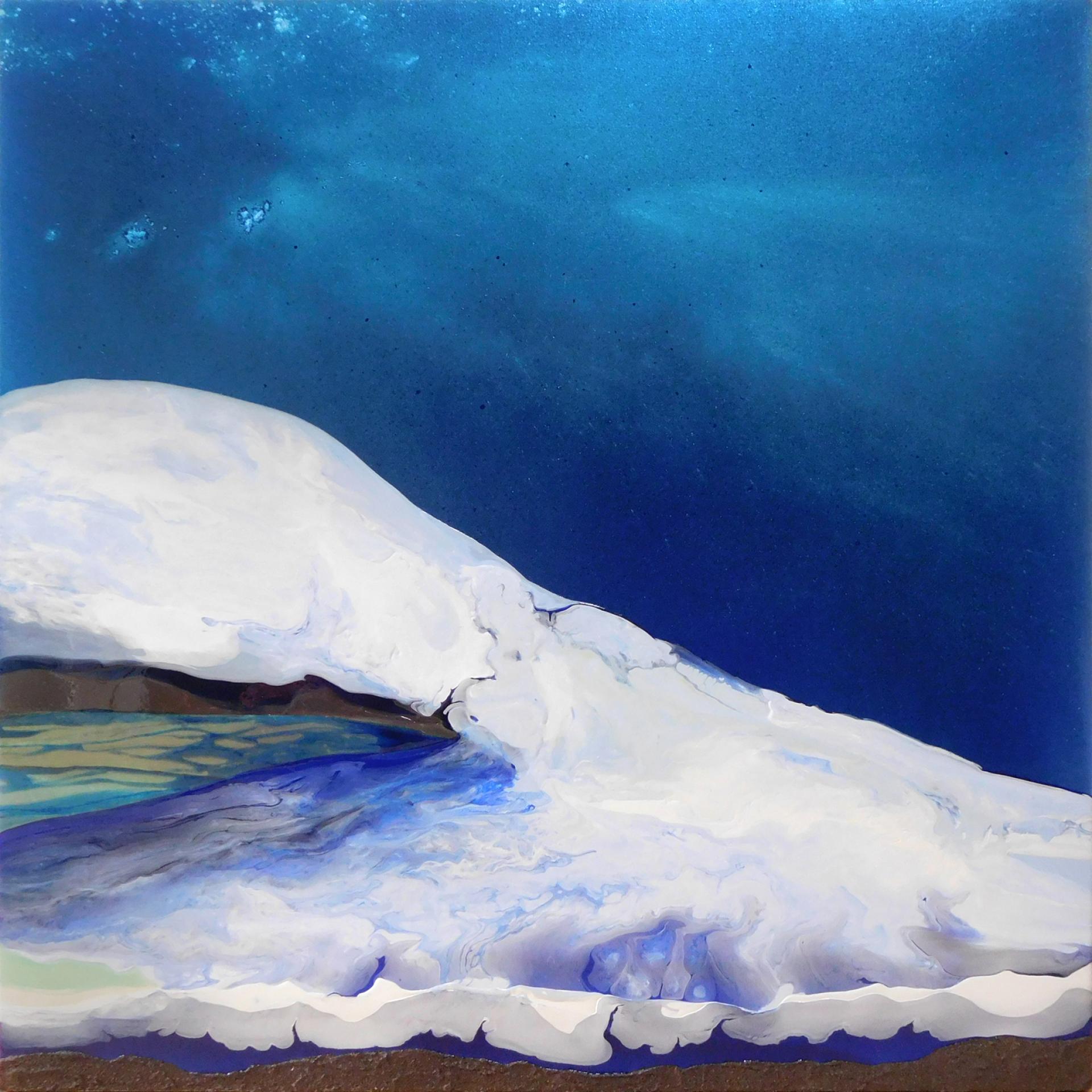 Laura Fishman at Mint Arts
Laura Fishman
Colour, texture and movement feature heavily in Laura Fishman's art. She frequently uses techniques that involve pouring paint, to mimic the dynamic patterns and flow in nature. Laura believes abstract art gives her the freedom to interpret the world through her own creative lens. Some of her recent pieces were inspired by a trip to Iceland, specifically, Jökulsárlón - a glacial ice lagoon on the south coast. Laura will be showcasing a collection of acrylic pour paintings at the event.
What inspires you?
My inspiration comes from a curiosity of materials, a love of colour, natural forms and a fascination with the dynamics of nature. I am concerned with climate change and how it affects weather patterns and flow.
Working with acrylic is exciting as it is a very versatile material. It can produce the effects of watercolor and oil paint, can be layered and used in mixed media works, and lends itself to experimentation and innovation. I often go to the Turner Collection, in the Tate Britain, for inspiration or visit contemporary exhibitions.
What are your biggest career aspirations?
I would love to create a substantial body of work that encourages dialogue about climate change and global warming.
Since my visit to Jökulsárlón, Iceland, I've had the desire to capture the sublime fragility of glaciers and oceans. The reality of melting ice sheets and rising sea levels is dire, but there is a beauty in this moment in time where we can celebrate what we still have - ideally with a message that will inspire hopefulness and action.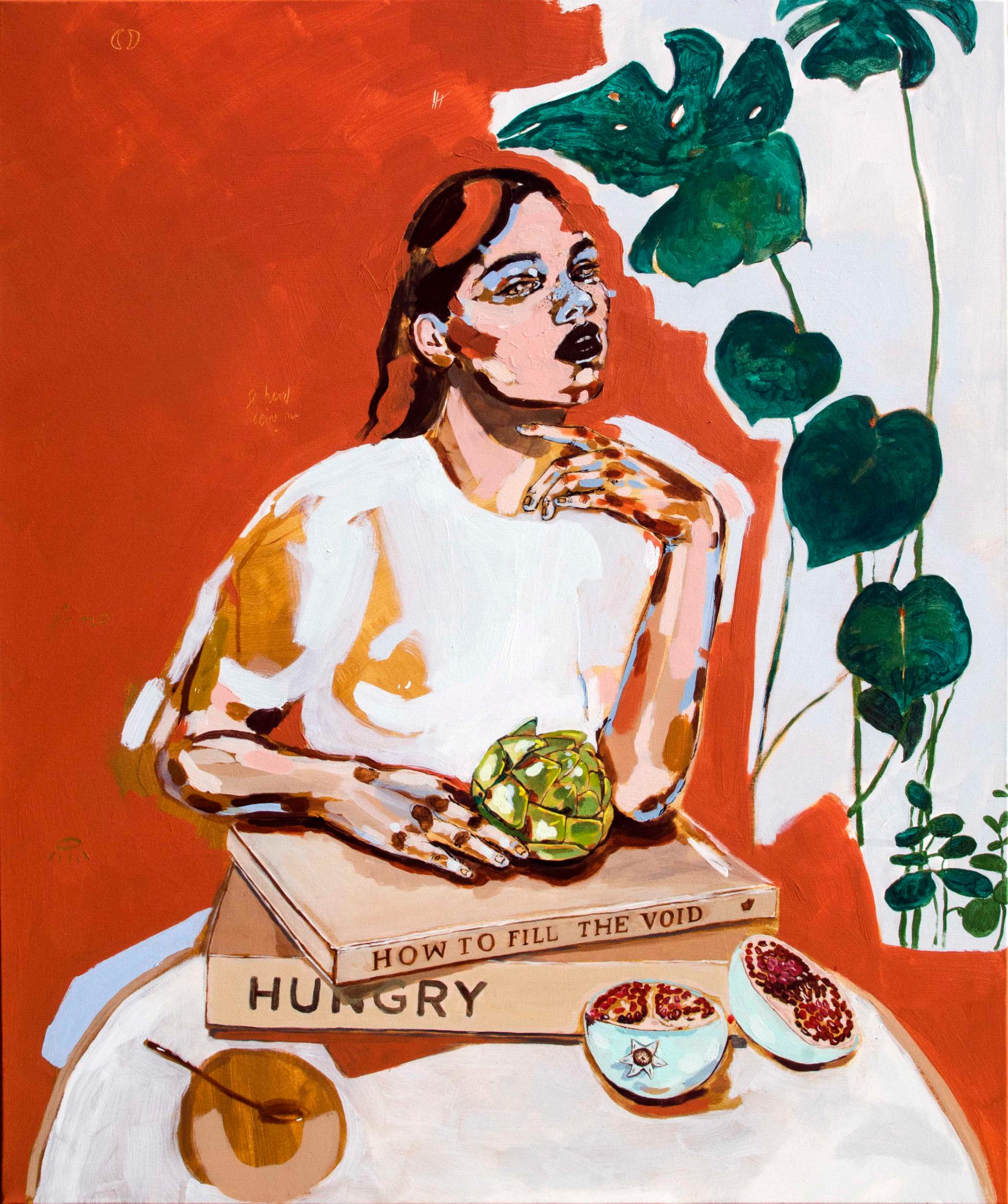 Marcelina Amelia at Liberty Gallery
Marcellina Amelia
Rising star Marcelina Amelia will also be hosting a live session at the fair. Her work explores themes of female sexuality, gender and migration. She will be exhibiting new prints from her I Only Want Everything series, which focuses on self-discovery and questions the fast-paced, performative nature of the world. Each painting in this collection represents a different emotional state.
How difficult is it to support yourself as an artist mentally and financially?
Let me say it is not the easiest job in the world. If you are not determined, hard-working, crazily ambitious, unbeatable and nuts about art, I would say pick another profession.
I think it is difficult but extremely rewarding at the same time. You are a one-person company, you have to be your own salesman, accountant, coach and everything else combined. But I love it!
Any memories from the last 20 years AAF?
The first year I exhibited with Liberty Gallery and the Affordable Art Fair and there was a lovely couple who had flown to London from Quebec. After they saw me painting live, they fell in love with my work and decided to purchase a piece. They still couldn't stop thinking about it, so they came back the next day and purchased another piece of my work. It was truly special.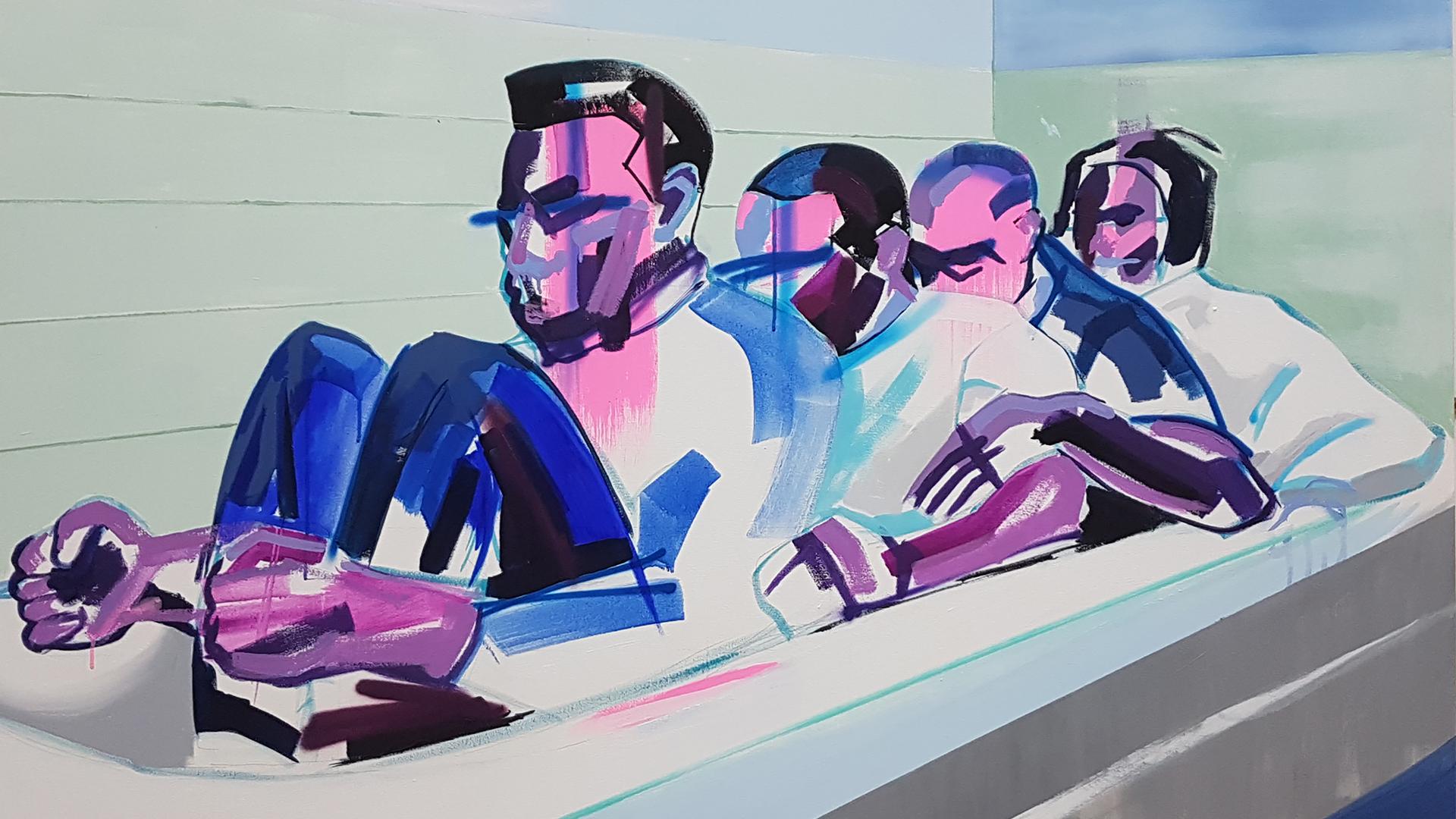 Tim Fowler
Colour is a key takeaway from Tim Fowler's works. His vibrant, abstract paintings explore the colour field through oil, acrylic, spray, enamel and graffiti inks. Tim shies away from traditional methods of application and instead celebrates the unconventional and unexpected. He enjoys the pressure of painting right up until a showcase, so is set to present a number of never-before-seen works at the Affordable Art Fair.
Do you believe anyone can be an artist? 
I always think anyone can be an artist. You might not make a living from it but it just takes confidence in yourself, which I have in abundance. Art at school is very different to real art and I think that's what makes some people think they can't do it. It doesn't matter if you can't draw accurately or paint neatly - it's about passion, freedom and exploring.
What makes London such a strong support base for artists, and why are artists so drawn to exhibiting here?
London is the place to be for the arts in Europe and maybe even the world. I don't believe you need to live here but you definitely need to aim to have your work here. It has the galleries, the audience and the money. There is an energy in the air that can't be matched. There is so much art around – it's competitive and forces you to constantly push yourself, and gives you the hunger to stand out and succeed.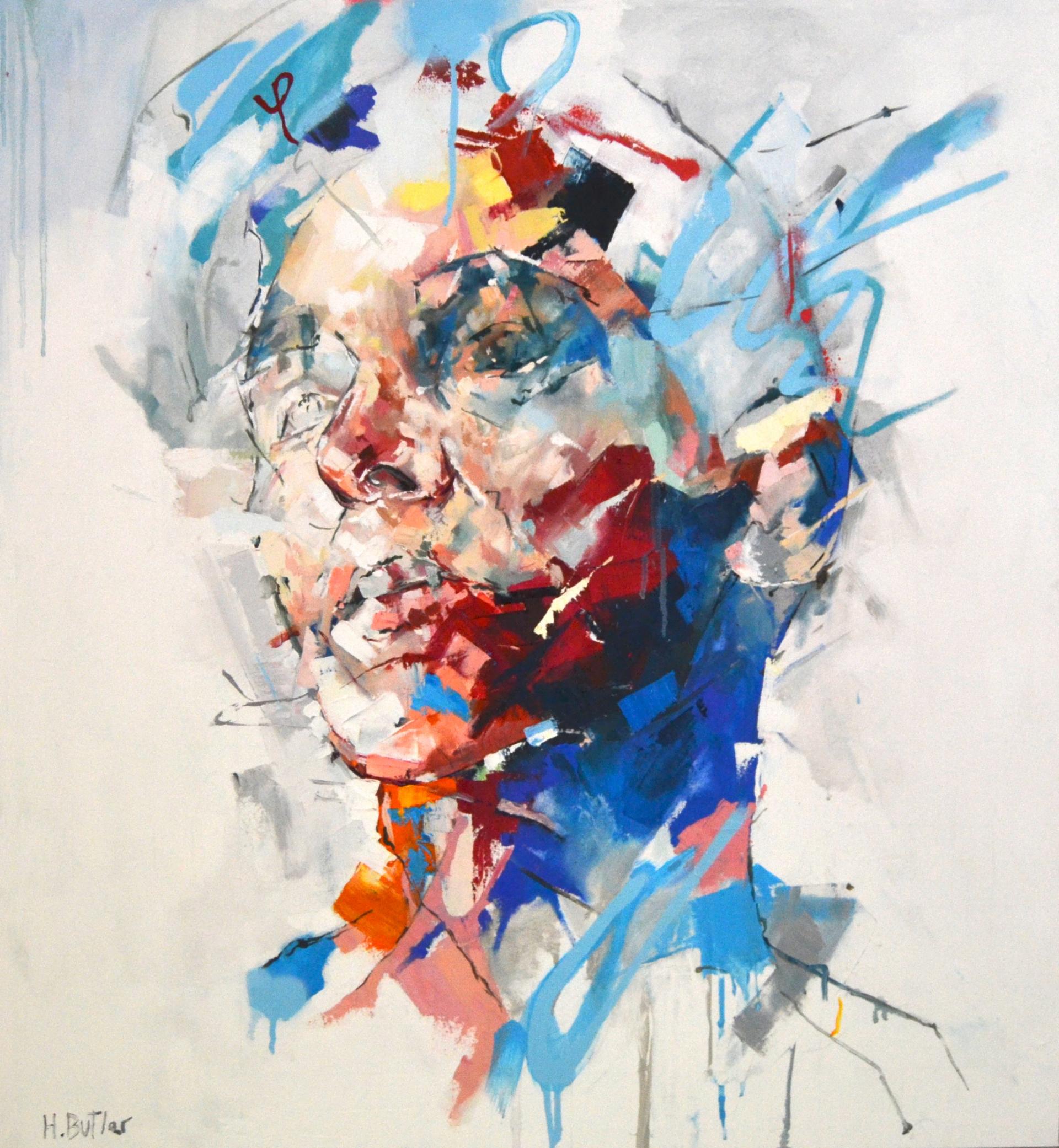 Hatty Butler
Cheshire-based artist Hatty Butler uses experimental mixed media portraiture to explore themes of vulnerability and memory. She hopes to push viewers to look deeper into her work, past the portrait itself to see the emotions and experiences behind it. Her passion for material and texture shines through across her pieces.
What motivates you? 
My love for painting and creating. As a young artist, I can proudly say I am living a life that is authentic to me. That is a life of freedom and energy, of seeing the world from a different perspective. Every bone in my body feels this is what I should be doing. I am motivated to challenge myself, discovering new techniques and pushing my work into new directions. To live a creative life is to live without the fear of being wrong. That is something I am learning everyday. 
What opportunities has AAF given you?
For me the opportunity to meet emerging and established artists and see such a wide variety of work is something I took away with me, and being there again this year really excites me. It is so important to be inspired by others.
The Affordable Art Fair runs from October 17-20 at Battersea Evolution, SW8 4NW. For more info, see affordableartfair.com.