Andrea Hamilton is a multi award-winning UK-based conceptual artist and photographer best known for her extensive images of the ocean, natural phenomena and, er, the Kelvin scale. (Bear with us.)
Her work encompasses numerous photographic genres including portraiture, still life, long exposure and landscape – and she was recently recognised with a gold award at last year's Tokyo International Foto Awards.
The themes are suitably lofty: the nature of time and memory, our relationship with the environment, and the representation of truth.
Her work is held in numerous private and corporate collections, including The Vault 100, and she's published numerous books, including London Everyday for the Mayor of London.
And the Kelvin scale? She documented how light changes colour according to temperature – each image celebrating the unique resonance of light in a single moment.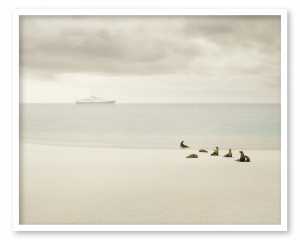 When did you decide you wanted to be a photographer?
As a child I was very shy yet I was full of feelings I wanted to express. My mother was an artist, painting and creating all the time. My dad loved travelling and exploring and writing the history about places.
Photography is a practice which sits in the middle of these disciplines. It allows you to capture special moments and document a story visually in a dynamic way.
I wanted to be a photographer/ visual artist since I was a teenager, but it's hard to make a living in the arts and remain pure to your dreams so you often have two jobs, one practical and one that feeds your soul.
What was the first 'decent' photo you remember taking?
As a teenager, I used to take a lot of portraits of my family. I was interested how light, positive and negative space and framing could transform people and bring out their inner essence. I was searching for expressing these moods. These early pictures show a sensitivity that probably got me noticed by others as being special.
Talk us through your first ever published photo?
In high school I worked on the school newspaper and my pictures were frequently published. Probably the earliest artistic series I remember publishing were pictures I took of a band in Chicago.
We shot images on the railroads, at bus stations, it was all gritty and raw all on black and white film. These images became an album cover and appeared in lots of magazines.
I loved working in this way and to this day I receive little memories from the former band members. I captured a great moment in time, these pictures are now like fossils, they have a special value for me as this is the only way those feelings can be brought back.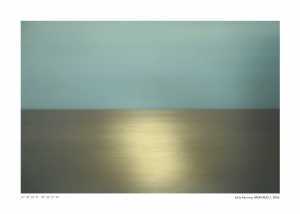 Talk us through your 'best' photograph(s)?
My best street pictures appear in my book London Every Day. They are of people celebrating the Royal Wedding and Ascot. I took them with a Leica M9 – a fantastic rangefinder camera. This was a time that I walked the streets almost every day. My best seascape is probably from my Tidal Resonance series.
Who are your biggest professional influences – and how have they influenced you?
My earliest influence was Sally Mann. Here haunting raw images of her family took my breath away. They taught me the strength of photography to invite you into a sort of dream world that you live in. We all live in our separate realities or fantasies.
As a child this is a very rich world as you get older it fades away unless you nourish it. My pictures from the series Las Encantadas try to bring back this feeling of wonder.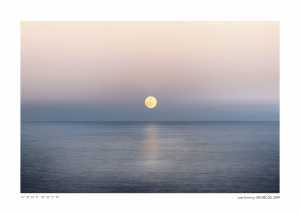 Talk us through your most recent project?
My most recent project is called BLUE MINDS and it is a collaborative project with other artists. In the film we are making we ask the simple question to the artist: what inspires you about the sea or water. In the second question, we ask how has this inspiration influenced your practice as artist and reflects itself in your work.
I am very passionate about protecting our natural world, especially the sea and I am an Ambassador for the Blue Marine Foundation. I was offered the space below the Catherine Prevost Showroom and decided it would be interesting to organise a sort of mini Arts festival in order to inspire and bring people together for the important cause of the ocean and blue and raise awareness and funding for the charity.
People have been very isolated during Covid and it has been hard on a lot of people's mental health. We wanted to bring people together in a safe space and offer education, community and the sharing of ideas on important topics like the sea and sustainability and at the same time find artistic inspiration and beauty.
For instance, we will be screening the film One Ocean (with music by Ludovico Einaudi) by the talented eco warrior artist Anne de Carbuccia. Her work features photographs from memento mori installations from her travels to the far corners of the earth filming One Ocean. She will be connecting with us live on Zoom from our project space.
We also had a very generous donation of a very important work of Carbuccia's from a collector. If we can find a new collector for this work, then we can raise a substantial sum for the charity to do their important work.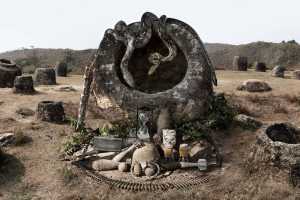 Filmmaker and producer Maya Sanbar, who will interview Carbuccia, has herself recently completed a beautiful short animation about a family affected by a Tsunami and become refugees – it's called Footsteps in the Wind which will have its screening at the Serpentine. Sting wrote the song for it and it's called "inshallah".
Maya also worked on a film called Aquarela and we will also screen this film and interview with Victor Kossakovsky. Filmed at a rare 90 frames per second, the film is a visceral wake up call that humans are no match for the power of water. It has been filmed from the frozen waters of Lake Baikul to the throes of Hurricane Irma.
Tell us about your next project…
My next project is called the Colour Project and I hope to launch it soon on a stand alone website. It is about the relationship we have to light and creativity.
I photographed the same sea for two decades and notated the natural colours of the sea inspired by a 19th century colour book called Werners Nomenclature of Colours.
From this I compared the seascapes to the equivalents in nature, natural pigments, animals, mineral and vegetables. This made me realise that artists, writers and philosophers have been inspired in particular ways by these gradation of colours.
It's an emotional barometer reading. If you are inspired by a particular seascape and certain colours, this can often reflect a lot about your personality as well as your ancestry. In my research, I try to introduce you to other artists, writers, musicians and poets who were equally inspired by these particular tones and how they devoted their practice to the topic. It opens up a fascinating new world to explore related to the connection between art and science.
In physics we are aware how these vibrations through light and sound have affected people and how they have been used to control people. The Slade school hosted an online symposium on colour and poetry organised by Jo Volley. We are hoping to work together to bring this exhibition to AH Studio in the fall.
Blue Minds exhibition will run from the 24 June to the 6 July at 127 Sloane Street. Book your tickets.