Coco Dávez is the alter-ego of Valeria Palmeiro. The self-taught artist began her career in London in 2010 while working as an illustrator for Spanish newspaper El Mundo.
Quickly recognised for her vibrant, identifiable style, Dávez has since collaborated with a vast number of high-end brands, including Chanel, Dior, Prada, Vogue, and Samsung, and her work has been exhibited around the world.
We caught up with Dávez ahead of her upcoming exhibition at The Maddox Gallery.
Tell us about how your career began?
My career began in 2010 when I started posting my artwork on Instagram. I was living in London at the time and was working for the Stockholm agenda; illustrating and photographing the London scene, covering events such as Fashion Week and designing street style illustrations. Thanks to the latter, I managed to secure an inaugural solo exhibition at the Pickpocket Gallery in Lisbon in 2011.
Simultaneously, I had started working as an illustrator for the Spanish newspaper El Mundo and moved to London. The Art Director of El Mundo, Rodrigo Sánchez, gave me my first collaborative opportunity. Since then, it's been a meteoric whirlwind. I've launched my own creative brand and had the pleasure of collaborating with global brands from Prada and Chanel to Puma and Bombay Sapphire. My latest 'Faceless' portraits collection is the most acclaimed to date and will be exclusively launched at renowned art gallery, Maddox Gallery, Westbourne Grove in May 2019.
Who have been the most important people in your career – and why?
Dan Gil, the photographer. I was originally assisting him when I first came to London. I can credit him for motivating me to resume painting.
Rodrigo Sánchez, Art Director of Unidad Editorial. He gave me my first opportunity as an illustrator in the publishing world, he is the person I've learnt the most from to date. Javier Ortega, for believing in me and publishing my first book, 'Faceless'. He showed me an abundance of patience - waiting three years for me to deliver it!
Picasso is my biggest influence – 'Les Demoiselles d'Avignon' is my favourite piece
Why did you decide to call yourself Coco Davez… Valeria Palmeiro is a pretty cool name, too!
For Coco, I took inspiration from my favourite character in Sesame Street who simply makes me laugh! There's a meaningful and playful reason to the creation of Dávez, which is linked to a close friend. Coco Dávez is the alter-ego of my real name, Valeria Palmeiro.
Which single artist has inspired you the most? Can you talk us through your favourite works by the artist?
Picasso is my biggest influence – 'Les Demoiselles d'Avignon' is my favourite piece. I recall seeing it for the first time as a child in the movie Titanic. I was fascinated by the colours in the piece and have since been to see it at the MoMA Museum.
Coco artwork
Do you call yourself an illustrator or an artist? What's the difference – being exhibited at a gallery?
I'm self-taught and interested in all fields of art. I've worked with many diverse clients on all kinds of projects as a photographer, art director and a painter. I like to mix these mediums but ultimately, I would define myself as an artist. I still create animated illustrations for Vogue Spain as well as luxury fashion brands such as Chanel – recently I was commissioned by the brand to create animated illustrations for the launch of their 'Gabrielle' perfume.
What's the one piece of work you're most proud of?
'Faceless' – the collection features a range of understated yet wildly colourful works, which depict the likes of Amy Winehouse, Jean-Michel Basquiat, David Bowie, Grace Coddington, Picasso, Andy Warhol, Iris Apfel, Richie Tenenbaum and Frida Kahlo amongst many others. I'm proud of each piece because they're different in their own way.
With Faceless, talk us through the thought process behind removing your subject's facial features? Is it as simple as they are so iconic they are surplus to requirements?
Picasso was my first choice for 'Faceless' - the collection came about by mistake, but a happy one! I was actually painting a portrait of Patti Smith and I was unhappy with the facial features so painted over her face in red – it was my moment of epiphany. Picasso's portrait was deliberately faceless and set the precedent for the collection.
My chosen subjects play tribute to my idols, many of which have inspired my career to date. Combining pop art with neorealism, facial features are left blank in the portraits conjuring an air of playfulness by inviting the viewer to a game of 'Guess Who?' Instead, the most recognisable characteristics, clothing or accessories help distinguish my most loved artistic icons.
I hope to see the style of my colourful universe grow into the world of fashion and produce my own line
Is Instagram still your biggest platform? How do you reconcile this with your creative freedom?
I am constantly observing and drawing inspiration from subjects that grab my attention to inspire me. Finding an idea isn't a logistical process so this is the most challenging part of the creative process. When an idea is born, I embark on sketching, experimenting with colours, materials and create collages to shape the idea visually before I start on the actual piece. My artwork visually translates well on digital platforms, particularly with the pure lines, use of colour and the simplicity of painting faceless portraits. I fully embrace the digital era we live in.
Do you still have aspirations in the fashion world?
Absolutely! I hope to see the signature style of my colourful universe grow into the world of fashion and produce my own line.
Which brands would you most like to collaborate with – and why?
I've enjoyed many collaborative ventures with luxury lifestyle and fashion brands on a global level. If I had a wish list, I'd most like to collaborate with Gucci, Miu Miu or Kenzo, I've collaborated with Kenzo on several occasions for their perfumes and I'd love to explore more in fashion.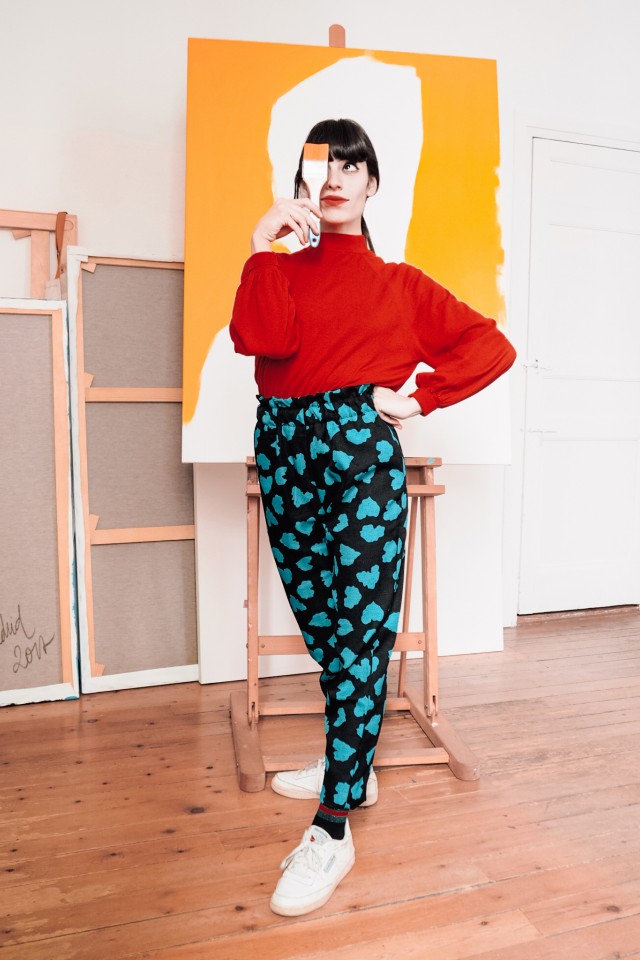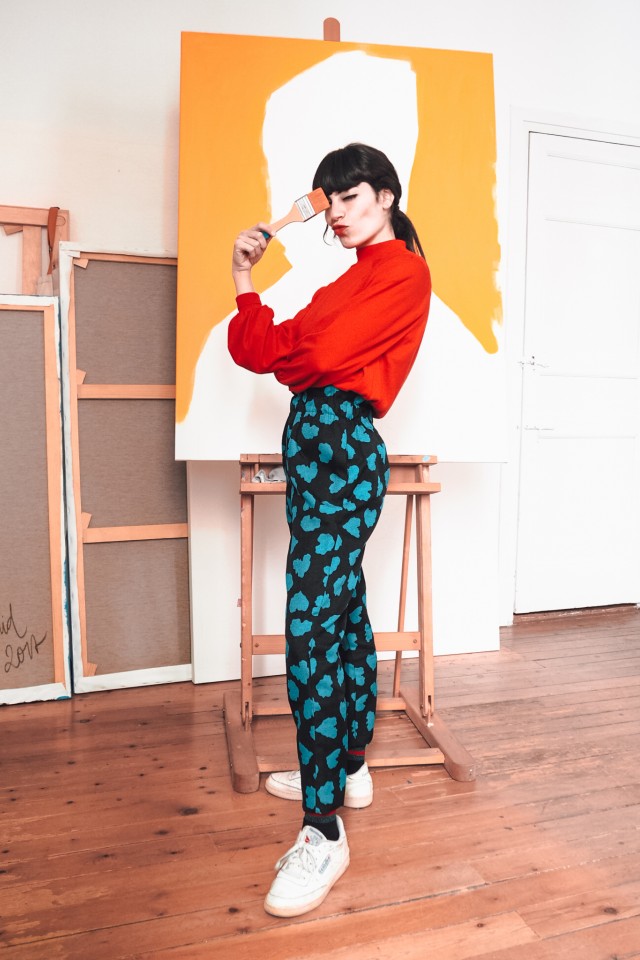 A collection of Coco's works will be on display at Maddox Gallery Westbourne Grove from 10-31 May 2019.